中国的经济发展与金融市场—-长江商学院MBA香港圆桌交流会
| CKGSB MBA |
A World-class MBA Program with Unrivalled China Insights
---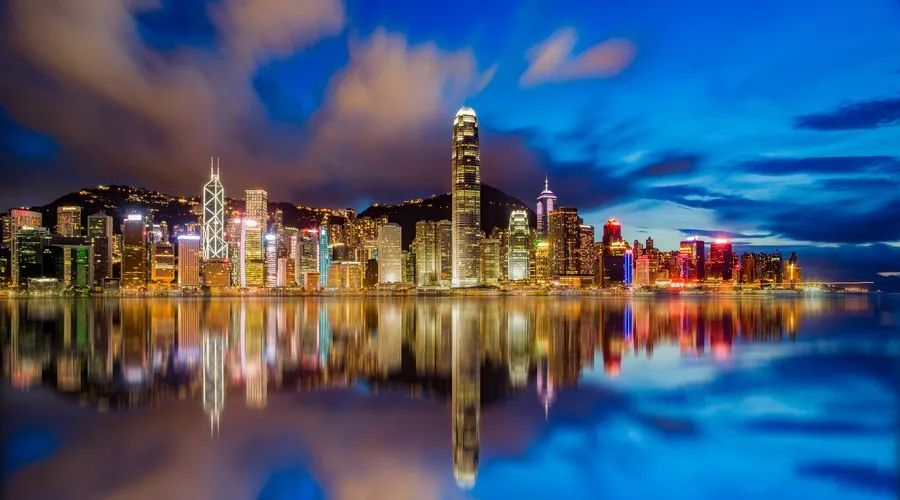 想要紧跟中国经济和金融市场的最新发展?
4月15日
长江商学院MBA圆桌交流会-香港站即将启动!
快来报名参加你可以听到最新潮最独到的见解,
更有长江商学院副院长欧阳辉教授
和MBA项目主任陈章浩老师
带来的优秀理念和精彩分享。
识别二维码立即报名
2018-04-15 · Hong Kong
 CKGSB MBA Lunch Talk—Hong Kong
Want to keep up with the latest developments in China's economy and Financial Markets?  Join CKGSB's Full-time English MBA Lunch Talk on April 15 (Sunday) 2018 in Hong Kong, for an enlightening day on the newest insights around China's ever-changing economy.
The lecture will feature by CKGSB Dean's Distinguished Chair Professor of Finance, Prof. Ouyang Hui.  Following him will be CKGSB MBA program director Alan Chen speak on CKGSB's MBA program for business leaders who aim to expand their business into China.
Event Details:
Date: April 15, 2018
Time: 12:00-14:30
Location: Suite 3203, Champion Tower, 3 Garden Road, Central, HK.
AGENDA    
12:00
Registration    
12:30
Economic Development and Financial Markets in China by Prof. Ouyang Hui    
13:30
CKGSB MBA Info Session by Alan Chen    
14:00
Q&A    
About CKGSB
Cheung Kong Graduate School of Business (CKGSB) is China's first independent, faculty-governed and non-profit business school. Founded in 2002 with support from the Li Ka Shing Foundation, CKGSB's mission is to cultivate business leaders with a global vision, a humanistic spirit, a strong sense of social responsibility and an innovative mind-set.
CKGSB has a campus in Beijing, teaching sites in Shanghai and Shenzhen, and representative offices in Hong Kong, London and New York. The school offers innovative MBA, Finance MBA, Executive MBA, Business Scholars Program (DBA) and Executive Education programs.
OU-YANG Hui
Dean's Distinguished Chair Professor of Finance
Associate Dean for MBA
Academic Director for EMBA
PhD, University of California, Berkeley
PhD, Tulane University
Prof. Ou-Yang had previously served as an associate professor at Duke University and an assistant professor at UNC-Chapel Hill. He was voted the best teacher by Duke's Global EMBA Class of 2004. He won the Barclays Global Investors/Michael Brennan Runner-Up Award for the best paper published in the Review of Financial Studies in 2003 as well as the best paper award (joint with Henry Cao) presented by the Society of Quantitative Analysts in 2005.
Before joining CKGSB, Dr Ou-Yang served as a managing director at UBS where he headed the Quantitative Solutions/Algo Strategies division. He also served as a managing director at Lehman Brothers and Nomura Securities, where he headed Quantitative Strategies and Quantitative Credit Research. He was heavily involved with many of Lehman's credit/interest rate structured products as well as beta products, such as replicating Lehman's bond indexes and replicating the global hedge fund index.
Alan Chen
CKGSB MBA Program Director

Alan Chen is the Director of the MBA Program for Cheung Kong Graduate School of Business. In this role, he leads CKGSB's admissions, marketing, Career Management Center (CMC), student affairs and international affairs teams and develops and implements strategies for recruiting, selecting, and enrolling MBA candidates who possess the greatest potential to become business leaders with a global vision, a humanistic spirit, a strong sense of social responsibility and an innovative mind-set.
Alan previously served for four years as Director of CKGSB Americas at the school's New York office, overseeing both business development and program design. He was committed to creating long-term value for clients and CKGSB through strategic partnerships and superb customer service.
Alan had the opportunity to interact with the Chinese and American business communities, forging a constructive dialogue on current events and the latest theories in business administration through CKGSB-hosted events and educational programs.
Prior to his work with CKGSB, Alan served as Associate Director of Client Relations at Columbia Business School's Executive Education program, where he administered customized programs for a wide range of corporate, government, and nonprofit clients around the world. At Columbia,
Alan served as a liaison to Asia and the Middle East, using his expertise in Chinese business culture to drive 25% growth in that region. Alan leveraged many marketing strategies to expand Columbia's international reach, like the organization of the annual China-focused strategy forum with C-suite panel members and more than 500 high level attendees.
Before entering the executive education industry, Alan worked in the financial services industry, where he was recognized for successfully leading community reinvestment programs and annual regulatory internal security audits for compliance with the Office of the Comptroller of Currencies.
Alan holds a B.A. degree in International Relations from the University of Southern California, an M.S. in Negotiations and Conflict Resolutions from Columbia University, and a Global-EMBA from Columbia Business School, London Business School and Hong Kong University Business School. He is also a member of the Columbia Alumni Representative Committee, where he helps the Columbia University Office of Undergraduate Admission interview and screen applicants. Alan also volunteers.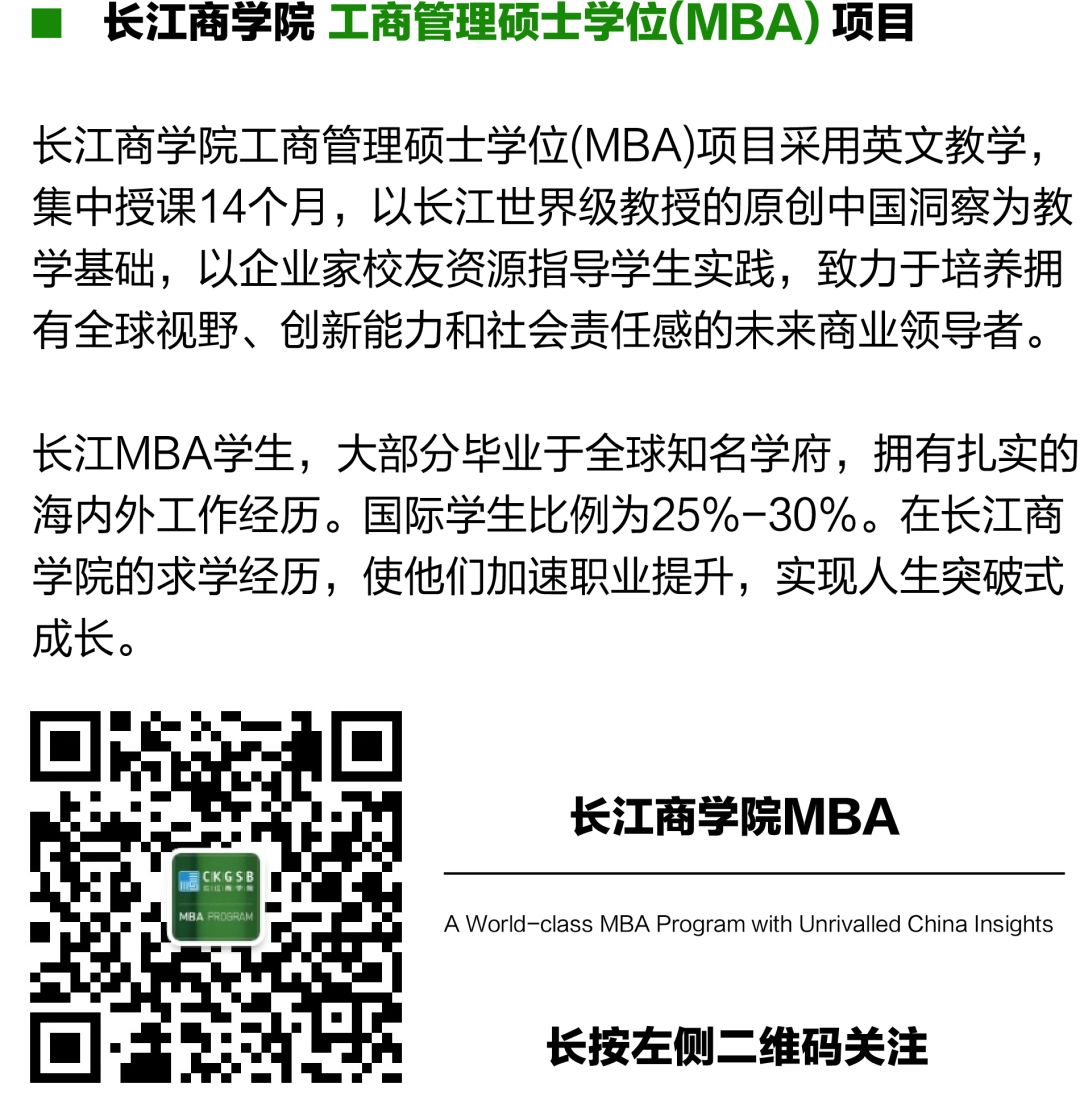 长江MBA2018招生进行中......
点击阅读原文,报名活动