Twitter对战川普,完胜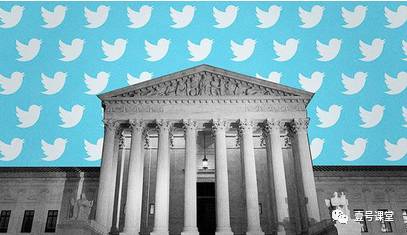 Twitter周四起诉美国政府,希望法院禁止其向该公司索要关于@ALT_uscis帐号的用户个人信息.
The US government has dropped its request for the identity of an anti-Trump Twitter account, just a day after Twitter went to court over the issue.
@ALT_USCIS anonymously criticised President Trump's immigration policy, and claimed to be run by employees at the United States Citizenship and Immigration Services.
就在Twitter向法院提出这一问题后的第二天,美国政府已经放弃了对反川普Twitter帐户身份的请求。
@ALT_USCIS匿名批评总统特朗普的移民政策,并声称是由在美国公民和移民服务的员工运营的。
US government officials issued a summons for identifying information.
But Twitter said that demand had been withdrawn after it filed a lawsuit.
The@ALT_USCISaccount's followers also ballooned from 38,000 to 158,000 during the lawsuit's single-day lifespan.
美国政府官员发出传票确认信息。但推特表示,在提起诉讼后,要求已撤回。@ALT_USCIS帐户的粉丝在诉讼期间也开始从38000人涨到了158000人。
The original summons from the US Customs and Border Protection (CBP) agency demanded "all records regarding the twitter account @ALT_USCISto include, user names, account login, phone numbers, mailing addresses, and IP (computer) addresses".
最初的传票来自美国海关和边境保护局(CBP)要求查问"所有以@ALT_USCIS推特账号的记录,包括用户名、账号登录、电话号码、邮件地址、IP地址(电脑)"。
But the law cited by the agency - which is part of the Department of Homeland Security - is typically used to obtain records about imported goods.
The summons also demanded the information by 13 March 2017 - a day before the request was even sent to Twitter.
但该机构引用的法律-这是国土安全部的一部分-通常用于获取有关进口货物的记录。该传票还要求查问至2017年3月13日的信息-甚至连发送请求到Twitter前一天的信息。
Tweet from @ALT_uscis:
来自推特@ALT_USCIS的信息: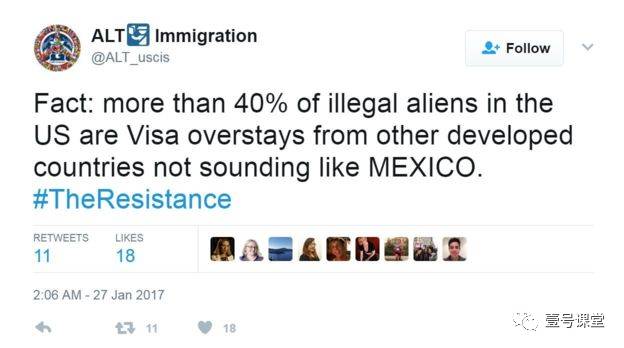 (事实:超过40%的从其他发达国家,而不是墨西哥这样国家的美国非法外国人签证逾期。)
Twitter went to court in San Francisco to block the move, saying the CBP was "abusing a limited-purpose investigatory tool" and stifling freedom of speech.
The micro-blogging service was backed by the American Civil Liberties union (ACLU), which said it would join the court battle.
推特去旧金山法院阻止此举,称美国海关"滥用有限目的的调查手段",扼杀言论自由。
微博服务是由美国公民自由联盟(ACLU)支持的,并表示其将参加诉讼。
But the request was withdrawn by the government a day later, after Twitter's court filing became public.
A justice department official told AFP news agency that the investigation had ended - but no details were given.
但一天后,Twitter的法庭文件公开后,该请求被政府撤回。一名司法部官员告诉法新社,调查已经结束,但没有给出任何细节。
"We want to thank @twitter and @aclu for standing up for the right of free anonymous speech," the @ALT_USCIS account tweeted. "Thank you resistance for standing up for us."
"我们要感谢@推特和"美国公民自由联盟站起来维护自由匿名发表言论的权利,@ALT_USCIS 发推特说"谢谢你支持我们。"
Alternative 'resistance'
替代"阻力"
In January, when Donald Trump became President Trump, several so-called "alternative" accounts for US government services began appearing online.
Many claimed to be controlled by current or former staff members.
Twitter said this is "a new and innovative class of American speakers" who need anonymity because they could face retaliation or lose their jobs.
今年一月,当唐纳德特朗普成为特朗普总统时,几个所谓的美国政府服务"替代"帐户开始出现在网上。许多人声称这是被现任或前任工作人员控制。Twitter说,这是"一个美国发言者的创新阶级"有些人需要匿名,因为他们可能面临报复或失去他们的工作的危险。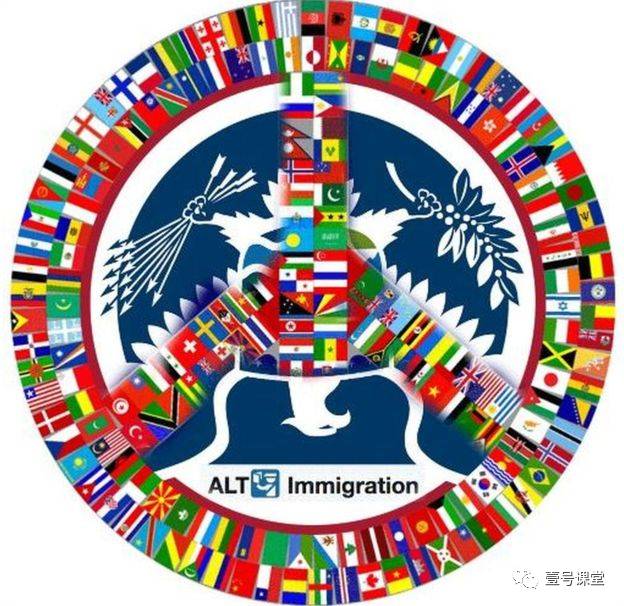 "Permitting the CBP to pierce the pseudonym of the @ALT _UCCIS account would have a grave chilling effect on the speech of that account in particular and on the many other 'alternative agency' accounts that have been created to voice dissent to government policies", it said.
"允许CBP皮尔斯的"ALT _uccis帐户假名会引起严重的寒蝉效应,尤其在该帐户的发言和许多其他的替代机构的帐户,这是为了表达对政府政策的异议",它说。
The "alternative" departments sprung up on Twitter following the gagging of the official National Parks Service Twitter account.
On Mr Trump's inauguration day, it tweeted a photo of the crowd, comparing it with the 2009 inauguration of then President Barack Obama.
继插科打诨的官方国家公园服务推特帐户后,"替代"部门如雨后春笋般出现在推特。在特朗普就职的那天,它发了一张人群的照片,把它与巴拉克·奥巴马总统2009年时的就职典礼进行比较。
The account was briefly shut down in response - reportedly because President Trump complained directly to the head of the National Parks Service.
作为回应,该帐户被暂时地关闭-据报道,因为特朗普总统直接向国家公园服务的负责人投诉。
原文链接:
http://www.bbc.com/news/technology-39535929
翻译:壹号课堂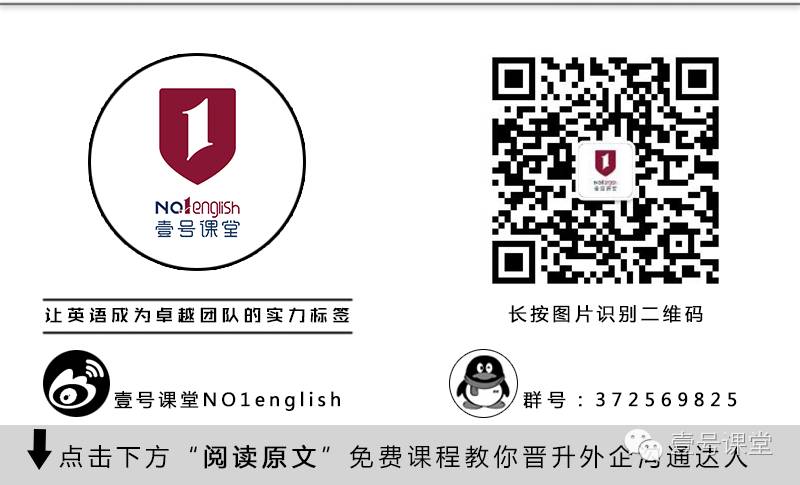 Loading