陈冠希纽大演讲燃爆全场:37岁的他向世界证明中国,也证明了自己

最近,陈冠希在第二届纽约中美发展论坛(US-China Entrepreneurship and Leadership Development Forum)的演讲在微博上火了。论坛在纽约大学(New York University)举行。面对台下的中国留学生,陈冠希以一个创业者和音乐人的身份告诉大家,金钱永远第二,热爱才最重要。
陈冠希纽约大学演讲▼
【滚动下方屏幕查看演讲内容】
陈冠希在演讲中说,他出生在加拿大,但他告诉人们他是中国人。他创办自己的公司,要向世界证明,"中国制造"的质量并不比世界其他任何地方的差。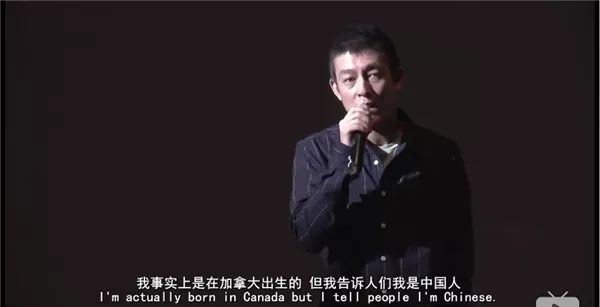 Edison:
「比如我吧,虽然我在加拿大出生,但我只跟老外说我是 Chinese,告诉他们,我们的东西 Made In China,结果对方说,那太完蛋了。」
WTF?!
Edison第一次找Nike合作的时候,被拒绝了。工厂说从来不为中国公司做鞋子。陈冠希不服:「你们有一半的产品都是在中国制造的,凭什么不给中国人的设计一些发言权?」
Made in China = 质量差?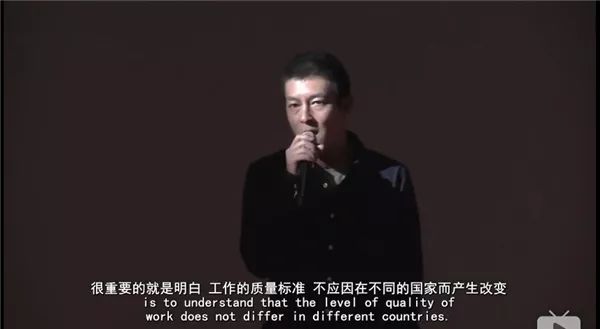 他首先指出人们对中国产品的普遍错误想法: 
I think one common mistake that a lot of people make is say "it's good for China, it's good for China". 

我认为很多人常犯的一个错误是总说,"这个东西在中国算好的了。"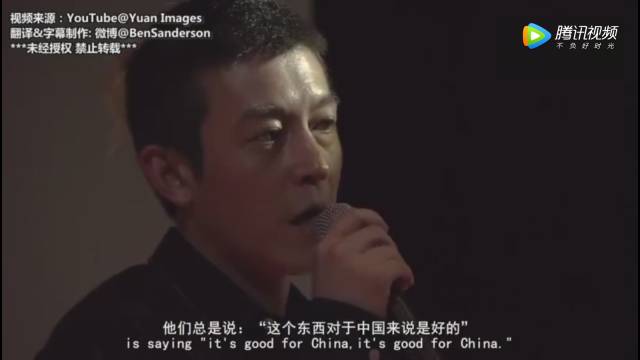 陈冠希认为我们不能对国产电影降低标准:
A movie is a movie. It shouldn't be "because it's a Chinese movie, there's lower standard". 

电影就是电影,不能因为它是国产电影,就降低标准。
The level of quality of work does not differ in different countries. 

工作质量的标准不该因国家的不同而改变。
陈冠希告诉在场的留学生们,他做事时不会考虑产品是否做给中国看,或者用所谓的"中国标准"来考虑好坏,因为,我们不能让"中国制造"变成低标准的标签。
A lot of us may be already thinking that China is the next market, China is the next superpower. There's a lot money to be made there. Sure, but you cannot lose the integrity of what you do and what you represent for money. 

很多人认为中国是下一个巨大市场,是潜在的超级大国,在那里可以挣到很多钱。当然,但是你不能为了钱而失去做人做事的品质。
陈冠希用了三年的时间向耐克证明了中国制造的质量并不比别人差。直到十年后的今天, 他旗下的品牌仍在制造耐克鞋子,还与耐克签了合约。为此他付出了巨大的努力。还用四个"非常"来强调这一艰辛历程。
That's perseverance and that's a really, really, really, really hard work. 

这是一种坚韧不拔的精神,也是非常非常非常非常难的工作。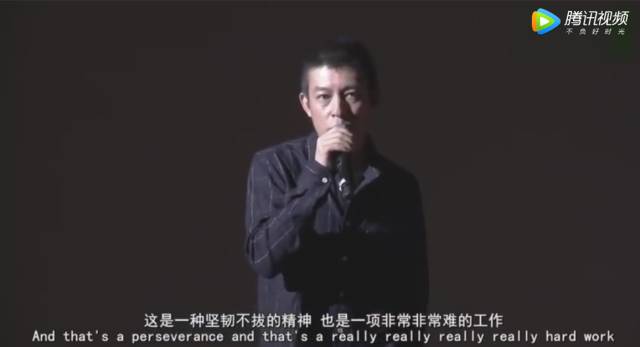 为此,他再次呼吁在座所有年轻人,要用高质量的中国产品证明中国制造。
A good product will sell itself. It doesn't have to say (it was) made where. 

一件好产品会自己证明自己,而无需强调它产自哪里。




The importance of all you guys is to understand that everything that we do, we should be doing it at an international level. 

重要的是你们要明白我们做的一切,都要按照国际的标准去做。
金钱永远第二,热爱才最重要

面对台下的青年,陈冠希说,人们可能偶尔不理解你想表达的东西:他还告诉年轻人,要跟随自己的热爱。金钱永远都排在第二位,热爱才是最重要的。如果你只想着赚钱,那你十有八九会失败。
People might not understand what you're talking about or what you're thinking. But if you have a good idea, sooner or later, they're gonna jump on and they're gonna start giving you praise.

人们不一定会理解你所表达的,或者是你所想的事情。但如果你有一个好的想法,人们早晚都会跟随你的脚步,赏识你的想法。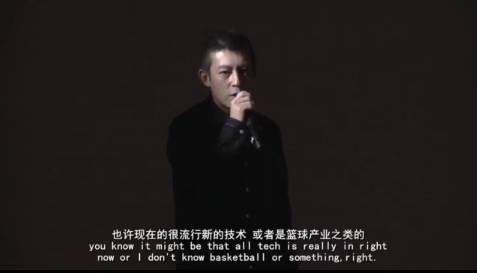 It might be that all tech is really in right now and you're like, "Oh, I'm gonna go to that market and try to make some money." Nine out of 10 times you will lose. Because you're only trying to do it for finance.

现在有的科技领域是很火的,但如果你想要大赚一笔,那么十次有九次你都会失败,因为你只是为了钱。



Finance is secondary, passion is first. Because if you have passion for something, no matter how hard it is, it's all worth it.

金钱永远都排在第二位,热爱才是最重要的。因为如果你热爱,那么再多困难都是值得的。
他告诉大家,要相信自己,相信梦想。
Believe in yourself and believe in your dreams, and really find your own groove and stick to it, believe in it. 


相信自己,相信梦想。要找到你想做的事,相信它,坚持下去。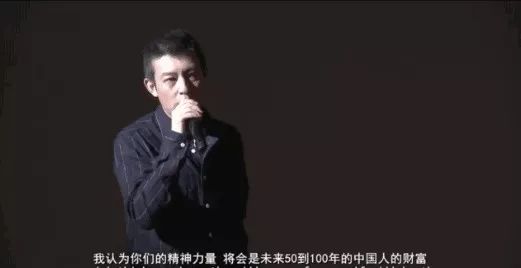 Edison:
至于他自己,37岁的冠希觉得自己已经老了……

I'm 37. I'm old. You guys are the young ones. So hopefully you guys can really follow your dreams, understand what the level of quality is and keep at it.

我已经37岁了,我已经老了。你们才是年轻一代。希望你们能真正追随自己的梦想,懂得什么是真正的品质,并且一直保持下去。
In a few years, I'll be retired, and hopefully living on an island, sun tanning. And hopefully you guys can be the next ones to push the envelope.


过几年,我就退休了,希望到时能生活在一个小岛上,晒着日光浴。希望你们会是下一批挑战极限的人们。




push the envelope:挑战极限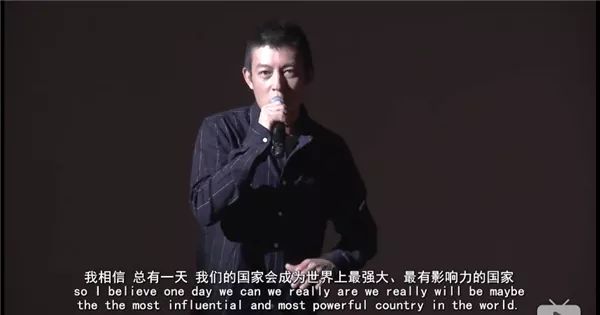 在演讲的最后,他又再次强调自己中国人的身份,也告诉台下的中国留学生们,记住自己是从哪里来的,能为自己的国家做些什么。

I'm Chinese. I was born in Canada, but I truly believe I'm Chinese. I may not speak the best Mandarin, but I definitely know my culture and my roots. Hopefully you guys will remember where you come from and what you represent, and what you can do to make our nation and our people better.
我是中国人。虽然我生在加拿大,但我真心认为我是个中国人。虽然我的普通话不完美,但我清清楚楚地知道我的文化、我的根。希望你们也能记住自己是从哪里来的,代表的是哪个国家,以及你们能做些什么让我们的国家和人民有更好的未来。
【转发让更多的人知道】
---
美国投资移民--(纯政府项目)

宾州高速公路二期 (PTC II)"全面重建"项目
项目简介:
宾州高速公路管理局(PTC)是有宾州州政府在1937年建立的专门负责建设,投资运营,管理宾州高速公路的政府机构。

宾州高速公路是一条横跨宾夕法尼亚州的高速公路。它是宾州唯一一条收费高速公路。从1937年开始至今一直在收费运营。2016年全年整条过路费收入超过了10亿。
工程概述:
宾州高速公路II全面重建项目预计投入总造价17.5亿美金,用于设计和改建全美第二大收费高速公路——宾州高速公路的130英里长的路段。本工程将创造超过23000个就业岗位。项目已经开工,
截止2017年6月底,3.3亿美元(占项目总成本的79%)已经用于项目建设。根据我们的经济影响报告,这个数字代表了已有超过4270个就业已被创造,这意味着400个投资人所需的就业创造已超额创造(超过100%)。400位投资人I-829申请时所需要的就业数已经创造完成。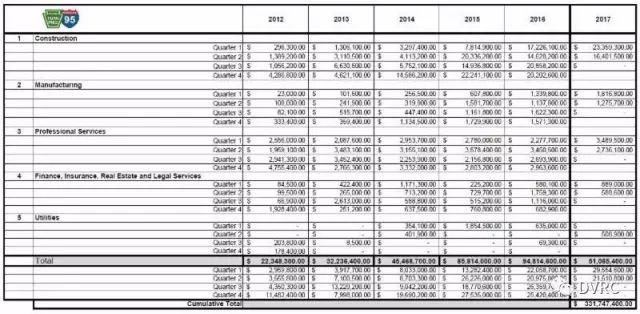 现有的高速公路: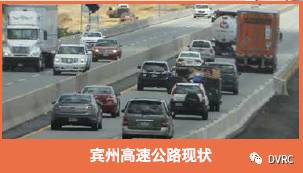 完工之后的高速公路(二车道扩展为三车道):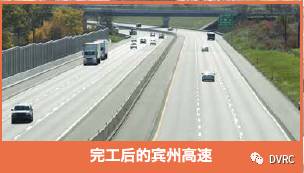 资金结构: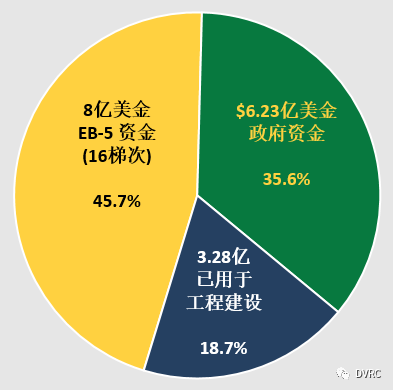 项目总造价17.5亿美金,其中9.51亿宾州高速管理局将使用自有资金,剩余8亿美金将通过EB-5的形式进行筹集。8亿美金EB-5资金共分为16个梯次,每个梯次100位投资人,5000万美金。当我们完成1个梯次的融资后,便会将这一梯次作为贷款发放给宾州高速公路管理局。
担保物:
本项目的EB-5资金为第一还款顺位,投资担保物为宾州高速公路整条公路的过路费收入。2016年全年过路费达到10亿美金。若是发生违约的情况,只需要不到一年,投资人的所有资金将会由源源不断的过路费收入所偿付。下图为过路费收入情况,黄色为实收,绿色为预计。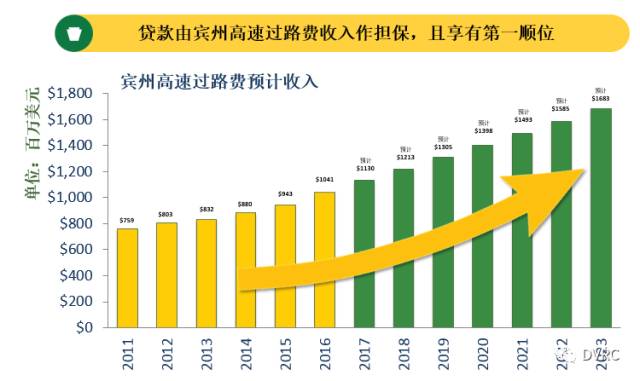 透明度
DVRC的政府项目一直以高透明度著称。
宾州高速公路管理局是一个大型的政府机构,根据法律规定,其有义务向所有人披露财务和运营信息。
所以在宾州高速公路官网上有一下两个板块,投资人可以自行查询信息,无需通过区域中心。
财务信息(审计过的年报以及预算表均可下载):
https://www.paturnpike.com/business/financial_planning.aspx
项目施工进展:
WWW.PATURNPIKE.COM/travel/construction.aspx
我们认为这样得透明度才是对投资人真正有利的。投资人可以直接查询信息,减少了误报的可能性。

享海外为您分析全球征税-CRS带来的风险及量身定制方案!
中国税务总局-CRS网站:http://www.chinatax.gov.cn/aeoi_index.html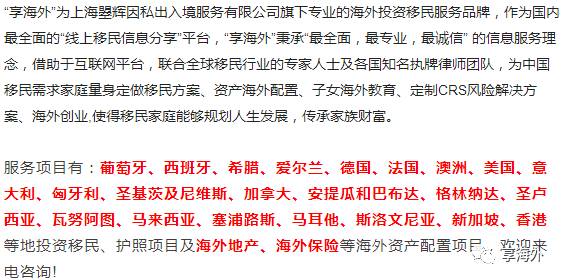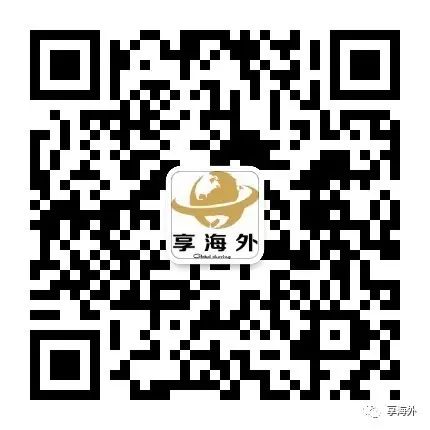 扫一扫加关注,您想要的,都在这里!
热线:400-998-6588
网址:http://www.globalsharing.cn