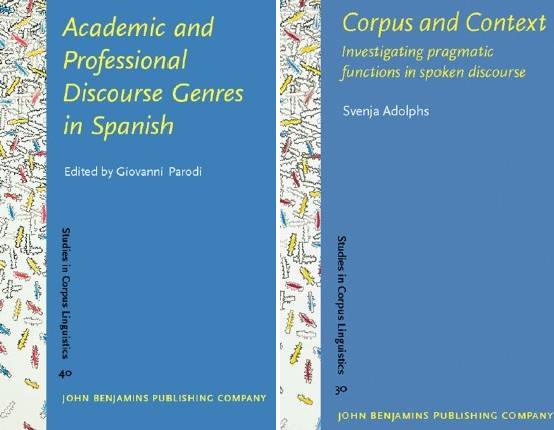 Studies in Corpus Linguistics aims to provide insights into the way a corpus can be used, the type of findings that can be obtained, the possible applications of these findings as well as the theoretical changes that corpus work can bring into linguistics and language engineering. The main concern of SCL is to present findings based on, or related to, the cumulative effect of naturally occurring language and on the interpretation of frequency and distributional data.

General Editor
Elena Tognini-Bonelli
Consulting Editor
Wolfgang Teubert
Advisory Board
Michael Barlow, Rice University, Houston
Robertde Beaugrande, Federal University of Minas Gerais
Douglas Biber, North Arizona University
Chris Butler, University of Wales, Swansea
Wallace Chafe, University of California
Stig Johansson, Oslo University
M.A.K. Halliday, University of Sydney
Graeme Kennedy, Victoria University of Wellington
John Laffling, Herriot Watt University, Edinburgh
Geoffrey Leech, University of Lancaster
John Sinclair, University of Birmingham
Pietvan Sterkenburg, Institute for Dutch Lexicology, Leiden
Michael Stubbs, UniversityofTrier
Jan Svartvik, University of Lund
H-Z. Yang, Jiao Tong University, Shanghai
Antonio Zampolli, University of Pisa
Books in PDF format includes
84

How to Do Corpus Pragmatics on Pragmatically Annotated Data: Speech acts and beyond

Martin Weisser

2018. xiv, 294 pp. + index

83

Tag Questions in Conversation: A typology of their interactional and stance meanings

Ditte Kimps

2018. xviii, 246 pp. + index

82

Applications of Pattern-driven Methods in Corpus Linguistics

Edited by Joanna Kopaczyk and Jukka Tyrkkö

2018. vii, 310 pp. + index

81

Building and Using the Siarad Corpus: Bilingual conversations in Welsh and English

Margaret Deuchar, Peredur Webb-Davies and Kevin Donnelly

2018. vii, 196 pp. + index

80

Language Acquisition in CLIL and Non-CLIL Settings: Learner corpus and experimental evidence on passive constructions

Verena Möller

2017. xx, 417 pp.

79

Lexical Priming: Applications and advances

Edited by Michael Pace-Sigge and Katie J. Patterson

2017. xxiii, 309 pp.

78

Spanish Learner Corpus Research: Current trends and future perspectives

Edited by Margarita Alonso-Ramos

2016. vi, 337 pp.

77

The Idiom Principle and L1 Influence: A contrastive learner-corpus study of delexical verb + noun collocations

Ying Wang

2016. xii, 249 pp.

76

Discourse Reflexivity in Linear Unit Grammar: The case of IMDb message boards

Cameron Smart

2016. xvi, 293 pp.

75

Emotive Interjections in British English: A corpus-based study on variation in acquisition, function and usage

Ulrike Stange

2016. xxi, 221 pp.

74

Language Periphery: Monocollocable words in English, Italian, German and Czech

Compiled and edited by František Čermák, Jan Čermák, Zora Obstová and Marie Vachková

2016. vi, 108 pp. + index

73

Corpora, Grammar and Discourse: In honour of Susan Hunston

Edited by Nicholas Groom, Maggie Charles and Suganthi John

2015. xvi, 310 pp.

72

The Discourse of Nurse-Patient Interactions: Contrasting the communicative styles of U.S. and international nurses

Shelley Staples

2015. xiv, 263 pp.

71

Linguistic Variation in Research Articles: When discipline tells only part of the story

Bethany Gray

2015. xiv, 222 pp.

70

Learner Corpora in Language Testing and Assessment

Edited by Marcus Callies and Sandra Götz

2015. vi, 220 pp.

69

Multiple Affordances of Language Corpora for Data-driven Learning

Edited by Agnieszka Leńko-Szymańska and Alex Boulton

2015. vii, 312 pp.

68

Corpus-based Studies of Lesser-described Languages: The CorpAfroAs corpus of spoken AfroAsiatic languages

Edited by Amina Mettouchi, Martine Vanhove and Dominique Caubet

2015. vi, 338 pp.

67

Grammatical Change in English World-Wide

Edited by Peter Collins

2015. vi, 488 pp.

66

Corpus-based Research in Applied Linguistics: Studies in Honor of Doug Biber

Edited by Viviana Cortes and Eniko Csomay

2015. xix, 219 pp.

65

Lexical Bundles in Native and Non-native Scientific Writing: Applying a corpus-based study to language teaching

Danica Salazar

2014. ix, 212 pp.

64

The (Ir)reversibility of English Binomials: Corpus, constraints, developments

Sandra Mollin

2014. x, 254 pp.

63

Corpus Interrogation and Grammatical Patterns

Edited by Kristin Davidse, Caroline Gentens, Lobke Ghesquière and Lieven Vandelanotte

2014. viii, 358 pp.

62

Korean English: A corpus-driven study of a new English

Glenn Hadikin

2014. xiv, 192 pp.

61

Spoken Corpora and Linguistic Studies

Edited by Tommaso Raso and Heliana Mello

2014. vii, 498 pp.

60

Multi-Dimensional Analysis, 25 years on: A tribute to Douglas Biber

Edited by Tony Berber Sardinha and Marcia Veirano Pinto

2014. xxxviii, 328 pp.

59

Automatic Treatment and Analysis of Learner Corpus Data

Edited by Ana Díaz-Negrillo, Nicolas Ballier and Paul Thompson

2013. vi, 314 pp.

58

Patterns in Contrast

Jarle Ebeling and Signe Oksefjell Ebeling

2013. xiv, 257 pp.

57

Corpus Perspectives on Patterns of Lexis

Edited by Hilde Hasselgård, Jarle Ebeling and Signe Oksefjell Ebeling

2013. viii, 299 pp.

56

Biomedical English: A corpus-based approach

Edited by Isabel Verdaguer, Natalia Judith Laso and Danica Salazar

2013. xiii, 214 pp.

55

Patterns and Meanings in Discourse: Theory and practice in corpus-assisted discourse studies (CADS)

Alan Partington, Alison Duguid and Charlotte Taylor

2013. xiii, 371 pp.

54

Advances in Corpus-based Contrastive Linguistics: Studies in honour of Stig Johansson

Edited by Karin Aijmer and Bengt Altenberg

2013. x, 295 pp.

53

Fluency in Native and Nonnative English Speech

Sandra Götz

2013. xxiii, 238 pp.

52

Corpus-Informed Research and Learning in ESP: Issues and applications

Edited by Alex Boulton, Shirley Carter-Thomas and Elizabeth Rowley-Jolivet

2012. ix, 306 pp.

51

Quantitative Methods in Corpus-Based Translation Studies: A practical guide to descriptive translation research

Edited by Michael P. Oakes and Meng Ji

2012. x, 361 pp.

50

Middle and Modern English Corpus Linguistics: A multi-dimensional approach

Edited by Manfred Markus, Yoko Iyeiri, Reinhard Heuberger and Emil Chamson

2012. viii, 287 pp.

49

Exploring Newspaper Language: Using the web to create and investigate a large corpus of modern Norwegian

Edited by Gisle Andersen

2012. vi, 356 pp.

48

Perspectives on Corpus Linguistics

Edited by Vander Viana, Sonia Zyngier and Geoff Barnbrook

2011. xvi, 256 pp.

47

Researching Specialized Languages

Edited by Vijay Bhatia, Purificación Sánchez and Pascual Pérez-Paredes

2011. viii, 238 pp.

46

Structural Nativization in Indian English Lexicogrammar

Marco Schilk

2011. xiii, 182 pp.

45

A Taste for Corpora: In honour of Sylviane Granger

Edited by Fanny Meunier, Sylvie De Cock, Gaëtanelle Gilquin and Magali Paquot

2011. xv, 295 pp.

44

Exploring Second-Language Varieties of English and Learner Englishes: Bridging a paradigm gap

Edited by Joybrato Mukherjee and Marianne Hundt

2011. vi, 222 pp.

43

Colouring Meaning: Collocation and connotation in figurative language

Gill Philip

2011. xiii, 232 pp.

42

Adjective Complementation: An empirical analysis of adjectives followed by that-clauses

Ilka Mindt

2011. vii, 238 pp.

41

Keyness in Texts

Edited by Marina Bondi and Mike Scott

2010. vi, 251 pp.

40

Academic and Professional Discourse Genres in Spanish

Edited by Giovanni Parodi

2010. xii, 255 pp.

39

Corpus, Cognition and Causative Constructions

Gaëtanelle Gilquin

2010. xvii, 326 pp.

38

Corpus and Sociolinguistics: Investigating age and gender in female talk

Bróna Murphy

2010. xviii, 231 pp.

37

Register Variation in Indian English

Chandrika Balasubramanian

2009. xviii, 284 pp.

36

Television Dialogue: The sitcom Friends vs. natural conversation

Paulo Quaglio

2009. xiii, 165 pp

35

Exploring the Lexis–Grammar Interface

Edited by Ute Römer and Rainer Schulze

2009. vi, 321 pp.

34

The Language of Outsourced Call Centers: A corpus-based study of cross-cultural interaction

Eric Friginal

2009. xxii, 319 pp.

33

Corpora and Language Teaching

Edited by Karin Aijmer

2009. viii, 232 pp.

32

A Corpus-driven Study of Discourse Intonation: The Hong Kong Corpus of Spoken English (Prosodic)

Winnie Cheng, Chris Greaves and Martin Warren

2008. xi, 325 pp. (incl. CD-Rom)

31

Corpora and Discourse: The challenges of different settings

Edited by Annelie Ädel and Randi Reppen

2008. vi, 295 pp.

30

Corpus and Context: Investigating pragmatic functions in spoken discourse

Svenja Adolphs

2008. xi, 151 pp.

29

Corpus-based Analyses of the Problem–Solution Pattern: A phraseological approach

Lynne Flowerdew

2008. xi, 179 pp.

28

Discourse on the Move: Using corpus analysis to describe discourse structure

Douglas Biber, Ulla Connor and Thomas A. Upton

2007. xii, 290 pp.

27

Reduced Parenthetical Clauses as Mitigators: A corpus study of spoken French, Italian and Spanish

Stefan Schneider

2007. xiv, 237 pp.

26

Seeing through Multilingual Corpora: On the use of corpora in contrastive studies

Stig Johansson

2007. xxii, 355 pp.

25

Linear Unit Grammar: Integrating speech and writing

John McH. Sinclair and Anna Mauranen

2006. xxii, 185 pp.

24

Metadiscourse in L1 and L2 English

Annelie Ädel

2006. x, 243 pp.

23

University Language: A corpus-based study of spoken and written registers

Douglas Biber

2006. viii, 261 pp.

22

Textual Patterns: Key words and corpus analysis in language education

Mike Scott and Christopher Tribble

2006. x, 203 pp.

21

Exploring Corpora for ESP Learning

Laura Gavioli

2005. xi, 176 pp.

20

English General Nouns: A corpus theoretical approach

Michaela Mahlberg

2005. x, 206 pp.

19

Strategies in Academic Discourse

Edited by Elena Tognini-Bonelli and Gabriella Del Lungo Camiciotti

2005. xii, 212 pp.

18

Progressives, Patterns, Pedagogy: A corpus-driven approach to English progressive forms, functions, contexts and didactics

Ute Römer

2005. xiv + 328 pp.

17

Corpora and Language Learners

Edited by Guy Aston, Silvia Bernardini and Dominic Stewart

2004. vi, 312 pp.

16

Discourse in the Professions: Perspectives from corpus linguistics

Edited by Ulla Connor and Thomas A. Upton

2004. vi, 333 pp.

15

C-ORAL-ROM: Integrated Reference Corpora for Spoken Romance Languages

Edited by Emanuela Cresti and Massimo Moneglia

2005. xviii, 304 pp. (incl. DVD)

14

Collocations in a Learner Corpus

Nadja Nesselhauf

2005. xii, 332 pp.

13

Corpus Approaches to Grammaticalization in English

Edited by Hans Lindquist and Christian Mair

2004. xiv, 265 pp.

12

How to Use Corpora in Language Teaching

Edited by John McH. Sinclair

2004. viii, 308 pp.

11

Defining Language: A local grammar of definition sentences

Geoff Barnbrook

2002. xvi, 281 pp.

10

English Discourse Particles: Evidence from a corpus

Karin Aijmer

2002. xvi, 299 pp.

9

Using Corpora to Explore Linguistic Variation

Edited by Randi Reppen, Susan Fitzmaurice and Douglas Biber

2002. xii, 275 pp.

8

Trends in Teenage Talk: Corpus compilation, analysis and findings

Anna-Brita Stenström, Gisle Andersen and Ingrid Kristine Hasund

2002. xii, 229 pp.

7

Lexis in Contrast: Corpus-based approaches

Edited by Bengt Altenberg and Sylviane Granger

2002. x, 339 pp.

6

Corpus Linguistics at Work

Elena Tognini-Bonelli

2001. xii, 224 pp.

5

Small Corpus Studies and ELT: Theory and practice

Edited by Mohsen Ghadessy, Alex Henry and Robert L. Roseberry

2001. xxiv, 420 pp.

4

Pattern Grammar: A corpus-driven approach to the lexical grammar of English

Susan Hunston and Gill Francis

2000. xiv, 288 pp.

3

Corpus-based and Computational Approaches to Discourse Anaphora

Edited by Simon Philip Botley and Tony McEnery

2000. vi, 258 pp.

2

Patterns and Meanings: Using corpora for English language research and teaching

Alan Partington

1998. x, 158 pp.

1

Terms in Context

Jennifer Pearson

1998. xii, 246 pp.
对参加过NALLTS和SIBT国际会议的专家学者提供免费文献支持。请添加微信号xiiimu确认身份,曾在论文集上发表过文章的可索取本帖中5种文献,仅参加过会议未发表论文的限3种,有意参会和发文的限1种。文献为网络搜集,仅为促进语言文学教学翻译学术交流使用,请勿私下传播,确认引用后于24小时内将文档删除。可点击阅读全文进入官网下载部分阅读。