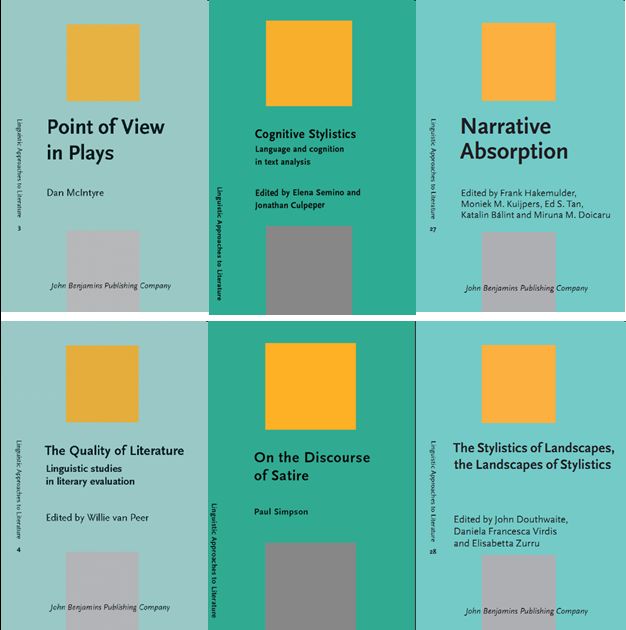 Linguistic Approaches to Literature

Editors
Sonia Zyngier | Federal University of Rio de Janeiro
Joanna Gavins | University of Sheffield
Linguistic Approaches to Literature (LAL) provides an international forum for researchers who believe that the application of linguistic methods leads to a deeper and more far-reaching understanding of many aspects of literature. The emphasis will be on pragmatic approaches intersecting with areas such as experimental psychology, psycholinguistics, computational linguistics, cognitive linguistics, stylistics, discourse analysis, sociolinguistics, rhetoric, and philosophy.
Books in PDF format includes
30

The Pragmatics of Irony and Banter

Edited by Manuel  Jobert and Sandrine Sorlin

2018. vi, 221  pp. + index

29

Free Indirect Style in Modernism: Representations of consciousness

Eric Rundquist

2017. xvii, 197  pp.

28

The Stylistics of Landscapes, the Landscapes of Stylistics

Edited by John  Douthwaite, Daniela Francesca Virdis and Elisabetta Zurru

2017. vii, 238  pp.

27

Narrative Absorption

Edited by Frank  Hakemulder, Moniek M. Kuijpers, Ed S. Tan, Katalin Bálint and Miruna M.  Doicaru

2017. ix, 319  pp.

26

Cognitive Grammar in Contemporary Fiction

Chloe Harrison

2017. ix, 164  pp.

25

Linguistics and Literary History: In honour of Sylvia Adamson

Edited by Anita  Auer, Victorina González-Díaz, Jane Hodson and Violeta Sotirova

2016. vi, 216  pp.

24

Scientific Approaches to Literature in Learning Environments

Edited by  Michael Burke, Olivia Fialho and Sonia Zyngier

2016. xix, 309  pp.

23

Corpus Stylistics as Contextual Prosodic Theory and Subtext

Bill Louw and  Marija Milojkovic

2016. xix, 419  pp.

22

Language, Discourse, Style: Selected works of John McH. Sinclair

Edited by Sonia  Zyngier

2016. xxiii, 282  pp.

21

Perspectives on Narrativity and Narrative Perspectivization

Edited by  Natalia Igl and Sonja Zeman

2016. viii, 185  pp.

20

Crime and Corpus: The linguistic representation of crime in the press

Ulrike Tabbert

2015. xvii, 181  pp.

19

Exploring Second Language Creative Writing: Beyond Babel

Edited by Dan  Disney

2014. v, 157 pp.

18

A Corpus Linguistic Approach to Literary Language and Characterization:  Virginia Woolf's The Waves

Giuseppina  Balossi

2014. xxi, 277  pp.

17

Cognitive Grammar in Literature

Edited by Chloe  Harrison, Louise Nuttall, Peter Stockwell and Wenjuan Yuan

2014. xiv, 255  pp.

16

Creative Confluence

Johan F. Hoorn

2014. xv, 320  pp.

15

The Art of Sympathy in Fiction: Forms of ethical and emotional  persuasion

Howard Sklar

2013. xiv, 192  pp.

14

Playing by Ear and the Tip of the Tongue: Precategorial information in  poetry

Reuven Tsur

2012. xi, 310  pp.

13

Scientific Methods for the Humanities

Willie van Peer,  Frank Hakemulder and Sonia Zyngier

2012. xxii, 328  pp.

12

Epistemics of the Virtual

Johan F. Hoorn

2012. x, 231 pp.

11

Author Representations in Literary Reading

Eefje Claassen

2012. ix, 272  pp.

10

Grimm Language: Grammar, Gender and Genuineness in the Fairy Tales

Orrin W.  Robinson

2010. xi, 190  pp.

9

Poetry as Research: Exploring second language poetry writing

David I. Hanauer

2010. xiii, 164  pp.

8

Storytelling and Drama: Exploring Narrative Episodes in Plays

Hugo Bowles

2010. ix, 216  pp.

7

Psyche and the Literary Muses: The contribution of literary content to  scientific psychology

Martin S.  Lindauer

2009. xiii, 209  pp.

6

Narrative Progression in the Short Story: A corpus stylistic approach

Michael Toolan

2009. xi, 212  pp.

5

Directions in Empirical Literary Studies: In honor of Willie van Peer

Edited by Sonia  Zyngier, Marisa Bortolussi, Anna Chesnokova and Jan Auracher

2008. xii, 357  pp.

4

The Quality of Literature:  Linguistic studies in literary evaluation

Edited by Willie van Peer

2008. ix, 243 pp.

3

Point of View in Plays: A cognitive stylistic approach to viewpoint in  drama and other text-types

Dan McIntyre

2006. xii, 203  pp.

2

On the Discourse of Satire: Towards a stylistic model of satirical  humour

Paul Simpson

2003. xiv, 242  pp.

1

Cognitive Stylistics: Language and cognition in text analysis

Edited by Elena  Semino and Jonathan Culpeper

2002. xvi, 333  pp.
对参加过NALLTS和SIBT国际会议的专家学者提供免费文献支持。请添加微信号xiiimu确认身份,曾在论文集上发表过文章的可索取本帖中5种文献,仅参加过会议未发表论文的限3种,有意参会和发文的限1种。文献为网络搜集,仅为促进语言文学教学翻译学术交流使用,请勿私下传播,确认引用后于24小时内将文档删除。可点击阅读全文进入官网下载部分阅读。