为了鼓励更多的人参与到自由互联网的开发,我们最新推出了
GreatFire悬赏计划
,请参赛者在下列任务中任选其中一个或多个,完成其中的任务目标,即可获得对应金额的奖励。
Silk Road Tour | Colorful Danxia & Mogao Caves & Qinghai Lake

CET (Culture Exchange Trip) is a student self-organized service platform focusing on intercultural communication and aimed to create more opportunities for young people from all over the world to have more chances to communicate in more fantastic ways like outdoor activities.

Silk Road Tour | Colorful Danxia&Mogao Caves&Qinghai Lake 
Activity place:  Inner Mongolia province,Gansu province,Qinhai Province
Activity date: Sept.30th-Oct.8th
Meeting point 1: South gate of BLCU
Meeting time: 6:20pm,Sept.30th
Leaving time: 7:30pm(no waiting)
Meeting point 2: South gate of UIBE 
Meeting time: 6:40pm,Sept.30th
Leaving time: 7:00pm(no waiting)
Traffic tools:Travelling Bus
Trip Fee:  2850RMB
VIP Price:2750RMB  (Click it o join CET VIP)
 Important clause:1000RMB  to pay the local hotel fee deposit, if you want to withdraw from the activities, after August 31st, the hotel deposit will not be refunded, during the national day,  its hard to find a house in Ejina, Qinghai Lake and other areas, I hope you understand.
Statement: No refund within 72 hours (3 day) before this trip.
Participants: Min 15 (if less than 15 participants, this trip has to be cancelled)
Booking Hotline: 18514204269 (English & Mandarin)

After sell service:18514204469 (English & Mandarin)
If you share this article on your moments and send the screenshot to our service wechat which is shown below, you will get the discounted price which is 2820RMB for normal and 2720RMB for VIP

Statements about the Trip Fee
The trip fee includes:
Round bus fee

Accommodation (Two nights in Ejina Banner folk house,mulity -people share one folk house; one night in Zhangye standard hotel, one night in Dunhuang standard Hotel, one night in Halingde standard Hotel, and One night in Qinghaihu folk house,mulity -people share one folk house)

Insurance (September 30th to October 8th)

U-shaped pillow and multiple-usage scarf,Water,Small gifts,First Aid Kit

Two experienced leaders (with 7 years experience to lead this route), equipped with cellphones, inter-phones, first aid kit and sun cream),CET English speaking Tour guides
The trip fee does not include:
Meals during the trip,fancy or simple,its up to you

Entrance tickets (the leaders can help you to buy them. All together, the tickets cost around 1000 RMB). There are reduced price, which varies in different scenic spots.

The price may vary, if the accommodation fee is over the normal arrangement.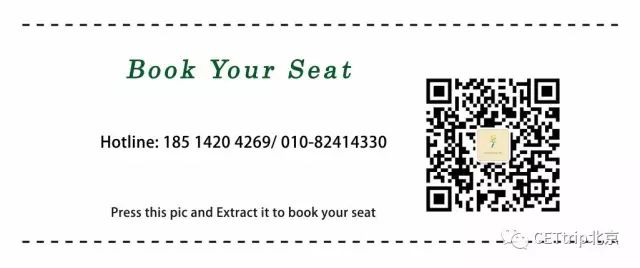 #This Weekends CETtrips#
#Upcoimg CETtrips#
Click the links to get the details!

Full ltinerary
Day1 (Sep. 30th )Departure

Set out at 19:30. The bus will wheel along G6 High Way from Beijing to Zhuozishan Service Area in Inner Mongolia, where we shall spend the night on the bus or in your own tents.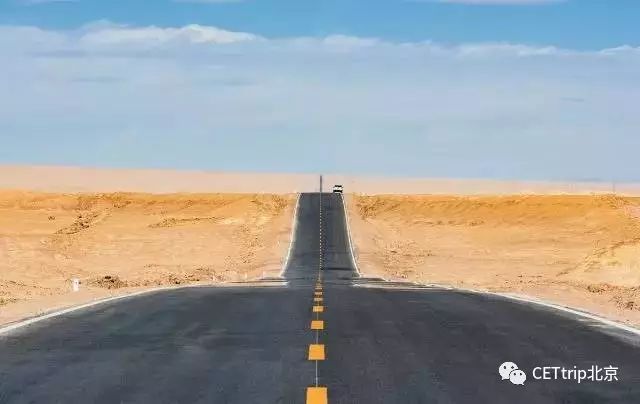 Day2 (Oct. 1st ) On the road
Depart at 5:00 early in the morning (Make sure that you've set up an alarm at 4:00 to pack up your tents, if you were camping there the day before). From Bayanzhuo'er, we switch to G7 High Way, where we will drive into Gobi desert gradually. On this boundless land, we can enjoy the time. We will see wild camels and duckies pass by occasionally and suddenly a solitary and indestructible tree suddenly appears in this plain and dry ground.
At 18:00, we will arrive at Ejina Banner to check in the folk houses. (Remember to send your locations to each other to make sure that you'll find your way back after your wander around). After you get settled, you can go out in groups to find some local food, such as Hami melon and camel's hump (if you like strong taste). It is the most busy time in Ejina Bannar, the food price is rising, so it's better to ask the price first.
Day3 (October 2nd )Romance in populous diversifolia forrest
On this day we will start our visit in Ejina Banner. We will leave at 7 and arrive at Dace Port at around 8:00, where we will spend 1.5 hours there. If you wish to see the boundary tablet, you can buy the entrance ticket to get in. There is a China and Mongolia free trade area near the exit where you can buy some souvenirs. Remember to be back at the bus at 9:40, and the bus will take us to Juyanhai Scenic Spot in 20 mins, where we will stay for 2 hours. At 12:00, we will go to the most famous place in Ejina--- the populous diversifolia forest.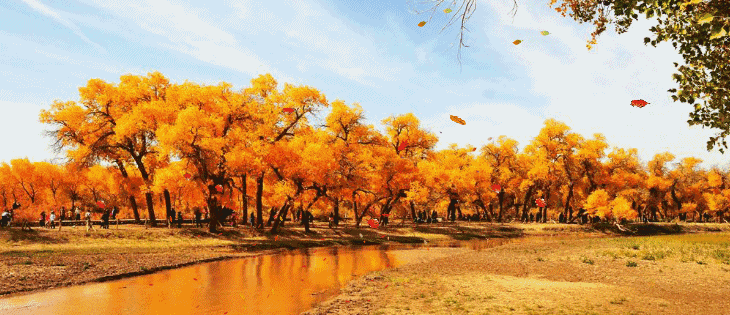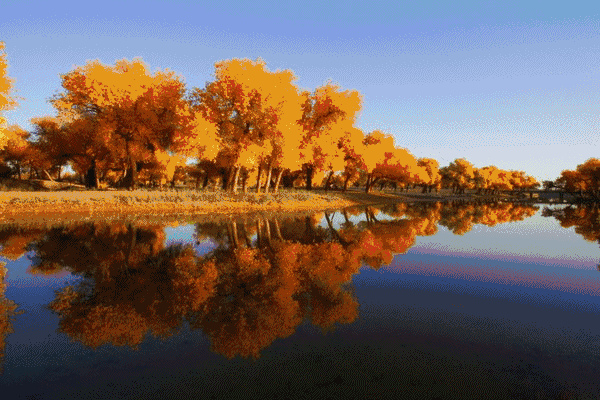 Day4 (Oct. 3rd )Sunrise in the desert
Get up at 4:30 and leave for Sheepish Ghost Town at 5:00. Arrive there at 5:30 and wait for the sunrise. After visiting Sheepish Ghost Town, take shuttle buses to The Weird Woods, the tomb of populaces diversifolia. At 9:00, go back to the bus and arrive at Jiayu Pass at 15:00, the end of the Great Wall, where we stay for 2 hours. At 17:00, leave Jiayu Pass to Zhangye and get there at around 20:00.
Day5 (Oct. 4th )Colorful Danxia
At 7:30, leave for Zhangye National Landform Park to appreciate the Beauty of Danxia Landscape. At 10:30, set out for Dunhuang and reach there at 19:00. After check in, you can stroll around the famous night scene night market like the Shazhou Night Market.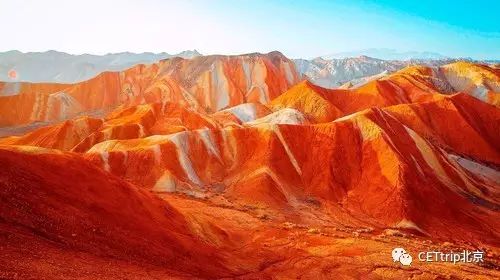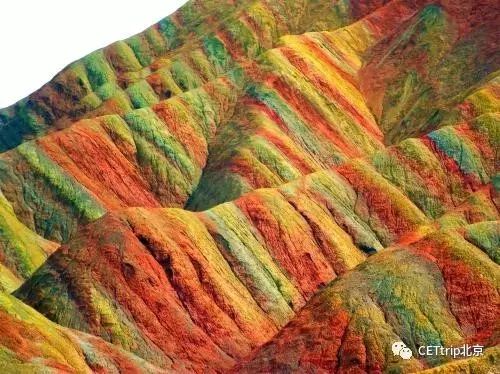 Day6 (Oct. 5th) Mysterious caves/ Oasis.
Arrange your own breakfast and set off for Mogao Caves before 7:30. At 12, go to Shashan Yueya Scenic spot. It's recommended that you ride the camel first, then go to the sand hill and the oasis. A t
15:30, get back to bus and leave for Delingha City, Qinghai. We will pass through Dangjinshan, which has an altitude of 4,000 meters. So if we are lucky , we may see the snow mountain. We shall arrive the hotel at 21:00. You will have to prepare your dinner yourself. 
Day7 (Oct. 6th )The saline/ Qinghai Lake
Have breakfast at 7:30, depart at 8:00 and drive for 2 hours to Chaka Saline Scenic Spot. At 13:00, set out for Qinghai Lake. It will take us 2 hours and during this time, we will see Tibetan Pilgrims, yaks all over the hills, prayer flags stirring in air... after climbing up Xiangpishan, the sky blue Qinghai Lake will suddenly come into our view. At around 15:00, check in Tibetan folk houses and go out to explore Qinghai Lake. Don't go out alone at night!!!
Day8 (Oct. 7th )
At 7:30, set out to our last destination --- Tibetan Buddhism "Ta'er Temple". At 11:00, arrive at Xining Ta'er Temple Scenic Spot, arrange your lunch, sightseeing for 3 hours and leave at 14:00. Prepare some food and water before get on the bus, because there will be no time to buy them at the service area. We shall spend the night at a service area.
Day9 (Oct. 8th )
Set out at 5:00 and will arrive in Beijing in the late afternoon.

1.Send a message: " Activity+how many seats you need + Your Meeting point" to CET Customer Service Wechat(eg:Sawyer+1+123456(phone number)+hot spring party Feb.4th+BLCU)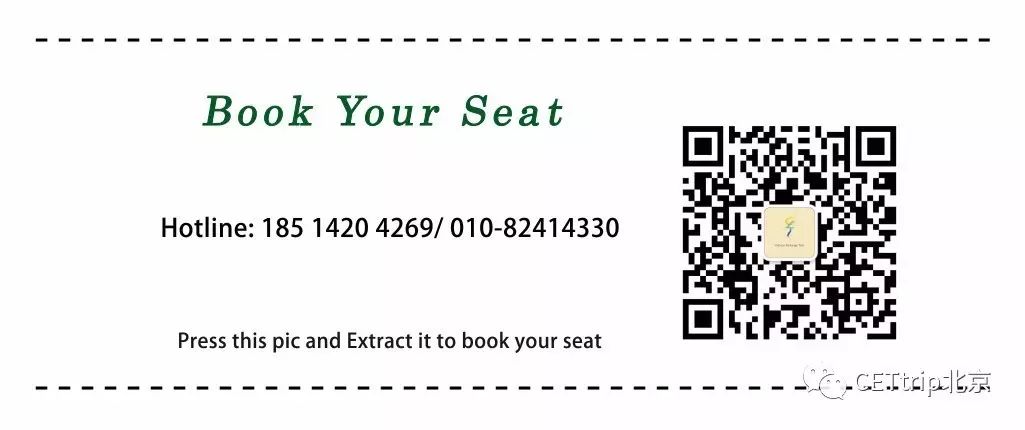 2.Finish the payment by wechat or Alipay (Alipay ID: 18612035869, if you paid by Alipay, send a screenshot of your payment to CET Customer Service Wechat )
3.Once you finish the payment, you will get a payment nub and an invitation of our activity group, keep in touch with our trip leader in the activity group.
Note
If you didnt have money on wechat, you can give your cash to your friends who have money in their wechat and then let them transfer money to your wechat.

You can get more details about this trip from the activity group from our trip leader.

If you have problem to come to our meeting point, you need to ask in the activity group to let our trip leader to help you.

#This Weekends CETtrips#
#Life in China#
#CET Talk#



Click the links to Get the details!