为了鼓励更多的人参与到自由互联网的开发,我们最新推出了
GreatFire悬赏计划
,请参赛者在下列任务中任选其中一个或多个,完成其中的任务目标,即可获得对应金额的奖励。
2019 Guizhou | 5-Day Minority Culture+Blue Nature Essential Tour

# CETtrips #
Click the links to Get the details!
2019 Guizhou | 5 Days Minority Culture+Blue Nature Essential Tour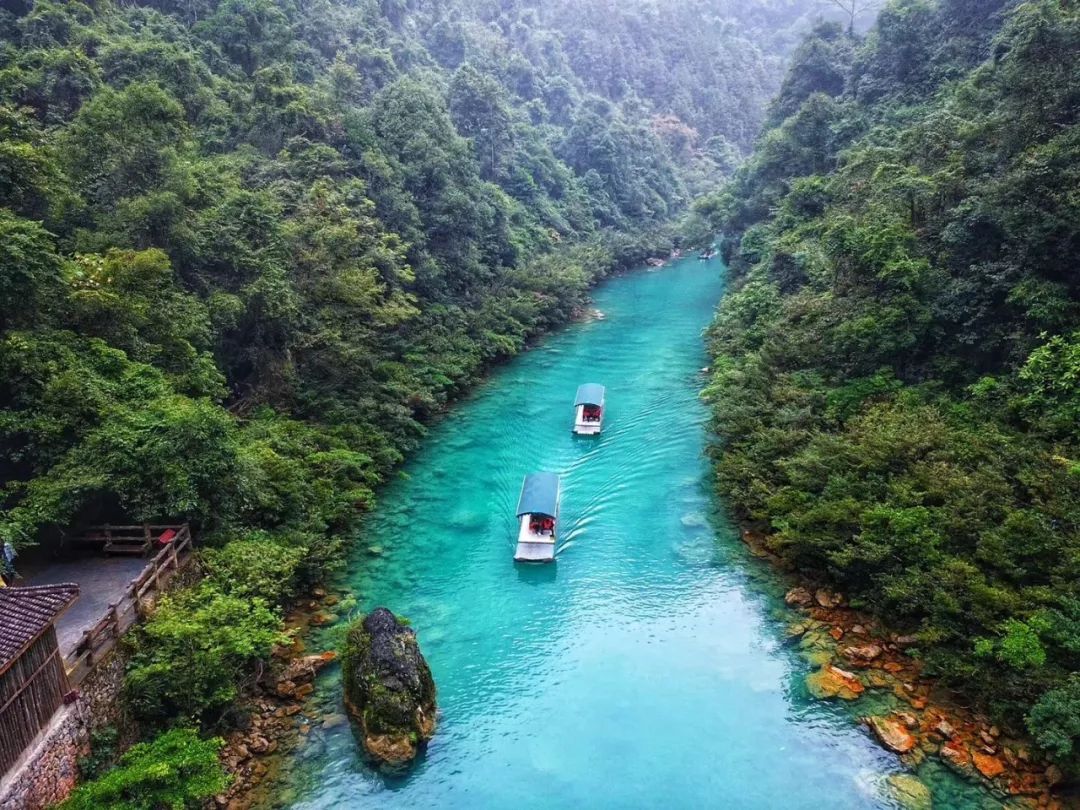 Xiaoqikong Photo by CETtrip Leader Suede
In the southwest heartland of China, there is a magical land - Guizhou, where the mountains, waters, forests are all the uncanny workmanship of nature. In addition to the picturesque natural scenery, over 48 ethnic minorities live here for generations and this has endowed Guizhou with mysterious ethnic villages and unique minority culture.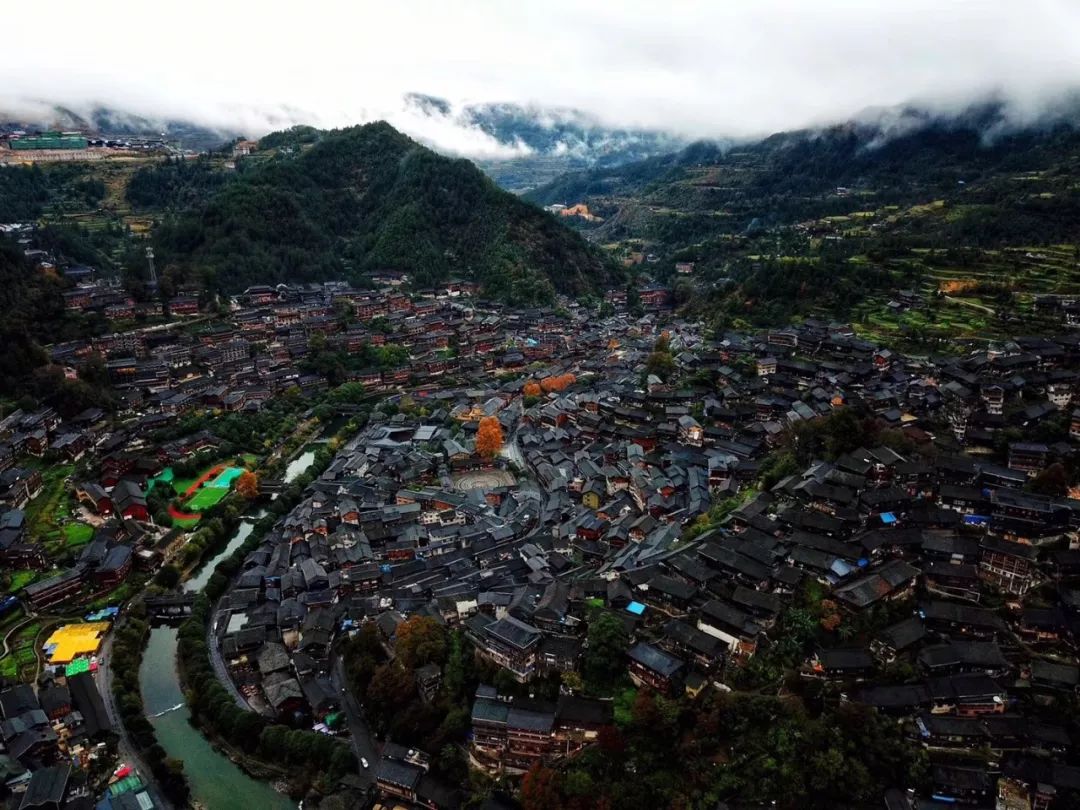 Xijiang Miao Village Photo by CETtrip Leader Suede
This province is home to 48 China's ethnic groups, second only to Yunnan Province, each of which has developed their own unique customs and cultures. When traveling there, visitors should not miss the chance to experience their simple and original living habits, appreciate the unique architectural styles and try their exotic and colorful costumes, etc.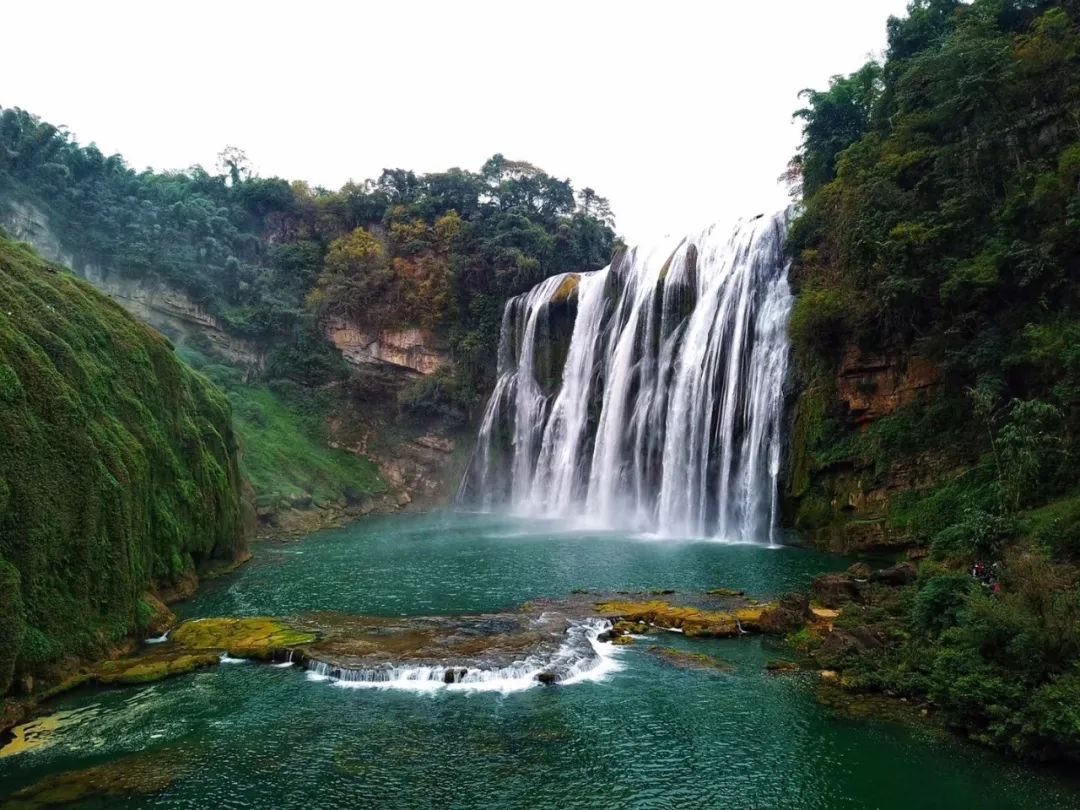 Huangguoshu Waterfall Photo by CETtrip Leader Suede
Remote countryside, unsophisticated minority people, their colorful ethnic dress, unique folk customs, peculiar styles of architecture, traditional bazaar, livestock market and many others, all these make Guizhou a mysterious charming land. So traveling to Guizhou is not just for sightseeing, but a way of approaching and experiencing the real life of the locals. Following our Guizhou tours, you will be surely fascinated.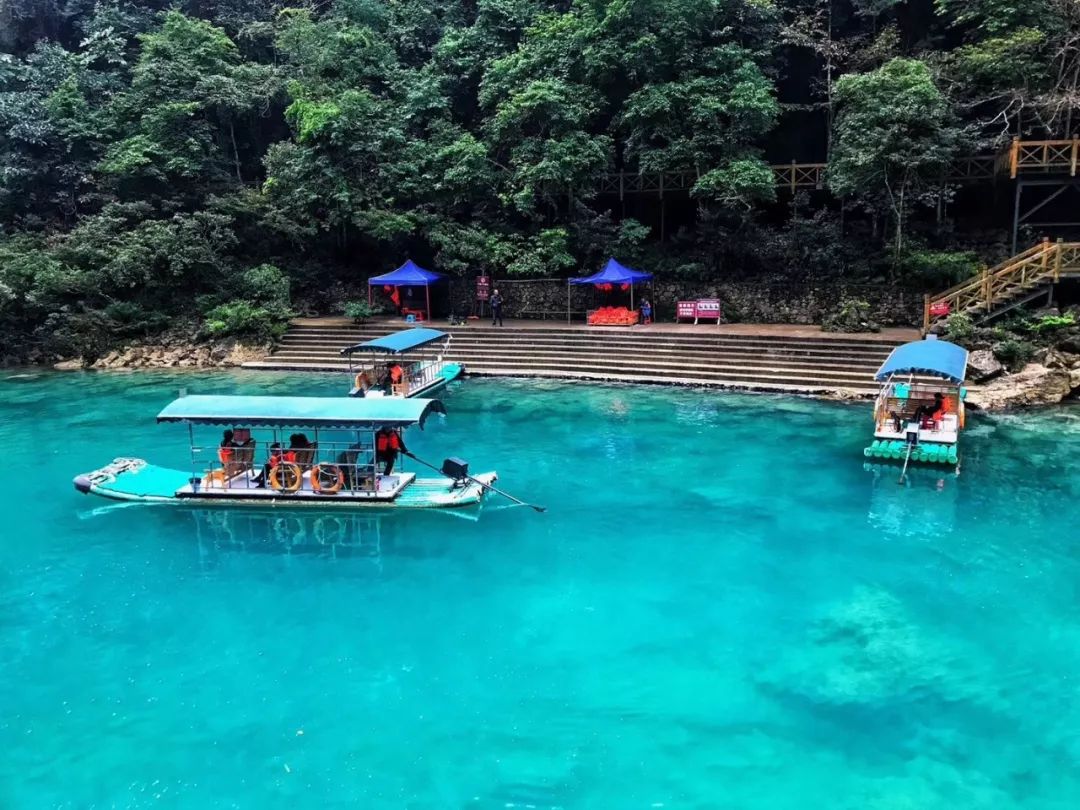 Daqikong Photo by CETtrip Leader Suede
Highlights of this Tour
It's hard to call Guìzhōu underrated as a travel destination when it's largely unknown to travellers outside China entirely and what a travesty of justice. Let alone to foreigners, this distination is just coming to Chinese travelers' list last year own to 9 high ways were open in this province 2017, it can be one of China's Best Kept Secrets without any doubts. 
Get a bird's eye view from the Water-Viewing Stage to see the  largest waterfall in China-Huangguoshu Waterfall

Appreciate the unique Karst landscapes, view some delicate waterfalls and the special stone forests in Tianxingqiao Scenic Spot

Enjoy the beautiful night view of Xijiangqianhu Miao Village and experience the featured culture of various ethnic villages

Explore Miao ethnic minority villages & visit the traditional wooden houses of Diaojiaolou

Get up close with the local people & experience their unique and diversified folk customs

Travel to Xiaoqikong UNESCO world heritage site Scenic Area, A Magical Blue Dreamland.

See the beautiful landscapes of dense forests, various living species, overlapping mountains, rivers and lakes in Xiaoqikong.
So maybe as the first tour to Guizhou for foreigner, our tour will include Guizhou Top 3 attractions. Visit Anshun city to see China biggest waterfall: Huangguoshu Waterfall; Visit Libo town to view World Natural Heritage site: Xiaoqikong Magical Blue Dreamland; Visit Kaili city to experience the largest gathering place of the Miao in China and even the world: Xijiangqianhu Miao Villages.
Maybe it seems 3 places are too less for the 6 days tour, but less is the best. Beacause each place is about 250Km away from another; and each place needs us almost one day to explore it. You will never regrat after this tour, and you will regrat if you leave China without visiting this place, for sure!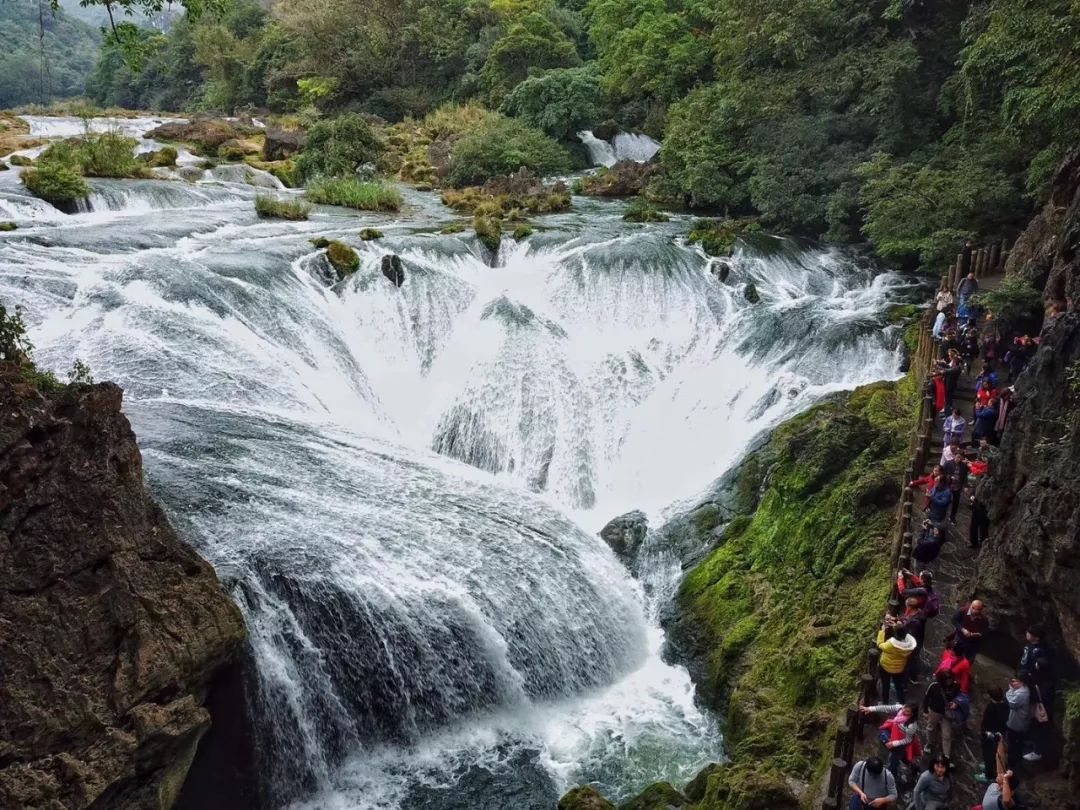 Tianxingqiao Photo by CETtrip Leader Suede
Trip Overview
Guizhou is a "natural park" with beautiful mountains and rivers, and a "cultural hub" with multiple minorities and unique ethnic customs. So, when you visit Guizhou, you will not only enjoy its marvelous landscapes, but also personally experience its unique ethnic customs, cultures. 
Day1 Beijing-Guizhou, Overnight at Guiyang City, the Capital City of Guizhou Province.

Day2 Guiyang-Huangguoshu Waterfall- Tianxinqiao-Guiyang City, Overnight at Guiyang City

Day3 Guiyang-Xiaoqikong-Daqikong-Libo town, Overnight in Libo Town

Day4 Libo Town-Xijiangqianhu Miao Villages, Overnight in Xijiangqianhu Miao Villages

Day5 Xijiangqianhu Miao Villages-Guiyang City. Go back to your next destination.
Now, let's enter this mysterious land, visiting Guizhou and make a lifetime experience to get to close to the ancient and mysterious ethnic culture!
Good to Know: From 2018-12-1 to 2019-2-28; citizens from Shanghai city、Liaoling Province、Jiangsu Province、Zhejiang Province、Shangdong Province、Hongkong、Taiwan、Macao can enjoy free entrance ticket, and the other citizens can enjoy half discount entrance tickets during these dates.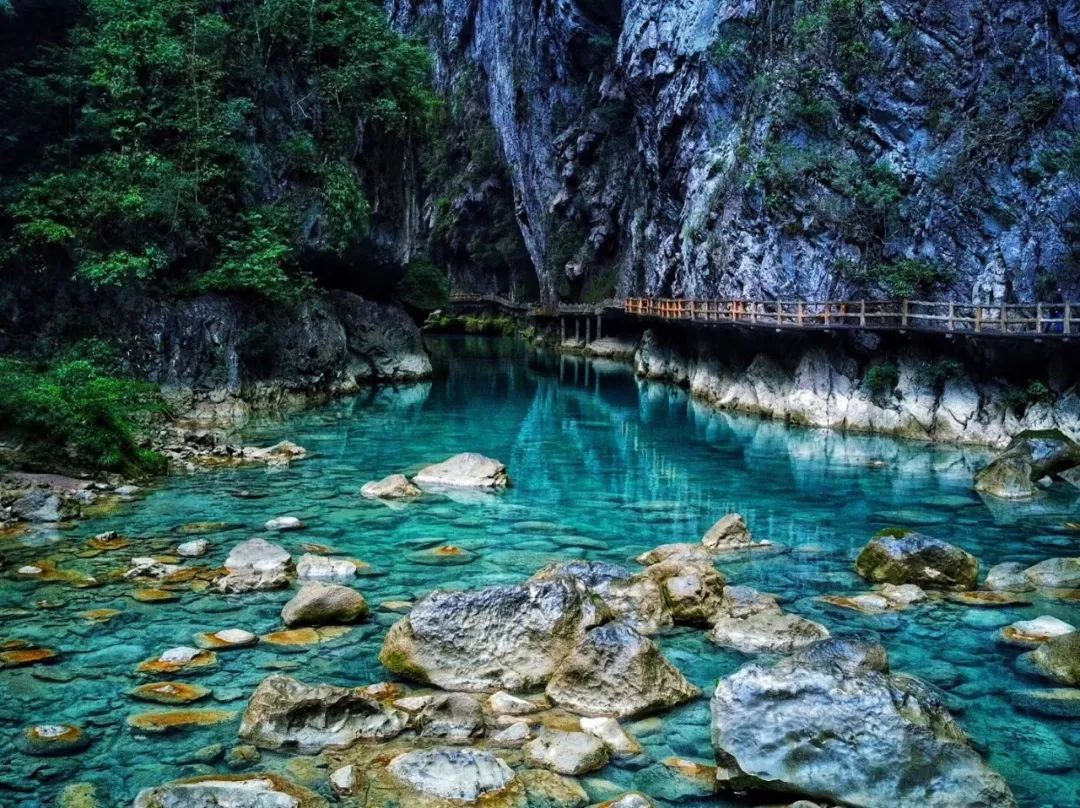 Daqikong Photo by CETtrip Leader Suede
Basic Tour Information
Activity Place: Guiyang City, Guizhou Province
Activity Date:  Private Tour provided if you want to go with your family or friends!
12th Tour: July.10th-14th

13th Tour: July.24th-28th

14th Tour: Aug.7th-11th

15th Tour: Aug.14th-18th

16th Tour: Aug.21th-25th

17th Tour: Aug.28th-Sep.1st

18th Tour: Sep.11th-15th Mid-Autumn Festival


19th Tour: Sep.18th-22th

20th Tour: Sep.25th-29th

21th Tour: Oct.1st-5th National Holiday

22th Tour: Oct.16th-20th

23th Tour: Oct.30th-Nov.3rd

24th Tour: Nov.15th-17th

25th Tour: Nov.27th-Dec.1st

26th Tour: Dec.11th-15th

27th Tour: Dec.25th-29th

Please Note: the first day of our trip date is matched with D1 of our trip schedule. D0 is one day ahead of our trip date. For people who are not in Beijing, if you are interested in our trip as well, feel free to contact us Kevin 18701009257.

Trip fee: Local Travelling Bus+Hotel+Meals+Tickets+CET English Guide
Normal Price: 2485RMB/pax, pay the deposit 485RMB/pax when you book the trip.

Group Discount: 2455RMB/pax if 3 or more than 3 seats booked together, pay the deposite 455RMB/pax when you book the trip.

VIP Price: 2355RMB  ( Buy CET VIP on our wechat offical Menu), pay the deposit fee 255RMB/pax when you book the trip.

Note: The left 2000RMB trip fee will be collected when this trip is confirmed. 
Optional Transport: In fact, there are many flights and high-speed trains available for this trip as well,  here we provde this 3 options for you to choose:
Plan A by Normal Train: If you want to take the normal berth train which will take around 26hours to arrvie at Guiyang and back to Beijing, the hard sleeping bed train tickets for the normal train is around 480RMB/ticket, 65RMB/ticket for the service charge; You need to leave on D0.


Plan B by Flight: If you can take the flight to Guizhou which will only cost 3.5 hours , the plane ticket will be around 580RMB from Beijing to Guiyang if you book in advance. The flight back from Guiyang to Beijing will be around 1880RMB, so we suggest you stay one more night in Guiyang and take the high speed train back to beijing on the D6 Morning, 20RMB/ticket for the service charge. You can leave on D1.

Plan C by High-Speed Train: If you take the high-speed train to arrvie which will only cost around 10 hours to arrvie, the ticket fee is 963.5RMB, 20RMB/ticket for the service charge. There is no High Speed train available after 14:00. You can leave on D1

Best Plan: If you book this trip early (One Month in advace), you can take Plane B to arrvie Guiyang and then take Plan A or Plan C to back. Both of Plan A and Plan C will arrive on Day6.
Participants: If less than 8 participants, this trip fee will be different.
Travel Advisor:  Jane 15510307192  (English & Mandarin)
Book Your Tickets Online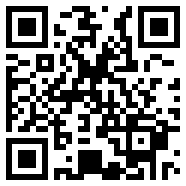 Press this QR Code and Extract it to book your seat.
How to Rigister online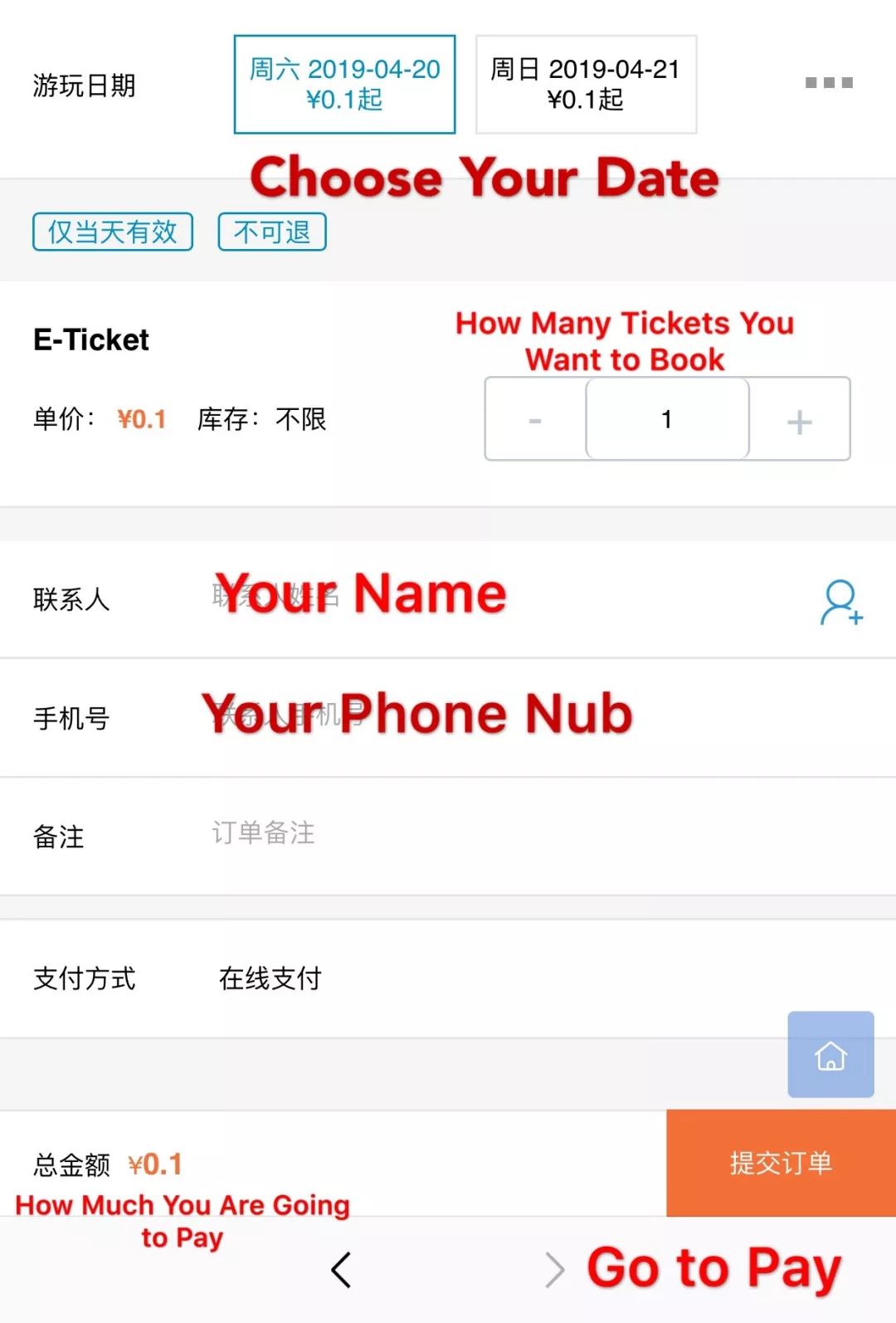 If you have any problem, you can add our customer wechat for help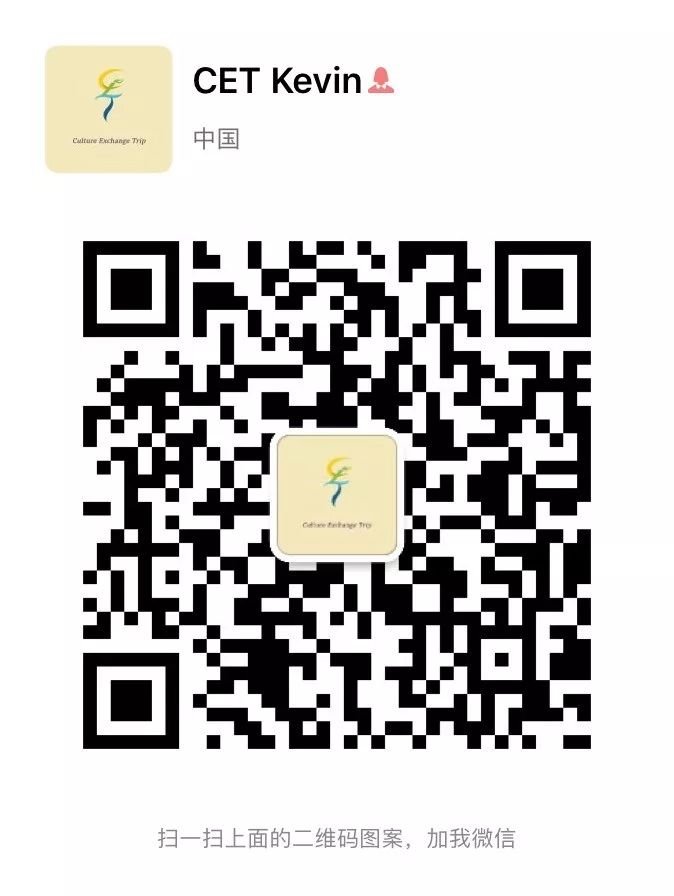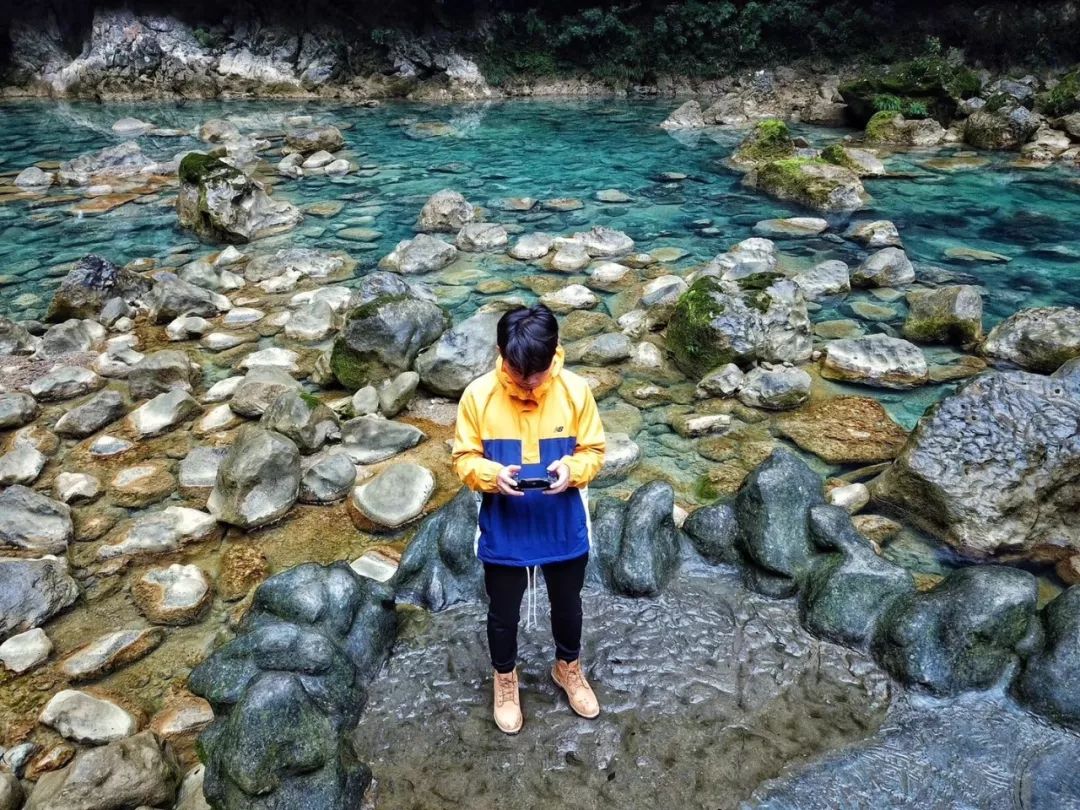 Daqikong Photo by CETtrip Leader Suede
Statement about the Trip Fee
What is includes in the cost?
Accommodation:  4 night in 3-Star hotel. D2 and D3 in Guiyang City; D4 in Libo Town; D5 inside of Xijiangqianhu Miao Village. 2 ppl share in one room. Single Room Supplement is not included.

Meals during this trip: D2 Lunch, D3 Breakfast (Lunch time will be in Xiaoqikong Senic Spot on your own expense) and D4 Breakfast, Lunch(Dinner will be in Xijiang Miao Villages, lots of local resturants available, explore the local food on your own expense ); D5 Breakfast and Lunch.

Entrance ticket: Huangguoshu Waterfall and Tianxingqiao 160RM; 50RMB for Eco-car.

Entrance tickets: Xiaoqikong and Daqikong 130RMB, Eco-car 50RMB.

Entrance tickets: Xijiangqianhumiao  Village 90RMB, Eco-car 20RMB.

CET English Guide for the whole trip.

Local travelling bus with experienced driver.

5 Days outdoor insurance.
What is not included in the cost?

Additional personal consumption

Please Note: We want to have a positive effect everywhere we go, we don't take commissions or kickbacks, and we don't take you on detours for shopping.
Statement about the Refund
If you cancel this trip more than 10 days before depature, we will fully refund but we will deduct the train ticket booking fee: 65RMB/ticket.

If you cancel this trip 7 days before depature, we will refund 50% trip fee to you and we will deduct the train ticket booking fee: 65RMB/ticket.

If you cancel this trip within 7 days before depature, no refund.
Quick Weather Info: Guizhou Province has a temperate, humid subtropical monsoon climate, with neither severe winters nor hot summers. The hottest day occurs in late July, and the coldest in early January. The rainy season here, however, can last half a year, especially concentrated in late spring and early summer. Umbrellas should be kept at the ready when traveling around Guizhou.
About the Local Food: Guizhou Province, in southwest China, has beautiful landscape, colorful minority customs and mouth-watering food; distinctively spicy and sour food. If you like spicy or other strong-flavored food, Guizhou will be a culinary paradise for you.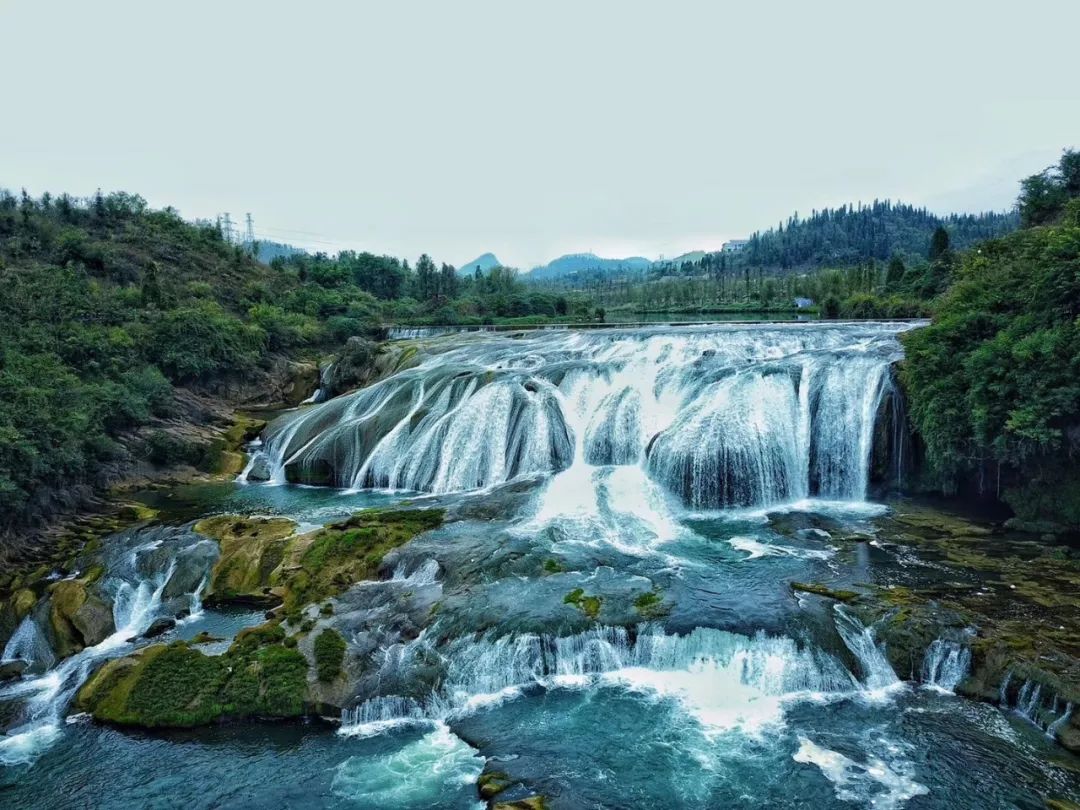 Tianxingqiao Photo by CETtrip Leader Suede
Statement about China Train Ticket
All of the train tickets will start to be sold online 30 days before the train starts, and if you have special needs of the train tickets, please inform us 30 days before the tickets are sold online.

All of the train tickets are sold randomly once it is sold online, so it is difficult to get the sequential tickets, hope you can understand and book the trip in advance.

All of the hard sleeping bed tickets will be sold out soon once it is put online to sell, especial for some hot tourist cities like harbin, Xian, Luoyang, and so on.

If you want to travel during the holiday, you would better to book the train tickets as eariler as you can, becasue almost all of the sleeping bed tickets will be sold out in seconds once it is put online.

It doesnt mean you couldnt get the sleeping bed ticket when it is sold out online, CET has train ticket cooperater who can help us to book the sleeping bed train ticket (when the others cancel theirs), the service charge is 65RMB/ticket.

If you cancel your tickets 48hours before the train depature, you can get 95% of your ticket fee, the train ticket booking service fee is non-refund. If you cancel your tickets 24hours-48hours you can get 90% refund, and within 24hours, you can get 80% refund.
Statement about the transport for this trip
As we mentioned, if you book the trip early, you can book the flight to Guiyang City, you can be very easy to get good discount plane tickets. It is around 580RMB. if you dont know how to book it, we can book it for you as well, it is 20RMB/ticket service fee.

If you book our trip closed to the depature, maybe the flight will not be cheap, then we will start to book hard sleeping bed train tickets for you, the suitable trains are Z77 and Z161, Z77 leaves from Beijing at 16:15 and arrives Guiyang at 18:36; Z161 leaves from Beijing at 12:34 and arrive Guiyang at 15:17.

If you book the high speed train to Guiyang, the suitable trains are  G405、G401、G81and G403; The suitable trains back to Beijing are G82、G404、G402 and G406. All of these trains are leaving in the morning and arrvie in the afternoon or night, it takes around 10 hours to arrive, If you take the high speed train to go back, you need to stay one more night at guiyang and leave on the D6 morning.

The trasport from Guiyang to Beijing, you can choose high speed train or filght. it will cost you 1000RMB or 20000RMB as we mentioned above.

The suitable normal train back to Beijing from Guiyang is Z150 leaves from Guiyang around 18:31 and arrive at 21:38 on D6. it is only 480RMB.

We will try to arrange all of the participants in the same train firstly, but if there is no tickets available, we have to take different train, please be cooperative.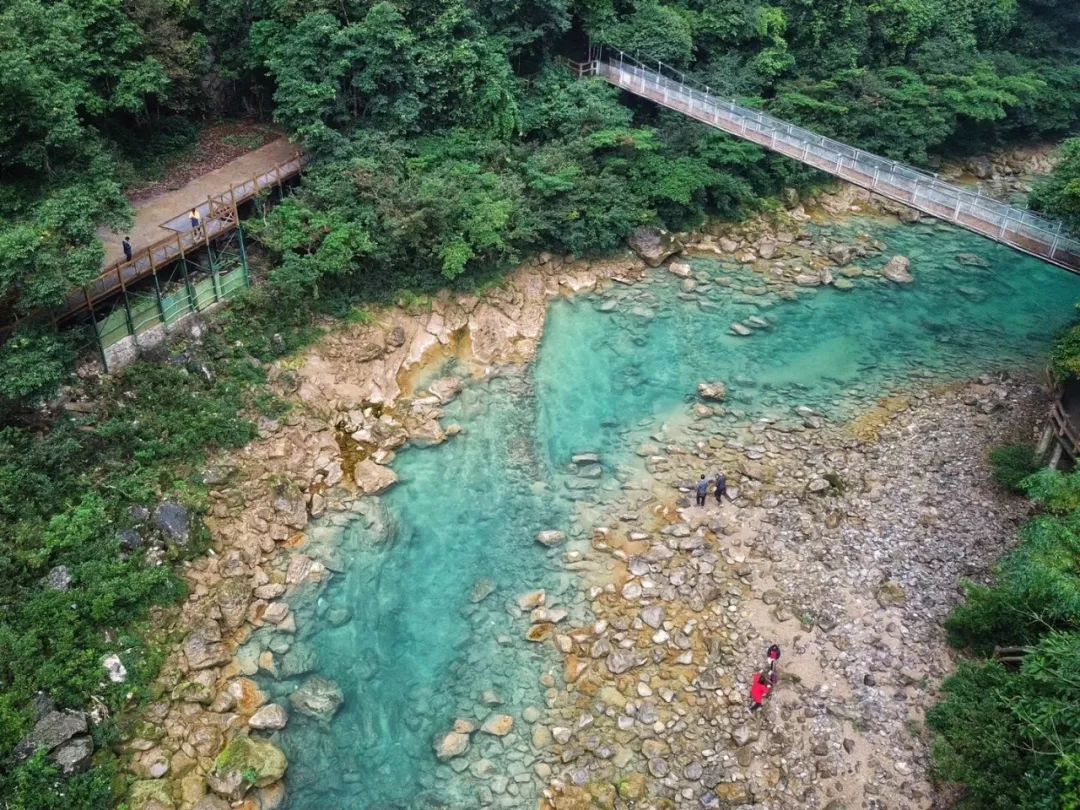 Daqikong Photo by CETtrip Leader Suede
Full Itinerary Day by Day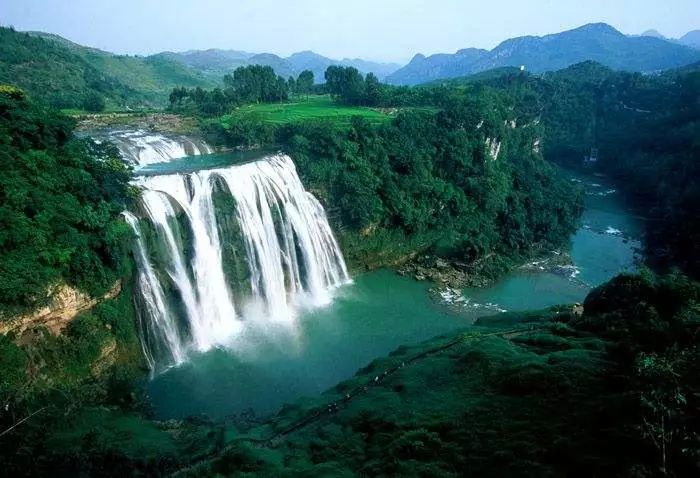 Day1 Beijing-Guiyang City, Gather at Guiyang City
Transfer: By high speed train or by flight.
Meals: None, prepare some snacks before you get on the train.
Accommodation: Overnight in Guiyang City.
Please Note: Dont forget to take your passport and student book if you are student. Cold-proof clothing is needed if you dont want to frostbite.
Welcome to Guiyang! Upon arrival, you will be greeted by our tour guide in the train station who is holding a sign on which CETtrip. A comfortable vehicle (non-smoking) with experienced driver will transfer you directly to your hotel in the Guiyang City. Your guide will help you check in. The rest of today is on your own to explore this beautiful city. Have a good sleep tonight.
About the pickup: As there are may ways will be choosen to arrive at Guiyang, and the arriving time will be different as well, so it is hard for us to pick you up at the airport or trian station and the pickup fee is not included in our trip fee. 
For plan A which will take the normal train to arrive, you will arrive at Guiyang train station which is 16kms away from the city center. 

For plan B which will take the flight to arrive, you will arrive at Guiyang Longdongbao airport which is 30km away from the city center. 

For plan C which will take the high speed train to arrive, you will arrive at Guiyang north train station which is 7km away from the city center.
Good to Know: If we have more than 4 ppl who will arrive at the same time, we will arrange our guide to pick you up for free. If not, it will charge as 50RMB for plan A, 80RMB for Plan B, 30RMB for Plan C.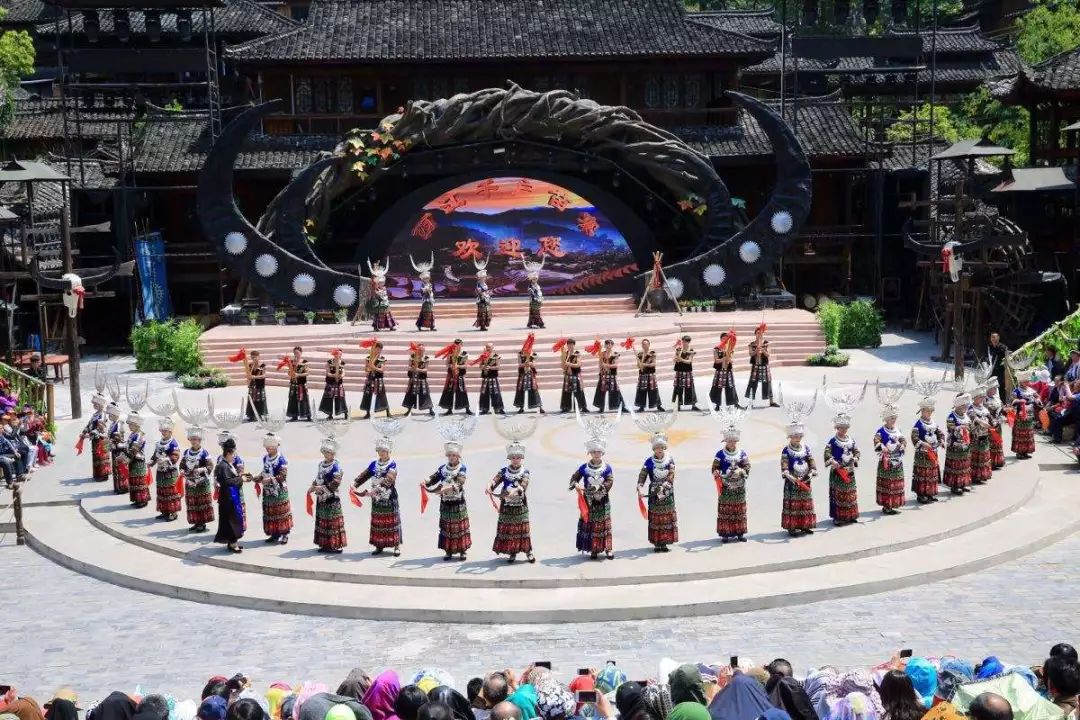 Day2 Guiyang-Huangguoshu Waterfall- Tianxinqiao-Guiyang City, Overnight at Guiyang City
Transfer: By Local traveling bus, 150km.
Meals: Breakfast Lunch and Dinner
Accommodation: Overnight at Guiyang City
Please Note: As Huangguoshu Waterfall is in the west of Guiyang, and the Xiaoqikong is in the east of Guizhou, so in order to visit Xiaoqikong easier, we need to back to Guiyang today.
Today we need to wake up 7:00am and finish breakfast and check out hotel before 7:30am. After breakfast, drive 128 km (about 2.5 hrs) to Anshun to explore Huangguoshu Waterfall which is the largest waterfall in Asia with 77.8 meters high and 101 meters wide. It is scattered with 18 waterfalls, majestic and picturesque. The main waterfall is the only waterfall than can be viewed from above, below, front, back, left and right in the world. Get into the Water Curtain Cave and you can hear, view and touch the waterfall. Besides, there are several viewing spots for you to have better view of the beautiful waterfalls.
Then, extend to the lower reaches of Huangguoshu Waterfall to explore Tianxing Bridge Scenic Spot, which is featured various grotesque limestone formations, caves, waterfalls, forests and the Heavenly Star Bridge (Tianxingqiao), which is formed by a slag of stone across a gorge.
Then go back to Guiyang City, stay overnight in Guiyang City, please sleep early and wake up early on the next day.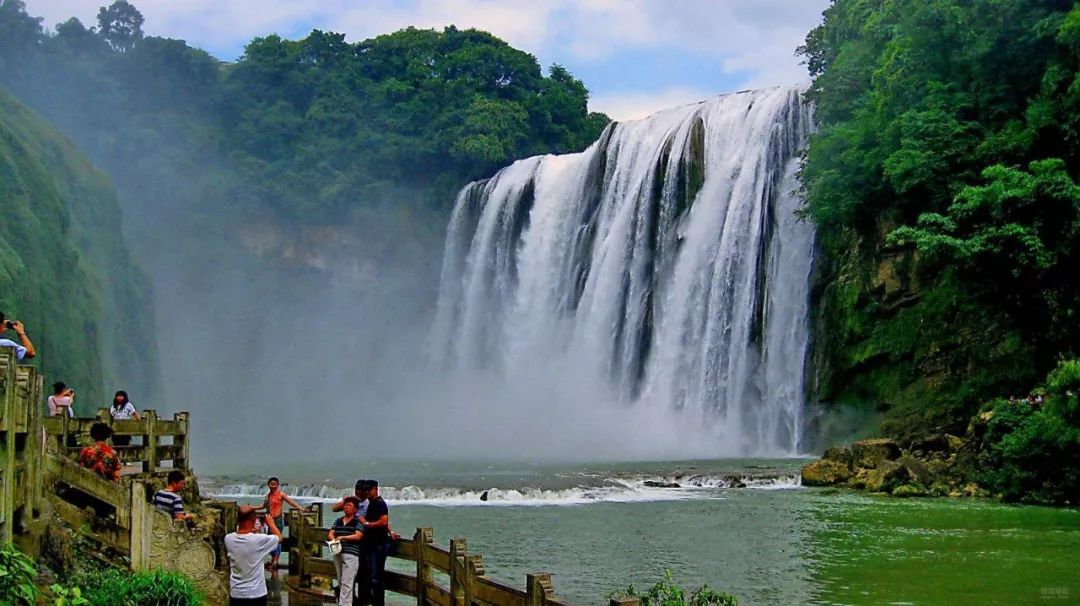 Day3 Guiyang-Xiaoqikong-Daqikong-Libo town, Overnight in Libo Town
Transfer: By Local traveling bus, 250km. 4 hours on the way.
Meals: Breakfast and Dinner; Lunch time will be in Xiaoqikong Senic Spot on your own expense
Accommodation: Overnight at Libo Town
Please Note: Today is a very tight day,  we need to wake up very early so that we can arrive at Xiaoqikong early, and so that we can enjoy more time in this spot. Please be on time!
Today we need to wake up at 6:30am and finish breakfast and check out before 7:00am, then head to Libo town where Xiaoqikong locates (if the hotel couldnt provide breakfast so early, please prepare by yourself and no refund for the breakfast, sorry). You will travel from Guiyang City to Libo County in a comfortable bus, and it will cost you 4 hours to arrive. Please dont drink too much water on the bus,  it is difficult to find a toilet on the way and only one stop at the service area.
This scenic area is known for its unique Karst landscapes, mysterious dense forests, various living species, splendid overlapping mountains, and clear rivers and lakes – a view that you will definitely fall in love with. As you arrive at the scenic area, you will be welcomed with breathtaking views of the lovely province. Explore the scenic place which has been well-preserved throughout the years praised as a "green gem unmatched by any other Karst sites in the world" by local and foreign visitors. There are three famous attractions in the scenic area which you can visit using your pass: Xiaoqikong、 Daqikong and Shuichun River. 
When you get inside, you will see 2 directions, one is leading to Daqikong, the other one is the gate to take the Eco-car to the top of Xiaoqikong, please follow our guide to take the eco-car firstly and then visit the Daqikong after we finish Xiaoqikong. One surprise will be followed by another one when you visiting this place! Really amazing!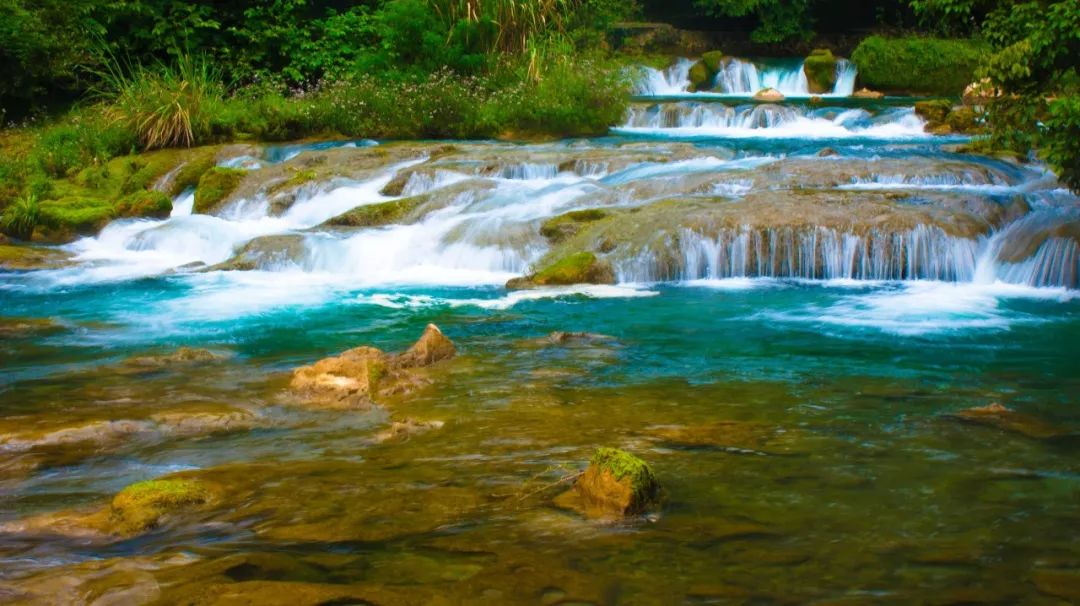 The first area is the Crouching Tiger Pond formed from water spring up from underground.  The power generating dam that was built formed a pond and the beautiful waterfall. Then we come to Yuanyan (Mandarin Duck) Lake which is the only aquatic forest of the Karst landscape at this latitude in the world.  Due to the various minerals in the water gives it special color and often gives off many different colors due to reflecting lights. 
Next–Laguane Lake Wetland Area-Shooting place of the TV show Survival Games in Sept. 2015. The lake water is clean and lots of algae grow in it to give off a special color.  The reflections from the clear water created colorful picturesque scenes at various angle and lighting.  The lake surrounded by water falls and mountain peaks and wetlands as well as a very comfortable and clean hotel.
Next stop is Emerald Valley Water Fall, water falls among the lush green trees a rare scene. From the Emerald Valley Water Fall to Xiaoqikong Bridge is the Water Forest.  Its trail is approximately 2000 meters along the flow of Xiangshui River.  Its water bed flows over rocks as if the rocks grew out from the water just as the trees grow from the rocks with its leaves drape over the water.  This is a cool refreshing walk.  No wonder, legend has it, even the fairies frequently bath in these waters.
Make sure you visit the famous seven-arched Xiaoqikong Stone Bridge which was built in 1835, the 68-step waterfall near Laya Waterfall, and the Green Valley Waterfall which is surrounded by high green mountains that reflects a green hue to the water. Don't forget to take as many photos as you can to take in all the beauty of this place.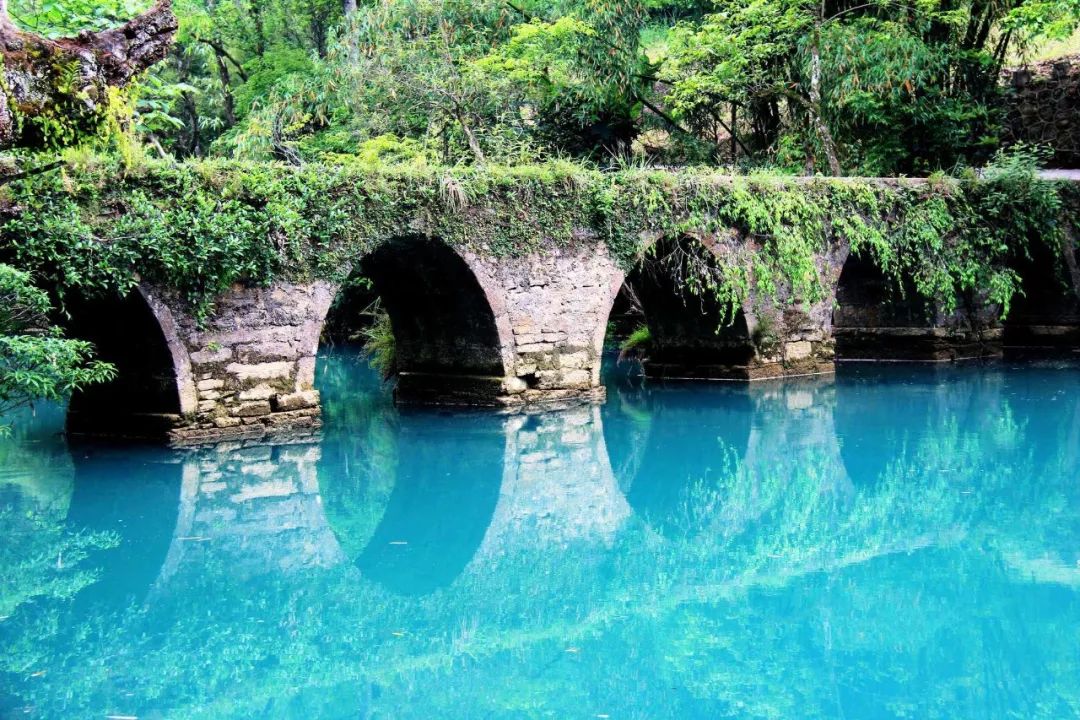 After you finish the Xiaoqikong, you will come back to the gate by eco-car and then go to visit Daqikong from the gate beside the eco-car place. When you visit Daqikong, it will be very easy, because it is not too big and there are only two pathes along one river. First take the right path to get inside and then take the left path to get out, when you go out, you can also rent a boat and have a close-up look and personal experience of the dream bule river (it is around 30RMB, suggest!). You can visit these site at your own pace and before it gets dark, gather together to back our bus.
The Daqikong Scenic Spot, its name origines from Daqikong Bridge, which was built in ancient times, and serves now as the entrance to the area. In this scenic spot, there are many wonderful views including gorges, virgin woods, underground streams, and subterranean lakes. Aeolus Cave, Terrifying Gorge, and Underground Palace encompass waterfalls in caves, lakes at the bottom of the falls, and skylights above the lakes like crescents and stars hanging above. Here you will visit Di'e Forest, Di'e Palace, Tiansheng Bridge, Fengshen Hole, Kongbu Canyon, Di'e Hole, Xiaotian River, Daqikong Scenic Spot seven attractions one by one. All of them have the characteristics of mysterious and spectacular scenery.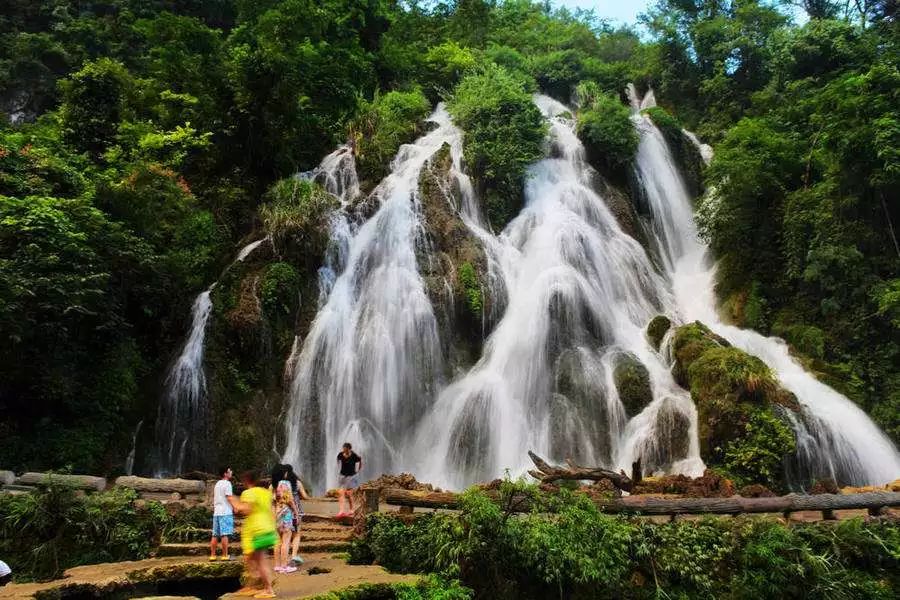 After we finish the Xiaoqikong and Daqikong, then gather together to find our bus (the park is a little far away from the entrance gate, so when you come out, contact our guide firstly). Today will not be an easy day, but if the weather is not bad, it is the most amazing day. Since the Jiuzhaigou is closed for visiting after the earthquake and The Xiao Qikong is also known as minor Jiuzhaigou valley which is elegant and peaceful similiarly, you can also enjoy the Jiuzhaigou's beauty in this place. It is quite famous for its perfectly situated views of virgin, natural views made up of mountains, waters, trees, caves, lakes, and falls. Dream it! 
Then our driver will take us to Libo town and stay one night in Libo town, only 20km away from Xiaoqikong senic spot. Good rest for tomorrow's adventure!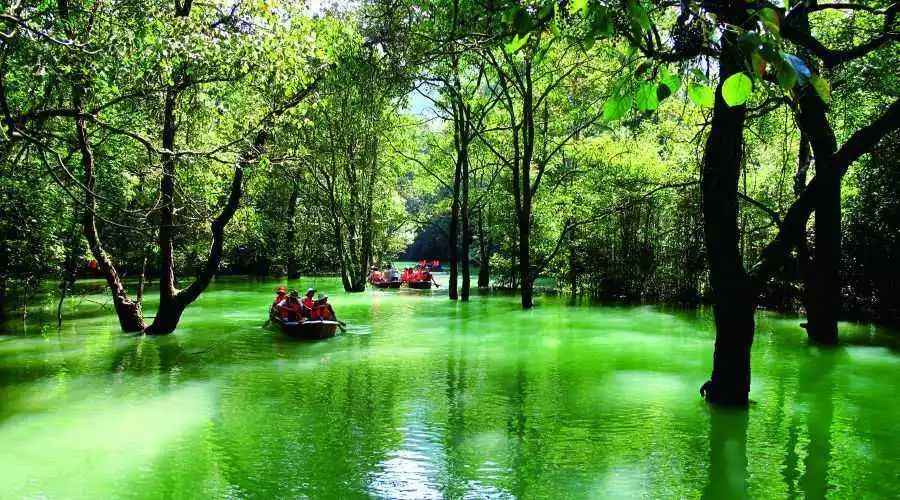 Day4 Libo Town-Xijiangqianhu Miao Villages, Overnight in Xijiangqianhu Miao Villages
Transfer: By Local traveling bus, 210km, 4 hours on the way
Meals: Breakfast Lunch; Dinner will be in Xijiang Miao Villages, lots of local resturants available, explore the local food on your own expense
Accommodation: Overnight in Xijiangqianghu Miao Villages, Kaili City.
Please Note: There are many clubs and bars available inside, the nightlife is wonderful with all lights on all over the mount. If we have a big group, maybe our people will live in different hotels.
Today after breakfast, we will leave Libo town to Kaili, the capital city of Southeast Guizhou Miao-Dong Autonomous Prefecture, is best area to explore Ethnic Minority Villages of Guizhou. It will cost us about 4 hours to arrive, and it is difficult to find a toilet when we drive on the high speed road as well, so dont drink too much, sorry, and also only one stop at the service area.
Travel to Kaili, the largest Xijiang Miao Village can be the top attraction to see Miao people's customs, culture and peculiar natural scenery. Along the way, you will encounter more ethnic villages with unique brilliant history and their own costumes. By visiting the aboriginal, unsophisticated villages and towns in Xijiang Miao Village, you will experience more than you expected.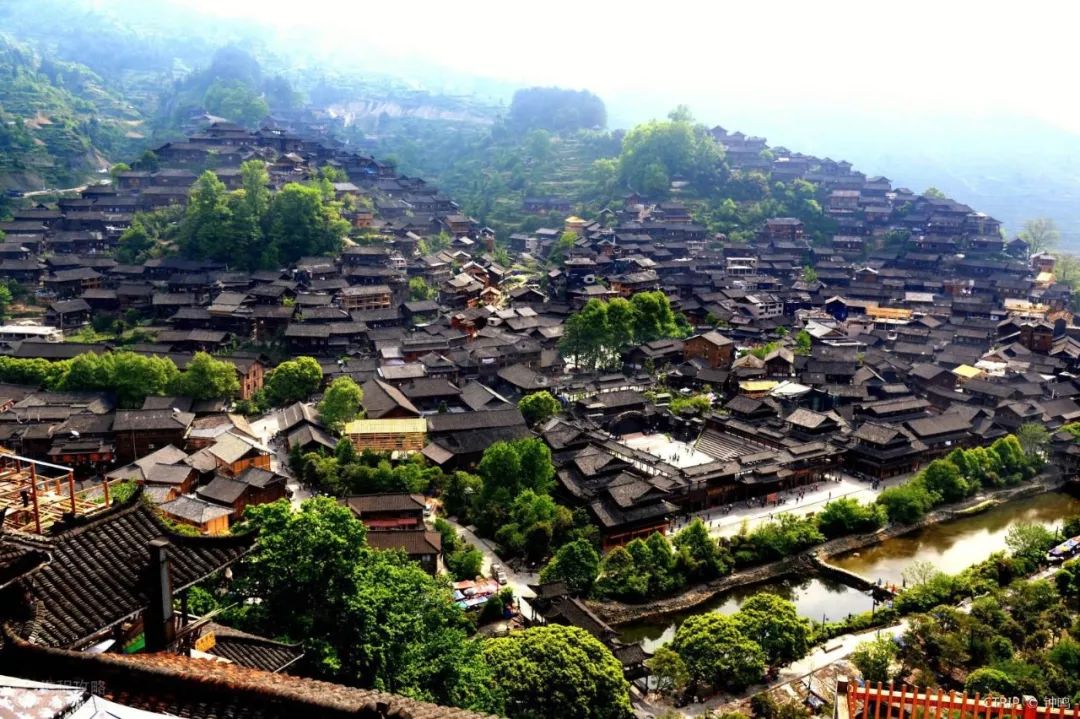 It is around 12:00 that we can arrive at the biggest Miao Village which is the biggest one in China and even in the world. Surrounded by overlapping mountains, Xijiang Miao Village is the largest Miao minority gathering with over thousand households. Those wooden-stilted houses built quite closely along the bottom to the top of hills, forming a strong farming culture and the beautiful countryside scenery. The Miao Nationality Museum can help you to get a fast and general ideal of the Miao's history and culture, also present you the clothes, living behaviors, customs, and art in Miao people's daily life. As you have enough time to spend overnight here, the night view is really amazing when lights turn on, especially happened to be some festivals, like the Miao's New Year.
After arrival at the parking lot, you will take a sightseeing bus into the village. Experience welcome ceremony in the entrance gate and visit Lusehng Dancing ground and Bronze Drum Dancing Ground to watch colorful performance. Then finish lunch, we will check in hotel and then this afternoon is left to you to explore this big village. If you didnt sleep well, you can take a rest in the hotel. If you are still energetic, you can feel free to walk around in the big village. On the next day, our guide will take us to visit this villages all around. Feel free to communicate with our guide if you find some interesting or puzzles. I am sure you will have!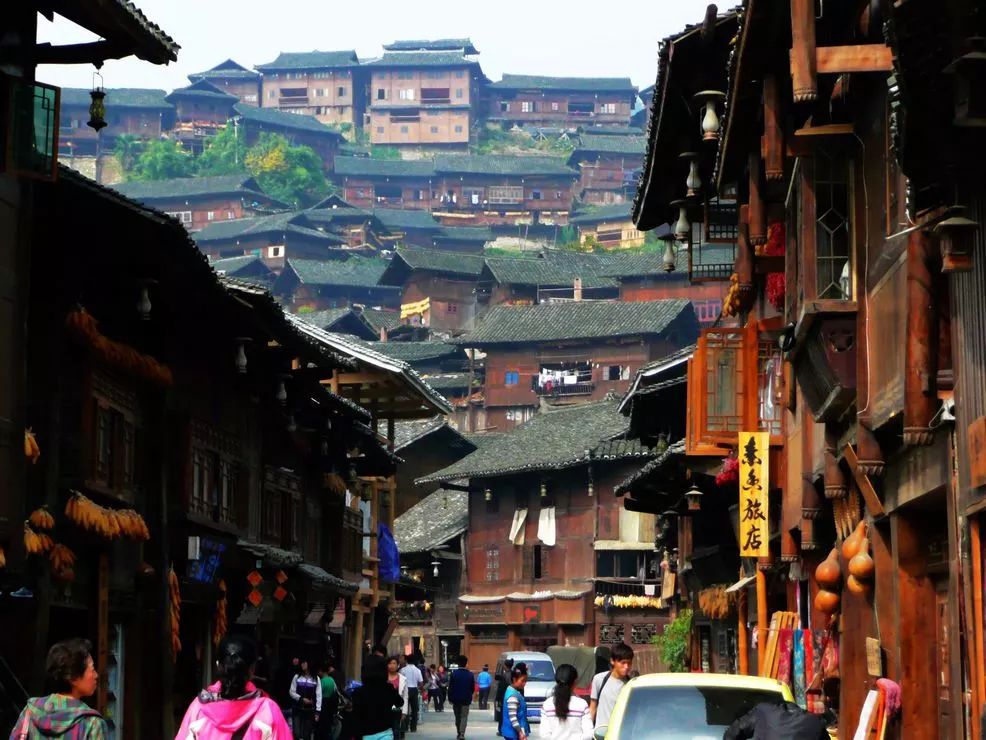 What you can expect here?
The Singing and Dancing Show: The Old Songs of Miao Nationality sung by seniors in the village is excellent. Two performances are held twice everyday, one at around 11:30 and the other at around 17:00 on the square. The exact performance time is a little different everyday, so it is suggested to confirm the schedule when you are there.
Two Streets: There are two main streets in Xijiang Qianhu Miao Village, an ancient one and a modern-built Youfang Street. As well as unique shops the old street has many snacks stores, restaurants, and silver products stores.
Original Lifestyle of Miao Nationality: If one wants to appreciate the local life, wandering around maybe the best way. Roaming around the wooden-stilted houses and twisting lanes, travelers can see and absorb the authentic local life. Around Xijiang Qianhu Miao Village, one can see the terrace and appreciate how locals work on the farms.
The Panorama of the Village: The best place to see the panorama of Xijiang Qianhu Miao Village is the Sightseeing Platform. Many visitors like to take photos from here. One can even rent a traditional costume of the Miao people if you are interested. Viewing the night scene on the platform is the most wonderful thing. The lamps of different houses twinkling in the dark make the night bewitching. It is really worth seeing.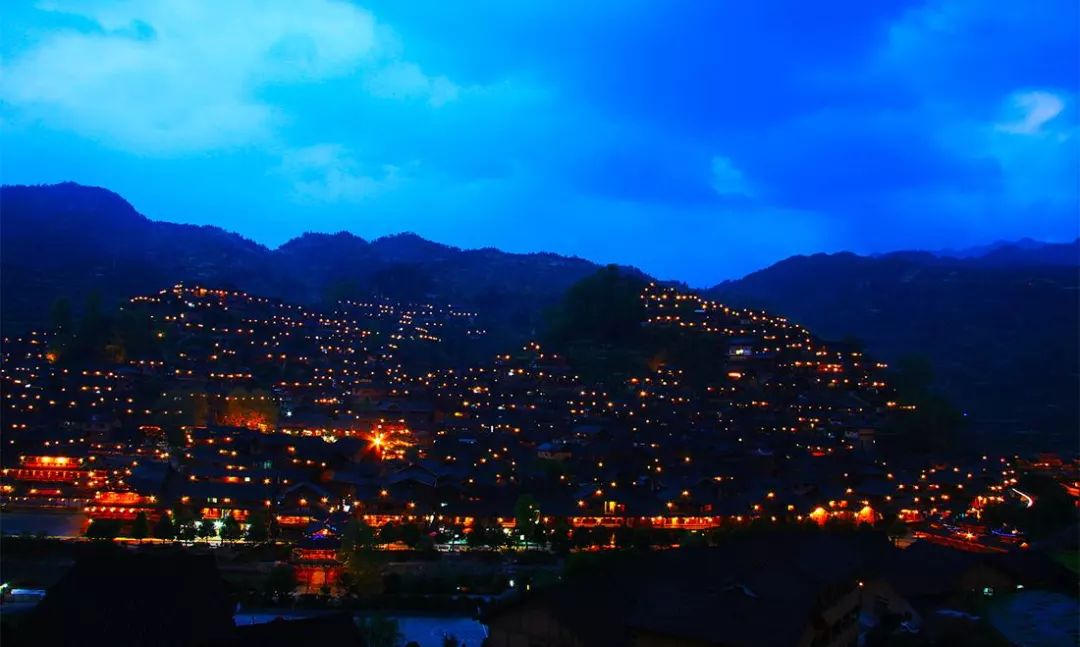 Once you enter into the village, you'll begin to experience every aspect of Miao people. A valued old man standing in the north entrance gate welcomes you with rice wine. Miao's singing is performed at No.2 Wind and Rain Bridge, Lusheng performance at Old Lusheng Square, Miao's Batik performance, traditional singing performance by the old at Tonggu Lusheng Square, cock fighting and bird flight in the market day.
And when night falls and every household turns lights on, you'll find the village is brilliantly illuminated like the stars hanging in the sky. And the Wind and Rain Bridges across the Bai River is dazzling and shining. You can never imagine that in this remote ethnic village the nightlife just begins.
After 12:00pm all of the bars and clubs will be cloesd, so go back to hotel early and have a good sleep, dont drink too much.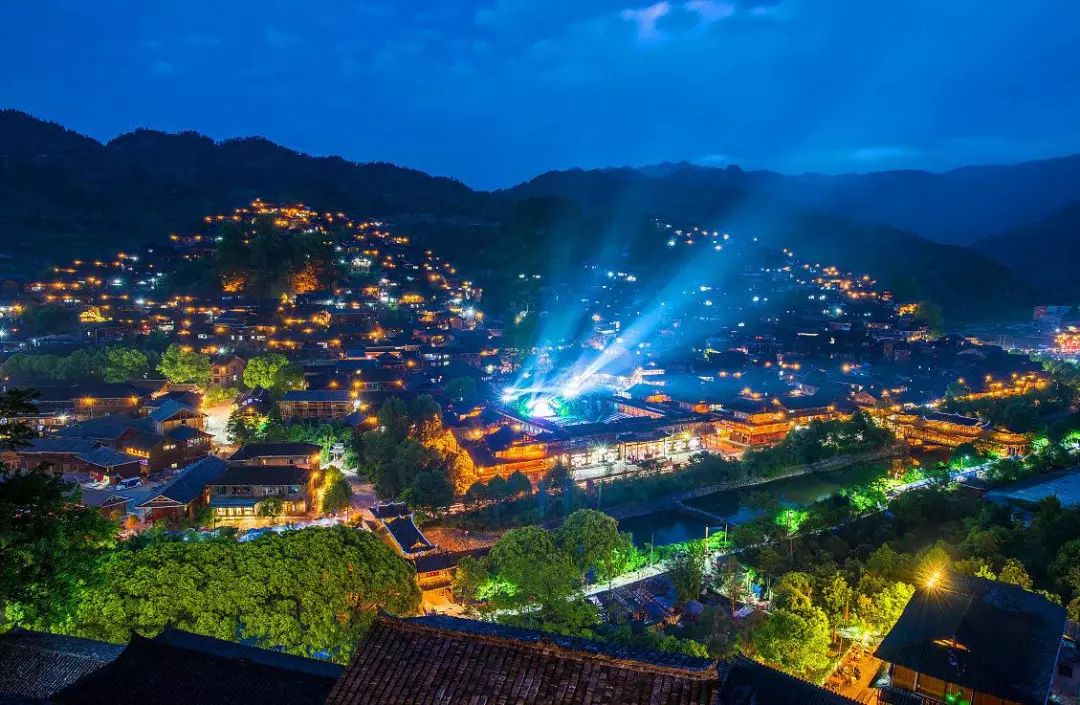 Day5 Xijiangqianhu Miao Villages-Guiyang City. Go back to your next destination.
Transfer: By Local traveling bus, 180km, 2.5 hours on the way
Meals: Breakfast and Lunch
Accommodation: Overnight on the train
Please Note: If you take the normal berth train back to Beijing, you will leave tonight, if you leave by high speed train, you need stay in Guiyang one more night.
After breakfast, our guide will guide us to visit the whole villages. The main architecture of Xijiang Miao Village is the wooden stilted buildings, called in Diao Jiao Lou in Chinese. In this area, the wooden stilted houses are usually built one next to another on a 30-70 degree mountain slope, which forms a magnificent view. All these wooden architectures are without any nails and rivets. The buildings usually have three storeys, with different use. The first floor is used for storing tools and manure, raising poultry and livestock, etc. The second floor is used for living room, central room, bedroom and kitchen and out of the central room is the special place for resting and embroidery. The third floor is mainly used for storing grain, fodder and other living goods.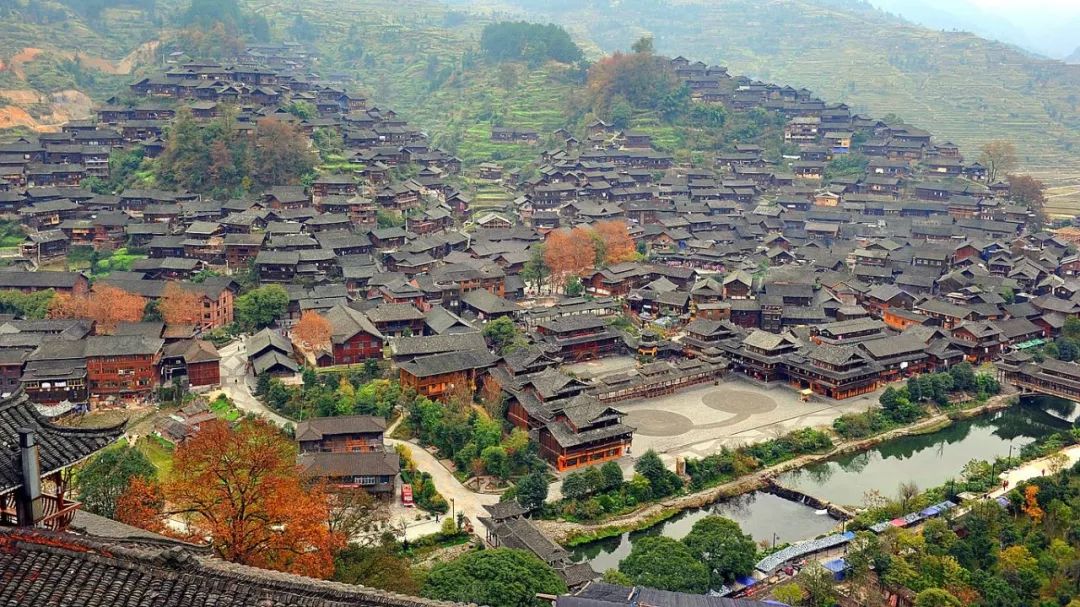 There are several Wind and Rain Bridges in Xijiang Miao Village. They are built in order to improve "Feng Shui" and bring convenience to the villagers. In the past time, the Wind and Rain Bridges were wooden structure without any nails and now they are rebuilt in the structure of concrete and wooden. Every visitor entering to Xijiang Miao Village should pass through one of the Wind and Rain Bridge and you can take a rest under the bridge and appreciate some elegant design…
With thousand years' history, long table banquet is the highest form of etiquette which is used for wedding, new born baby celebration and village gathering. At the table, the hosts sit at the left side of the table and the guests sit at the right side of the table. The hosts toast the guests with rice wine and welcome with beautiful songs. If our group is more than 10 ppl,  our guide will arrange us to experience the dining etiquette in the local restaurants. There are many local delicious food served on the table, such as the Ancient Zang Meat, Cured Meat, Sliced Chicken, Fish in Sour Soup, Qingyan Tofu, etc.
Reach the Dating Ground at the top of the hill and have a look at the whole village. Get down and get around to the idyllic farmland to breathe some fresh air and get back to the village and visit Embroidery workshop. After the merry time in the village, take sightseeing bus to the opposite viewing deck to have panoramic view of Xijiang Miao Village.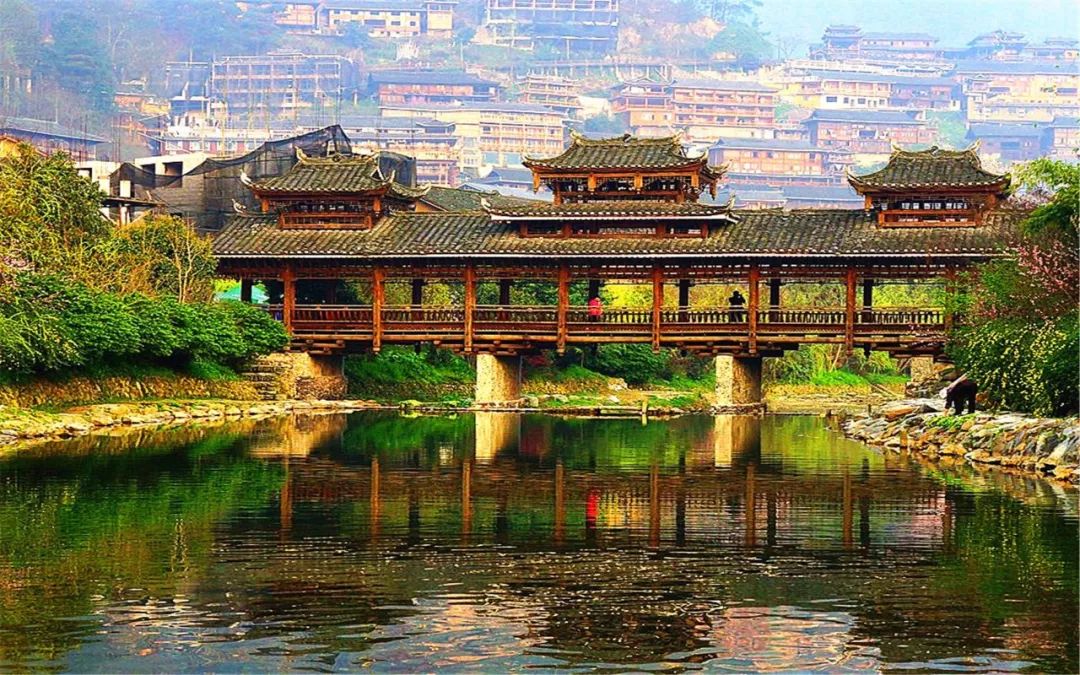 After we finish lunch, then we will go back to Guiyang City from Xijiang Miao Village, it will take us 2.5 hours to arrive. If you take the normal berth train to go back, the suitable normal train back to Beijing from Guiyang is Z150 leaves from Guiyang around 18:31 and arrive at 21:38 on D6. If you dont want to stay 26hours on the train, and choose to leave by flight or high speed train, then maybe you need stay one more night at Guiyang, so please inform us ahead. Because there are only high speed train available in the morning from Guiyang to Beijing; the last flight from Guiyang to Beijing is 19:20. 
Service ends until you are transferred to the airport or railway station for your flight or train to your next destination.

Day6 Arrive at Beijing around 21:38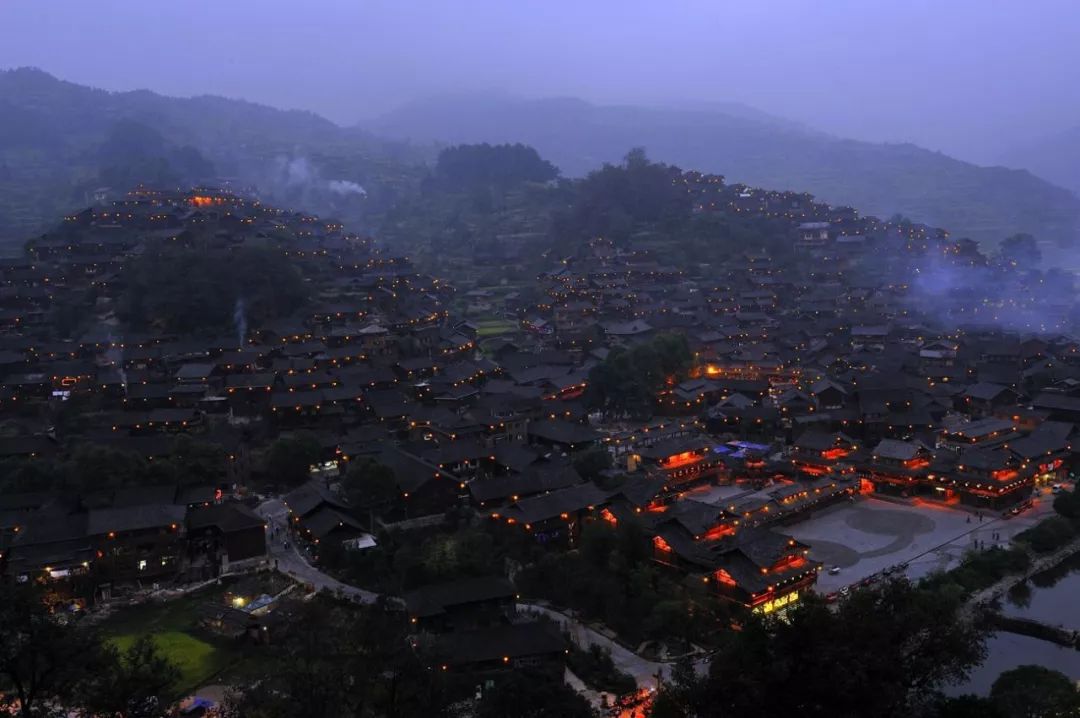 Additional Information:

Please be advised that there will be approximately 10-45 travelers per group

The above itinerary is for reference only, and is subject to change due to the weather conditions

Please inform us of any dietary restrictions and allergies if you booked our tour. Please remember to bring any medication that you need with you

Pregnant women, guests with heart attacks, high blood pressure, respiratory diseases, severe colds, and those who are not suitable for outdoor hiking are advised to carefully decide whether or not to travel according to their own conditions or doctor's advice

We will contact you between 8:00pm-10:00pm a day before you travel to reconfirm the pick up time and place. Please keep your contact lines or channels available. If you have not received any confirmation after 10:00pm, please contact customer service.

In case of severe inclement weather or other environmental problems beyond control that causes the tour to be unable to proceed, participants can opt for a reschedule.
Things to bring
Passport/ID card.

Comfortable, sturdy shoes, and a spare pair of shoes to change into at the end of the day. 

Bring a few changes of clothes, including something warm for night time.

It's highly recommended you bring a waterproof outer layer and rain jacket.

Bring a book or pack of cards in case you get bored during the driving between the villages. (We don't think you'll get bored!)

Bring you camera and chargers for all your electronics.

Bring a backpack to hold water and food for the hiking. Bring a duffle bag or suitcase for the rest of your things – we can leave that at the hotel or on the bus.

Meals, water and snacks arenot all provided; bring extra snacks if you like!

Bring personal toiletries (shampoo, toothbrush, toothpaste etc) and small towel.

Bring any personal medicine you might need. Your guide will have a basic first aid kit.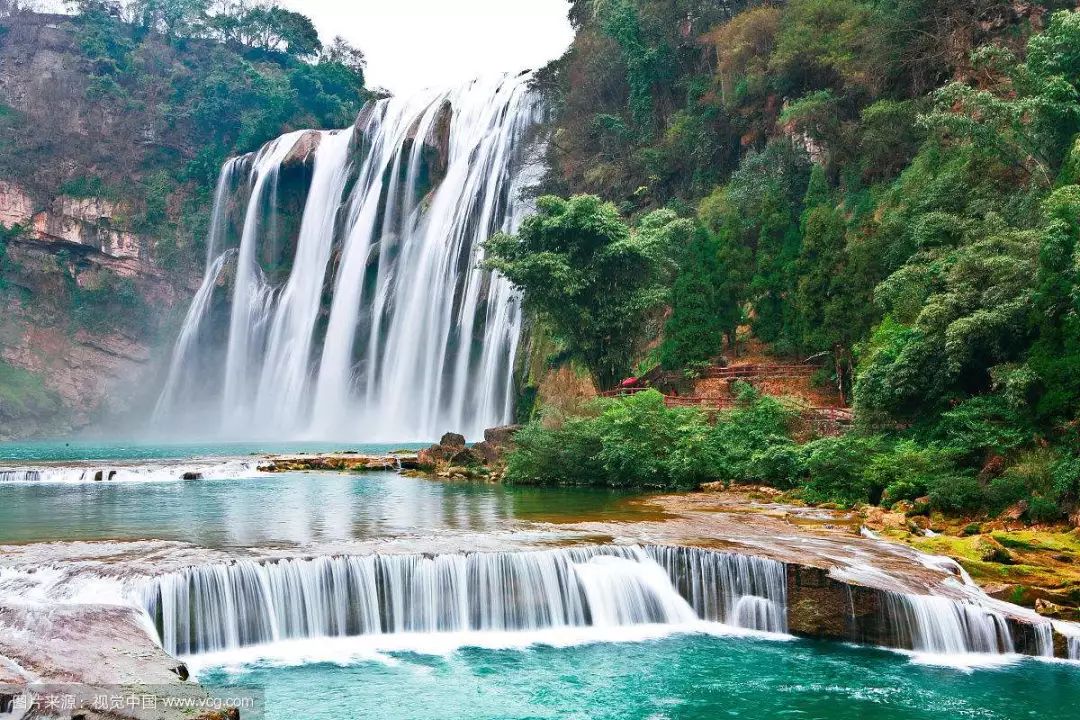 Introduction about the Senic Spots
Libo Zhangjiang Scenic Spot
Libo Zhangjiang Scenic Spot mainly consists of the Xiaoqikong (Small Seven-hole Bridge) Scenic Zone, Daqikong (Large Seven-hole Bridge) Scenic Zone, Shuichun River Scenic Area and Zhangjiang River Scenic Area. The former two, dubbed "Little Jiuzhaigou", unveil a wide array of waterfalls, streams, lakes, forests and fantastic caves. 
Libo Zhangjiang Scenic Spot is located in Libo County, southern Guizhou, covering an area of about 273 square kilometers. Dubbed a "green gem", this national scenic area features wild karst forests interwoven with beautiful waterscapes and striking valleys and mountains. The area, together with the Maolan National Nature Reserve, an amazingly beautiful karst forest rarely seen in the subtropical zone along the same latitude, was named a World Natural Heritage site in 2007 for its fine examples of karst scenery.

Xiaoqikong Scenic Area is along the Xiangshui River and is where the Miao ethnic minority of China live.  The Yao's village still maintains their traditional way of life within their autonomous area.  The Southern Karst, a UNESCO world heritage site, the landscape created many scenic sights along the way and also many recreational areas for boating, rafting, and caverns to explore.
Of all these attractions, the 12-kilometer-long Xiaoqikong Scenic Zone stands out as the most popular one, highly reputed as a life-size miniature garden. Visitors will marvel at the spectacular sights of the ancient stone bridge where the attraction got its name, a 68-layer waterfall, Laya Waterfall, Guibei Mountain, Yuanyang Lake, as well as the water forest. The water forest provides great views of bizarre plants growing in the water.
Xijiangqianhu Miao Villages
The village cluster, known as an open-air museum, displays the authentic and well-preserved distinctive culture and customs of the Miao people. Visitors can take a peek at original Miao dances, customs, rites, costumes and silver ornaments.Known as the biggest Miao village in the world, the One-Thousand-Household Miao Village of Xijiang is located 36 kilometers northeast of Leishan County in the Qiandongnan Miao and Dong Autonomous Prefecture, southeastern Guizhou. It consists of more than ten naturally formed villages that have been long inhabited by nearly 1,300 Miao households (hence the name).

The Miao people have their typical architectural characteristic: wooden houses built tier upon tier on the hillside, dotted with bamboo groves. Lying amidst green mountains, the village enjoys beautiful settings, with the terraced fields rising up along the slopes and the crystal-clear Baishui River flowing through. It offers a more spectacular view when it's lit up in the evening.
Huangguoshu Waterfall
The waterfall, the largest waterfall in China and one of the most famous ones in the world, is the only waterfall that can be viewed from above, below, front, back, left and right on the planet. It is 77.8 meters high and 101 meters wide. The main waterfall is 67 meters high and 83.3 meters wide. The Water Curtain Cave, a 134-meter-long naturally formed corridor behind the waterfall, allows visitors to watch, hear and touch the thundering streams making their way down. A colorful rainbow arching across the waterfall from time to time turns the splendid waterscape into a real feast for the eyes.Needless to say, the Huangguoshu Waterfall is Guizhou's most spectacular attraction. Located in Zhenning County, Anshun City, the scenic area can be found about 45 kilometers southwest of the city proper and 128 kilometers away from Guiyang, the provincial capital.

The waterfall, along with 18 minor but equally beautiful waterfalls, such as the Luositan Waterfall, Silver-Chain Waterfall and Dishuitan Waterfall, is also known as the Huangguoshu Waterfalls Cluster. It was included into the Guinness Book of World Records in 1999 as the world's largest waterfall cluster.
# CETtrips to Explore China#
Click the links to Get the details!