为了鼓励更多的人参与到自由互联网的开发,我们最新推出了
GreatFire悬赏计划
,请参赛者在下列任务中任选其中一个或多个,完成其中的任务目标,即可获得对应金额的奖励。
通俄门|《华盛顿邮报》:奥巴马曾"密战"普京干预美国大选
欢迎打开"我与我们的世界",从此,让我们一起"纵览世界之风云变幻、洞察社会之脉搏律动、感受个体之生活命运、挖掘自然之点滴奥妙"。
我与我们的世界,既是一个"奋斗"的世界,也是一个"思考"的世界。奋而不思则罔,思而不奋则殆。这个世界,你大,它就大;你小,它就小。
欢迎通过上方公众号名称打开公众号"查看历史信息"来挖掘往期文章,因为,每期都能让你"走近"不一样的世界、带给你不一样的精彩。
本期导读:美国的"通俄门"事件热度不减,经久不衰,这不,"料"又来了,而且显示出愈演愈烈之势。

《华盛顿邮报》于美国当地时间23日北京时间24日就普京干预美国大选推出独家长篇报道,通过解密文件以及高官专访,对去年美国大选正如火如荼时奥巴马为对抗普京干预美国大选所进行的"密战"进行了全方位的披露。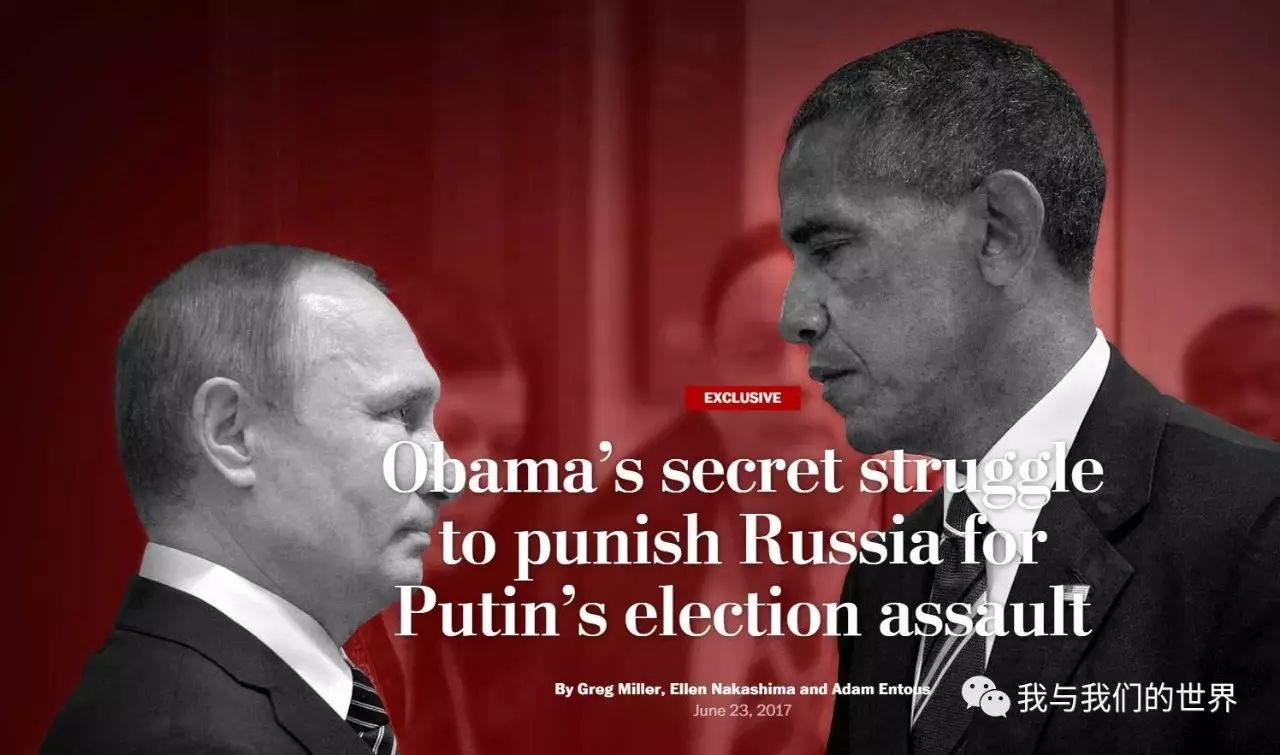 《奥巴马曾"密战"普京干预美国大选》
报道节选
Early last August, an envelope with extraordinary handling restrictions arrived at the White House. Sent by courier from the CIA, it carried "eyes only" instructions that its contents be shown to just four people: President Barack Obama and three senior aides.
Inside was an intelligence bombshell, a report drawn from sourcing deep inside the Russian government that detailed Russian President Vladi­mir Putin's direct involvement in a cyber campaign to disrupt and discredit the U.S. presidential race.
But it went further. The intelligence captured Putin's specific instructions on the operation's audacious objectives — defeat or at least damage the Democratic nominee, Hillary Clinton, and help elect her opponent, Donald Trump.
At that point, the outlines of the Russian assault on the U.S. election were increasingly apparent. Hackers with ties to Russian intelligence services had been rummaging through Democratic Party computer networks, as well as some Republican systems, for more than a year. In July, the FBI had opened an investigation of contacts between Russian officials and Trump associates. And on July 22, nearly 20,000 emails stolen from the Democratic National Committee were dumped online by WikiLeaks.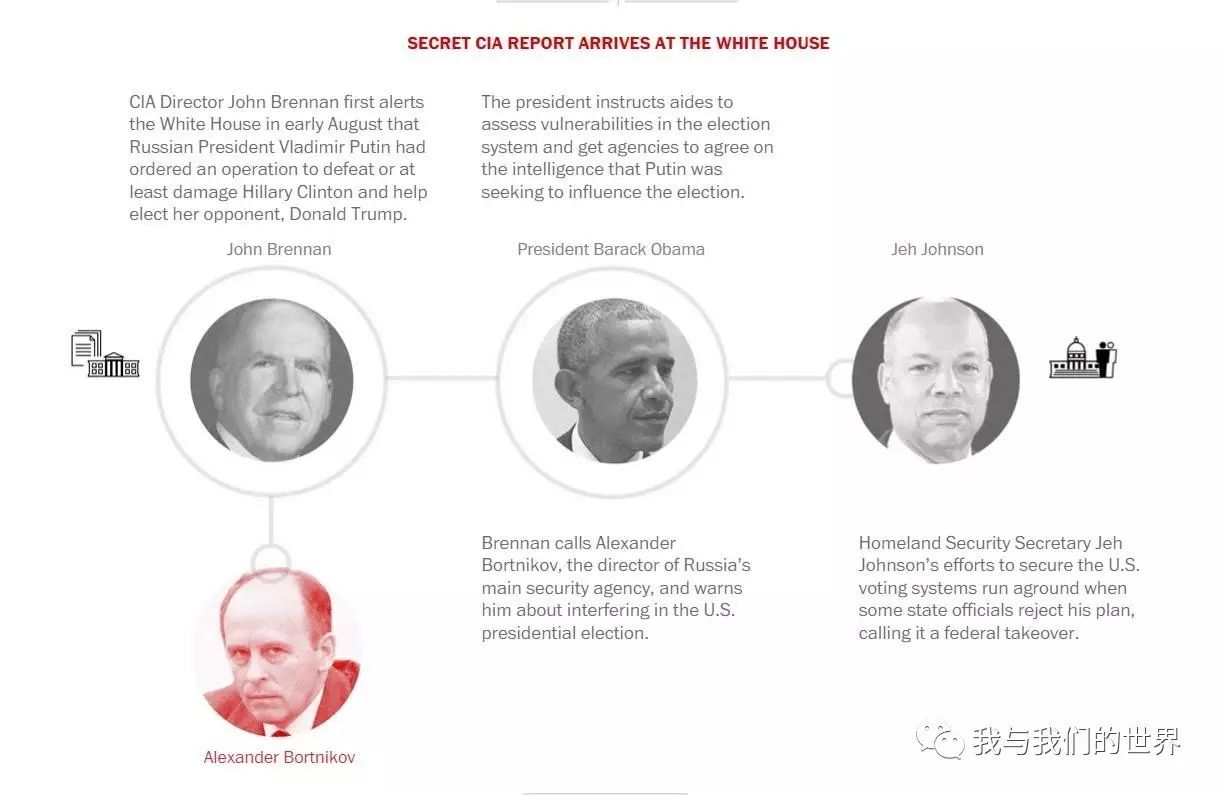 The material was so sensitive that CIA Director John Brennan kept it out of the President's Daily Brief, concerned that even that restricted report's distribution was too broad. The CIA package came with instructions that it be returned immediately after it was read. To guard against leaks, subsequent meetings in the Situation Room followed the same protocols as planning sessions for the Osama bin Laden raid.
Over that five-month interval, the Obama administration secretly debated dozens of options for deterring or punishing Russia, including cyberattacks on Russian infrastructure, the release of CIA-gathered material that might embarrass Putin and sanctions that officials said could "crater" the Russian economy.
But in the end, in late December, Obama approved a modest package combining measures that had been drawn up to punish Russia for other issues — expulsions of 35 diplomats and the closure of two Russian compounds — with economic sanctions so narrowly targeted that even those who helped design them describe their impact as largely symbolic.
Obama also approved a previously undisclosed covert measure that authorized planting cyber weapons in Russia's infrastructure, the digital equivalent of bombs that could be detonated if the United States found itself in an escalating exchange with Moscow. The project, which Obama approved in a covert-action finding, was still in its planning stages when Obama left office. It would be up to President Trump to decide whether to use the capability.
In political terms, Russia's interference was the crime of the century, an unprecedented and largely successful destabilizing attack on American democracy. It was a case that took almost no time to solve, traced to the Kremlin through cyber-forensics and intelligence on Putin's involvement. And yet, because of the divergent ways Obama and Trump have handled the matter, Moscow appears unlikely to face proportionate consequences.
The post-election period has been dominated by the overlapping investigations into whether Trump associates colluded with Russia before the election and whether the president sought to obstruct the FBI probe afterward. That spectacle has obscured the magnitude of Moscow's attempt to hijack a precious and now vulnerable-seeming American democratic process.
Beset by allegations of hidden ties between his campaign and Russia, Trump has shown no inclination to revisit the matter and has denied any collusion or obstruction on his part. As a result, the expulsions and modest sanctions announced by Obama on Dec. 29 continue to stand as the United States' most forceful response.
This account of the Obama administration's response to Russia's interference is based on interviews with more than three dozen current and former U.S. officials in senior positions in government, including at the White House, the State, Defense and Homeland Security departments, and U.S. intelligence services. Most agreed to speak only on the condition of anonymity, citing the sensitivity of the issue.
报道主体共分为七个部分
下面是各部分开篇的截图
来势汹汹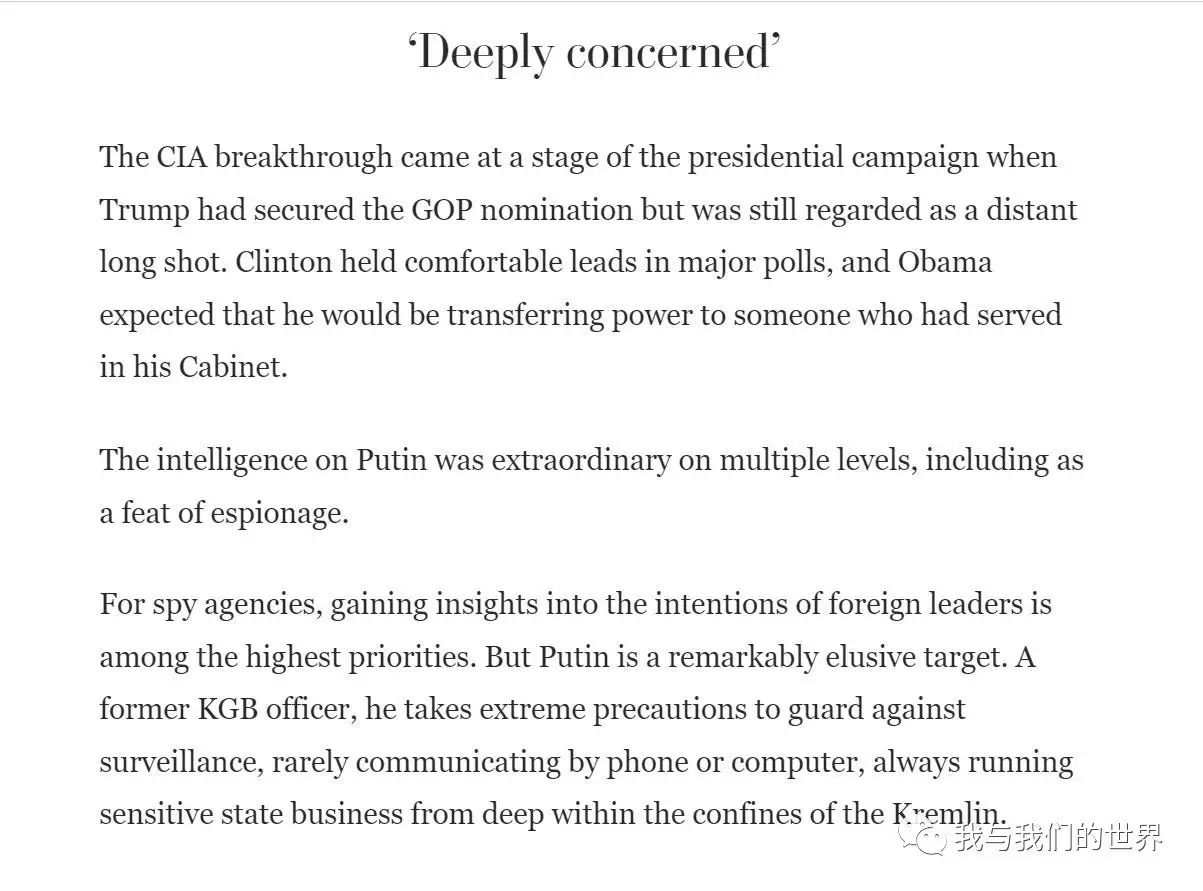 匆忙应战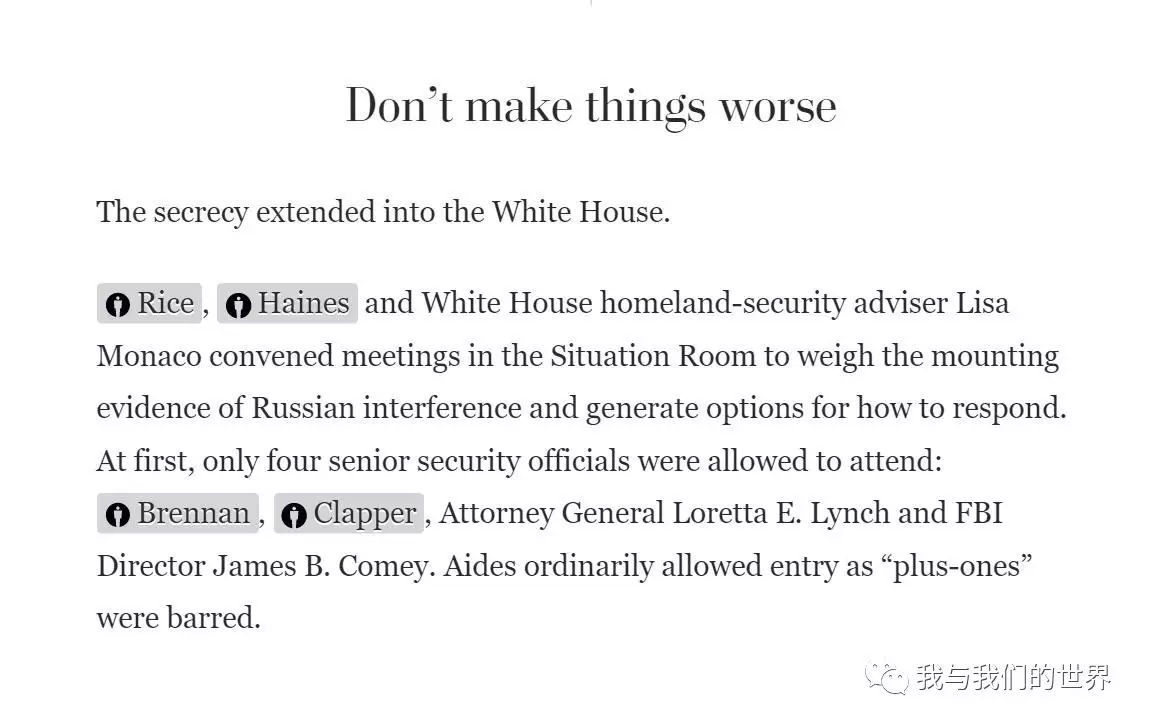 回旋无望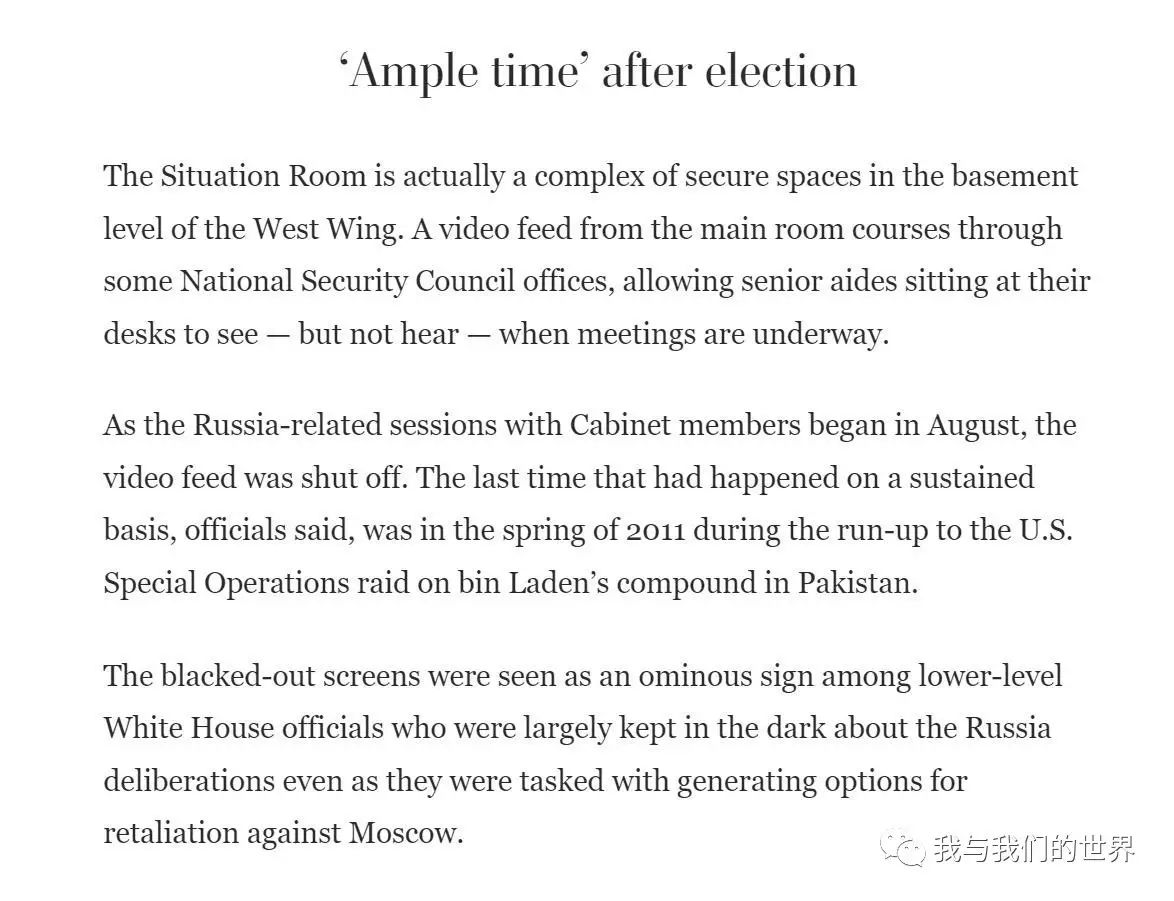 结局震惊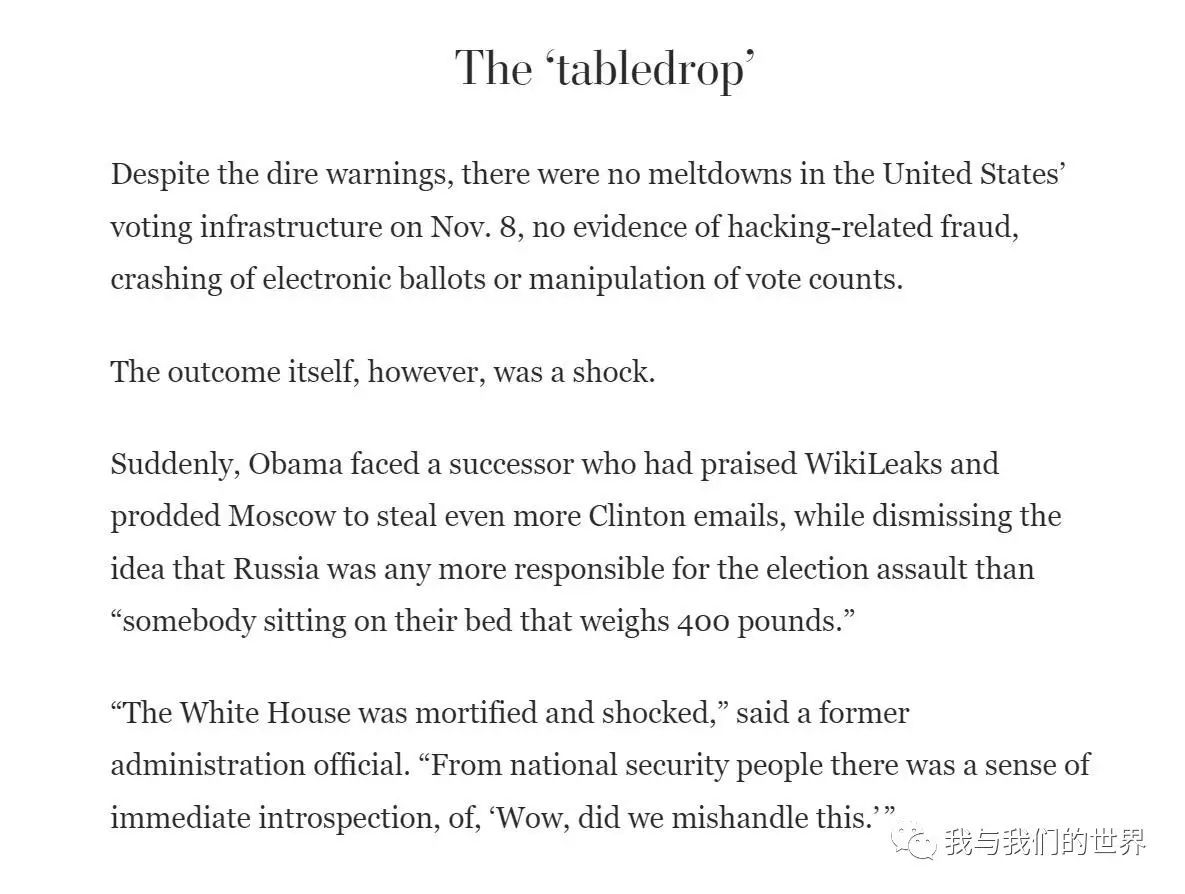 士气低沉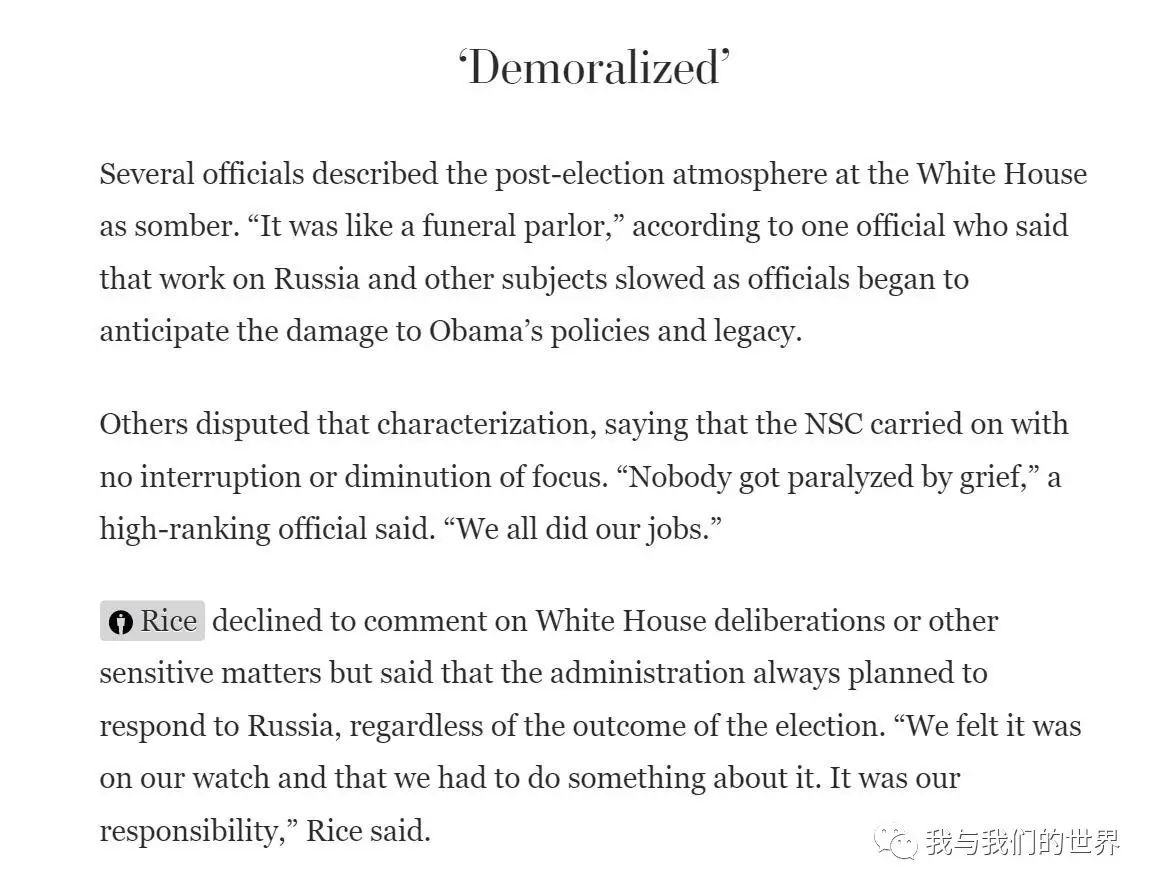 无药可救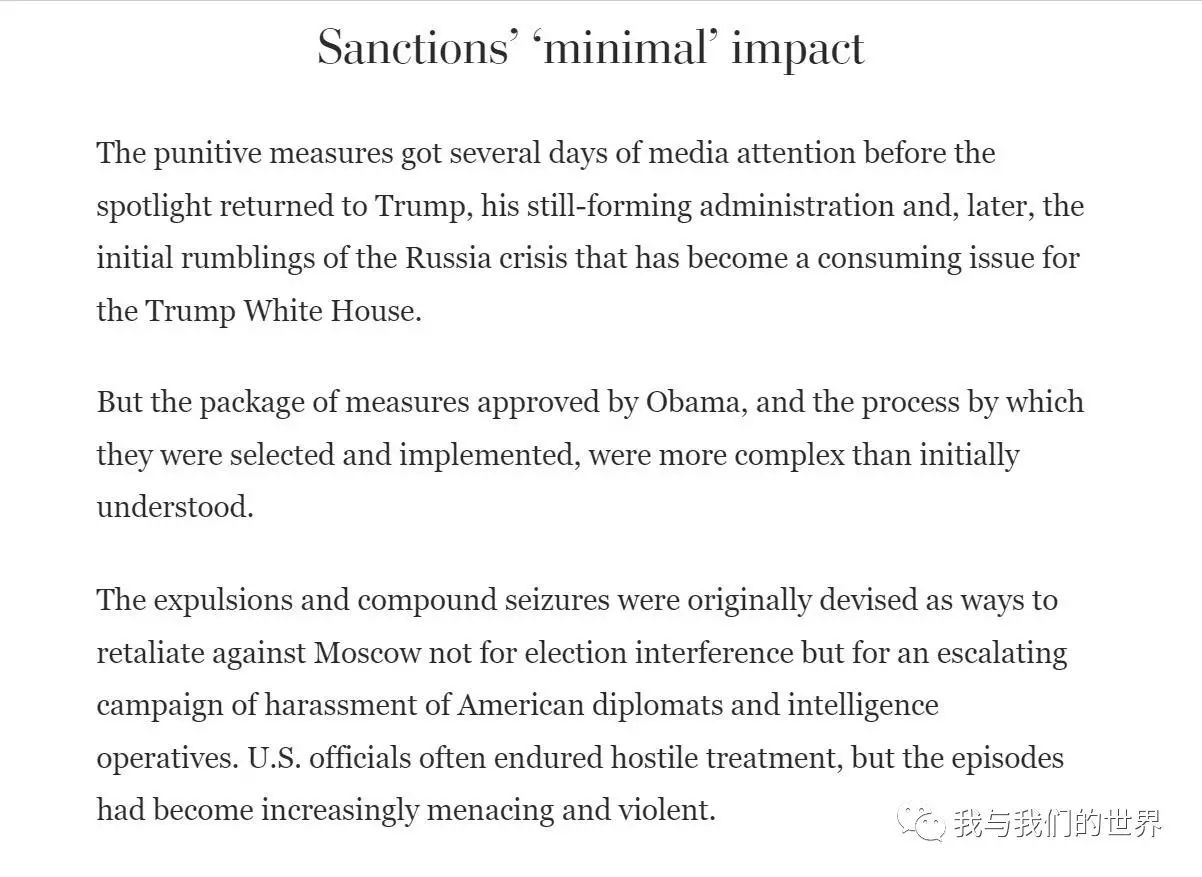 网络武器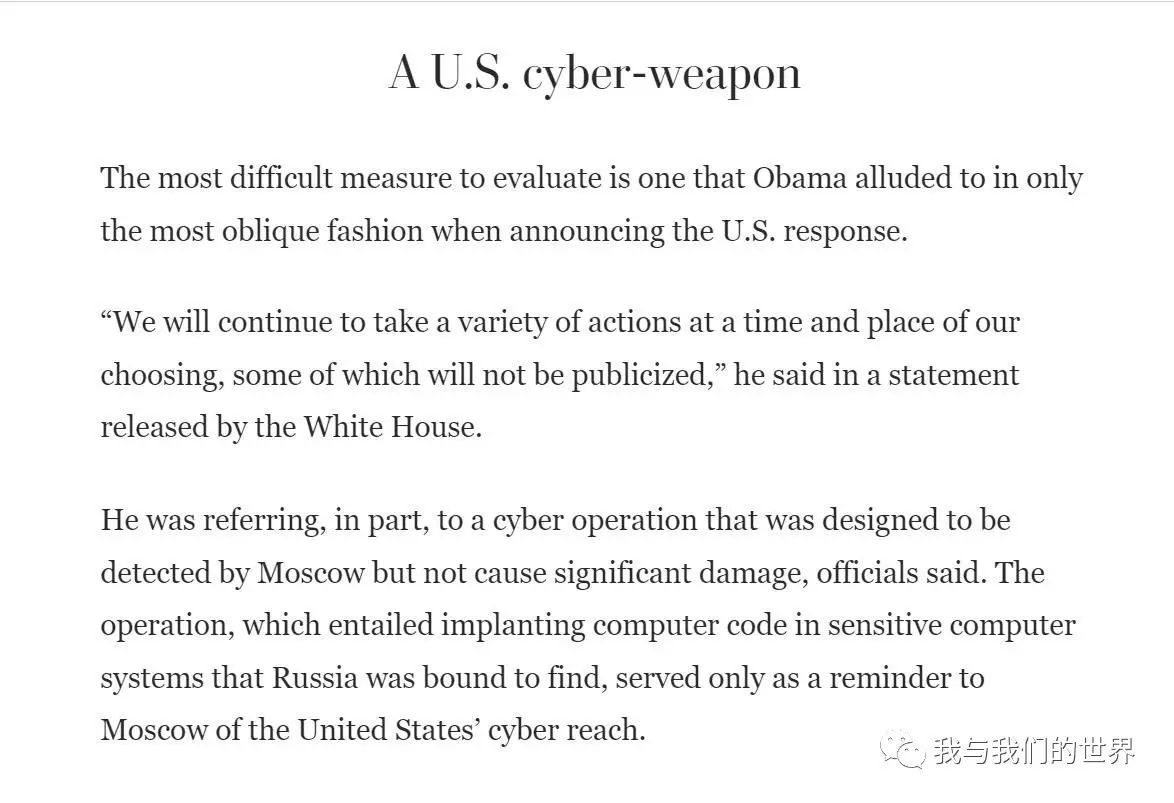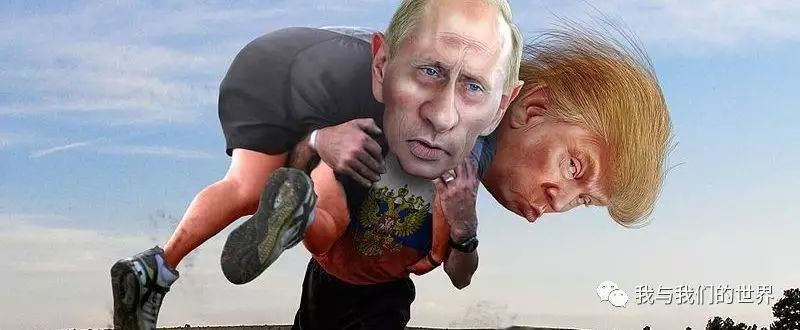 往期精彩:
---
美俄关系|《经济学人》:当特朗普的商业主义遭遇普京的沙皇主义

注:
1:本文为原创,若发现不错,欢迎转发共享。后台回复"解密报告",可获美国官方解密报告下载方式
2:想为小编原创加油,只需点击一下下方广告链接,或点击"赞赏"直接打赏,感谢支持(苹果用户看不到微信赞赏功能,其他客户端可看到)。
3:可将本公众号设为"置顶公众号",第一时间收到最新消息。
4:图片截自相关网站,非商业用途。
5:若有任何方面的问题,可随时联系进行沟通。
6:关注可搜索"我与我们的世界"或扫描下方二维码: