CrystEngComm 2017 最高被引论文精选

CrystEngComm 发表与晶体工程相关的各类创新研究,包括晶体设计、晶体生长、固体材料的合成与评价等。
本期推送精选了 2017 年发表在 CrystEngComm 上的一些最高被引论文,供大家先睹为快。
Research Papers

基于 3,6-二(咪唑并-1-基)哒嗪的一系列新型混配配合物:合成、结构与催化活性
Paper

A series of new mixed-ligand complexes based on 3,6-bis(imidazol-1-yl)pyridazine: syntheses, structures, and catalytic activities
Sheng-Bin Zhou, Xin-Fang Wang, Ceng-Ceng Du, Duo-Zhi Wang* and Dianzeng Jia
CrystEngComm, 2017, 19, 3124-3137
http://dx.doi.org/10.1039/C7CE00394C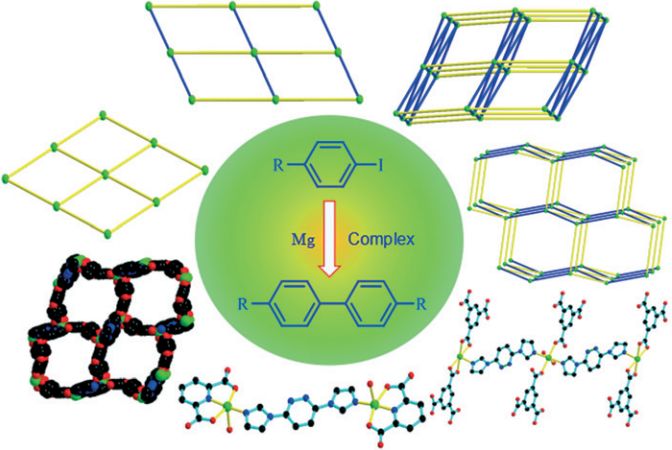 通讯作者:王多志,新疆大学化学化工学院
概述 / Summary
以 3,6-二(咪唑并-1-基)哒嗪和各种辅助配体为基础,本文作者合成了 7 种新的混合配体配合物;在带有给电子基团的 4-取代芳基碘的高效自偶联反应方面,所有这些配合物都表现出了良好的催化性能。
通过硫酸盐-水团簇的结晶来选择性分离水溶性硫酸盐阴离子
Paper

Selective separation of aqueous sulphate anions via crystallization of sulphate–water clusters
Yang-Hui Luo*, Jing-Wen Wang, Yao-Jia Li, Chen Chen, Pei-Jing An, Sen-Lin Wang, Chao-Qun You and Bai-Wang Sun*
CrystEngComm, 2017, 19, 3362-3369
http://dx.doi.org/10.1039/C7CE00693D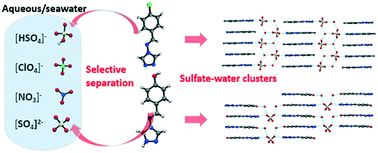 通讯作者:Yang-Hui Luo、孙柏旺,东南大学化学化工学院
概述 / Summary
本文证实了 N-苄基-4-氨基-1,2,4-三唑相关配体在淡水/海水硫酸盐分离方面的应用潜力。硫酸根阴离子以 [HSO₄⁻·H₂O]ₙ 或 [SO₄²⁻·H₂O]ₙ 硫酸盐-水簇的形式高选择性、高效地结晶。
卤素键合对从 Fmoc 氨基酸形成的水凝胶进行调控
Paper

Halogen bonding modulates hydrogel formation from Fmoc amino acids
Pizzi, L. Lascialfari, N. Demitri, A. Bertolani, D. Maiolo, E. Carretti and P. Metrangolo*
CrystEngComm, 2017, 19, 1870-1874
http://dx.doi.org/10.1039/C7CE00031F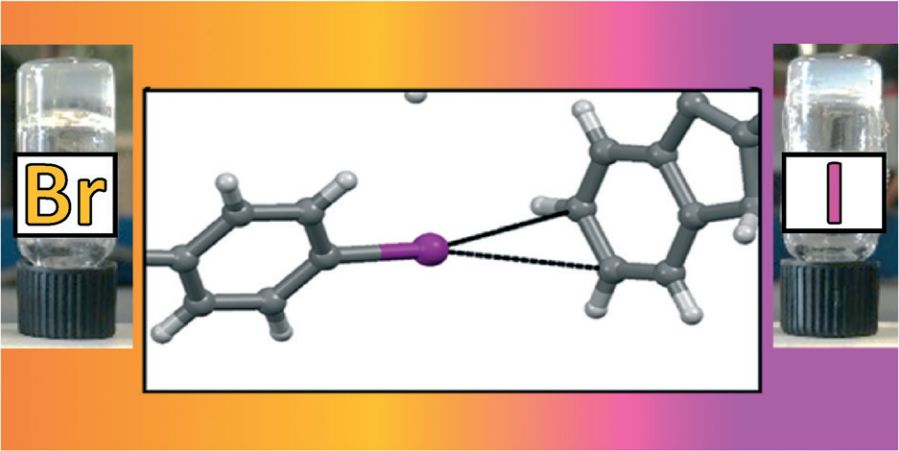 通讯作者:P. Metrangolo,意大利米兰理工大学
概述 / Summary
碘-π-卤素键合对于溴化和碘化的 Fmoc-苯丙氨酸的自组装是至关重要的。
Reviews
水合阴离子固态识别的策略性方法:概述
Highlight

Overview of the strategic approaches for the solid-state recognition of hydrated anions
Md. Najbul Hoque and Gopal Das*
CrystEngComm, 2017, 19, 1343-1360
http://dx.doi.org/10.1039/C6CE02438F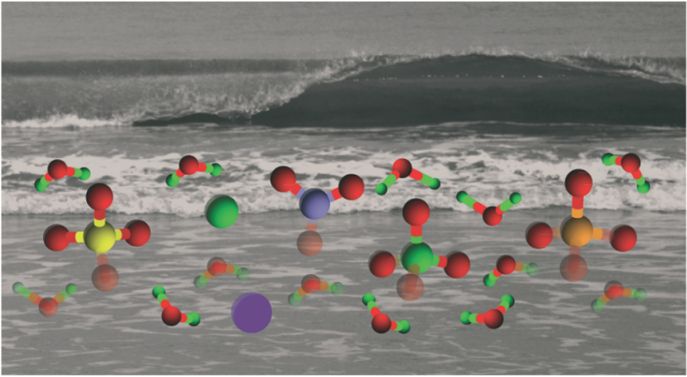 通讯作者:Gopal Das,印度理工学院古瓦哈提分校
概述 / Summary
本篇综述强调了水合阴离子的固态识别在超分子化学领域不断拓展的应用。
TTF-PTM 二分体:从溶液中的开关分子自组装体到固体状态的自由基导体
Highlight

TTF–PTM dyads: from switched molecular self assembly in solution to radical conductors in solid state
Manuel Souto, Concepció Rovira, Imma Ratera and Jaume Veciana
CrystEngComm, 2017, 19, 197-206
http://dx.doi.org/10.1039/C6CE01660J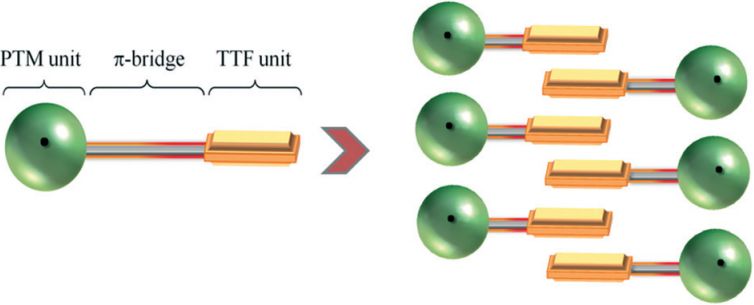 通讯作者:Concepció Rovira、Jaume Veciana,西班牙巴塞罗那材料科学研究所
概述 / Summary
与全氯三苯基甲基(PTM)自由基连接的四硫富瓦烯(TTF)形成的二分体(dyad)显示出有趣的物理性质,例如在溶液中的双稳态或固态下的导电性。
证据就在粉末中:揭示 Yb₃Rh₄Sn₁₃ 结构类型的结构特征
Highlight

The proof is in the powder: revealing structural peculiarities in the Yb₃Rh₄Sn₁₃ structure type
Iain W. H. Oswald, Binod K. Rai, Gregory T. McCandless, Emilia Morosana and Julia Y. Chan
CrystEngComm, 2017, 19, 3381-3391
http://dx.doi.org/10.1039/C7CE00419B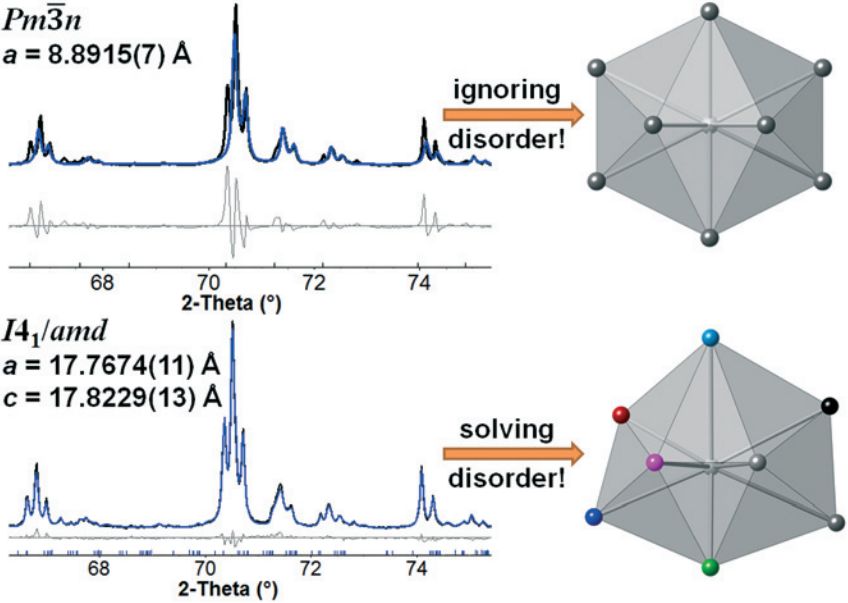 通讯作者:Julia Chan,德克萨斯大学达拉斯分校
概述 / Summary
由于被发现具有重费米子行为、超导电性、电荷密度波和量子临界行为等奇特态属性,拥有 Yb₃Rh₄Sn₁₃ 结构类型的化合物正受到关注。
Impact factor: 3.474*
Chair: 
Leonard MacGillivray
The University of Iowa, USA
Associate Editors:
Christer B Aakeröy

Kansas State University, USA

Rahul Banerjee

CSIR-National Chemical Laboratory, India

Georg Garnweitner

TU Braunschweig, Germany
Editorial Board Members:
Omar K Farha

Northwestern University, USA

Tomislav Friščić

McGill University, Canada

Michaele Hardie

University of Leeds, UK

Tong-Bu Lu

Tianjin University of Technology, China

鲁统部,天津理工大学

Pierangelo Metrangolo

Politecnico di Milano, Italy
Scope
CrystEngComm is the journal for innovative research covering all aspects of crystal engineering - the design, including synthesis of crystals and crystal growth, synthesis and evaluation of solid-state materials with desired properties. 
Target crystals/materials: Ionic, molecular, covalent and coordination solids, coordination polymers, hydrogen-bonded solids, intermolecular interactions, biominerals and biomimetic materials, synthetic zeolites, liquid crystals, nano and mesoporous crystals, channelled structures, crystal growth, solution phase studies with relevance to solid-state investigations, amorphous materials linking to the crystalline state. 
Structure-property relationships: Discussions of how crystal design affects thermodynamics, phase transitional behaviours, polymorphism, solid state reactivity (crystal-crystal and gas-crystal reactions), optoelectronics, non-linear optics, molecular and bulk magnetism, conductivity and super conductivity, absorption and desorption, and mechanical properties. 
Techniques and methods: Single crystal X-ray and neutron diffraction, powder diffraction, solid state spectroscopy, calorimetry, thermogravimetry, modelling and data mining, as well as empirical, semi-empirical and ab-initio theoretical evaluation of solids and of intermolecular interactions.
* 2016 Journal Citation Reports ® (Clarivate Analytics, June 2017)
欢迎转载,如有兴趣发表科研报道请联系:
RSCChina@rsc.org