《纳米研究》2019年第2期目录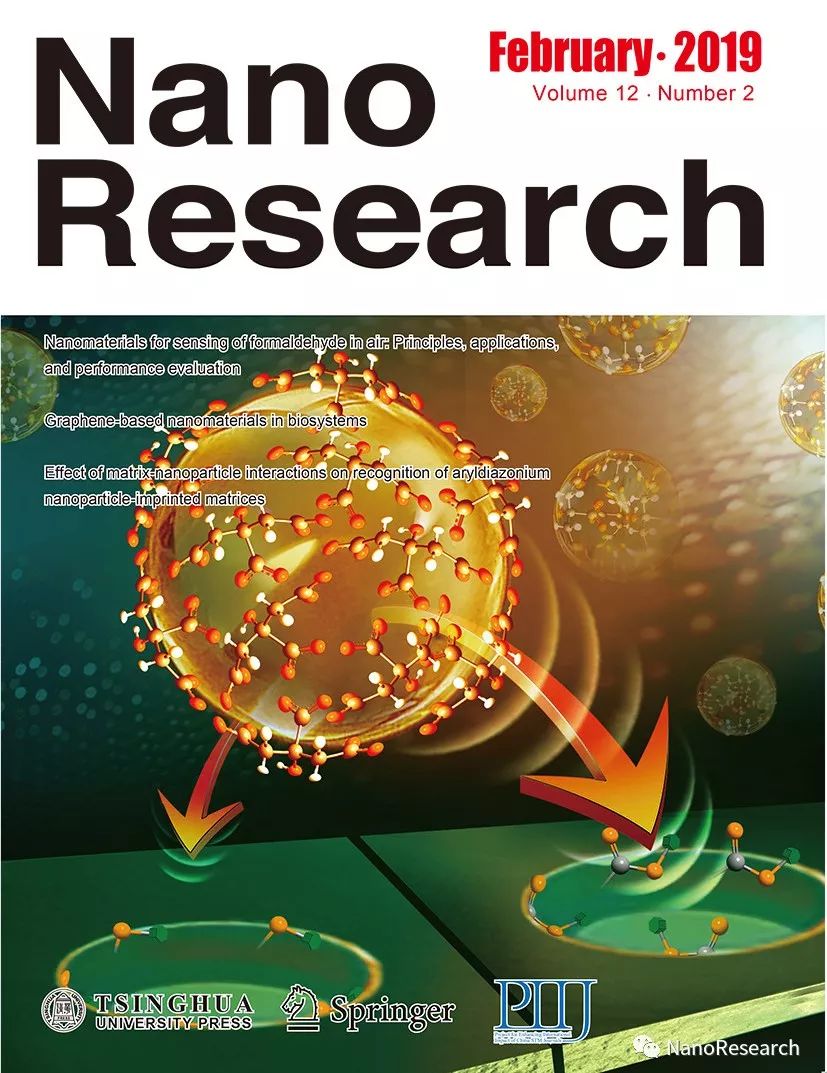 Review Articles
Nanomaterials for sensing of formaldehyde in air: Principles, applications, and performance evaluation
Deepak Kukkar1,2, Kowsalya Vellingiri3, Rajnish Kaur4, Sanjeev Kumar Bhardwaj4, Akash Deep4,*, and Ki-Hyun Kim2,*
1 Sri Guru Granth Sahib World University, India
2 Hanyang University, Republic of Korea
3 IIT Madras, India
4 Central Scientific Instruments Organization (CSIR-CSIO), India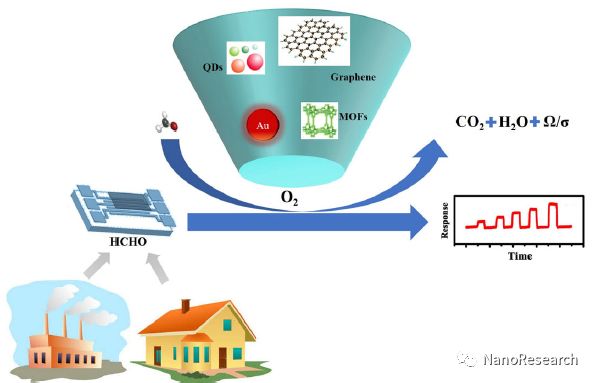 The underlying mechanisms of diverse types of nanomaterials (NMs)- based sensing systems for gas phase formaldehyde have been discussed with relevant case studies. These sensing methodologies have been critically evaluated in terms of performance comparison (e.g., sensitivities) along with challenges, and future prospects for the NMs-based sensors for detection of gaseous formaldehyde.
225–246
---
---
Graphene-based nanomaterials in biosystems
Na Lu1, Liqian Wang2, Min Lv2, Zisheng Tang3,4,5,*, and Chunhai Fan2,6,*
1 Shanghai University of Engineering Science, China
2 Shanghai Institute of Applied Physics, Chinese Academy of Sciences, China
3 Shanghai Jiao Tong University School of Medicine, China
4 National Clinical Research Center of Oral Diseases, China
5 Shanghai Key Laboratory of Stomatology & Shanghai Research Institute of Stomatology, China
6 Shanghai Jiao Tong University, China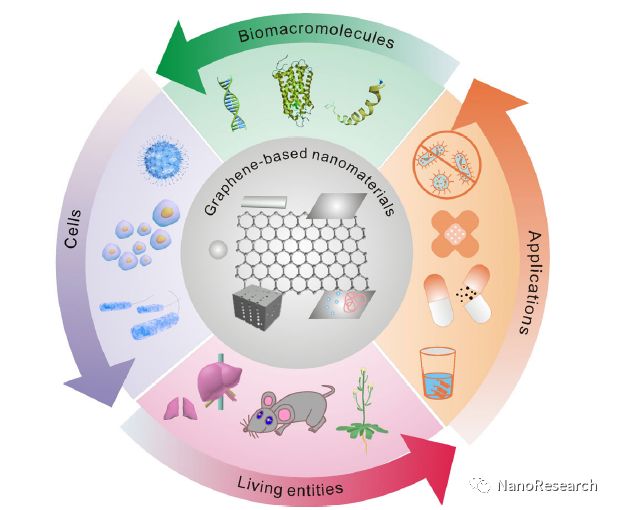 We summarized recent advances in studying interactions between graphene and biosystems, including the toxicology and biocompatibility of graphene in biomacromolecules, cells, and in vivo studies, as well as the applications in antibacterial activities, wound addressing, water purification, and drug delivery.
247–264
Research Articles
Effect of matrix-nanoparticle interactions on recognition of aryldiazonium nanoparticle-imprinted matrices
Netta Bruchiel-Spanier, Linoy Dery, Noam Tal, Shahar Dery, Elad Gross, and Daniel Mandler*
The Hebrew University of Jerusalem, Israel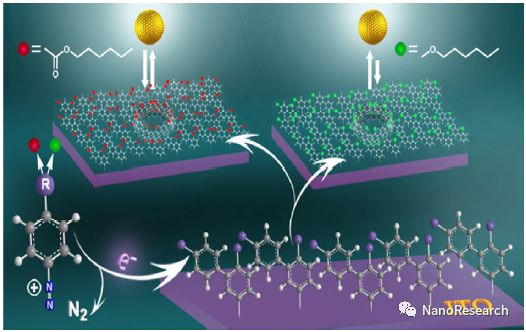 Investigation of matrix-nanoparticle interactions is explored as a means of tuning chemical recognition of gold nanoparticles in solution using the nanoparticle-imprinted matrices (NAIMs) approach.
265–271
---
---
A theranostic agent for cancer therapy and imaging in the second near-infrared window

Zhuoran Ma1, Hao Wan1, Weizhi Wang2, Xiaodong Zhang3, Takaaki Uno4, Qianglai Yang5, Jingying Yue1, Hongpeng Gao1, Yeteng Zhong1, Ye Tian1, Qinchao Sun1, Yongye Liang5, and Hongjie Dai1,*
1 Stanford University, USA
2 National Center for Nanoscience and Technology of China, China
3 Tianjin University, China
4 JSR Corporation Advanced Materials Research Laboratories, Japan
5 South University of Science and Technology of China, China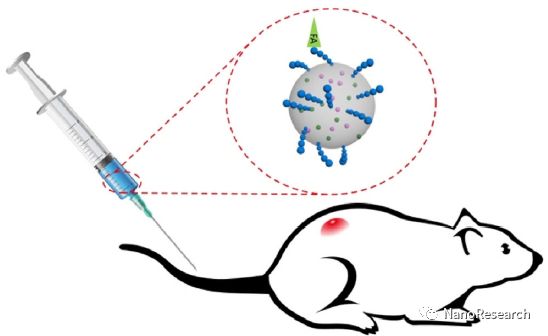 We developed a theranostic nanoparticle p-FE-PTX-FA by encapsulating an anti-cancer drug and a second near-infrared (NIR-II)- emitting organic dye in micelles of an amphiphilic polymer. Folic acid was conjugated to the nanoparticles, allowing targeted molecular imaging and therapy of tumors.
273–279
---
---
High performance octahedral PtNi/C catalysts investigated from rotating disk electrode to membrane electrode assembly
Bing Li1, Jue Wang1, Xin Gao2, Congwei Qin1, Daijun Yang1, Hong Lv1, Qiangfeng Xiao1,*, and Cunman Zhang1,*
1 Tongji University (Jiading Campus), China
2 Aalborg University, Denmark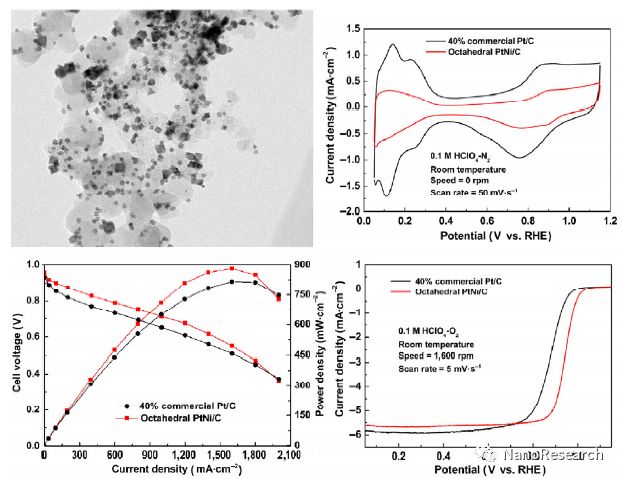 As-prepared octahedral PtNi/C catalyst exhibits outstanding oxygen reduction reaction (ORR) activity and enhanced single cell performance compared with commercial Pt/C.
281–287
---
---
Random lasing detection of structural transformation and compositions in silk fibroin scaffolds
SungYeun Yang1,†, Soocheol Kim1, HyeIn Shin1, Seung Ho Choi2,‡, Young L. Kim2, Chulmin Joo1,*, and WonHyoung Ryu1,*
1 Yonsei University, Republic of Korea
2 Purdue University, USA
† Present address: Korea Institute of Science and Technology (KIST), Republic of Korea
‡ Present address: University of Ulsan, Republic of Korea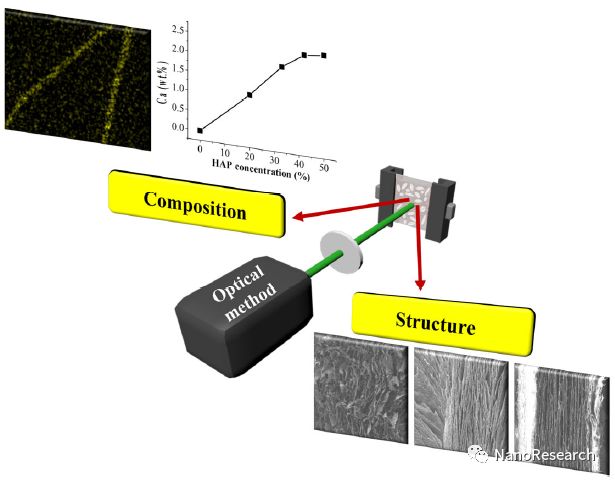 As an optical method, random lasing, distinct lasing response from disordered structures, can be utilized to non-invasively detect a difference in material compositions and structural differences on nano and micro scale.
289–297
---
---
Ordered two-dimensional porous Co3O4 nanosheets as electrocatalysts for rechargeable Li-O2 batteries
Yu Zhang1, Mingzhen Hu2,3, Mengwei Yuan1, Genban Sun1, Yufeng Li1, Kebin Zhou2, Chen Chen3, Caiyun Nan1,*, and Yadong Li3
1 Beijing Normal University, China
2 University of Chinese Academy of Sciences, China
3 Tsinghua University, China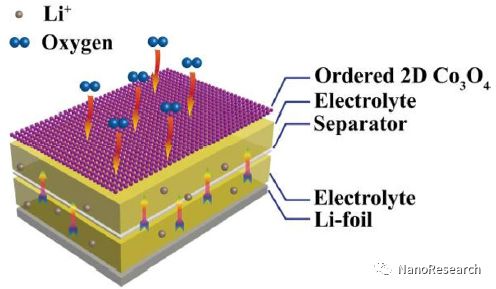 Ordered two-dimensional Co3O4 nanosheets have been designed as cathode catalysts for Li-O2 batteries, and it presented high initial discharge capacity and good cycling stability due to the superiority of structure.
299–302
---
---
Effective N-methyl-2-pyrrolidone wet cleaning for fabricating high-performance monolayer MoS2 transistors
Po-Chun Chen1, Chih-Pin Lin2, Chuan-Jie Hong3, Chih-Hao Yang3, Yun-Yan Lin1, Ming-Yang Li4, Lain-Jong Li5, Tung-Yuan Yu6, Chun-Jung Su6, Kai-Shin Li6, Yuan-Liang Zhong3, Tuo-Hung Hou2,*, and Yann-Wen Lan1,*
1 "National Taiwan Normal University", Taiwan, China
2 "National Chiao Tung University", Taiwan, China
3 Chung Yuan Christian University, Taiwan, China
4 "Academia Sinica", Taiwan, China
5 King Abdullah University of Sci. and Technology, Kingdom of Saudi Arabia
6 "National Nano Device Laboratories", "National Applied Research Laboratories", Taiwan, China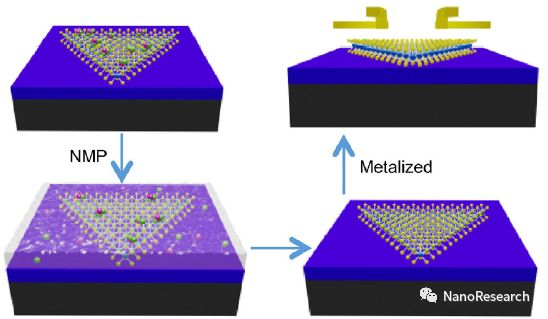 N-Methyl-2-pyrrolidone wet cleaning on MoS2 transistors is demonstrated, showing effectively rid of impurities and the great enhancement of device performance in this study.
303–308
---
---
Structural isomer and high-yield of Pt1Ag28 nanocluster via one-pot chemical wet method
Xinzhang Lin1,3, Chao Liu1,*, Keju Sun2, Ren'an Wu1, Xuemei Fu1,3, and Jiahui Huang1,*
1 Dalian Institute of Chemical Physics, Chinese Academy of Sciences, China
2 Yanshan University, China
3 University of Chinese Academy of Sciences, China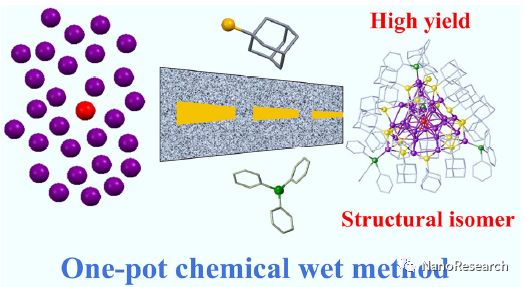 We report one-pot chemical wet method to synthesize Pt1Ag28 nanocluster with high yield. The crystal structure of Pt1Ag28 nanocluster was determined via X-ray crystallography. Compared to previous work, it is the first time to report structural isomerization of alloy nanoclusters.
309–314
---
---
Solvent polarity-induced photoluminescence enhancement (SPIPE): A method enables several-fold increase in quantum yield of silicon nanoparticles
Xiao-Bin Shen, Bin Song, Bei Fang, Xiao Yuan, You-Yong Li, Shun-Yi Wang, Shun-Jun Ji*, and Yao He*
Soochow University, China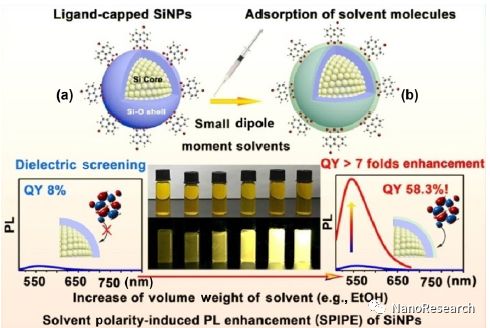 Typical naphthalic anhydride molecules are synthesized, which serve as surface ligands for the production of ligand-capped small-sized silicon nanoparticles (SiNPs). Quantum yield (QY) of the resultant SiNPs is relatively low, but could be greatly enhanced from ~ 10% to ~ 50% through the solvent polarity-induced photoluminescence enhancement (SPIPE) strategy. Taken together with the theoretical calculation and the results of time-correlated single photon counting (TCSPC), we reveal that activated excited-state charge transfer (CT) interactions between surface-covered ligand and silicon oxide coating would be responsible for the observed QY enhancement.
315–322
---
---
1-Naphthol induced Pt3Ag nanocorals as bifunctional cathode and anode catalysts of direct formic acid fuel cells
Xian Jiang1,2, Yang Liu2, Jiaxin Wang2, Yufei Wang2, Yuexin Xiong2, Qun Liu2, Naixu Li1, Jiancheng Zhou1,*, Gengtao Fu2,3,*, Dongmei Sun2, and Yawen Tang2,*
1 Southeast University, China
2 Nanjing Normal University, China
3 Nanyang Technological University, Singapore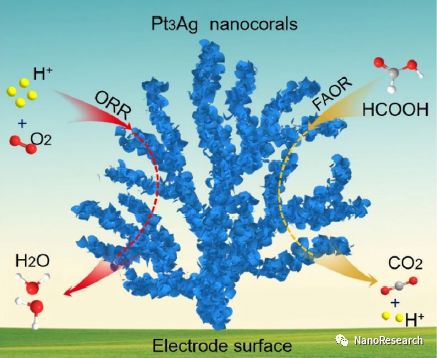 Pt3Ag nanocorals with three-dimensional (3D) porous dendritic structure are facilely synthesized via one-pot solvothermal method under the guidance of 1-naphthol. Benefiting from the unique dendritic structure and bimetallic compositions, Pt3Ag nanocorals exhibit preeminently bifunctional electrocatalytic properties towards both the cathodic oxygen reduction and anodic formic acid oxidation.
323–329
---
---
All VN-graphene architecture derived self-powered wearable sensors for ultrasensitive health monitoring
Lianghao Yu1, Yuyang Yi1, Ting Yao1, Yingze Song1, Yiran Chen1, Qiucheng Li1, Zhou Xia1, Nan Wei1, Zhengnan Tian1, Baoqing Nie1, Li Zhang1, Zhongfan Liu1,2,*, and Jingyu Sun1,*
1 Soochow University, China
2 Peking University, China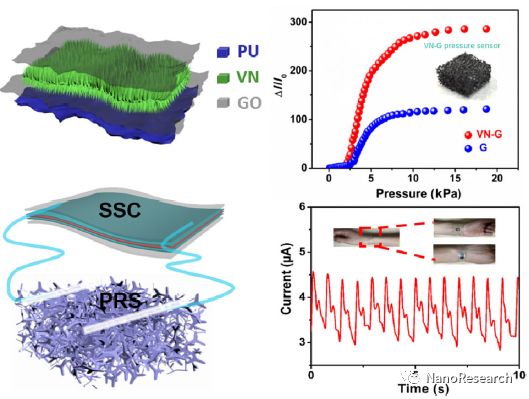 All vanadium nitride (VN)-graphene architecture derived wearable supercapacitor/sensor integration system enables the precise detection of physiological motions ranging from pulse rate to phonetic recognition, holding promise for in-practical health monitoring applications.
331–338
---
---
High-performance asymmetric electrodes photodiode based on Sb/WSe2 heterostructure
Xiao Liu, Guangzhuang Sun, Peng Chen, Junchi Liu, Zhengwei Zhang, Jia Li, Huifang Ma, Bei Zhao, Ruixia Wu, Weiqi Dang, Xiangdong Yang, Chen Dai, Xuwan Tang, Zhuojun Chen, Lili Miao, Xingqiang Liu, Bo Li*, Yuan Liu, and Xidong Duan*
Hunan University, China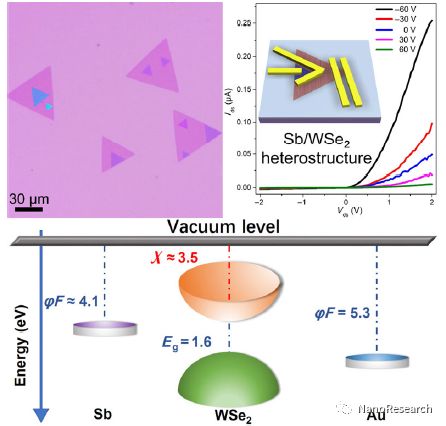 In this study, we synthesized large-scale vertical Sb/WSe2 metal- semiconductor van der Waals (vdWs) heterostructures with uniform stacking orientation, and we construct asymmetric electrode photodiode with high performance based on the Sb/WSe2 heterostructures.
339–344
---
---
Selectivity regulation of CO2 electroreduction through contact interface engineering on superwetting Cu nanoarray electrodes
Zhao Cai1, Yusheng Zhang1, Yuxin Zhao3, Yueshen Wu2, Wenwen Xu1,2, Xuemei Wen1, Yang Zhong1, Ying Zhang4,*, Wen Liu1, Hailiang Wang2, Yun Kuang1,*, and Xiaoming Sun1,*
1 Beijing University of Chemical Technology, China
2 Yale University, USA
3 SINOPEC Research Institute of Safety Engineering, China
4 Monash University, Australia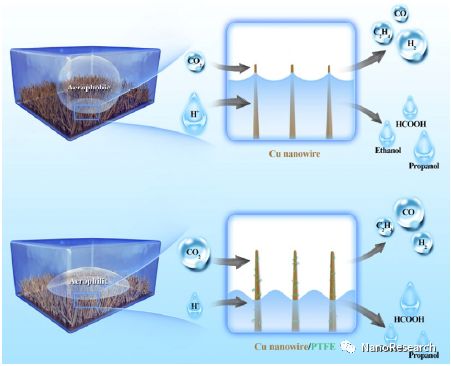 Surface polytetrafluoroethylene modification is applied in this work to turn the Cu nanowire array from aerophobic to aerophilic, which manipulates the gas–liquid–solid contact interface of the electrode and increases the liquid production toward CO2 reduction by 67%. Such a strategy can limit H2O (proton) affinity, therefore, suppresses undesirable hydrogen evolution reaction and promotes CO/HCOOH production.
345–349
---
---
Facile growth of ultra-small Pd nanoparticles on zeolite-templated mesocellular graphene foam for enhanced alcohol electrooxidation
Xuexue Cui, Yaling Li, Mingyu Zhao, Yunshi Xu, Leilei Chen, Shuguang Yang, and Yi Wang*
Donghua University, China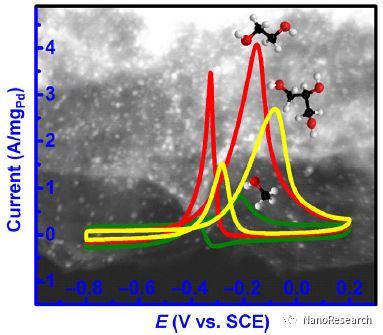 Zeolite-templated mesocellular graphene foam-supported ultra-small Pd nanoparticles (Pd/MGF) was fabricated via a facile stabilizer-free synthesis, which exhibited higher catalytic activity and durability for the methanol, ethylene glycol or glycerol electrooxidations than the state-of-the-art commercial Pd/C catalyst.
351–356
---
---
Li2FeSiO4/C hollow nanospheres as cathode materials for lithium-ion batteries
Shuiyun Shen, Yao Zhang, Guanghua Wei, Wansen Zhang, Xiaohui Yan, Guofeng Xia, Aiming Wu, Changchun Ke, and Junliang Zhang*
Shanghai Jiao Tong University, China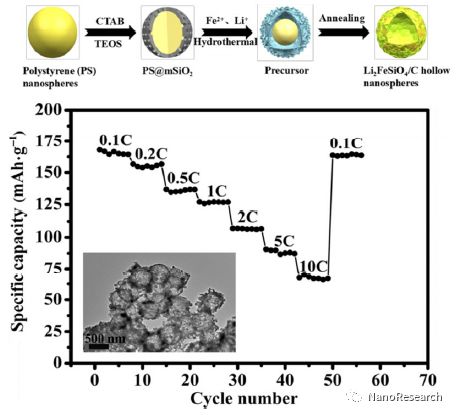 An innovative strategy is proposed to synthesize highly uniform Li2FeSiO4/C hollow nanospheres with superior rate capability as lithium-ion battery (LIB) cathode.
357–363
---
---
Tunable photocycle kinetics of a hybrid bacteriorhodopsin/ quantum dot system
Terianna J. Wax, Jordan A. Greco, Shutang Chen, Nicole L. Wagner, Jing Zhao*, and Robert R. Birge*
University of Connecticut, USA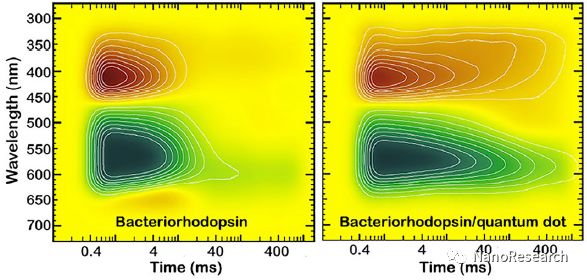 Hybrid nanosystems comprised of bacteriorhodopsin (BR) and CdSe/CdS quantum dots (QDs) have yielded a photochromic material with tunable photocycle kinetics. Excitonic coupling within the BR/QD constructs lead to elongated bR state (570 nm) and M state (410 nm) lifetimes that are dependent on the relative concentrations of each component.
365–373
---
---
Nickel cobalt phosphide with three-dimensional nanostructure as a highly efficient electrocatalyst for hydrogen evolution reaction in both acidic and alkaline electrolytes
Bo Ma, Zhengchun Yang, Yantao Chen*, and Zhihao Yuan*
Tianjin University of Technology, China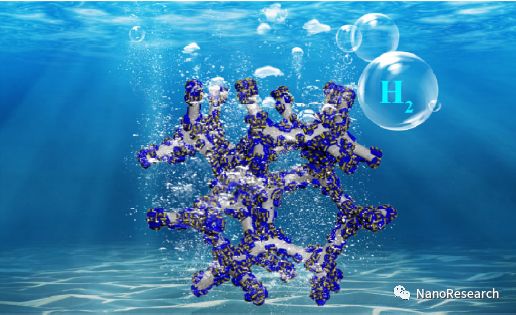 A facile synthesis method for fabricating nickel cobalt phosphide electrocatalyst with three-dimensional nanostructure (3D-NiCoP) on the nickel foam was successfully developed via hydrothermal and phosphorization reaction. The as-prepared electrocatalyst exhibits a remarkable performance on hydrogen evolution reaction (HER) in both acidic and alkaline electrolytes.
375–380
---
---
Flexible and reusable cap-like thin Fe2O3 film for SERS applications
Jiangtao Xu1, Xiaoting Li1, Yuxiang Wang1, Ronghui Guo2, Songmin Shang1,*, and Shouxiang Jiang1,*
1 The Hong Kong Polytechnic University, Hong Kong, China
2 Sichuan University, China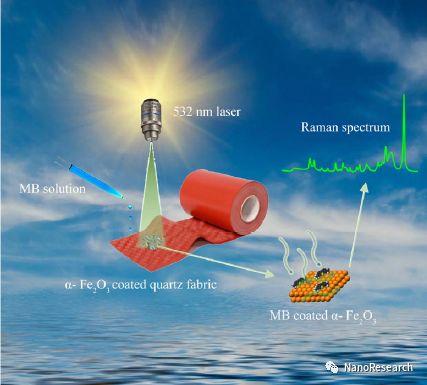 Cap-like α-Fe2O3 films that are coated onto quartz fabric are fabricated through radio frequency magnetron sputtering and annealing. The substrate shows high surface-enhanced Raman scattering (SERS) sensitivity, low limit of detection (LOD), good reproducibility, stability and reusability.
381–388
---
---
A laterally sensitive colloidal probe for accurately measuring nanoscale adhesion of textured surfaces
Sören Zimmermann1,2,*, Waldemar Klauser1, James Mead2, Shiliang Wang2,3, Han Huang2, and Sergej Fatikow1
1 University of Oldenburg, Germany
2 The University of Queensland, Australia
3 Central South University, China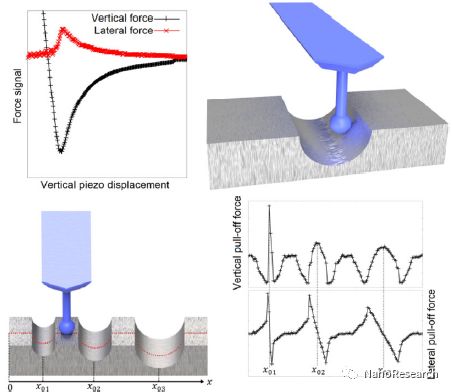 A novel laterally sensitive colloidal probe is fabricated and applied to systematically map adhesive interactions in microscale cylindrical cavities. Accurate normal and lateral adhesive forces during nanoscale contact are obtained and an in-depth understanding of the effects originating from surface texture and the correlation of adhesion and friction during adhesion measurements is demonstrated.
389–396
---
---
Polydopamine-derived N-doped carbon-wrapped Na3V2(PO4)3 cathode with superior rate capability and cycling stability for sodium-ion batteries

Hyeongwoo Kim1,2, Hyojun Lim1,3, Hyung-Seok Kim1, Ki Jae Kim4, Dongjin Byun2, and Wonchang Choi1,3,*
1 Korea Institute of Science and Technology, Republic of Korea
2 Korea University, Republic of Korea
3 Korea University of Science and Technology, Republic of Korea
4 Konkuk University, Republic of Korea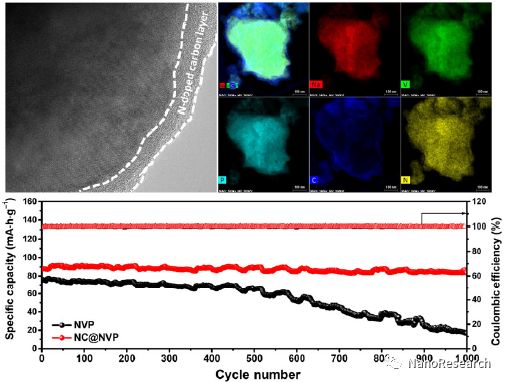 We successfully synthesized N-doped carbon-wrapped Na3V2(PO4)3 (NC@NVP) through the carbonization of polydopamine, which is rich in nitrogen species. The strong adhesion properties of the polydopamine lead to effective and homogeneous wrapping of NVP particles, and it is further turned into a conductive N-doped carbon network itself, providing facile diffusion of electrons and Na+ ions during battery operation.
397–404
---
---
Significant enhancement of photoresponsive characteristics and mobility of MoS2-based transistors through hybridization with perovskite CsPbBr3 quantum dots
Taeho Noh1, Heung Seob Shin2, Changwon Seo3, Jun Young Kim1, Jongwon Youn1, Jeongyong Kim3, Kwang-Sup Lee2,*, and Jinsoo Joo1,*
1 Korea University, Republic of Korea
2 Hannam University, Republic of Korea
3 Sungkyunkwan University, Republic of Korea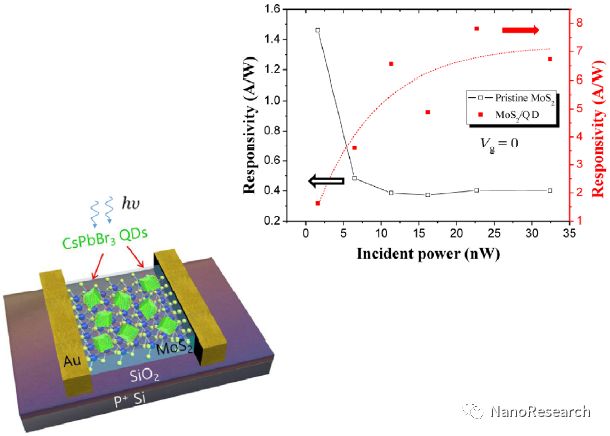 Enhanced electrical and photoresponsive characteristics of MoS2-based field-effect transistor (FET) are demonstrated through hybridization with perovskite CsPbBr3 quantum dots.
405–412
---
---
SERS-based lateral flow immunoassay of troponin I by using gap-enhanced Raman tags
Boris N. Khlebtsov1,2,*, Daniil N. Bratashov2, Nadezhda A. Byzova3, Boris B. Dzantiev3, and Nikolai G. Khlebtsov1,2,*
1 Institute of Biochemistry and Physiology of Plants and Microorganisms, Russian Academy of Sciences, Russia
2 Saratov State University, Russia
3 Research Centre of Biotechnology, Russian Academy of Sciences, Russia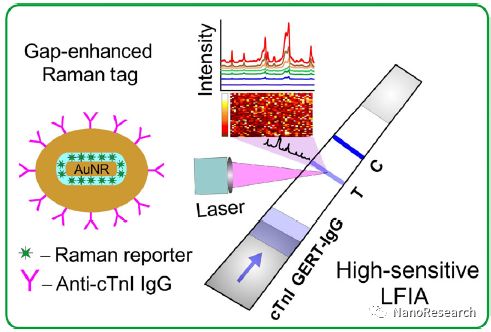 A novel surface-enhanced Raman scattering (SERS)-based lateral flow immunoassay (LFIA) has been developed using nonspherical gap-enhanced Raman tags (GERTs) with embedded reporter molecules for sensitive and quantitative detection of cardio disease biomarker troponin I (cTnI).
413–420
---
---
Optimized in vivo performance of acid-liable micelles for the treatment of rheumatoid arthritis by one single injection
Qin Wang, Yan Li, Xiaoyan Chen, Hao Jiang, Zhirong Zhang, and Xun Sun*
Sichuan University, China

The self-assembled micelles with different density of hydrophobic drug were designed to achieve prolonged circulation in blood and targeted accumulation in joints.
421–428
---
---
Intermetallic PtBi core/ultrathin Pt shell nanoplates for efficient and stable methanol and ethanol electro-oxidization
Xiaolei Yuan, Xiaojing Jiang, Muhan Cao*, Lei Chen, Kaiqi Nie, Yong Zhang, Yong Xu, Xuhui Sun, Yanguang Li*, and Qiao Zhang*
Soochow University, China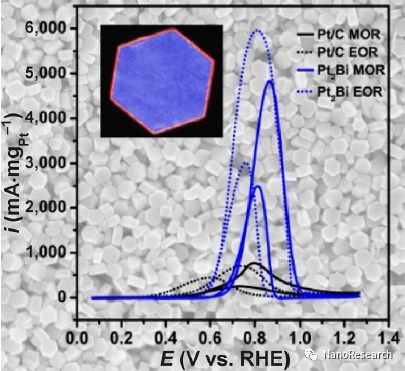 Hexagonal PtBi/Pt core/shell nanostructures composed of an intermetallic Pt1Bi1 core and an ultrathin Pt shell with well-defined shape, size, and composition have been prepared. The unique structure and the synergistic effect among different components dramatically enhanced their methanol oxidation reaction (MOR) and ethanol oxidation reaction (EOR) performance.
429–436
---
---
Facile synthesis of ultrathin metal-organic framework nanosheets for Lewis acid catalysis
Xiaofei Zhang1,2, Lin Chang2, Zhongjie Yang2, Yanan Shi2, Chang Long1,2, Jianyu Han2, Binhao Zhang2, Xueying Qiu2, Guodong Li2,*, and Zhiyong Tang1,2,*
1 Harbin Institute of Technology, China
2 National Center for Nanoscience and Technology, China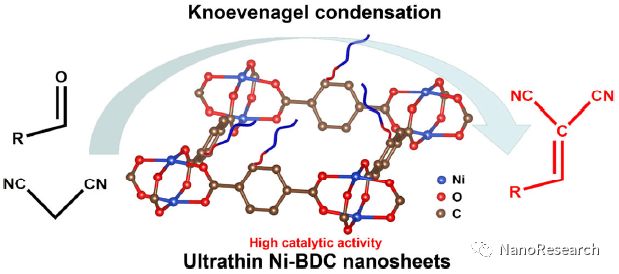 We report a polyvinylpyrrolidone (PVP)-assisted route to synthesize the ultrathin Ni-MOF nanosheets characteristic of 1.5 nm in thickness. Notably, they display the significantly enhanced catalytic activity in the Knoevenagel condensation of propane dinitrile with different aldehydes compared with bulk Ni-MOF.
437–440
---
---
Li2SnO3 branched nano- and microstructures with intense and broadband white-light emission
Miguel García-Tecedor1,†,*, Javier Bartolomé2,‡, David Maestre1, Achim Trampert2, and Ana Cremades1
1 Universidad Complutense de Madrid, Spain
2 Paul-Drude-Institut für Festkörperelektronik, Germany
† Present Address: Universitat Jaume I, Spain
‡ Present Address: Universidad Complutense de Madrid, Spain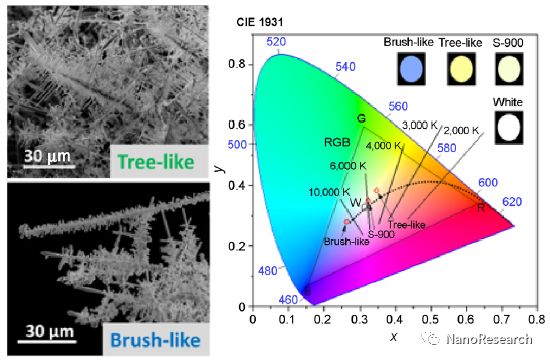 In the present work, an alternative application of Li2SnO3 nano- and microstructures as promising candidates for intense white-light-emitting devices without the use of phosphors or complex quantum structures is proposed for the first time, as far as we know.
441–448
---
---
Plasmon-tunable Au@Ag core-shell spiky nanoparticles for surface-senhanced Raman scattering
Zhulin Huang1, Guowen Meng1,2,*, Xiaoye Hu1, Qijun Pan1,2, Dexian Huo1,2, Hongjian Zhou1, Yan Ke1, and Nianqiang Wu3,*
1 Institute of Solid State Physics, Chinese Academy of Sciences, China
2 University of Science and Technology of China, China
3 West Virginia University, USA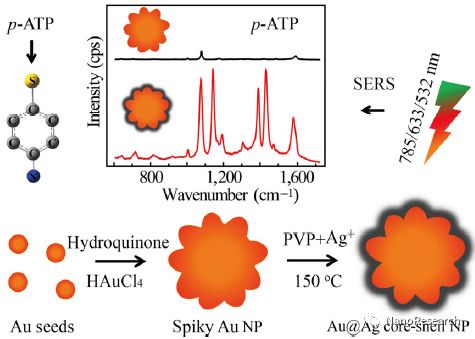 With a thin Ag shell coated on spiky Au nanoparticles, the spiky Au@Ag core-shell nanostructures demonstrate remarkable localized surface plasmon resonance (LSPR) in near infrared region and improved surface-enhanced Raman scattering (SERS) activity due to the sharp tips, making it a promising platform for SERS-based detection applications.
449–455
---
---
Single titanium-oxide species implanted in 2D g-C3N4 matrix as a highly efficient visible-light CO2 reduction photocatalyst
Shangfeng Tang, Xuepeng Yin, Guanyu Wang, Xiuli Lu*, and Tongbu Lu*
Tianjin University of Technology, China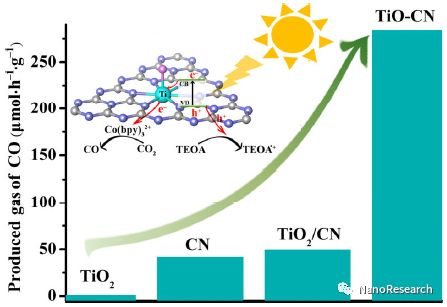 A visible-light-response single atom catalyst with single titanium oxide species implanted in graphitic carbon nitride (g-C3N4) has been developed for efficient CO2 photo-reduction for the first time. The synergistic interaction between single titanium oxide species and g-C3N4 has greatly enhanced the separation of photo-excited charges and brought about visible-light- response single titanium-oxide species, realizing high photo-reduction of CO2 activity with extremely high CO evolution.
457–462
---
---
Tunable Schottky barrier width and enormously enhanced photoresponsivity in Sb doped SnS2 monolayer
Junchi Liu1, Xiao Liu1, Zhuojun Chen1, Lili Miao1, Xingqiang Liu1, Bo Li1,*, Liming Tang1, Keqiu Chen1, Yuan Liu1, Jingbo Li2, Zhongming Wei2,*, and Xidong Duan1,*
1 Hunan University, China
2 University of Chinese Academy of Sciences, China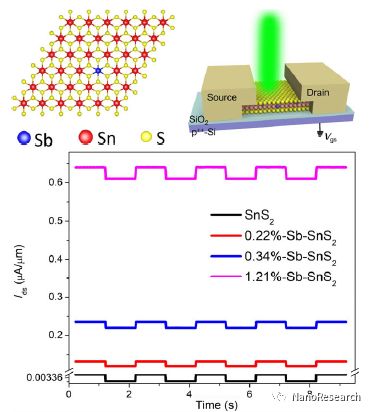 In this study, we investigated electronic and optoelectronic property of Sb-doped SnS2 monolayers, and found that doping can reduce the Shottky barrier width and result in high mobility and photoresponsivity.

463–468
点击"阅读原文"查看完整目录
---
Previous Contents:
Nano Research公众号
微信号 : Nano_Research
网址:www.thenanoresearch.com