《纳米研究》2017年12期目录及限时免费下载文章信息
《纳米研究》第12期专刊(Special issue:Nanotechnology in battery)已经上线,包括9篇综述和23篇研究型论文。其中9篇综述限时免费开放至2018年2月7号,在此期间大家可点击页面左下角"阅读原文"免费下载。
Contents

Editorial
Editorial from Guest Editors
Xiaolin Li1,*, Teófilo Rojo2,*, and Jun Chen3,*
1 Pacific Northwest National Laboratory, USA
2 CIC Energigune energy cooperative research centre, Spain
3 Nankai University, China
3941
---
---
Review Articles
Nanostructured Na-ion and Li-ion anodes for battery application: A comparative overview
Ivana Hasa1,2,†,*, Jusef Hassoun3,*, and Stefano Passerini1,2,*
1 Helmholtz Institute Ulm, Germany
2 Karlsruhe Institute of Technology (KIT ), Germany
3 University of Ferrara, Italy
† Present address: Lawrence Berkeley National Laboratory,USA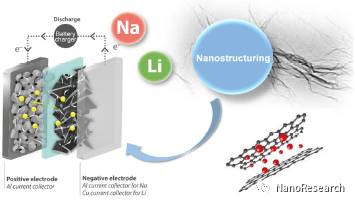 Nanostructured materials for use as anode electrodes in Li- and Naion batteries allow for substantial improvements in their performance. However, there are significant differences between the two anodechemistries.
3942-3969

---
---
Practical considerations of Si-based anodes for lithium-ion battery applications
Jaegeon Ryu, Dongki Hong, Hyun-Wook Lee*, and Soojin Park*
Ulsan National Institute of Science and Technology (UNIST),Republic of Korea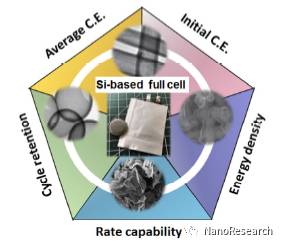 Practical considerations for successful implementation of Si-based anodes to full cells are extensively investigated in this review.
3970–4002

---
---
Nanoscale perspective: Materials designs and understandings in lithium metal anodes
Dingchang Lin1, Yayuan Liu1, Allen Pei1, and Yi Cui1,2,*
1 Stanford University, USA
2 SLAC National Accelerator Laboratory, USA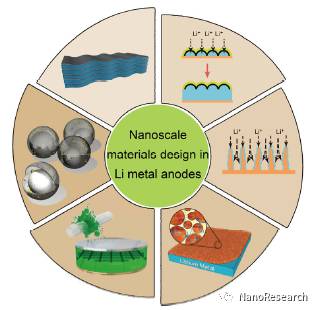 This review article provides an overview of recent progress and new understandings on Li metal anode enabled by nanotechnology.
4003–4026

---
---
Review of nanostructured current collectors in lithium–sulfur batteries
Long Kong, Hong-Jie Peng, Jia-Qi Huang, and Qiang Zhang*
Tsinghua University, China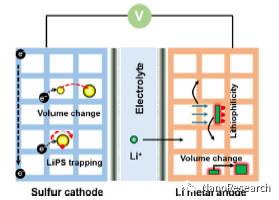 This review summarizes the nanostructured current collectors constructed by the rational integration of low-dimensional nanomaterials and examines the common attributes and requirements of their configuration and components in the S cathodes and Li anodes of Li–S batteries. We also describe various challenges and possible solutions regarding nanostructured current collectors for Li–S batteries.
4027–4054

---
---
Phosphorus and phosphide nanomaterials for sodium-ion batteries
Qingbing Xia1,2, Weijie Li2, Zongcheng Miao1,*, Shulei Chou2,*, and Huakun Liu2
1 Xijing University, China
2 University of Wollongong, Australia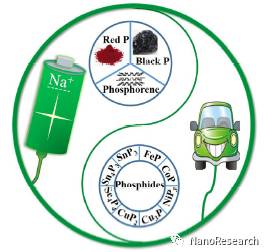 Phosphorus and phosphides show great promise as anode candidates for sodium-ion batteries because of their low cost and relatively high theoretical specific capacity. This review summarizes the recent research progress in nanostructured phosphorus and phosphides for sodium-ion batteries, as well as future challenges and opportunities.
4055–4081

---
---
Challenges and perspectives on high and intermediatetemperature sodium batteries
Karina B. Hueso1, Verónica Palomares1, Michel Armand2, and Teófilo Rojo1,2,*
1 University of the Basque Country UPV/EHU, Spain
2 CIC ENERGIGUNE, Spain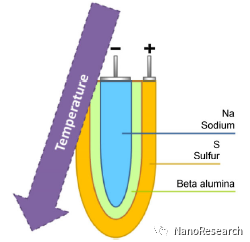 Sodium–sulfur (Na–S) and sodium–metal-halide (zeolite battery research Africa project (ZEBRA)) batteries are used in stationary applications for power quality and peak/load shaving. This review covers the recent advances in electrode and electrolyte materials for these electrochemical systems at high and intermediate temperatures.
4082–4114

---
---
Artificial interphase engineering of electrode materials to improve the overall performance of lithium-ion batteries 
Zhiqiang Zhu and Xiaodong Chen*
Nanyang Technological University, Singapore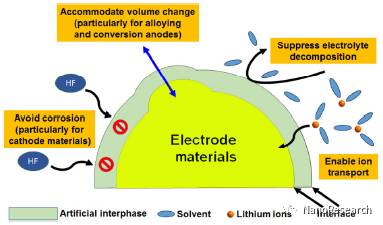 This review summarizes recent advances in artificial interphase engineering of electrode materials to improve the overall performance of lithium-ion batteries. The effects of the artificial interphase on the electrode performance are discussed in detail.
4115–4138

---
---
Recent advances in solid polymer electrolytes for lithium batteries
Qingqing Zhang1, Kai Liu2, Fei Ding1,*, and Xingjiang Liu1
1 Tianjin Institute of Power Sources, China
2 Tianjin University, China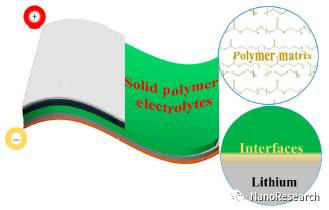 The review focuses on the recent developments in solid polymer electrolytes, including the various kinds of polymer matrices and their corresponding modifications, and the detection of the interface between the solid polymer electrolytes and the anode, as well as factors influencing the interface.
4139–4174

---
---
Interest of molecular functionalization for electrochemical storage
Bihag Anothumakkool1, Dominique Guyomard1, Joël Gaubicher1,*, and Lénaïc Madec2,3,*
1 Université de Nantes, France
2 Université de Pau, France
3 Réseau sur le Stockage Electrochimique de l'Energie (RS2E), France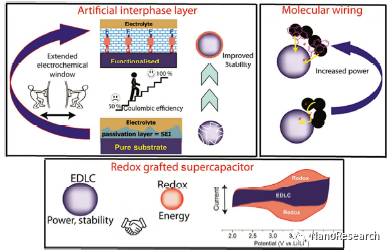 This review presents the various developments in molecular functionalization to address the current limitations in electrochemical storage. Fundamental aspects regarding the effects of functionalized layer properties on the electrochemical performance as well as perspectives for further developments are also discussed.
4175–4200

---
---
Research Articles
Improving the structural stability of Li-rich cathode materials via reservation of cations in the Li-slab for Li-ion batteries
Ji-Lei Shi1,3, Dong-Dong Xiao2, Xu-Dong Zhang1,3, Ya-Xia Yin1, Yu-Guo Guo1,3,*, Lin Gu2,*, and Li-Jun Wan1,*
1 Institute of Chemistry, Chinese Academy of Sciences, China
2 Institute of Physics, Chinese Academy of Sciences, China
3 University of Chinese Academy of Sciences, China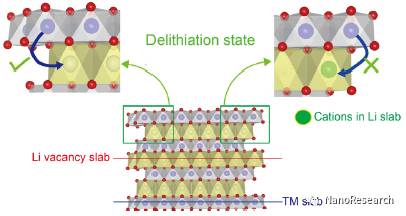 Here, we demonstrate that the structural evolution of Li-rich cathodes can be significantly inhibited by intentional introduction of certain adventive cations (like Ni2+) or by premeditated reservation of original Li+ ions residing in the Li slab in the delithiated state.
4201–4209

---
---
Simultaneous surface modification method for 0.4Li2MnO3-0.6LiNi1/3Co1/3Mn1/3O2 cathode material for lithium ion batteries: Acid treatment and LiCoPO4 coating
Min-Joon Lee, Eunsol Lho, Pilgun Oh, Yoonkook Son, and Jaephil Cho*
Ulsan National Institute of Science and Technology (UNIST), Republic of Korea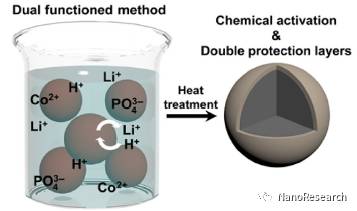 Double coating layers (spinel phase and LiCoPO4) protect the surface of the particle from side reactions, leading to improved electrochemical performance and safety.
4210–4220

---
---
Suppressed oxygen extraction and degradation of LiNixMnyCozO2 cathodes at high charge cut-off voltages
Jianming Zheng1, Pengfei Yan1, Jiandong Zhang1, Mark H. Engelhard1, Zihua Zhu1, Bryant J. Polzin2, Steve Trask2, Jie Xiao1, Chongmin Wang1,*, and Jiguang Zhang1,*
1 Pacific Northwest National Laboratory, USA
2 Argonne National Laboratory, USA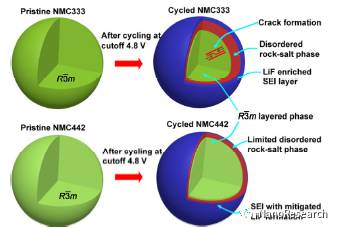 The effect of the composition of lithium nickel–manganese–cobalt oxide (NMC) cathodes on the cycling stability of LiNixMnyCozO2 during high-voltage operation has been systematically investigated. The results demonstrate that the Co content has a dominating impact on the stability of NMC cathodes during high voltage cycling due to the significant overlap between the Co3+/4+ t2g band and the O2— 2p band.
4221–4231

---
---
Revisiting the conversion reaction voltage and the reversibility of the CuF2 electrode in Li-ion batteries
Joon Kyo Seo1, Hyung-Man Cho1, Katsunori Takahara1, Karena W. Chapman2, Olaf J. Borkiewicz2, Mahsa Sina1,*,and Y. Shirley Meng1,*
1 University of California San Diego, USA
2 Argonne National Laboratory, USA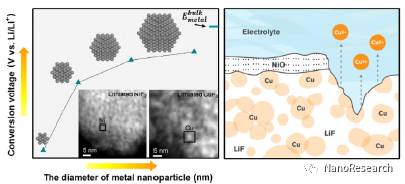 The conversion reaction voltage in the Li ion battery is reinterpreted based on the size of metal nanoparticles. A reversible CuF2 electrode is developed by coating with NiO.
4232–4244

---
---
Nanostructured organic electrode materials grown on graphene with covalent-bond interaction for high-rate and ultra-long-life lithium-ion batteries
Qing Zhao, Jianbin Wang, Chengcheng Chen, Ting Ma, and Jun Chen*
Nankai University, China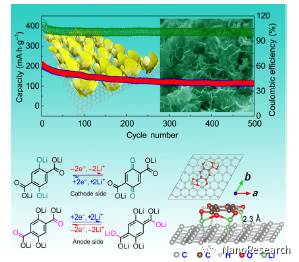 A nanostructured Li4C8H2O6/graphene composite exhibits a highrate capability and ultra-long cycling life in rechargeable Li-ion batteries. The improved conductivity, nanostructure morphology, and chemical-bond interaction between Li4C8H2O6 and graphene contribute to the superior electrochemical properties.
4245–4255

---
---
Garnet/polymer hybrid ion-conducting protective layer for stable lithium metal anode
Chunpeng Yang, Boyang Liu, Feng Jiang, Ying Zhang,Hua Xie, Emily Hitz, and Liangbing Hu*
University of Maryland, USA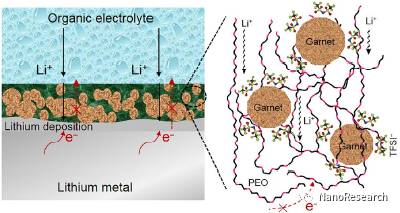 A Li-ion conducting hybrid film consisting of a garnet-type ion conductor and a polymer electrolyte is proposed as a protective layer for a Li metal anode. The hybrid ion-conducting layer allows Li deposition only underneath it and effectively suppresses Li dendrites, yielding Li metal anodes with excellent cycling stability.
4256–4265

---
---
Hydrogenated vanadium oxides as an advanced anode material in lithium ion batteries
Yufei Zhang1,2,3, Huanwen Wang3, Jun Yang2,3, Haosen Fan3, Yu Zhang3, Zhengfei Dai3, Yun Zheng3, Wei Huang2,*, Xiaochen Dong2,*, and Qingyu Yan3,*
1 Inner Mongolia University, China
2 Nanjing Tech University (NanjingTech), China
3 Nanyang Technological University, Singapore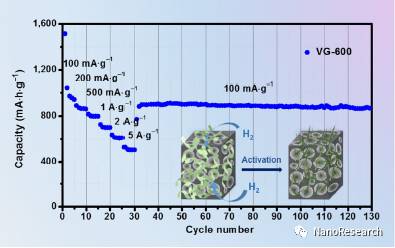 Hydrogenated vanadium oxide nanoneedles were prepared and show superior lithium storage properties, with a discharge capacity of 941 mA·h·g—1 at 100 mA·g—1 and a reversible capacity of ~285 mA·h·g—1 after 1,000 cycles at 5 A·g—1 when tested as the anode in a Li ion battery.
4266–4273

---
---
Walnut-inspired microsized porous silicon/graphene core–shell composites for high-performance lithium-ion battery anodes
Wei Zhai, Qing Ai, Lina Chen, Shiyuan Wei, Deping Li, Lin Zhang, Pengchao Si, Jinkui Feng*, and Lijie Ci*
Shandong University, China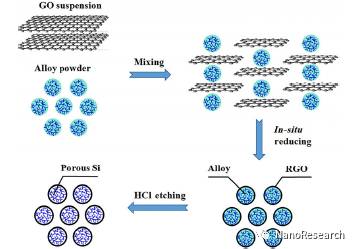 Microsized walnut-like porous silicon/reduced graphene oxide (P-Si/rGO) core–shell composites are prepared via in situ reduction followed by a dealloying process.
4274–4283

---
---
Water-soluble-template-derived nanoscale silicon nanoflake and nano-rod morphologies: Stable architectures for lithium-ion battery anodes
Bharat Gattu, Prashanth Hanumantha Jampani, Moni Kanchan Datta, Ramalinga Kuruba, and Prashant N. Kumta*
University of Pittsburgh, USA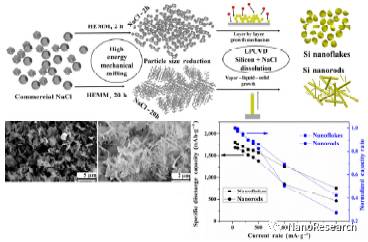 A water-soluble NaCl template facilitates the generation of Si nanostructures with different morphologies that show high capacities and stable performances as anode materials for lithium-ion batteries.
4284–4297

---
---
Embedssding CoS2 nanoparticles in N-doped carbon nanotube hollow frameworks for enhanced lithium storage properties
Jintao Zhang, Le Yu*, and Xiong Wen (David) Lou*
Nanyang Technological University, Singapore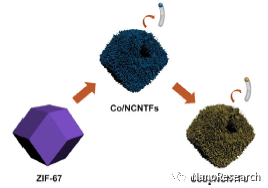 A novel hierarchical nanocomposite composed of CoS2 nanoparticles embedded in N-doped carbon nanotube frameworks was synthesized using a two-step metal-organic-framework-engaged strategy. Owing to its unique structural features and desirable chemical composition, the obtained nanocomposite exhibited enhanced electrochemical properties for use as an anode material for lithium-ion batteries.
4298–4304

---
---
Activated graphene with tailored pore structure parameters for long cycle-life lithium–sulfur batteries
Mingbo Zheng1, Songtao Zhang1, Shuangqiang Chen2, Zixia Lin1, Huan Pang1,*, and Yan Yu2,*
1 Yangzhou University, China
2 University of Science and Technology of China, China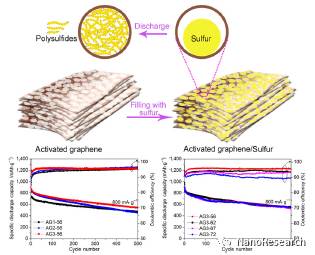 The impregnation of sulfur into activated graphene is studied for lithium-sulfur battery cathodes. The influence of the pore structure parameters and sulfur loadings on battery performance is systematically investigated.
4305–4317

---
---
Free-standing porous carbon electrodes derived from wood for high-performance Li-O2 battery applications
Jingru Luo1, Xiahui Yao1, Lei Yang2,§, Yang Han2, Liao Chen2, Xiumei Geng2, Vivek Vattipalli3, Qi Dong1, Wei Fan3, Dunwei Wang1,*, Hongli Zhu2,*
1 Boston College, USA
2 Northeastern University, USA
3 University of Massachusetts Amherst, USA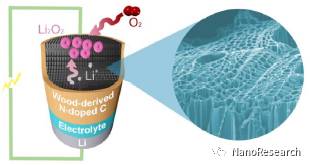 A free-standing wood-derived porous carbon was developed and successfully applied in Li-O2 batteries. The wood-derived carbon with its unique structure could potentially be a cost-effective porous electrode for mass production.
4318–4326

---
---
Mass and charge transport relevant to the formation of toroidal lithium peroxide nanoparticles in an aprotic lithium-oxygen battery: An experimental and theoretical modeling study
Xiangyi Luo1, Rachid Amine1,2, Kah Chun Lau1,3, Jun Lu1,*, Chun Zhan1, Larry A. Curtiss1, Said Al Hallaj2, Brian P. Chaplin2, and Khalil Amine1,*
1 Argonne National Laboratory, USA
2 University of Illinois at Chicago, USA
3 California State University Northridge, USA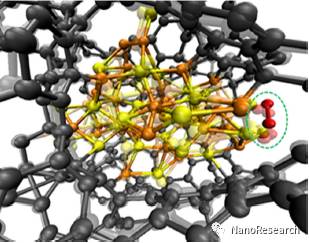 A selected snapshot of the atomic motion of a chemically bonded O2 species (red) when a Li2O2 cluster (yellow) is formed during the discharge process.
4327–4336

---
---
Cobalt phosphide nanoparticles embedded in nitrogendoped carbon nanosheets: Promising anode material with high rate capability and long cycle life for sodium-ion batteries
Kai Zhang, Mihui Park, Jing Zhang, Gi-Hyeok Lee, Jeongyim Shin, and Yong-Mook Kang*
Dongguk University-Seoul, Republic of Korea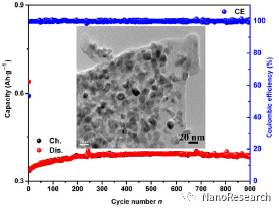 Cobalt phosphide nanoparticles which were uniformly embedded in N-doped C nanosheets (CNSs) were prepared via the facile one-step calcination of a Co-based metal–organic framework (MOF) and red P, and the composite exhibited a high capacity, excellent rate performance, and a long cycle life. The outstanding performance of the composite is attributed to the P–C chemical interactions and highly conductive CNSs.
4337–4350

---
---
Aerosol synthesis of trivalent titanium doped titania/carbon composite microspheres with superior sodium storage performance
Doudou Guan1, Qiang Yu1, Chang Xu1, Chunjuan Tang1,2, Liang Zhou1,*, Dongyuan Zhao1, and Liqiang Mai1,3,*
1 Wuhan University of Technology, China
2 Luoyang Institute of Science and Technology, China
3 University of California, Berkeley, USA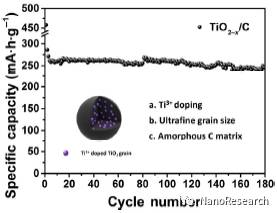 Trivalent titanium doped titania/carbon (TiO2–x/C) composite microspheres have been fabricated by a facile aerosol method. The obtained TiO2–x/C composite microspheres exhibit a high specific capacity (286 mA·h·g–1 at 50 mA·g–1) and excellent cycling stability (retaining 249 mA·h·g–1 after 180 cycles at 50 mA·g–1) in sodium storage.
4351–4359

---
---
2D sandwich-like nanosheets of ultrafine Sb nanoparticles anchored to graphene for high-efficiency sodium storage
Xiaowu Liu1, Man Gao1, Hai Yang1, Xiongwu Zhong1, and Yan Yu1,2,*
1 University of Science and Technology of China, China
2 Nankai University, China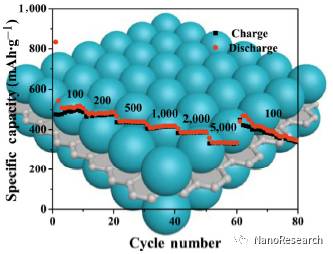 A sandwich-like Sb@graphene@Sb nanocomposite was fabricated through a facile reduction process and this composite delivers superior sodium storage properties.
4360–4367

---
---
Layered SnS sodium ion battery anodes synthesized near room temperature
Chuan Xia, Fan Zhang, Hanfeng Liang, and Husam N. Alshareef*
King Abdullah University of Science and Technology (KAUST), Saudi Arabia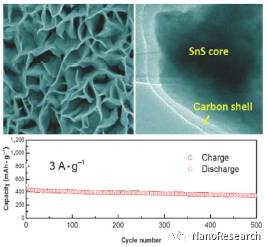 Layered SnS nanosheets/carbon anodes were synthesized near room temperature using a simple one-step chemical bath deposition approach, followed by a solution-based carbon precursor coating and subsequent carbonization strategy. When used as sodium ion battery anodes, the as-prepared binder-free SnS/C electrodes showed excellent performance.
4368–4377

---
---
Utilizing the full capacity of carbon black as anode for Na-ion batteries via solvent co-intercalation
Wei Xiao1, Qian Sun1, Jian Liu1, Biwei Xiao1, Per-Anders Glans2, Jun Li1, Ruying Li1, Jinghua Guo2, Wanli Yang2, Tsun-Kong Sham1,*, and Xueliang Sun1,*
1 University of Western Ontario, Canada
2 Lawrence Berkeley National Laboratory, USA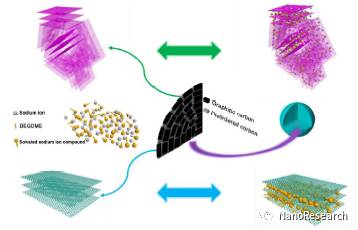 A unique sodium intercalation process, involving sodium ion insertion into the disordered structure and sodium ion-solvent co-intercalation into the graphitic structure, can efficiently enhance the reversible specific capacity. Critically, the controllable formation and preservation of a robust and thin solid electrolyte interphase layer on the carbon black electrode further increase cycle stability.Thus, the ether-based electrolyte shows promise for improved electrochemical performance of carbon-based anode materials in sodium-ion batteries.
4378–4387

---
---
NaF–FeF2 nanocomposite: New type of Na-ion battery cathode material
Insang Hwang1, Sung-Kyun Jung1, Eun-Suk Jeong1, Hyunchul Kim2, Sung-Pyo Cho1, Kyojin Ku1, Hyungsub Kim1,3, Won-Sub Yoon2, and Kisuk Kang1,*
1 Seoul National University, Republic of Korea
2 Sungkyunkwan University, Republic of Korea
3 Korea Atomic Energy Research Institute, Republic of Korea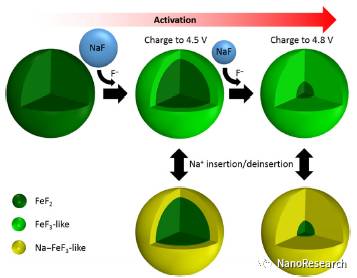 A NaF–FeF2 nanocomposite is demonstrated to function successfully as a Na-ion battery cathode material.
4388–4397

---
---
Multifunctional SnO2/3D graphene hybrid materials for sodium-ion and lithium-ion batteries with excellent rate capability and long cycle life
Jung-In Lee1, Junhua Song1, Younghwan Cha1, Shaofang Fu1, Chengzhou Zhu1, Xiaolin Li2, Yuehe Lin1,2,*, and Min-Kyu Song1,*
1 Washington State University, USA
2 Pacific Northwest National Laboratory, USA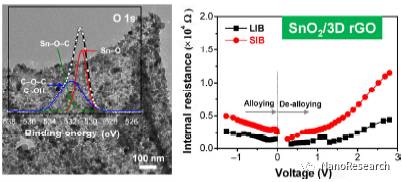 Ultra-fine SnO2 nanocrystals anchored on the well-interconnected, three-dimensional (3D) macro-porous reduced graphene oxide (rGO) matrix showed outstanding performance as bifunctional electrodes for Li-ion and Na-ion batteries. Insights obtained from in situ X-ray diffraction (XRD) measurements combined with various electrochemical techniques suggested that the conductive, 3D porous rGO matrix has a more significant impact on Na-ion batteries.
4398–4414

---
---
A rapid solid-state synthesis of electrochemically active Chevrel phases (Mo6T8; T = S, Se) for rechargeable magnesium batteries
Partha Saha1,† Prashanth H. Jampani1, Moni K. Datta1, Daeho Hong1, Bharat Gattu1, Prasad Patel1, Karan S. Kadakia1, Ayyakkannu Manivannan2, and Prashant N. Kumta1,*
1 University of Pittsburgh, USA
2 National Energy Technology Laboratory, USA
† Present address: National Institute of Technology-Rourkela,India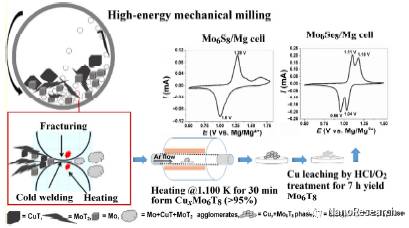 Cu2Mo6T8 (T = S, Se) is synthesized for the first time by high energy mechanical milling (HEMM). 30 min HEMM (CuT + Mo + MoT2) with 30 min heat treatment at ~1,100 K yields the electrochemically active Chevrel phase.
4415–4435

---
---
Iron-chelated hydrogel-derived bifunctional oxygen electrocatalyst for high-performance rechargeable Zn–air batteries
Fanlu Meng1,2, Haixia Zhong1,3, Junmin Yan2,*, and Xinbo Zhang1,*
1 Changchun Institute of Applied Chemistry, Chinese Academy of Sciences, China
2 Jilin University, China
3 University of Chinese Academy of Sciences, China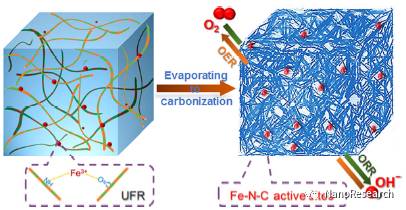 A bifunctional oxygen electrocatalyst (C-Fe-UFR) derived from a novel iron-chelated urea-formaldehyde resin hydrogel exhibits great catalytic activity and durability towards oxygen reduction (ORR) and evolution (OER) reactions, especially, when used as air electrodes in rechargeable Zn–air batteries, high power density and perfect cycling stability are achieved.
4436–4447

---
---
Improved flexible Li-ion hybrid capacitors: Techniques for superior stability
Shengyang Dong1,2, Hongsen Li1, Junjun Wang1, Xiaogang Zhang1,*, and Xiulei Ji2,*
1 Nanjing University of Aeronautics and Astronautics, China
2 Oregon State University, USA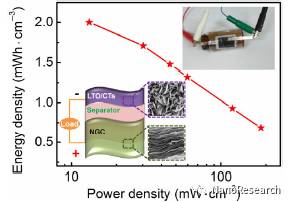 A novel flexible Li-ion capacitor (LIC) was designed by integrating an anode comprising three-dimensional (3D)-flexible Li4Ti5O12 nanoplate arrays coated on carbon textile and a cathode comprising N-doped graphene/carbon-nanotube composite films. Benefiting from the novel electrode architectures and hybrid energy-storage mechanisms, the flexible LIC delivers excellent mechanical flexibility, high energy density, high power density, and long capacity retention.
4448–4456

---
---
Previous Contents:
Nano Research公众号
微信号 : Nano_Research
网址:www.thenanoresearch.com