《纳米研究》2018年第3期目录
Contents 
Review Articles
Silicene on non-metallic substrates: Recent theoretical and experimental advances
Emilio Scalise1,*, Kostantina Iordanidou2, Valeri V. Afanas'ev2, André Stesmans2, and Michel Houssa2,*
1 Max-Planck-Institut für Eisenforschung, Germany
2 University of Leuven, Belgium
A review of recent theoretical and experimental works on the possible growth of silicene on non-metallic surfaces, and a theoretical approach toward the systematic study of the stability of silicene on substrates are presented.
1169–1182
---
---
Research Articles
Flexible memristors as electronic synapses for neuroinspired computation based on scotch tape-exfoliated mica substrates
Xiaobing Yan1,3,*, Zhenyu Zhou1, Jianhui Zhao1, Qi Liu2,*, Hong Wang1, Guoliang Yuan3, and Jingsheng Chen4
1 Hebei University, China
2 Institute of Microelectronics, Chinese Academy of Sciences, China
3 Nanjing University of Science and Technology, China
4 National University of Singapore, Singapore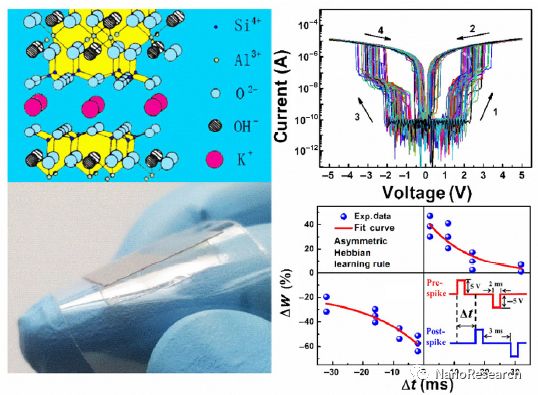 In this work, we explore the use of mica as a substrate for flexible memristor devices. We employ the scotch tape exfoliation technique to peel the mica, which is made possible due to its perfect cleavage along the basal plane. The mica substrate allows for memristor devices with superior flexibility and thermostability, which may potentially lead to the realization of high-temperature memristors for application in biologically-inspired computing systems.
1183–1192
---
---
Aqueous and mechanical exfoliation, unique properties, and theoretical understanding of MoO3 nanosheets made from free-standing α-MoO3 crystals: Raman mode softening and absorption edge blue shift
Hongfei Liu*, Yongqing Cai, Mingyong Han, Shifeng Guo, Ming Lin, Meng Zhao, Yongwei Zhang, and Dongzhi Chi
A*STAR (Agency for Science, Technology and Research),Singapore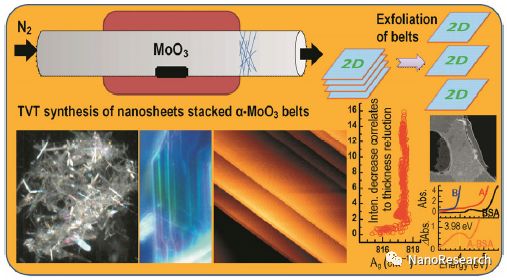 α-MoO3 belt crystals consisting of nanosheets stacked along their [010]-axes have been synthesized (without intentional use of a substrate) and further exfoliated to form two-dimensional (2D)  nanosheets. Raman mode softening of Ag (~ 818 cm−1) was observed from the thinner layers and theoretically validated for the first time. Aqueous exfoliation induces a blue shift in the α-MoO3 nanosheet absorption edge.
1193–1203
---
---
Multivalent interacting glycodendrimer to prevent amyloidpeptide fibril formation induced by Cu(II): A multidisciplinary approach
Anna Janaszewska1, Barbara Klajnert-Maculewicz1,*, Monika Marcinkowska1, Piotr Duchnowicz1, Dietmar Appelhans2, Gianvito Grasso3, Marco A. Deriu3, Andrea Danani3,*, Michela Cangiotti4, and Maria Francesca Ottaviani4,1,*
1 University of Lodz, Poland
2 Leibniz Institute of Polymer Research, Germany
3 SUPSI-DTI IDSIA-Dalle Molle Institute for Artificial Intelligence, Switzerland
4 University of Urbino, Italy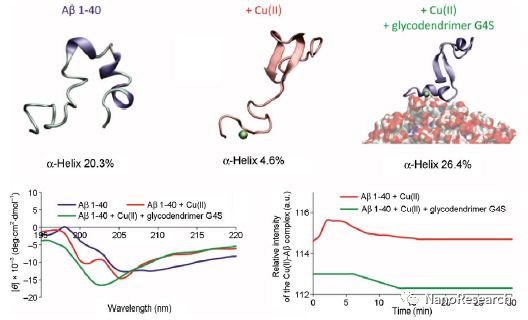 Fibrillation of the amyloid peptide Aβ 1-40 induced by Cu(II) is prevented by the non-toxic glycodendrimer G4S. A multidisciplinary dynamic light scattering (DLS), circular dichroism (CD), fluorescence,electron paramagnetic resonance (EPR), and molecular modeling study elucidating the interactions into binary and ternary systems constituted by Aβ 1-40, Cu(II), and glycodendrimer G4S.
1204–1226
---
---
High-performance enhancement-mode thin-film transistors based on Mg-doped In2O3 nanofiber networks
Hongchao Zhang1, You Meng1, Longfei Song1, Linqu Luo1, Yuanbin Qin2, Ning Han3, Zaixing Yang4, Lei Liu1, Johnny C. Ho5,*, and Fengyun Wang1,*
1 Qingdao University, China
2 Xi'an Jiaotong University, China
3 Institute of Process Engineering, Chinese Academy of Sciences, China
4 Shandong University, China
5 City University of Hong Kong, Hong Kong, China
A simple one-step electrospinning technique is developed to modulate the electrical properties, especially the threshold voltage, of In2O3 nanofiber field-effect transistors by doping with different Mg concentrations. By integrating with a high-κ dielectric layer, the device performance of the nanfiber transistors can be further improved, indicating the technological potency of this simple doping scheme for high-performance, low-operating-power, and large-scale nanoelectronics.
1227–1237
---
---
Hollow carbon nanofibers with dynamic adjustable pore sizes and closed ends as hosts for high-rate lithiumsulfur battery cathodes
Xiang-Qian Zhang, Bin He, Wen-Cui Li, and An-Hui Lu* 
Dalian University of Technology, China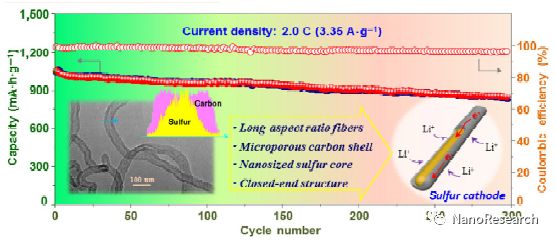 Hollow carbon nanofibers (HCFs) that combine the features of adjustable pore sizes, closed ends, and thin carbon shells are prepared for the first time as hosts for Li-S battery cathodes. The unique structures lead to high rate capacities (e.g., 860 mA·h·g−1 at 4.0  C (1 C = 1.675 A·g−1)) and stable cyclability over 500 cycles for S@HCF. 
1238–1246
---
---
Ligand density-dependent influence of arginine–glycine–aspartate functionalized gold nanoparticles on osteogenic and adipogenic differentiation of mesenchymal stem cells
Jingchao Li1,2, Ying Chen1,2, Naoki Kawazoe1, and Guoping Chen1,2,*
1 National Institute for Materials Science, Japan
2 University of Tsukuba, Japan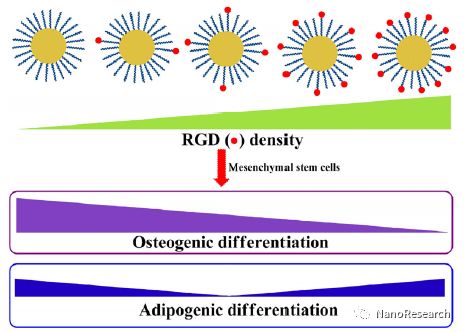 Biomimetic gold nanoparticles with tunable surface arginine–glycine–aspartate (RGD) density were prepared for the regulation of osteogenic and adipogenic differentiation of human mesenchymal stem cells.
1247–1261
---
---
Multimodal bioimaging based on gold nanorod and carbon dot nanohybrids as a novel tool for atherosclerosis detection
Xiaojing Liu1, Luting Liu1, Xiujie Hu1, Shuyun Zhou1, Rinat Ankri2, Dror Fixler2,*, and Zheng Xie1,*
1 Technical Institute of Physics and Chemistry, Chinese Academy of Sciences, China
2 Bar-Ilan University, Israel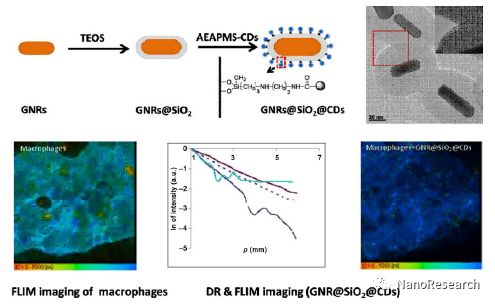 A multimodal contrast agent achieves diffusion reflection and fluorescence lifetime imaging microscopy multimodal imaging of macrophages in vitro. The new contrast agent is based on gold nanorods@silica@carbon dots core–shell. This system will potentially enhance detection sensitivity compared to the current far-field imaging technique, and will also establish a new method to quantitatively and noninvasively detect targeted nanoparticles in vivo, affording a promising theranostics tool.
1262–1273
---
---
Lotus root-like porous carbon nanofiber anchored with CoP nanoparticles as all-pH hydrogen evolution electrocatalysts
Hengyi Lu1, Wei Fan2,*, Yunpeng Huang1, and Tianxi Liu1,2,*
1 Fudan University, China
2 Donghua University, China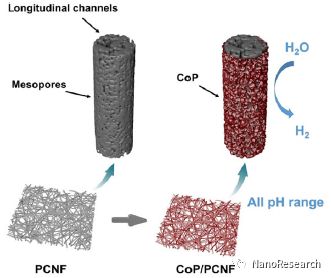 Self-standing lotus root-like porous carbon nanofibers (PCNFs) are developed and utilized as supporting materials for anchoring electroactive CoP nanoparticles. These unique PCNFs have longitudinal channels and mesopores on the outer and inner carbon walls, which enhances the contact between the electrolyte and catalyst.This endows the CoP/PCNF composites with excellent hydrogen evolution reaction (HER) performance at an all-pH range.
1274–1284
---
---
Graphene oxide-decorated Fe2(MoO4)3 microflowers as a promising anode for lithium and sodium storage
Chunhua Han1,*, Xiaoji Ren1, Qidong Li1, Wen Luo1,2, Lei Huang1, Liang Zhou1, and Liqiang Mai1,†,*
1 Wuhan University of Technology, China
2 Université de Lorraine, France
† Present address: University of California, Berkeley, USA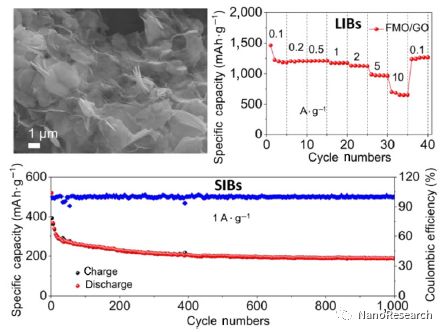 Graphene oxide-decorated Fe2(MoO4)3 microflower composite was fabricated via a facile one-step water-bath method, in which the Fe2(MoO4)3 was constructed by numerous nanosheets. The composite demonstrates a high specific capacity, excellent rate capability, and stable cycling performance when used as the anode for lithium and sodium storage.
1285–1293
---
---
Three-dimensional interconnected Ni(Fe)OxHy nanosheets on stainless steel mesh as a robust integrated oxygen evolution electrode
Qi Zhang1,2, Haixia Zhong2, Fanlu Meng2, Di Bao2, Xinbo Zhang2, and Xiaolin Wei1,*
1 Xiangtan University, China
2 Changchun Institute of Applied Chemistry, Chinese Academy of Sciences, China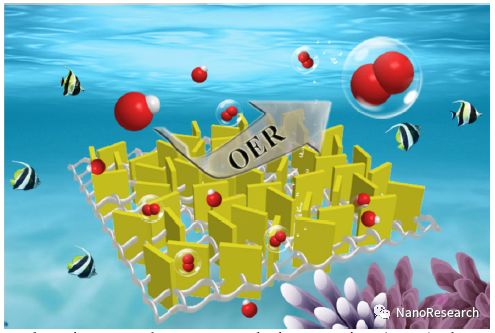 As a robust integrated oxygen evolution reaction (OER) electrode, an interconnected Ni(Fe)OxHy nanosheet array on stainless steel mesh was prepared by a facile hydrothermal method without using any polymeric binder, and exhibits excellent OER performance with low overpotential, small Tafel slope and long-term durability.
1294–1300
---
---
Rational design and synthesis of hierarchically structured SnO2 microspheres assembled from hollow porous nanoplates as superior anode materials for lithium-ion batteries
Gi Dae Park and Yun Chan Kang*
Korea University, Republic of Korea
In this study, hierarchically structured metal oxide microspheres formed from building blocks of hollow nanoplates were designed as efficient anode materials for lithium-ion batteries.
1301–1312
---
---
Improved peroxidase-mimic property: Sustainable, highefficiency interfacial catalysis with H2O2 on the surface of vesicles of hexavanadate-organic hybrid surfactants
Kun Chen1,2, Aruuhan Bayaguud1, Hui Li2, Yang Chu2, Haochen Zhang1, Hongli Jia1, Baofang Zhang2, Zicheng Xiao3, Pingfan Wu3,*, Tianbo Liu2,*, and Yongge Wei1,4,*
1 Tsinghua University, China
2 University of Akron, USA
3 Hubei University of Technology, China
4 Peking University, China
We demonstrate that bilayer vesicles formed by a hexavanadate cluster functionalized with two alkyl chains are highly efficient catalysts for the oxidation of 3,3',5,5'-tetramethylbenzidine (TMB) with H2O2 at room temperature, a reaction mimicking the peroxidase activity in biological catalytic oxidation processes.
1313–1321
---
---
One-dimension carbon self-doping g-C3N4 nanotubes: Synthesis and application in dye-sensitized solar cells
Xue Li, Kai Pan, Yang Qu*, and Guofeng Wang* 
Heilongjiang University, China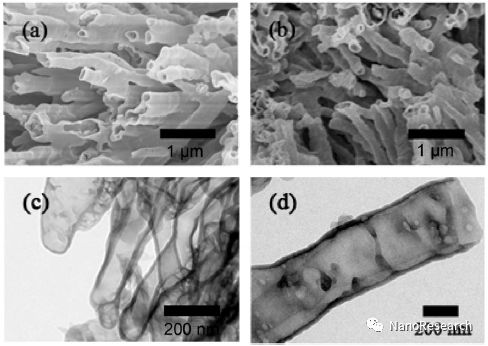 One-dimensional carbon self-doping g-C3N4 nanotubes were synthesized for the first time. They boost the light harvesting ability of the photovoltaic devices by enhancing the visible light absorption as well as the charge separation and transfer.
1322–1330
---
---
Hierarchical CoNiSe2 nano-architecture as a highperformance electrocatalyst for water splitting
Tao Chen and Yiwei Tan*
Nanjing Tech University, China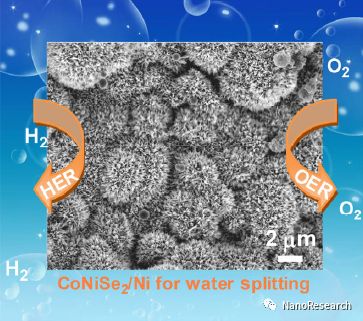 A new integrated bifunctional catalyst, hierarchical CoNiSe2 nanorod arrays supported on Ni foam, has been fabricated by a one step solvothermal reaction, showing exquisitely high activity toward the oxygen and hydrogen evolution reactions (OER and HER, respectively) and outstanding long-term stability.
1331–1344
---
---
Sulfur nanoparticles encapsulated in reduced graphene oxide nanotubes for flexible lithium-sulfur batteries
Kena Chen, Jun Cao, Qiongqiong Lu, Qingrong Wang, Minjie Yao, Mingming Han, Zhiqiang Niu*, and Jun Chen
Nankai University, China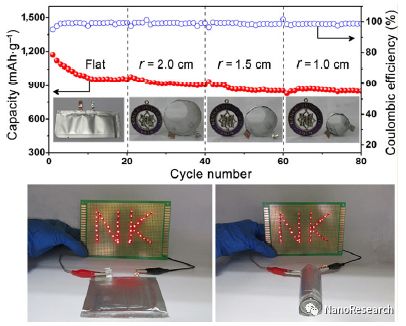 Three-dimensional reduced graphene oxide foams composed of interconnected nanotube-like reduced graphene oxide were fabricated as an efficient scaffold for sulfur. Lithium-sulfur batteries based on flexible reduced graphene oxide nanotubes wrapped sulfur composite film maintain electrochemical stability even when bent.
1345–1357
---
---
Effects of redox-active interlayer anions on the oxygen evolution reactivity of NiFe-layered double hydroxide nanosheets
Daojin Zhou1, Zhao Cai1, Yongmin Bi1, Weiliang Tian1,2, Ma Luo1, Qian Zhang1, Qian Zhang1, Qixian Xie1, Jindi Wang1,Yaping Li1, Yun Kuang1, Xue Duan1, Michal Bajdich3, Samira Siahrostami4,*, and Xiaoming Sun1,*
1 Beijing University of Chemical Technology, China
2 Tarim University, China
3 SLAC National Accelerator Laboratory, USA
4 Stanford University, USA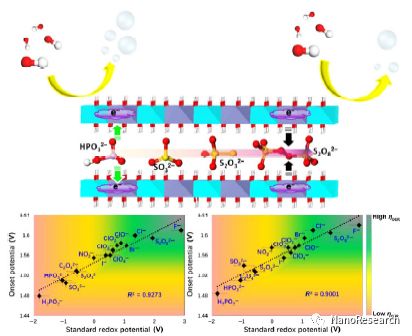 The reducing ability of anions intercalated in the interlayer of nickeliron layered double hydroxides (NiFe-LDHs) has an important impact on the catalytic activity of these compounds for the oxygen evolution reaction (OER). Anions with low standard redox potential and strong reducing ability transfer more electrons to the hydroxide layers. The resulting electron-rich metal sites can thus enhance the OER performance of the NiFe-LDHs.
1358–1368
---
---
Anomalous enhancement of fluorescence of carbon dots through lanthanum doping and potential application in intracellular imaging of ferric ion
Shenghong Yang1, Xiaohan Sun1, Zhaoyan Wang1, Xiayan Wang2,*, Guangsheng Guo2, and Qiaosheng Pu1,*
1 Lanzhou University, China
2 Beijing University of Technology, China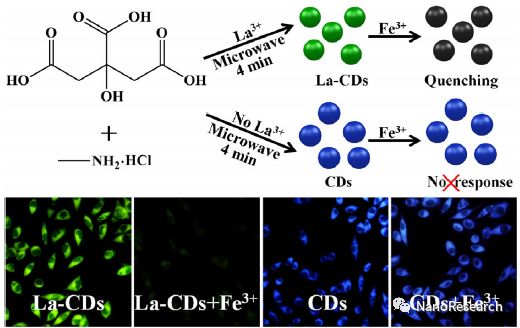 Through La3+ doping, the emission band of carbon dots shifted from blue to green with an apparent improvement in the quantum yield and fluorescence lifetime although La3+ is non-fluorescent. The as-prepared material can be used to visualize intracellular Fe3+ in live HeLa cells.
1369–1378
---
---
Efficient defect-controlled photocatalytic hydrogen generation based on near-infrared Cu-In-Zn-S quantum dots
Xiao-Yuan Liu1,2, Guozhen Zhang3, Hao Chen1, Haowen Li2, Jun Jiang3, Yi-Tao Long2,*, and Zhijun Ning1,*
1 ShanghaiTech University, China
2 East China University of Science and Technology, China
3 University of Science and Technology of China (USTC), China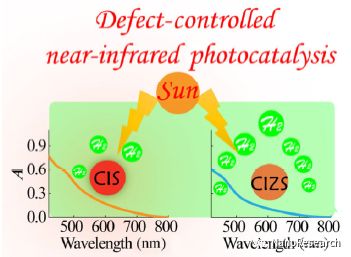 Defect-controlled, stable, and water soluble CuInS2 and Cu-In-Zn-S quantum dots are synthesized and investigated for highly efficient co-catalyst free photocatalytic hydrogen generation under visible to near-infrared light irradiation.
1379–1388
---
---
Graphene as an intermediary for enhancing the electron transfer rate: A free-standing Ni3S2@graphene@Co9S8 electrocatalytic electrode for oxygen evolution reaction
Qiuchun Dong, Yizhou Zhang, Ziyang Dai, Peng Wang, Min Zhao, Jinjun Shao*, Wei Huang*, and Xiaochen Dong*
Nanjing Tech University, China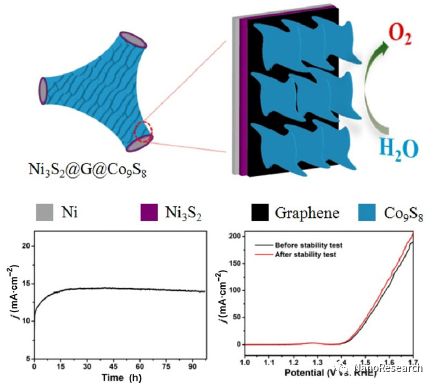 Graphene was introduced into three-dimensionally structured composites as an intermediary for enhancing the electron transfer rate and stability. It greatly improves the catalytic performance.
1389–1398
---
---
Effects of dielectric stoichiometry on the photoluminescence properties of encapsulated WSe2 monolayers
Javier Martín-Sánchez1,*, Antonio Mariscal2, Marta De Luca3, Aitana Tarazaga Martín-Luengo1, Georg Gramse1, Alma Halilovic1, Rosalía Serna2, Alberta Bonanni1, Ilaria Zardo3, Rinaldo Trotta1,*, and Armando Rastelli1
1 Johannes Kepler University Linz, Austria
2 CSIC, Spain
3 University of Basel, Switzerland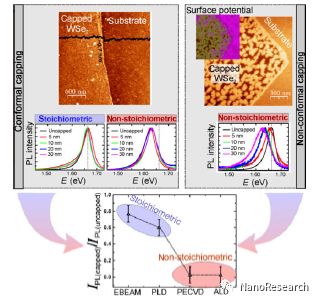 In this work, the photoluminescence emission of encapsulated WSe2 monolayers with SiOx and AlxOy dielectric oxide layers—deposited by means of different physical and chemical deposition techniques—is demonstrated to be strongly influenced by the oxides stoichiometry quality. A nearly unchanged optical emission is found when the encapsulation is carried out with stoichiometric oxides, whereas a strong photoluminescence decrease accompanied by a dominant trion (charged exciton) emission is observed for sub-stoichiometric
encapsulating oxides.
1399–1414
---
---
Hierarchical Ni-Co-S@Ni-W-O core–shell nanosheet arrays on nickel foam for high-performance asymmetric supercapacitors
Weidong He1, Zhifu Liang1, Keyu Ji1, Qingfeng Sun3,*, Tianyou Zhai2,*, and Xijin Xu1,*
1 University of Jinan, China
2 Huazhong University of Science and Technology (HUST), China
3 Zhejiang A & F University, China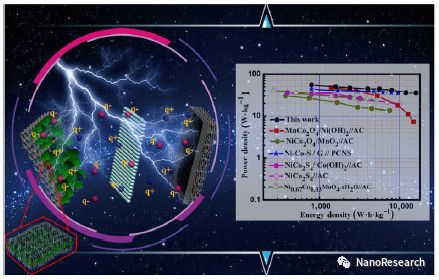 Free-standing, three-dimensional (3D), hierarchical Ni-Co-S@Ni-W-O core–shell hybrid structures on Ni foam were successfully designed and synthesized. Using these 3D-networks as the positive electrode, we further demonstrated the excellent stability, large specific capacitance, and high energy density of asymmetrical supercapacitors.
1415–1425
---
---
Confinedly implanted NiFe2O4-rGO: Cluster tailoring and highly tunable electromagnetic properties for selectivefrequency microwave absorption
Yanlan Zhang, Xixi Wang, and Maosheng Cao* 
Beijing Institute of Technology, China
A facial strategy of confined implantation is demonstrated for small NiFe2O4 clusters-reduced graphene oxide nanohybrids. Properly tailoring the magnetic clusters can realize synergistic effect of dielectric loss and magnetic loss for highly-tunable and  selectivefrequency microwave absorption.
1426–1436
---
---
Hierarchical three-dimensional flower-like Co3O4 architectures with a mesocrystal structure as high capacity anode materials for long-lived lithium-ion batteries
Wenqiang Cao1, Wenzhong Wang1,*, Honglong Shi1, Jun Wang2, Maosheng Cao3, Yujie Liang1, and Min Zhu1
1 Minzu University of China, China
2 Ningbo University, China
3 Beijing Institute of Technology, China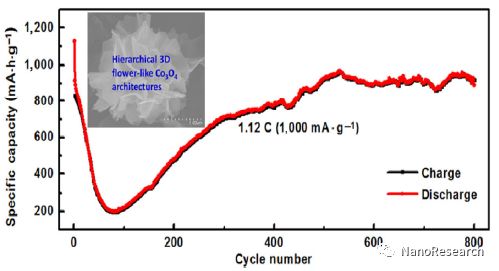 We rationally design a high-capacity electrode based on threedimensional (3D) hierarchical Co3O4 flower-like architectures with a mesocrystal nanostructure. The achieved hierarchical 3D Co3O4 flower-like architectures with a mesocrystal nanostructure exhibit a high reversible capacity of 920 mA·h·g−1 after 800 cycles at 1.12 C (1 C = 890 mA·h·g−1), excellent rate performance, and cycling stability when applied as the anode for lithium storage.
1437–1446
---
---
Colloidal CsPbBr3 perovskite nanocrystal films as electrochemiluminescence emitters in aqueous solutions
Zhixiong Cai1, Feiming Li1, Wei Xu1, Shujun Xia1, Jingbin Zeng2, Shaogui He3, and Xi Chen1,*
1 Xiamen University, China
2 China University of Petroleum (East China), China
3 Xiamen Huaxia University, China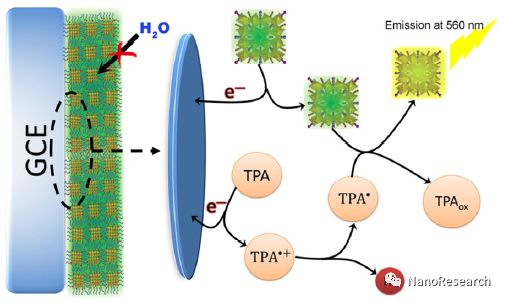 A perovskite nanocrystal (NC) film is demonstrated to be a promising electrochemiluminescence (ECL) emitter. Self-assembled films of the CsPbBr3 NCs show relatively stable emission in aqueous solutions due to the cross-linking of oleic acid/oleylamine on the surface of the CsPbBr3 NCs.
1447–1455
---
---
Formation of plasmon quenching dips greatly enhances 1O2 generation in a chlorin e6–gold nanorod coupled system
Hui Zhang1,2, Haiyun Li1,2, Huizhen Fan1,2, Jiao Yan1,2, Dejing Meng1,2, Shuai Hou1, Yinglu Ji1, and Xiaochun Wu1,*
1 National Center for Nanoscience and Technology, China
2 University of the Chinese Academy of Sciences, China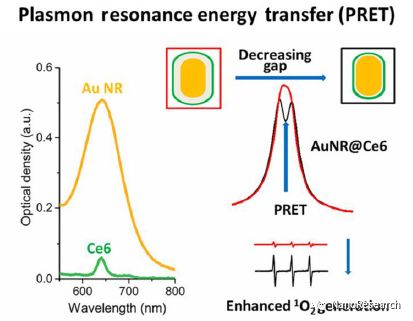 Formation of plasmon quenching dips is effective in enhancing singlet oxygen (1O2) generation via the plasmon resonance energy transfer (PRET) effect.
1456–1469
---
---
Optical emission spectroscopy diagnosis of energetic Ar ions in synthesis of SiC polytypes by DC arc discharge plasma
Jian Gao, Lei Zhou, Jingshuang Liang, Ziming Wang,Yue Wu, Javid Muhammad, Xinglong Dong*, Shouzhe Li, Hongtao Yu, and Xie Quan*
Dalian University of Technology, China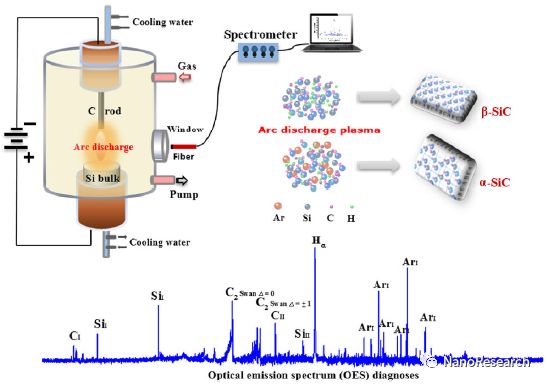 Nanocrystal SiC polytypes were induced by energetic Ar ions from direct current (DC) arc discharge plasma, diagnosed by optical emission spectroscopy (OES).
1470–1481
---
---
Cobalt-based hydroxide nanoparticles @ N-doping carbonic frameworks core–shell structures as highly efficient bifunctional electrocatalysts for oxygen evolution and oxygen reduction reactions
Shiqiang Feng, Cheng Liu, Zhigang Chai, Qi Li*, and Dongsheng Xu*
Peking University, China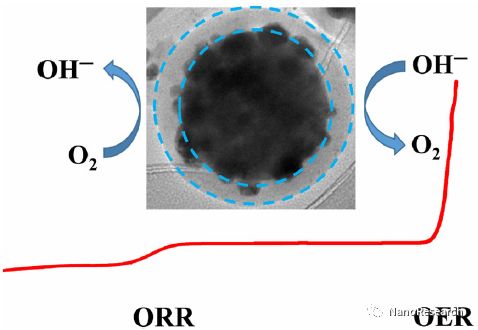 A rational design of a core–shell structure to enhance oxygen evolution reaction/oxygen reduction reaction performance and stability has been described.
1482–1489
---
---
Gas template-assisted spray pyrolysis: A facile strategy to produce porous hollow Co3O4 with tunable porosity for high-performance lithium-ion battery anode materials
Haoran Du, Kuangfu Huang, Min Li, Yuanyuan Xia, Yixuan Sun, Mengkang Yu, and Baoyou Geng*
Anhui Normal University, China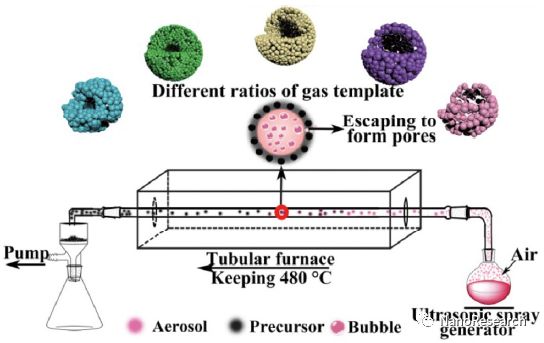 Urea was used as gaseous template to synthesize porous hollow Co3O4 with controlled porosity. The optimized product delivers a high reversible charge capacity of 1,012.7 mAh·g−1 after 100 cycles at 0.2C (1C = 890 mA·g−1) and satisfactory rate performance of 881.3 mAh·g−1 at 2C after 300 cycles.
1490–1499
---
---
Application of yolk–shell Fe3O4@N-doped carbon nanochains as highly effective microwave-absorption material
Mingtao Qiao, Xingfeng Lei, Yong Ma, Lidong Tian, Xiaowei He, Kehe Su, and Qiuyu Zhang*
Northwestern Polytechnical University, China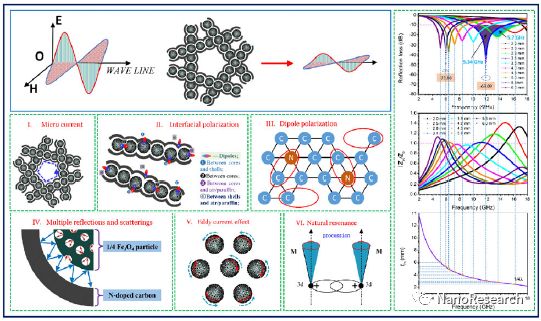 Yolk–shell porous Fe3O4@N-doped carbon nanochains have been developed as novel microwave-absorption materials. Because of the high aspect ratio, the yolk–shell structure, and numerous pores and spaces, Fe3O4@N-doped carbon nanochains offer superior microwave absorption performance. A detailed microwave absorption mechanism has been proposed.
1500–1519
---
---
Wafer-level and highly controllable fabricated silicon nanowire transistor arrays on (111) silicon-on-insulator (SOI) wafers for highly sensitive detection in liquid and gaseous environments
Xun Yang1,2, Anran Gao1, Yuelin Wang1, and Tie Li1,*
1 Shanghai Institute of Microsystem and Information Technology, Chinese Academy of Sciences, China
2 University of Chinese Academy of Sciences, China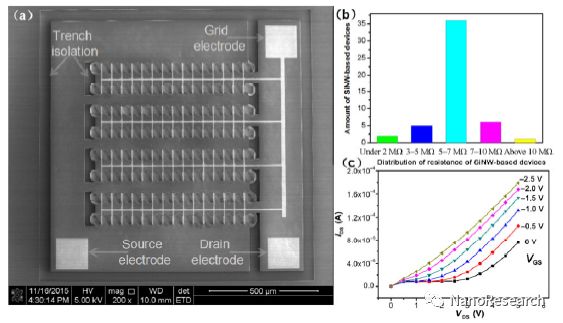 Wafer-level and highly controllable fabrication technology of silicon nanowire arrays is presented in this study. A material with excellent electrical properties for the highly sensitive determination of pH and nitrogen dioxide is shown in this paper.
1520–1529
---
---
Tetrafunctional Cu2S thin layers on Cu2O nanowires for efficient photoelectrochemical water splitting
Zhenzhen Li and Zhonghai Zhang*
East China Normal University, China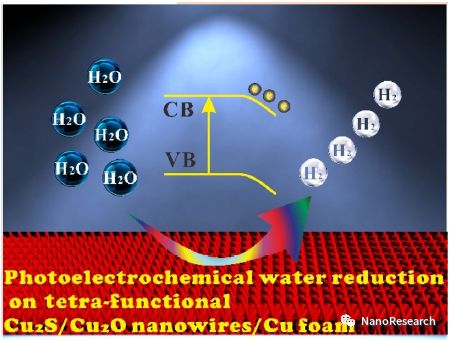 A tetrafunctional Cu2S thin layer with sensitizing, electron trapping,electrocatalytic, and protecting functions is generated in situ on the surface of Cu2O nanowires on three-dimensional porous copper foam, to fabricate an effective and highly stable photocathode for photoelectrochemical water reduction.
1530–1540
---
---
Tunable electron and phonon properties of folded singlelayer molybdenum disulfide
Jie Peng1, Peter W. Chung1,*, Madan Dubey2, and Raju R. Namburu2
1 University of Maryland, USA
2 U.S. Army Research Laboratory, USA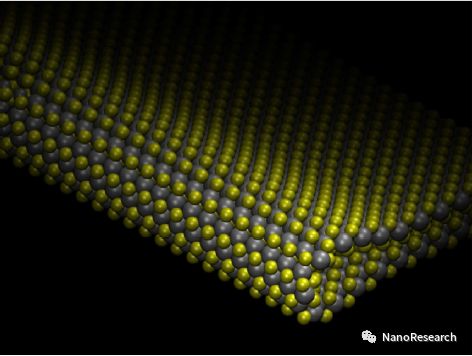 The length of the sheet used to form a folded structure in singlelayer MoS2 has a very different influence on the electronic and thermal properties of these materials.
1541–1553
---
---
Dip-coating processed sponge-based electrodes for stretchable Zn-MnO2 batteries
Hong-Wu Zhu, Jin Ge, Yu-Can Peng, Hao-Yu Zhao,Lu-An Shi, and Shu-Hong Yu*
University of Science and Technology of China, China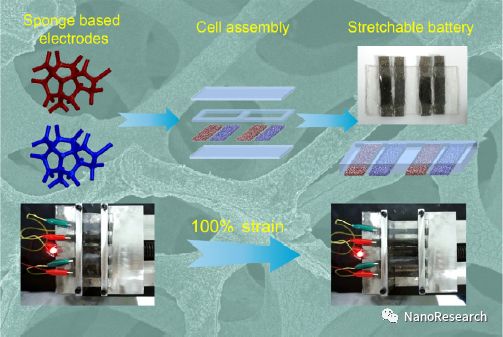 A polyurethane (PU) sponge coated with silver nanowires was used as a stretchable current collector and combined with electrode materials via a facile dip-coating method. A stretchable Zn-MnO2 full battery was prepared, which provided a stable power supply even under 100% strain.
1554–1562
---
---
Mesoporous TiO2 microparticles formed by the oriented attachment of nanocrystals: A super-durable anode material for sodium-ion batteries
Liming Ling1, Ying Bai1,2,*, Huali Wang1, Qiao Ni1, Jiatao Zhang1, Feng Wu1,2, and Chuan Wu1,2,*
1 Beijing Institute of Technology, China
2 Collaborative Innovation Center of Electric Vehicles in Beijing, China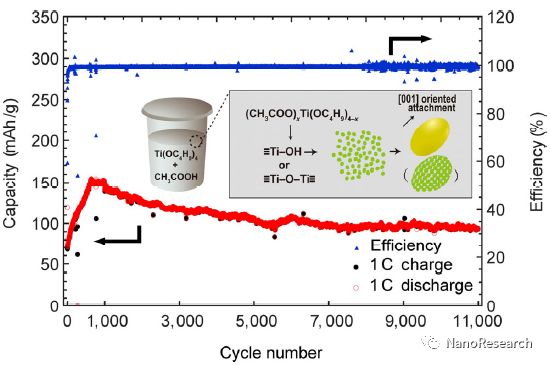 Mesoporous TiO2 microparticles with a unique combination of nanocrystals and uniform nanopores were prepared and applied as a super-durable anode material for advanced sodium-ion batteries.
1563–1574
---
---
Device performance and light characteristics stability of quantum-dot-based white-light-emitting diodes
Bruno Clasen Hames, Iván Mora-Seró, and Rafael S. Sánchez†,*
Universitat Jaume I, Spain
† Present address: University of Liverpool, UK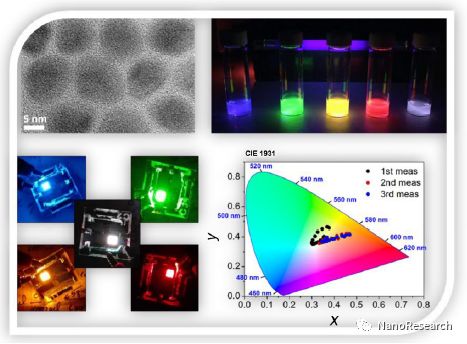 Preparation and electro-optical characterization of quantum-dotbased light-emitting diodes are described, and the evolution of their white light characteristics is studied.
1575–1588
---
---
Size contrast of Pt nanoparticles formed on neighboring domains within suspended and supported graphene
Dario Roccella1, Matteo Amati2, Hikmet Sezen2,†, Rosaria Brescia3, and Luca Gregoratti2,*
1 Università degli Studi di Genova - Facoltà di Scienze Matematiche, Italy
2 Elettra – Sincrotrone Trieste S.C.p.A. in Area Science Park, Italy
3 Istituto Italiano di Tecnologia (IIT), Italy
† Present address: Helmholtz-Zentrum Berlin GmbH, Germany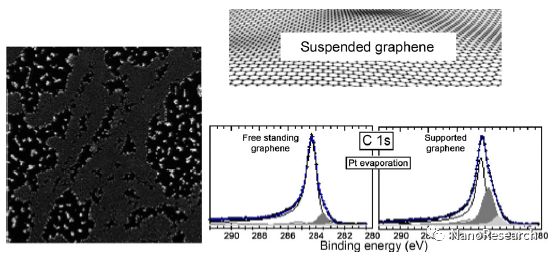 Herein, we exploited the capability of spatially resolved photoemission in combination with high resolution transmission electron microscopy to investigate the interactions of thermally evaporated Pt atoms on suspended and supported graphene.
1589–1598
---
---
A systematic theoretical study on FeOx -supported singleatom catalysts: M1/FeOx for CO oxidation
Jinxia Liang1,2,3, Qi Yu2, Xiaofeng Yang4,*, Tao Zhang4, and Jun Li3,*
1 Guizhou Education University, China
2 Shaanxi University of Technology, China
3 Tsinghua University, China
4 Dalian Institute of Chemical Physics, Chinese Academy of Sciences, China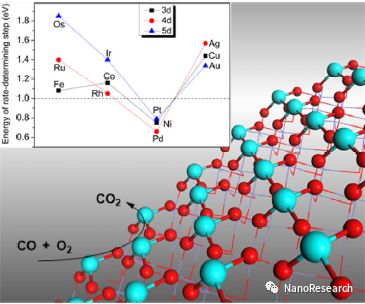 A comprehensive theoretical investigation of the CO oxidation activity and stability of FeOx-supported metal single-atom active sites was conducted with density functional theory (DFT). The metals considered included all of the 3d, 4d, and 5d metals from group VIII to IB. The theoretical analyses revealed the fundamental mechanisms of the interactions between the atomically dispersed single metal atoms on the FeOx substrate and aid in the design of highly active FeOx-supported single-atom catalysts (SACs).
1599–1611
---
---
Synthesis of nano SnO2-coupled mesoporous molecular sieve titanium phosphate as a recyclable photocatalyst for efficient decomposition of 2,4-dichlorophenol
Yanduo Liu, Ning Sun, Shuangying Chen, Rui Yan, Peng Li, Yang Qu, Yichun Qu*, and Liqiang Jing*
Heilongjiang University, China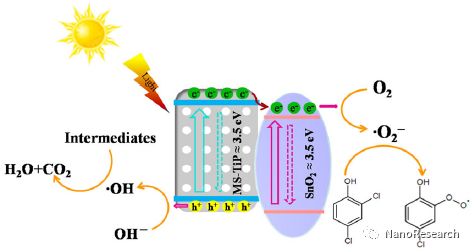 Specific surface, lifetime, and separation of photogenerated charges in molecular sieve titanium phosphate increased after introducing a mesoporous structure and coupling a proper amount of SnO2, greatly improving the photoactivities for 2,4-dichlorophenol degradation and CO oxidation. ·O2– is formed by transferring electrons to SnO2 and then by reacting with O2 as the dominant active species to induce the degradation of 2,4-dichlorophenol.
1612–1624
---
---
Cell-assembled (Gd-DOTA)i -triphenylphosphonium (TPP) nanoclusters as a T2 contrast agent reveal in vivo fates of stem cell transplants
Yanhui Zhang1,2, Hongyan Zhang1,2, Binbin Li1,3, Hailu Zhang1, Bo Tan1,*, and Zongwu Deng1,*
1 Suzhou Institute of Nano-tech and Nano-bionics, Chinese Academy of Sciences, China
2 Shanghai University, China
3 University of Science and Technology of China, China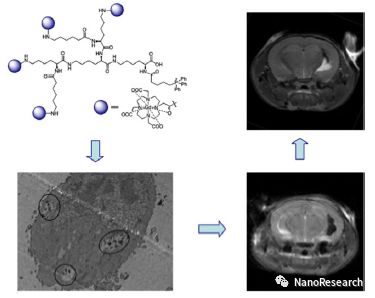 Labeling cells with (Gd-DOTA)i -triphenylphosphonium (TPP) via electroporation results in two distinct cellular distributions of (Gd-DOTA)i -TPP: freely and evenly distributed in the cytosol or cell-assembled nanoclusters in the cytoplasm. The (Gd-DOTA)i -TPP nanoclusters not only promote its intracellular retention time but also induce a significant magnetic resonance imaging (MRI) signal reduction, which act as an excellent T2 contrast agent and allows for unambiguous reporting of in vivo viability and migration of cell transplants under T2-weighted MRIs over a long period.
1625–1641
---
---
A novel method for preparing and characterizing graphene nanoplatelets/aluminum nanocomposites
Duosheng Li1,*, Yin Ye1, Xiaojun Liao1, and Qing H. Qin2
1 Nanchang Hangkong University, China
2 Australian National University, Australia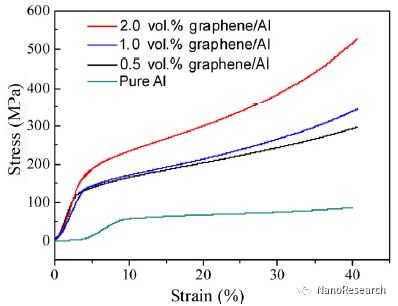 The mechanical properties of graphene nanoplatelets/aluminum (Al) nanocomposites containing a low volume fraction of GNPs were significantly improved. When 0.5 vol.%, 1.0 vol.%, and 2.0 vol.% GNPs were added to the aluminum matrix, the average compressive strength of the GNPs/Al nanocomposites increased remarkably from 330% to 586%.
1642–1650
---
---
High-performance asymmetrical supercapacitor composed of rGO-enveloped nickel phosphite hollow spheres and N/S co-doped rGO aerogel
Deyang Zhang1, Yihe Zhang1,*, Yongsong Luo2, Yu Zhang1, Xiaowei Li1, Xuelian Yu1, Hao Ding1, Paul K. Chu3, and Li Sun1,*
1 China University of Geosciences, China
2 Xinyang Normal University, China
3 City University of Hong Kong, Hong Kong, China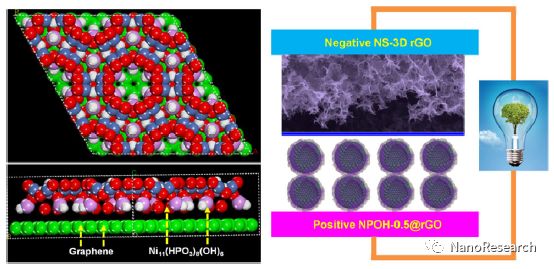 An asymmetrical supercapacitor composed of reduced graphene oxide (rGO)-enveloped nickel phosphate hollow spheres and N/S co-doped rGO aerogel has been fabricated, which exhibits outstanding cycling and rate capability.
1651–1663
---
---
Amorphous NiFeB nanoparticles realizing highly active and stable oxygen evolving reaction for water splitting
Guang Liu, Dongying He, Rui Yao, Yong Zhao, and Jinping Li*
Taiyuan University of Technology, China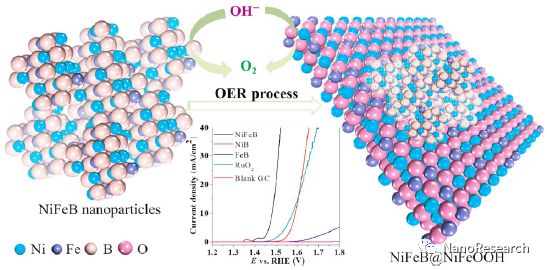 With the advantages of amorphous characteristics, optimal Fe doping contents, and in situ formation of active borate-enriched NiFeOOH layers during water oxidation, ultrafine amorphous NiFeB  nanoparticles proved to be highly efficient oxygen-evolving catalysts for water splitting at a wide range of pH values (7–14).
1664–1675
---
---
Van der Waals interfacial bonding and intermixing in GeTe-Sb2Te3-based superlattices
Andriy Lotnyk*, Isom Hilmi, Ulrich Ross, and Bernd Rauschenbach
Leibniz Institute of Surface Modification (IOM), Germany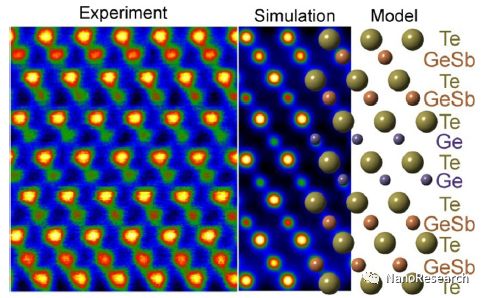 In this work, GeTe-Sb2Te3-based superlattices (SLs) are produced by pulsed laser deposition (PLD) and characterized by advanced scanning transmission electron microscopy. The results shed new light on the possible configurations of interfacial phase change memory (iPCM) building units that can be formed during the synthesis of GeTe-Sb2Te3-based SLs.
1676–1686
---
---
High-metallic-phase-concentration Mo1–xWxS2 nanosheets with expanded interlayers as efficient electrocatalysts
Qun He1, Yangyang Wan1, Hongliang Jiang1, Chuanqiang Wu1, Zhongti Sun1, Shuangming Chen1,*, Yu Zhou1, Haiping Chen1, Daobin Liu1, Yasir A. Haleem1, Binghui Ge2, Xiaojun Wu1,*, and Li Song1,*
1 University of Science and Technology of China, China
2 Institute of Physics, Chinese Academy of Sciences, China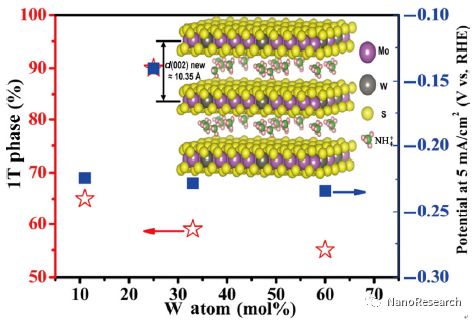 High metallic phase concentration ultrathin ternary Mo1–xWxS2 nanosheets were successfully synthesized for the first time. The metallic phase concentration, together with the enlarged and  distinct interlayer spacing, can be regulated by using different Mo/W atomic ratios, and the optimized catalyst shows obvious advantage in the electrochemical water splitting reaction.
1687–1698
---
---
Mechanically robust antireflective coatings
Sadaf Bashir Khan, Hui Wu, Xiaochen Huai, Sumeng Zou,Yuehua Liu, and Zhengjun Zhang*
Tsinghua University, China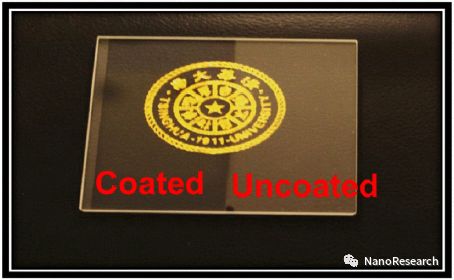 We established a simple strategy to fabricate mechanically robust and thermally stable, hierarchically lotus-like super-hydrophobic nanostructures showing omnidirectional antireflective (AR) performance with tunability in the desired wavelength range. This approach is practically applicable in different optic and optoelectronic devices including windshields, display panels, eyeglasses, solar cells, and windows of high rise buildings.
1699–1713
---
---
Direct imaging and determination of the crystal structure of six-layered graphdiyne
Chao Li1, Xiuli Lu1, Yingying Han1, Shangfeng Tang1, Yi Ding1, Ruirui Liu1, Haihong Bao1, Yuliang Li2, Jun Luo1,*, and Tongbu Lu1,*
1 Tianjin University of Technology, China
2 Institute of Chemistry, Chinese Academy of Sciences, China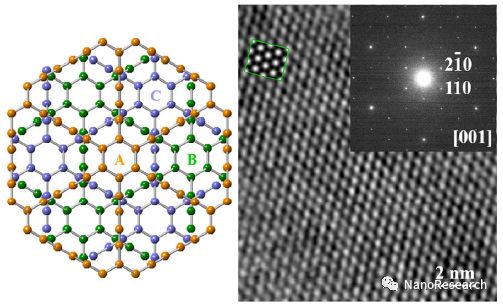 Since its discovery, the direct imaging and determination of the crystal structure of few-layer graphdiyne has proven difficult. In this work, we successfully employed low-voltage transmission electron microscopy with low current density to realize the direct imaging of graphdiyne and confirmed that the structure of an as-synthesized graphdiyne nanosheet is crystalline, with six-layer thickness and ABC stacking.
1714–1721
---
---
Novel perovskite/TiO2/Si trilayer heterojunctions for highperformance self-powered ultraviolet-visible-near infrared (UV-Vis-NIR) photodetectors
Fengren Cao1, Qingliang Liao2, Kaimo Deng1, Liang Chen1, Liang Li1,*, and Yue Zhang2,*
1 Soochow University, China
2 University of Science and Technology Beijing, China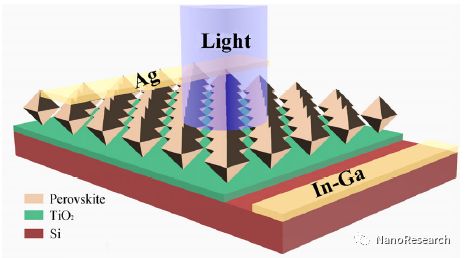 Novel trilayer hybrid photodetectors comprising n-type Si wafer, TiO2 interlayer, and perovskite film are demonstrated. The heterojunction photodetectors exhibit broad photoresponse, high response speed, and a higher on/off ratio, when compared to pristine Si and perovskite based devices.
1722–1730
---
---
In situ carbon nanotube clusters grown from threedimensional porous graphene networks as efficient sulfur hosts for high-rate ultra-stable Li–S batteries
Shizhi Huang, Lingli Zhang, Jingyan Wang, Jinliang Zhu*, and Pei Kang Shen*
Guangxi University, China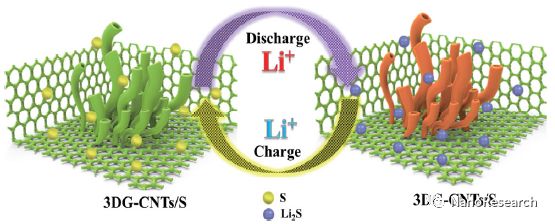 Capillary-like carbon nanotube clusters grown in situ from threedimensional porous graphene networks (3DG-CNTs) show excellent performance as sulfur hosts for lithium–sulfur batteries.
1731–1743
---
---
Tunable excitonic emission of monolayer WS2 for the optical detection of DNA nucleobases
Shun Feng1, Chunxiao Cong2,*, Namphung Peimyoo1,†, Yu Chen1, Jingzhi Shang1, Chenji Zou1, Bingchen Cao1, Lishu Wu1, Jing Zhang1, Mustafa Eginligil3, Xingzhi Wang1, Qihua Xiong1, Arundithi Ananthanarayanan1, Peng Chen1, Baile Zhang1, and Ting Yu1,*
1 Nanyang Technological University, Singapore
2 Fudan University, China
3 Nanjing Tech University (NanjingTech), China
† Present address: University of Exeter, UK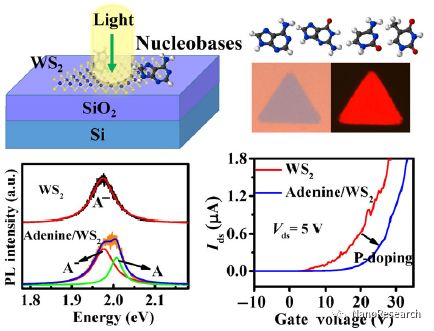 The effects of DNA nucleobases on the photoluminescence (PL) emission of monolayer WS2 (1L WS2) grown by chemical vapor deposition are revealed. The PL modulation is attributed to the p-type doping of WS2 via charge transfer, and this was confirmed using both optical and electrical measurements.
1744–1754
点击"阅读原文"查看全文的链接
---
---
Previous Contents:
Nano Research公众号
微信号 : Nano_Research
网址:www.thenanoresearch.com