《纳米研究》2018年第7期目录
Research Article
Ultra-dense planar metallic nanowire arrays with extremely large anisotropic optical and magnetic properties
Qi Jia1,2,4, Xin Ou1,2,*, Manuel Langer1, Benjamin Schreiber1, Jörg Grenzer1, Pablo F. Siles3, Raul D. Rodriguez3,5, Kai Huang1,2,4, Ye Yuan1, Alireza Heidarian1, René Hübner1, Tiangui You2, Wenjie Yu2, Kilian Lenz1, Jürgen Lindner1, Xi Wang2, and Stefan Facsko1
1 Institute of Ion Beam Physics and Materials Research, Germany
2 Shanghai Institute of Microsystem and Information Technology, Chinese Academy of Sciences, China
3 Technische Universität Chemnitz, Germany
4 University of Chinese Academy of Sciences, China
5 Tomsk Polytechnic University, Russia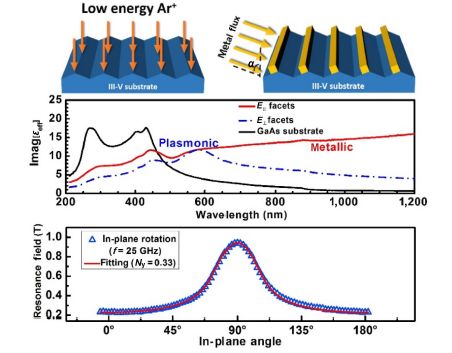 An efficient self-assembly method to fabricate large-area and ultra-dense planar metallic nanowire arrays on faceted surfaces is presented. The surfaces of crystalline III-V semiconductors are faceted by reverse epitaxy, and the deposited Au and Fe nanowire arrays with periodicities down to 45 nm exhibit extremely large anisotropic optical and magnetic properties.
3519–3528
---
---
Charge transfer in graphene/polymer interfaces for CO2 detection
Myungwoo Son1, Yusin Pak1, Sang-Soo Chee1, Francis Malar Auxilia1, Kihyeun Kim1, Byung-Kee Lee2, Sungeun Lee2, Sun Kil Kang2, Chaedeok Lee2, Jeong Soo Lee2, Ki Kang Kim3, Yun Hee Jang4, Byoung Hun Lee1, Gun-Young Jung1,*, and Moon-Ho Ham1,*
1 Gwangju Institute of Science & Technology, Republic of Korea
2 Woomyeon R&D Campus, Republic of Korea
3 Dongguk University, Republic of Korea
4 Daegu Gyeongbuk Institute of Science & Technology, Republic of Korea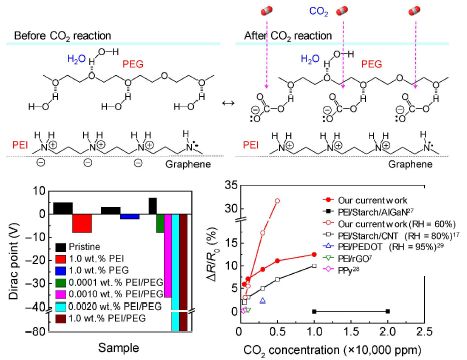 The charge transfer processes between graphene and amine-rich polyethyleneimine (PEI) upon CO2 exposure were significantly improved by the introduction of hygroscopic polyethylene glycol (PEG) in humid air, prompting the development of highly sensitive portable graphene-based chemiresistive sensors able to operate at room temperature and low power.
3529-3536
---
---
Bio-inspired design of hierarchical FeP nanostructure arrays for the hydrogen evolution reaction
Ya Yan1,5, Xue Rong Shi3,4, Mao Miao2, Ting He2, Ze Hua Dong2, Ke Zhan1, Jun He Yang1, Bin Zhao1,5,*, and Bao Yu Xia2,6,*
1 University of Shanghai for Science and Technology, China
2 Huazhong University of Science and Technology (HUST), China
3 Shanghai University of Engineering Science, China
4 University of Innsbruck, Austria
5 Shanghai Innovation Institute for Materials, China
6 Shenzhen Institute of Huazhong University of Science and Technology, China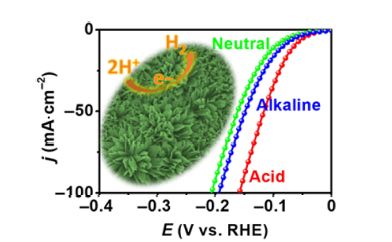 A hierarchical FeP nanoarray electrode composed of FeP nanopetals is successfully fabricated for hydrogen evolution reaction. Theoretical calculations reveal that the mixed P/Fe termination of the FeP surface is responsible for the high catalytic activity of the FeP electrode
3537–3547
---
---
A sustainable aqueous Zn-I2 battery
Chong Bai1, Fengshi Cai2, Lingchang Wang2, Shengqi Guo2, Xizheng Liu2,*, and Zhihao Yuan1,2,*
1 Tianjin University, China
2 Tianjin University of Technology, China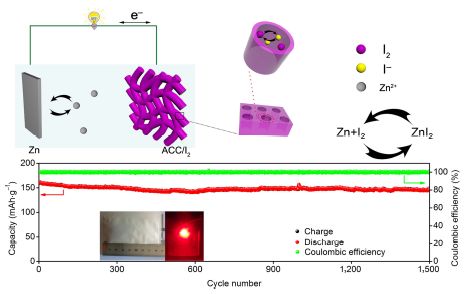 An eco-friendly aqueous rechargeable Zn-I2 battery undergoes a single conversion reaction process involving full utilization of iodine atoms, thus showing high performance.
3548–3554
---
---
Mesoporous Mn-Sn bimetallic oxide nanocubes as long cycle life anodes for Li-ion half/full cells and sulfur hosts for Li-S batteries
Yanyan He1, Liqiang Xu1,*, Chuanchuan Li1, Xiaoxia Chen1, Gang Xu1, and Xiaoyun Jiao2
1 Shandong University, China
2 Shandong Normal University, China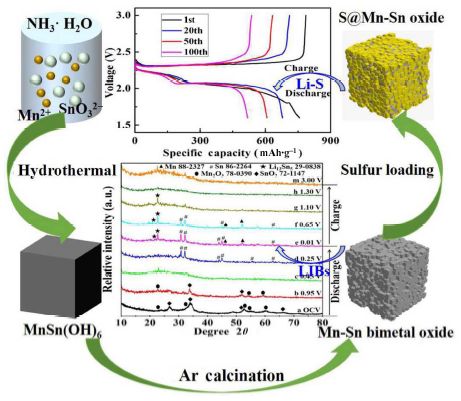 Mesoporous Mn-Sn bimetallic oxide nanocubes, fabricated via a facile hydrothermal method, show long cycle life in Li-ion half and full cells. The application of these materials as sulfur hosts for Li-S batteries is also investigated.
3555–3566
---
---
Metamaterial-based graphene thermal emitter
Cheng Shi, Nathan H. Mahlmeister, Isaac J. Luxmoore, and Geoffrey R. Nash*
University of Exeter, UK

A metamaterial-based graphene thermal emitter was designed, fabricated, and characterized. The results demonstrate the feasibility of a new generation of thermal emitters.
3567–3573
---
---
Stability of the Fe12O12 cluster
Xiaohu Yu1,2,3,*, Xuemei Zhang1, and Xun-Wang Yan3
1 Shaanxi University of Technology, China
2 Moscow Institute of Physics and Technology, Russia
3 Anyang Normal University, China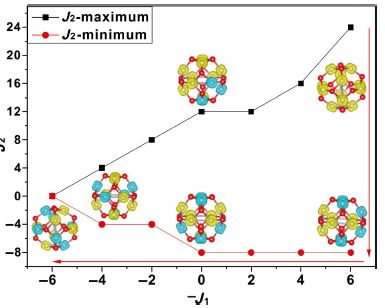 A highly stable bare cage Fe12O12 cluster is predicted by using an evolutionary algorithm and DFT+U calculations. Using Heisenberg's model, we trace the origin of the unexpected stability and exotic geometry of the bare Fe12O12 cluster to magnetic competition between the exchange constants J1 and J2, induced by superexchange interactions.
3574–3581
---
---
Customized lipid-coated magnetic mesoporous silica nano-particle doped with ceria nanoparticles for theragnosis of intracerebral hemorrhage
Bong Geun Cha1, Han-Gil Jeong2, Dong-Wan Kang2, Myong-Joo Nam1, Chi Kyung Kim2,3, Do Yeon Kim2, In-Young Choi2, Seul Ki Ki2, Song I Kim2, Ju hee Han2, Jaeyun Kim1,*, and Seung-Hoon Lee2,*
1 Sungkyunkwan University, Republic of Korea
2 Seoul National University Hospital 101 Daehak-ro, Republic of Korea
3 Korea University Guro Hospital and Korea University College of Medicine, Republic of Korea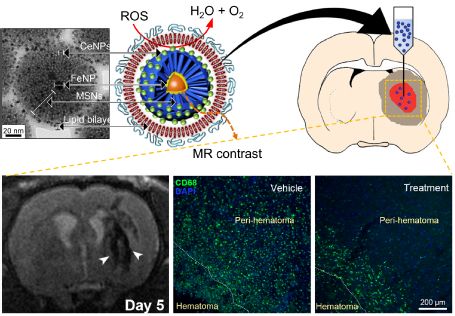 Lipid-coated magnetic mesoporous silica nanoparticles doped with ceria nanoparticles (LMCs) successfully reduced inflammation and brain edema, and they were visualized by magnetic resonance imaging.
3582–3592
---
---
Consequence of shape elongation on emission asymmetry for colloidal CdSe/CdS nanoplatelets
Fu Feng1, Loan Thu NGuyen1,2, Michel Nasilowski1, Brice Nadal1, Benoît Dubertret1, Laurent Coolen1, and Agnès Maître1,*
1 UPMC Univ Paris 6, France
2 Vietnam Academy of Science and Technology, Vietnam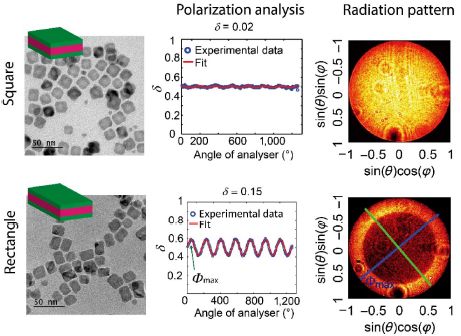 Individual square nanoplatelets are shown to emit unpolarized photoluminescence, with isotropic radiation patterns. In contrast, rectangular nanoplatelets exhibit polarized anisotropic emission, which can be appropriately described by the dielectric antenna effect caused by the elongated shape of the nanoplatelet.
3593–3602
---
---
Ultrathin MoS2 with expanded interlayers supported on hierarchical polypyrrole-derived amorphous N-doped carbon tubular structures for high-performance Li/Na-ion batteries
Xiaojun Zhao1,2, Gang Wang1, Xiaojie Liu1,*, Xinliang Zheng1, and Hui Wang1,*
1 Northwest University, China
2 Ankang University, China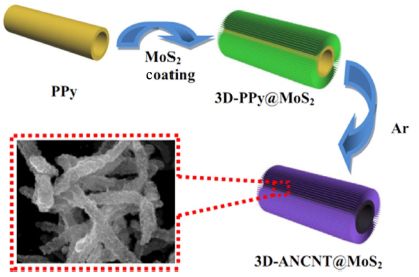 Design of ultrathin MoS2 nanosheets with expanded interlayers supported on amorphous N-doped carbon nanotube (ANCNT) exhibits the improved electrochemical properties of lithium-ion batteries (LIBs) and sodium-ion batteries (SIBs).
3603–3618
---
---
Efficiency against multidrug resistance by co-delivery of doxorubicin and curcumin with a legumain-sensitive nanocarrier
Sen Lin1,2,*, Peiling Xie1, Mengmeng Luo1, Qing Li1,2, Ling Li1, Jinzhao Zhang1, Qinxiang Zheng1, Hao Chen1, and Kaihui Nan1,*
1 Wenzhou Medical University, China
2 Wenzhou Institute of Biomaterials and Engineering, Chinese Academy of Science, China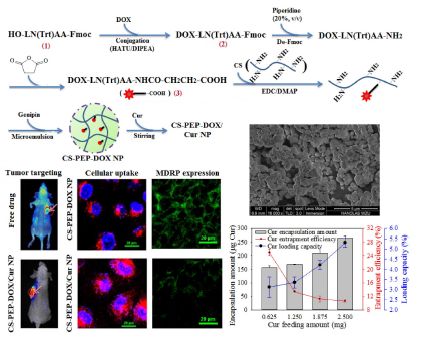 Co-delivery of doxorubicin and curcumin within a legumain- sensitive nanocarrier significantly enhanced multidrug resistance-reversing efficiency and tumor-targeting properties.
3619–3635
---
---
Nanoscale inhibition of polymorphic and ambidextrous IAPP amyloid aggregation with small molecules
Aleksandr Kakinen1, Jozef Adamcik2, Bo Wang3, Xinwei Ge3, Raffaele Mezzenga2,*, Thomas P. Davis1,4,*, Feng Ding3,*, and Pu Chun Ke1,*
1 Monash University, Australia
2 ETH Zurich, Switzerland
3 Clemson University, USA
4 Warwick University, UK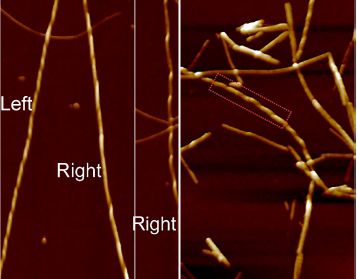 Human islet amyloid polypeptides (IAPP) in fibrillar form are polymorphic, ambidextrous, and possess multiple periodicities. Upon interfacing with the small molecule epigallocatechin gallate (EGCG), IAPP fibrils displayed kinks and branching but conserved the twisted morphology.
3636–3647
---
---
Flavonoid moiety-incorporated carbon dots for ultrasen-sitive and highly selective fluorescence detection and removal of Pb2+
Jing Xu, Xu Jie, Fengfeng Xie, Haimei Yang, Weili Wei*, and Zhining Xia
Chongqing University, China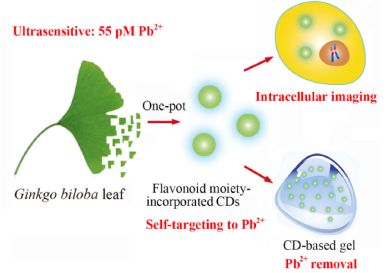 The flavonoid extract of G. biloba leaf derived carbon dot is highly fluorescent, biocompatible, and self-targeting to Pb2+. It can be used for ultrasensitive detection and removal of Pb2+.
3648–3657
---
---
Promoting osteogenic differentiation in pre-osteoblasts and reducing tibial fracture healing time using functional nanofibers
Gu Cheng1, Jiajia Chen1, Qun Wang2, Xuewen Yang1, Yuet Cheng1, Zhi Li1, Hu Tu1, Hongbing Deng1,*, and Zubing Li1,*
1 Wuhan University, China
2 Iowa State University, USA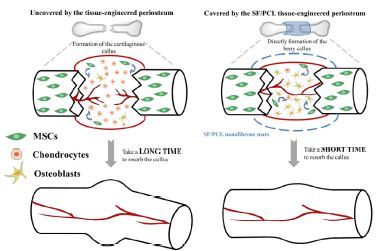 Silk fibroin/polycaprolactone (SF/PCL) composite membranes were used to form a synthetic periosteum that enabled osteoinduction and cellular delivery, and was able to function as a barrier. Following interruption of the tissue-engineered periosteum, mesenchymal stem cells (MSCs) at the fracture sites were induced to form osteoblasts rather than chondrocytes, and bony calluses rather than cartilaginous tissue formed in the fracture gap.
3658–3677
---
---
Ultra-small Cu nanoparticles embedded in N-doped carbon arrays for electrocatalytic CO2 reduction reaction in dimethylformamide
Xiaolong Zhang1, Ying Zhang1, Fengwang Li1, Christopher D. Easton2, Alan M. Bond1, and Jie Zhang1,*
1 Monash University, Australia
2 CSIRO Manufacturing, Australia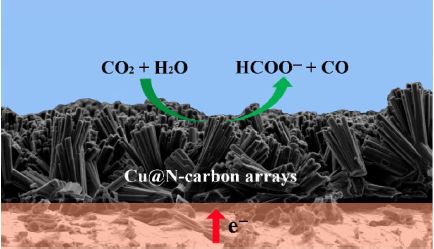 Ultra-small Cu nanoparticles embedded in N-doped carbon arrays exhibit a significantly enhanced catalytic activity for CO2 reduction in dimethylformamide in comparison with polycrystalline Cu, with an order magnitude larger catalytic current density at a potential of –2.7 V vs. Fc/Fc+ (Fc = ferrocene).
3678–3690
---
---
Synthesis, mechanical investigation, and application of nitrogen and phosphorus co-doped carbon dots with a high photoluminescent quantum yield
Quan Xu1,*, Bofan Li1, Yingchun Ye1, Wei Cai1, Weijun Li1, Chuanyao Yang2, Yusheng Chen3, Meng Xu4, Neng Li5,*, Xusheng Zheng6, Jason Street7, Yan Luo8, and Lulu Cai2,*
1 China University of Petroleum (Beijing), China
2 University of Electronic Science and Technology of China, China
3 University of Akron, USA
4 General Hospital of Chinese People's Liberation Army, China
5 Wuhan University of Technology, China
6 University of Science and Technology of China, China
7 Mississippi State University, USA
8 West Virginia University, USA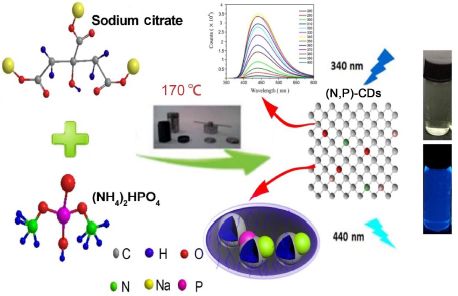 In this study, a single-step, high-efficiency hydrothermal method was applied to synthesize nitrogen and phosphorous-doped carbon dots ((N,P)-CDs) with a quantum yield of up to 53.8% with independent emission behavior.
3691–3701
---
---
Facile synthesis of porous germanium-iron bimetal oxide nanowires as anode materials for lithium-ion batteries
Xiongwu Zhong1, Huijuan Huan1, Xiaowu Liu1, and Yan Yu1,2,*
1 University of Science and Technology of China, China
2 Nankai University, China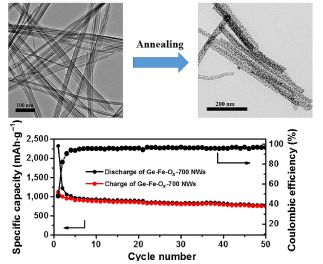 We designed porous Ge‐Fe bimetal oxide nanowires (Ge‐Fe‐Ox‐ 700 NWs) by a large‐scale and facile solvothermal reaction. When used as the anode material for lithium-ion batteries, these Ge‐Fe‐Ox‐ 700 NWs exhibited superior electrochemical performance and good cycling performance.
3702–3709
---
---
Highly uniform ultrasound-sensitive nanospheres produced by a pH-induced micelle-to-vesicle transition for tumor- targeted drug delivery
Yiru Wang1,2, Tinghui Yin1,2, Zhenwei Su2, Chen Qiu1, Yong Wang2, Rongqin Zheng1,2,*, Meiwan Chen3, and Xintao Shuai1,2,*
1 The Third Affiliated Hospital of Sun Yat-sen University, China
2 Sun Yat-sen University, China
3 University of Macau, Macau,China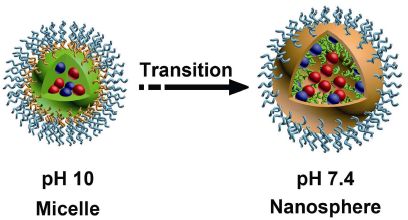 Nanospheres with ultrasound sensitivity and a uniform size distribution for effective drug delivery to solid tumors are described here; the nanospheres were prepared by a pH-induced micelle-to- vesicle transition, which allowed the encapsulation of a hydrophobic phase-transitional imaging agent into the vesicular lumen. A tumor site-specific release and tissue-penetrating delivery of an anticancer drug was achieved in vivo.
3710–3721
---
---
Recovery of edge states of graphene nanoislands on an iridium substrate by silicon intercalation
Hui Chen1, Yande Que1, Lei Tao1, Yu-Yang Zhang1,2, Xiao Lin1, Wende Xiao1, Dongfei Wang1, Shixuan Du1,*, Sokrates T. Pantelides2,1, and Hong-Jun Gao1,*
1 Institute of Physics & University of Chinese Academy of Sciences, Chinese Academy of Sciences, China
2 Vanderbilt University, USA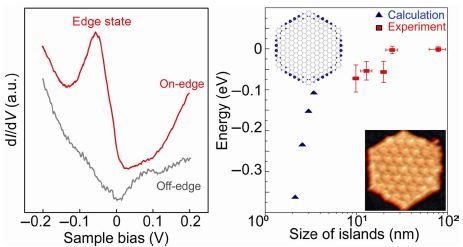 Edge states of free-standing graphene nanoislands suppressed by Ir substrates can be recovered by intercalating a layer of Si atoms between the graphene and the Ir substrate. The edge states gradually shift to the Fermi level with increasing island size.
3722–3729
---
---
Photocatalytic hydrogenation of nitroarenes using Cu1.94S- Zn0.23Cd0.77S heteronanorods
Zhanjun Yu1, Zheng Chen1, Yueguang Chen2, Qing Peng1,*, Rui Lin1, Yu Wang1, Rongan Shen1, Xing Cao1, Zhongbin Zhuang2,*, and Yadong Li1,*
1 Tsinghua University, China
2 Beijing University of Chemical Technology, China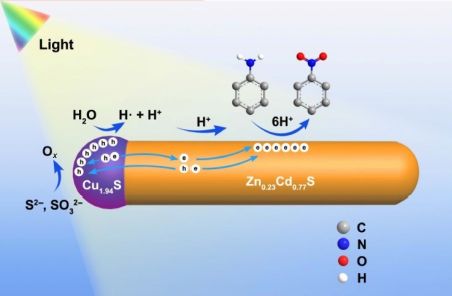 Active hydrogen species and photo-generated electrons can be directly applied to the hydrogenation process with Cu1.94S-Zn0.23Cd0.77S semiconductor heterojunction nanorods.
3730–3738
---
---
Large capacitance and fast polarization response of thin electrolyte dielectrics by spin coating for two-dimensional MoS2 devices
Wu Zan, Qiaochu Zhang, Hu Xu, Fuyou Liao, Zhongxun Guo, Jianan Deng, Jing Wan*, Hao Zhu, Lin Chen, Qingqing Sun, Shijin Ding, Peng Zhou, Wenzhong Bao*, and David Wei Zhang*
Fudan University, China

This work demonstrates a top-gated MoS2 transistor with a spin- coated electrolyte layer as the dielectric. The superior carrier tuning capability together with a small film thickness of the electrolyte layer enables good performance at a relatively high operating frequency.
3739–3745
---
---
Development of fluorinated polyplex nanoemulsions for improved small interfering RNA delivery and cancer therapy
Gang Chen1, Kaikai Wang1, Pengkai Wu1, Yixin Wang1, Zhanwei Zhou1, Lifang Yin1, Minjie Sun1, and David Oupický1,2,*
1 China Pharmaceutical University, China
2 University of Nebraska Medical Center, USA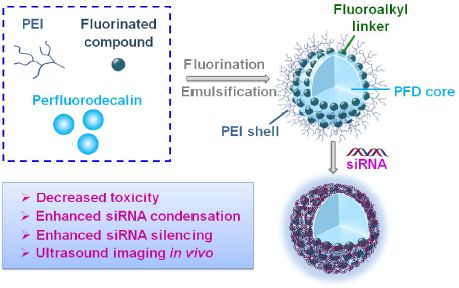 This study introduces fluorinated emulsion polyplexes as a safe and efficient method for s small interfering RNA (siRNA) delivery.
3746–3761
---
---
Phytochemical-encapsulated nanoplatform for "on-demand" synergistic treatment of multidrug-resistant bacteria
Panpan Sun1,3, Yan Zhang1, Xiang Ran1, Chaoying Liu2,*, Zhenzhen Wang1, Jinsong Ren1,*, and Xiaogang Qu1,*
1 Changchun Institute of Applied Chemistry, Chinese Academy of Sciences, China
2 Jilin University, China
3 University of Science and Technology of China, China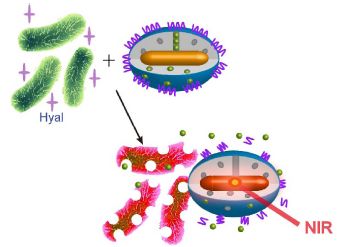 An "on-demand" delivery system was developed to enhance the bioavailability and selectivity of phytochemicals. The antimicrobial effect against multidrug-resistant strains was improved by the combination of chemo-photothermal therapy.
3762–3770
---
---
Self-powered nanofiber-based screen-print triboelectric sensors for respiratory monitoring
Ran Cao1, Jiaona Wang2, Shuyu Zhao1, Wei Yang1, Zuqing Yuan1, Yingying Yin1, Xinyu Du1, Nian-Wu Li1, Xiuling Zhang1, Xiuyan Li2, Zhong Lin Wang1,3, and Congju Li1,*
1 National Center for Nanoscience and Technology(NCNST), China
2 Beijing Institute of Fashion Technology, China
3 Georgia Institute of Technology, USA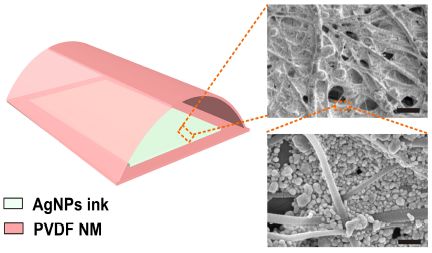 A self-powered and nanofiber-based triboelectric sensor (SNTS) is fabricated by batch-scale fabrication technologies using electrospinning and screen-printing for health monitoring via respiratory monitoring.
3771–3779
---
---
Single-step flash-heat synthesis of red phosphorus/ graphene flame-retardant composite as flexible anodes for sodium-ion batteries
Yihang Liu, Anyi Zhang, Chenfei Shen, Qingzhou Liu, Jiansong Cai, Xuan Cao, and Chongwu Zhou*
University of Southern California, USA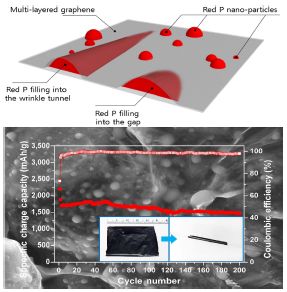 Nanosized red phosphorus (RP) was deposited on the surface of reduced graphene oxide (rGO) and in the void spaces between rGO layers through a single-step flash-heat treatment coupled with simultaneous reduction of graphene oxide. The resulting RP/rGO flexible film exhibited excellent electrochemical performance toward sodium-ion storage, as well as superior flame retardancy, associated with the RP component.
3780–3790
---
---
Osiers-sprout-like heteroatom-doped carbon nanofibers as ultrastable anodes for lithium/sodium ion storage
Hang Zhang1, Guanhua Zhang1,*, Zhiqin Li1, Ke Qu2, Huimin Shi1, Qingfeng Zhang1, Huigao Duan1, and Jianhui Jiang1,*
1 Hunan University, China
2 Massachusetts Institute of Technology, USA

We report an in situ carbothermic reduction process for preparing osiers-sprout-like heteroatom-doped carbon nanofibers as anode materials with ultrastable Li+/Na+ storage.
3791–3801
---
---
Metallized siligraphene nanosheets (SiC7) as high capacity hydrogen storage materials
Syeda R. Naqvi1, Tanveer Hussain3,*, Wei Luo1, and Rajeev Ahuja1,2
1 Uppsala University, Sweden
2 Royal Institute of Technology (KTH), Sweden
3 The University of Queensland, Australia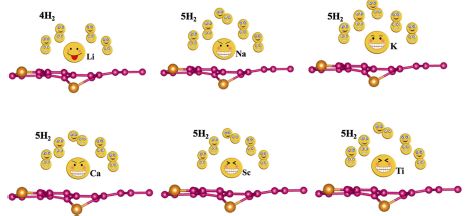 Metal adatoms strongly bind to SiC7 sheets and obtain partial positive charges upon adsorption. These positively charged species induce an electric field, which is responsible for the polarization and subsequent adsorption of H2 molecules in the vicinity of the adatoms.
3802–3813
---
---
Ultrahigh-performance mesoporous ZnMn2O4 microspheres as anode materials for lithium-ion batteries and their in situ Raman investigation
Xiaobin Zhong1, Xiaoxiao Wang1, Huiyuan Wang2,*, Zhizheng Yang2, Yuxiong Jiang1,*, Jianfeng Li1,*, and Zhongqun Tian1
1 Xiamen University, China
2 Jilin University, China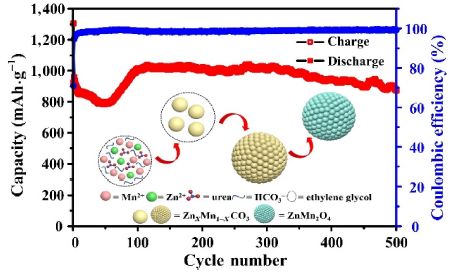 High-performance mesoporous ZnMn2O4 microspheres were fabricated using a solvothermal method to finely control the viscosity of the synthesis solution. We used in situ Raman spectroscopy to acquire insight into the electrochemical process for mesoporous ZnMn2O4.
3814–3823
---
---
In situ observation of atomic movement in a ferroelectric film under an external electric field and stress
Hyeon Jun Lee1, Er-Jia Guo2,3, Taewon Min4, Seung Hyun Hwang1, Su Yong Lee5, Kathrin Dörr3, Jaekwang Lee4, and Ji Young Jo1,*
1 Gwangju Institute of Science and Technology, Republic of Korea
2 Oak Ridge National Laboratory, USA
3 Martin-Luther-University, Germany
4 Pusan National University, Republic of Korea
5 Pohang Accelerator Laboratory, Republic of Korea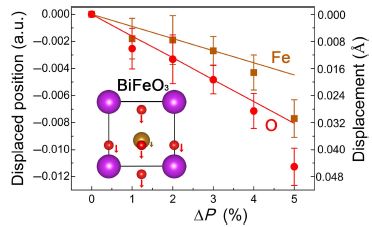 Atomic movement in a ferroelectric thin film under external electric field and stress was demonstrated for the first time using time-resolved X-ray diffraction. This study indicates that the distance between Fe and O atoms is a key factor determining the polarization in BiFeO3 thin films, rather than the simple displacement of the center atom and/or tetragonality of the unit cell.
3824–3832
---
---
Large-area, transferable sub-10 nm polymer membranes at the air–water interface
Ya Huang1,2, Kai Huang1, Naveed Hussain1, Hidetoshi Matsumoto2,*, and Hui Wu1,*
1 Tsinghua University, China
2 Tokyo Institute of Technology, Japan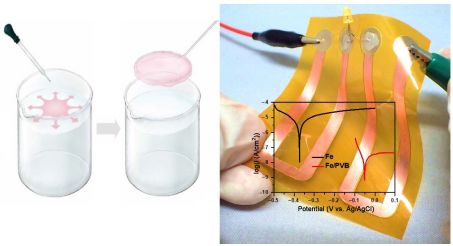 We report a facile and scalable method to obtain large-scale freestanding polymer membranes with thicknesses below 10 nm at an air–water interface. These polymer membranes exhibited effective anti-corrosion protection for flexible electronic circuits.
3833–3843
---
---
MoS2 embedded in 3D interconnected carbon nanofiber film as a free-standing anode for sodium-ion batteries
Hai Yang, Min Wang, Xiaowu Liu, Yu Jiang, and Yan Yu*
University of Science and Technology of China, China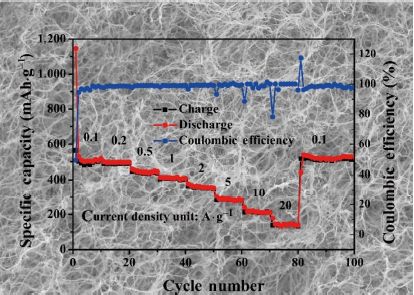 Nanosized MoS2 embedded in a three-dimensional interconnected carbon nanofibers film was synthesized through a facile, scalable, and effective synthesis process. The synthesized material exhibits superior sodium storage performance.
3844–3853
---
---
Bifunctional plasmonic colloidosome/graphene oxide- based floating membranes for recyclable high-efficiency solar-driven clean water generation
Minmin Wang1,2, Jie Zhang1, Ping Wang1, Chuanping Li1,2, Xiaolong Xu1, and Yongdong Jin1,*
1 Changchun Institute of Applied Chemistry, Chinese Academy of Sciences, China
2 University of Chinese Academy of Sciences, China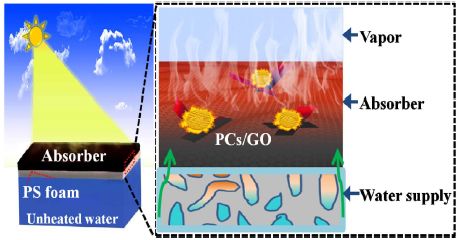 A high-efficiency solar steam generation membrane system (with a solar thermal conversion efficiency up to 92% at 10 kW·m−2) based on plasmonic colloidosome (PCs) and graphene oxide (GO) was developed and further exploited by modification with TiO2 nanoparticles for solar-driven catalytic generation of clean water.
3854–3863
---
---
Growth modulation of simultaneous epitaxy of ZnO obliquely aligned nanowire arrays and film on r-plane sapphire substrate
Yongchun Xiao1,2, Yaoyao Tian1,2, Shujing Sun1, Chenlong Chen1,*, and Buguo Wang3,*
1 Fujian Institute of Research on the Structure of Matter, Chinese Academy of Sciences, China
2 Fujian Normal University, China
3 Wright State University, USA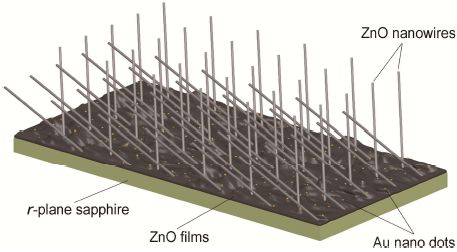 We report the successful simultaneous epitaxial growth of ZnO obliquely aligned nanowire arrays and film on r-plane sapphire substrate. We propose a simple approach for in situ building con-ductive connection between individually separated nanowires grown on an insulating substrate and describe the detailed synthesis strategy, mechanism, and material properties.
3864–3876
---
---
Piezo-phototronic and pyro-phototronic effects to enhance Cu(In, Ga)Se2 thin film solar cells
Laipan Zhu1, Pei Lin1, Baodong Chen1, Longfei Wang1, Libo Chen1, Ding Li1, and Zhong Lin Wang1,2,*
1 Beijing Institute of Nanoenergy and Nanosystems, Chinese Academy of Sciences, China
2 University of Chinese Academy of Sciences, China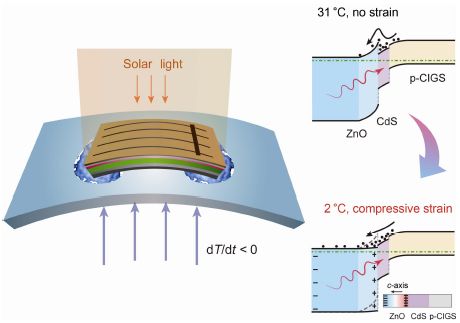 Applying the piezo- and pyro-phototronic effects simultaneously offers a new opportunity for enhancing the output performance of commercial Cu(In, Ga)Se2 thin film solar cells.
3877–3885
---
---
Inhibition of osteosarcoma growth and metastasis using a polysaccharide derivative of Amy-g-PLLD for the delivery of AEG-1 siRNA
Fen Wang1, Jiadong Pang2, Leilei Huang1, Ran Wang1, Qing Jiang2, Liming Zhang2,*, and Kang Sun2,*
1 The First Affiliated Hospital of Sun Yat-sen University, China
2 Sun Yat-sen University, China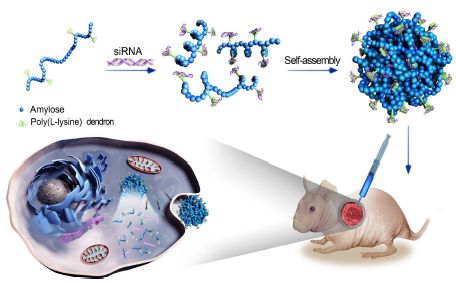 Amylose-derived cationic carrier was employed as a delivery reagent to study the interference of astrocyte elevated gene-1 (AEG-1) in osteosarcoma cells.
3886–3898
---
---
Synthesis of ultrathin semicircle-shaped copper nanowires in ethanol solution for low haze flexible transparent conductors
Ye Zhang, Jiangna Guo, Dan Xu, Yi Sun, and Feng Yan*
Soochow University, China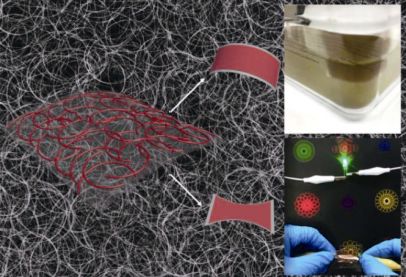 Ultrathin semicircle-shaped copper nanowires were synthesized in ethanol solution and were applied as flexible transparent conductors (FTCs). The fabricated FTCs show excellent optoelectrical performance during stretching indicating their enormous potential in flexible optical devices.
3899–3910
---
---
Human dental enamel: A natural nanotechnology masterpiece investigated by TEM and t-EBSD
Anjela Koblischka-Veneva*, Michael R. Koblischka, Jörg Schmauch, and Matthias Hannig
Saarland University, Germany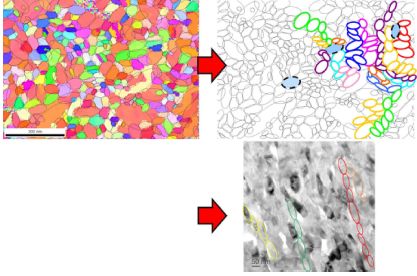 Herein, human dental enamel was studied using transmission electron microscopy (TEM) and electron backscatter diffraction (EBSD). The determination of apatite grain orientation enables the deduction of a chain formation mechanism of apatite grains with similar orientation, which can then be seen in the TEM images.
3911–3921
---
---
Strong room-temperature emission from defect states in CVD-grown WSe2 nanosheets
Shudong Zhao, Lei Tao, Peng Miao, Xianjie Wang, Zhiguo Liu, Yi Wang, Bingsheng Li, Yu Sui*, and Yang Wang*
Harbin Institute of Technology, China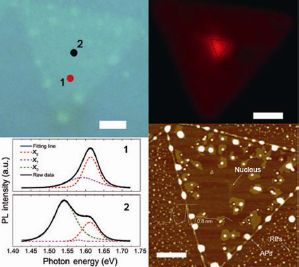 A strong and sharp defect-related photoluminescence (PL) peak detected at ambient conditions is reported in as-prepared chemical vapor deposition (CVD)-grown tungsten diselenide nanosheets.
3922–3930
---
---
A temperature-activated nanocomposite metamaterial absorber with a wide tunability
Weiwei Li1,2, Lingyu Zhao1,2, Zhaohe Dai1, Hao Jin1,*, Feng Duan1,2, Junchao Liu1,2, Zhihui Zeng1, Jun Zhao1,*, and Zhong Zhang1,*
1 National Center for Nanoscience and Technology, China
2 University of Chinese Academy of Sciences, China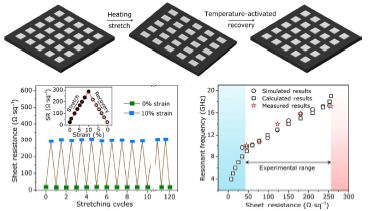 Nanocomposite ink is applied to construct metamaterial structures on a flexible shape memory polymer composite. The composites effectively improve the repeatability, reliability, and tunability of sheet resistance because of the shape memory effect of the dielectric substrate and piezoresistive effect of the nanocomposite, and provide a new design concept of a microwave absorber and other electromagnetic devices.
3931–3942
---
---
Plasmon hybridization engineering in self-organized anisotropic metasurfaces
Maria C. Giordano1,†, Stefano Longhi2, Matteo Barelli1, Andrea Mazzanti2, Francesco Buatier de Mongeot1,*, and Giuseppe Della Valle2,*
1 Università di Genova, Italy
2 Politecnico di Milano, Italy
† Present address: Laboratorio NEST, Italy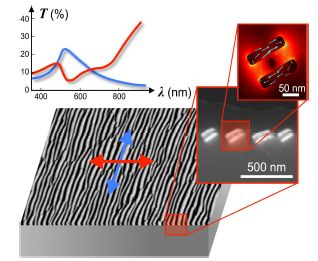 The engineering of self-organized plasmonic metasurfaces is demonstrated using a maskless technique. The proposed nanofabrication approach enables gap-plasmon nanostrip dimer arrays providing optical dichroism and magnetic dipole resonance.
3943–3956
点击"阅读原文"查看全文的链接
---
---
Previous Contents:
Nano Research公众号
微信号 : Nano_Research
网址:www.thenanoresearch.com