征稿通知丨陕西师范大学和英国莱斯特大学召开"全球当代语境下的博物馆"研讨会

关于陕西师范大学和英国莱斯特大学召开
"全球当代语境下的博物馆"
研讨会征稿通知
ConferenceCall for Papers
Interaction, Integrationand Flow: Researching the Museum in the Global Contemporary
ShaanxiNormal University and University of Leicester
Xi'an,Shaanxi Province
15 -20September 2019

随着全球化思潮的不断演进,当代博物馆的社会角色越来越多元化,因此在文化互动、融合与流动等方面面临着诸多挑战,需要以全球化的宏大视野重新思考、重新定位博物馆的使命与功能,以便更好地服务社会,并科学地引领行业发展方向。
With the continuousevolution of processes of globalisation, the roles of contemporary museums arebecoming more diverse in form, operation and ambition. Cultural interaction,integration and mobility is driving change but also opening the door to newresearch. The 'global contemporary'—a sense of living in a globally-connectedworld preoccupied with the present day—changes our orientation to our subject.It calls on museums and museological researchers to respond to this new era ofinteraction, integration and flow.
为了在国际视角下探讨博物馆的未来发展,陕西师范大学与英国莱斯特大学将于2019年9月15--20日在西安举办"互动、融合与流动:全球当代性语境下的博物馆"研讨会,诚邀博物馆界专家、学者携文与会。
This conference focuses on howmuseological, or museum studies, research shapes our understanding of themuseum. The conference "Interaction, Integration and Flow: Researching theMuseum in the Global Contemporary" will be held in Xi'an Shaanxi Province,China in 15th – 20th September 2019. It is jointlyorganised by Shaanxi Normal University, School of History and Civilization inXi'an, China and the University of Leicester, School of Museum Studies inLeicester, UK. Our conference is aimed at seasoned researchers but especiallywishes to encourage contributions from researchers and students who arerelatively new to researching the museum. We very much hope that you will findthis Conference of interest and would be very grateful if you could circulateour Call to your university and wider networks. The conference will be inMandarin and English.
丨会议注册方式 Registration
请填写附件中的回执表格,其中包括100-150字的论文摘要,在 2019年5月1日之前发到邮箱:
yangjin_966@snnu.edu.cn
或mz156@le.ac.uk
Please fill out the attached reply form including an abstract (100-150 words) and submit it to yangjin_966@snnu.edu.cn or mz156@le.ac.uk before 1st MAY 2019. Registration will be free.
丨论文要求 Paper Requirements
(一)这是一个开放议题的研讨会,我们欢迎所有围绕会议主题的研究成果。会议将同时使用中文和英文,论文投稿可以任意选择其中之一。
This is an open call: we welcome research contributions on any topic that contributes to the conference theme. The conference will be in Mandarin and English.
(二)论文字数建议4000-8000字,包括100到300字的中英文提要,建议采用页下注格式,包括著者姓名、书名或篇名、出版社及出版年、引文页码。
Papers should be no more between4000 and 8000 words and include an abstract of between 100 to 300. Information on the formatting conventions of the paper will be sent to those authors accepted for the conference.
(三)提交论文者请于2019年5月1日前先提交论文题目及提要(提交回执),邮件题目请标注"全球当代语境下的博物馆"。论文截稿日期为2019年8月28日。
Please send abstracts of between on one side of a page along with the application form to yangjin_966@snnu.edu.cn or mz156@le.ac.uk by 1st May 2019. Please mark the title of your email: Museum in the Global Contemporary. The deadline for paper submission is 8th August 2019.
丨会议地点 Conference Venue
中国陕西省西安市
陕西省西安市长安区西长安街620号
陕西师范大学历史文化学院
邮编:710119
School of History and Civilization
Shaanxi Normal University
No. 620, West Chang'an Avenue, Chang'an
Xi'an,Shaanxi Province
China
丨会议日程 Schedule
9月15日(星期日)

Sunday, Sept. 15

10:00-12:00到达注册晚间欢迎酒会

10:00-12:00 Arrival and Registration.

Evening: Welcome Reception




9月16日-9月18日

(星期一—星期三)

Monday-Wednesday, Sept. 16-18

在陕西师范大学召开"全球当代语境下的博物馆"学术研讨会

Conference.

9月19日(星期四)

Thursday, Sept.19

参观博物馆和考古遗址

Field trip to museums and archaeological excavation.

9月20日(星期五)

Friday, Sept. 20

会议结束

Departure.
丨联系方式 Contact Us
(一)杨瑾
陕西师范大学历史文化学院
陕西省西安市长安区西长安街620号
邮编:710119
邮箱:yangjin_966@snnu.edu.cn
Professor Yang Jin
School of History and Civilization
Shaanxi Normal University
No. 620, West Chang'an Avenue, Chang'an District
Xi'an
710119
(二)朱末寒
莱斯特大学博物馆学院
英国莱斯特学院路19号
邮编:LE1 7RF
邮箱:mz156@le.ac.uk
Mohan Zhu
School of Museum Studies
University of Leicester
Museum Studies Building
19 University Road
Leicester
LE1 7RF
丨回执表 Application Form
回执表 Application Form

姓名 Name




性别 Gender




出生年月

Date of Birth




工作单位

Institutional affiliation




职位 Title




地址 Address




联系电话

Contact Number




电子邮箱 E-Mail




论文题目

Proposed title of my paper




论文摘要(如有需要请另附一页)Abstract of my paper (max. 150 words; use a separate sheet if necessary).




备注

Any Special Needs (dietary, mobility, etc.)



https://pan.baidu.com/s/163agMnrHs5w4U1fGIgJdlQ
燃烧你的卡路里丨2019年"忆七秩峥嵘岁月,展时代健儿风采"春季运动会成功举办

图文来源/历史文化学院
责任编辑/何秉炽
指导老师/杨瑾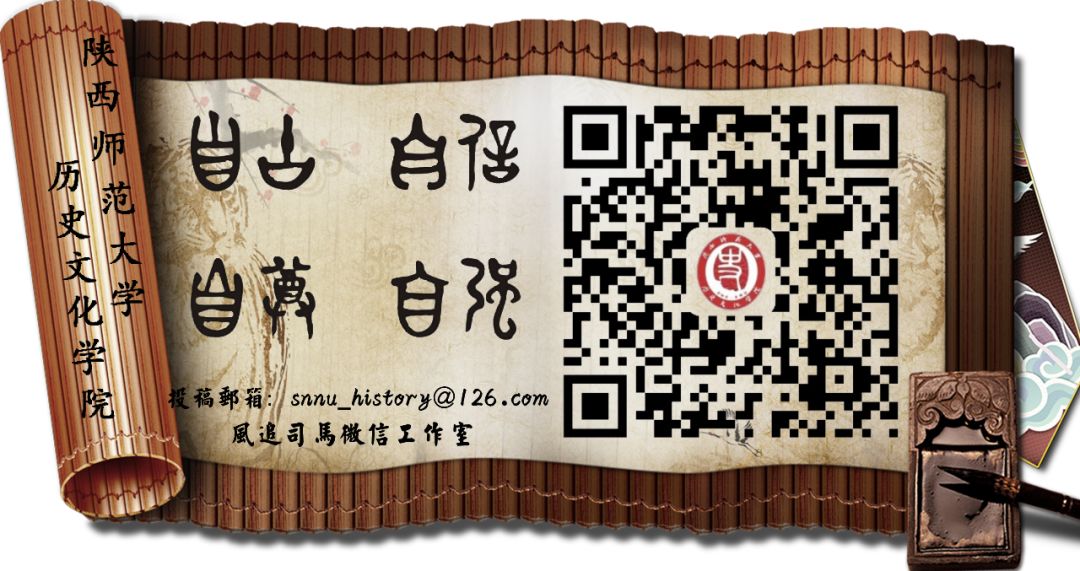 看到这里,你一定是司马君的忠实粉丝
点个好看再走呗~