《纳米研究》2018年第10期目录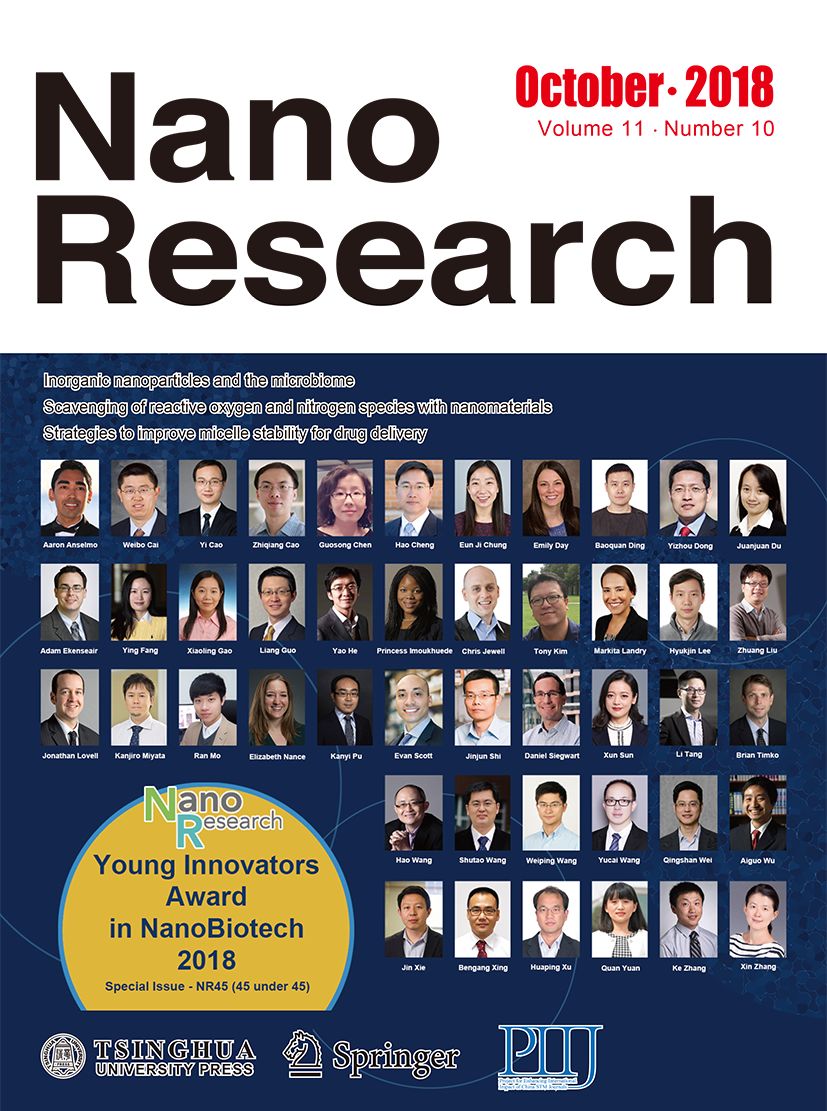 Nano Research
Editorial
The inaugural Nano Research Young Innovators (NR45) Award in nanobiotechnology
Zhen Gu1,* and Hongjie Dai2,*
1 University of California, Los Angeles, USA
2 Stanford University, USA
4931–4935
---
Review Articles
Inorganic nanoparticles and the microbiome
Kunyu Qiu, Phillip G. Durham, and Aaron C. Anselmo*
University of North Carolina at Chapel Hill, USA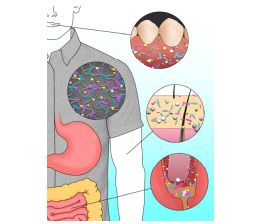 The human microbiota is routinely exposed to the inorganic nanoparticles present in consumer goods such as clothing, sunscreen, toothpaste, and foods. Here, we review current literature describing the effect of exposure to inorganic nanoparticles on the microbiome.
4936–4954
---
Scavenging of reactive oxygen and nitrogen species with nanomaterials
Carolina A. Ferreira, Dalong Ni*, Zachary T. Rosenkrans, and Weibo Cai*
University of Wisconsin-Madison, USA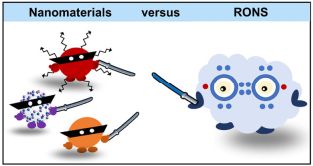 Reactive oxygen and nitrogen species are implicated in various diseases. Herein, we review the intrinsic antioxidant properties, radical-scavenging mechanisms, and in vivo applications of several types of nanoparticles.
4955–4984
---
Strategies to improve micelle stability for drug delivery
Yang Lu, Ershuai Zhang, Jianhai Yang, and Zhiqiang Cao*
Wayne State University, USA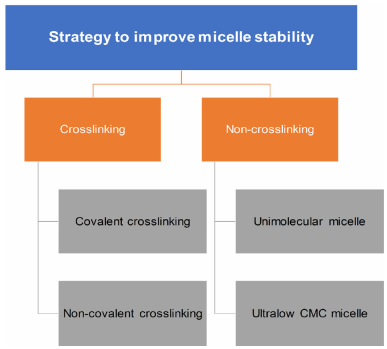 Different strategies to improve micelle stability were reviewed in this work. Specific examples with improved drug delivery efficacy owing to enhanced micelle stability were illustrated.

4985–4998
---
Advances in targeted nanotherapeutics: From bioconjugation to biomimicry
Danielle M. Valcourt1, Jenna Harris1, Rachel S. Riley1, Megan Dang1, Jianxin Wang1, and Emily S. Day1,2,*
1 University of Delaware, USA
2 Helen F. Graham Cancer Center & Research Institute, USA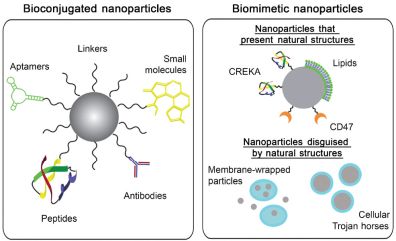 This review provides insight into the benefits and limitations of two types of targeted nanoparticle systems under investigation for cancer therapy: bioconjugated nanoparticles and biomimetic nanoparticles.

4999–5016
---
Multifunctional nucleic acid nanostructures for gene therapies
Jianbing Liu1, Zhengang Wang1, Shuai Zhao1,2, and Baoquan Ding1,2,*
1 National Center for Nanoscience and Technology, China
2 University of Chinese Academy of Sciences, China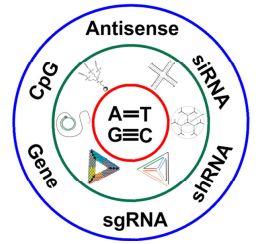 Nucleic acid nanostructures have been rationally designed as delivery vehicles for gene therapies based on RNA interference, CRISPR-Cas9 genome editing, gene expression, or CpG-based immunostimulation.

5017–5027
---
In situ polymerization on biomacromolecules for nanomedicines
Xiangqian Jia, Luyao Wang, and Juanjuan Du*
Tsinghua University, China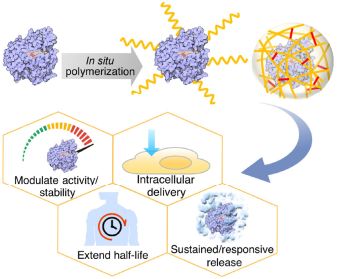 While holding vast promise for the treatment of many disorders, biopharmaceuticals still face critical challenges. In situ polymerization provides an appealing and promising platform to improve the pharmacological characteristics of biopharmaceuticals.

5028–5048
---
Biomedical applications of magneto-responsive scaffolds
Adedokun A. Adedoyin and Adam K. Ekenseair*
Northeastern University, USA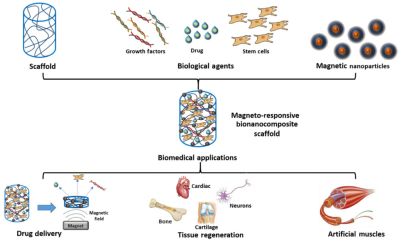 This review paper highlights the theory, fabrication and increasing use of magnetic nanoparticles to create biomaterials that are responsive to external magnetic fields for applications in drug delivery, tissue regeneration and artificial muscles.
5049–5064
---
Nano functional neural interfaces
Yongchen Wang1, Hanlin Zhu2, Huiran Yang1,3, Aaron D. Argall1, Lan Luan2, Chong Xie2,*, and Liang Guo1,*
1 The Ohio State University, USA
2 The University of Texas at Austin, USA
3 Nanjing Tech University, China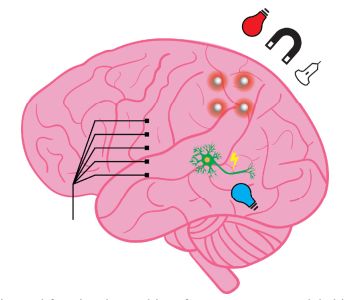 Engineered functional neural interfaces serve as essential abiotic– biotic transducers between an engineered system and the nervous system. This review covers the exciting developments and applications of functional neural interfaces that rely on nano-electrodes, nanotransducers, or bionanotransducers to establish an interface with the nervous system.

5065–5106
---
Plenty more room on the glass bottom: Surface functionalization and nanobiotechnology for cell isolation
Ali Ansari1,* and P. I. Imoukhuede2,*
1 University of Illinois at Urbana-Champaign, USA
2 Washington University in St. Louis, USA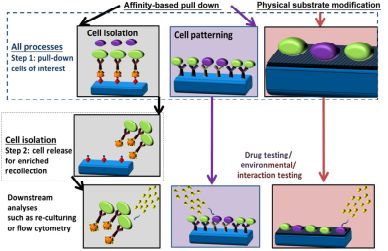 Modifying surfaces using surface functionalization has recently become much more commonplace, as it enables adaptive or responsive surfaces to be created for more complex testing modalities and biological applications. In this review, we discuss the many applications of surface functionalization techniques to both cell capture and cell isolation modalities, to provide expand the toolset for researchers who would like to adopt them.

5107–5129

---
High-density lipoprotein mimetic nanotherapeutics for cardiovascular and neurodegenerative diseases
Song Ih Ahn, Hyun-Ji Park, Jiwon Yom, Taeyoung Kim, and Yong Tae Kim*
Georgia Institute of Technology, USA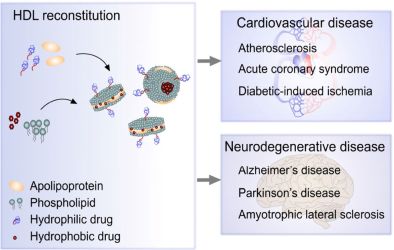 This review introduces the heterogeneous characteristics and biological functions of high-density lipoproteins (HDLs), highlights the current representative applications of HDL mimetic nano-therapeutics for cardiovascular and neurodegenerative diseases, and discusses the current challenges and future perspective.

5130–5143
---
Advances in nanomaterials for brain microscopy
Jackson T. Del Bonis-O'Donnell1, Linda Chio1, Gabriel F. Dorlhiac1, Ian R. McFarlane1, and Markita P. Landry1,2,3,*
1 University of California, Berkeley, USA
2 Innovative Genomics Institute (IGI), USA
3 Chan-Zuckerberg Biohub, USA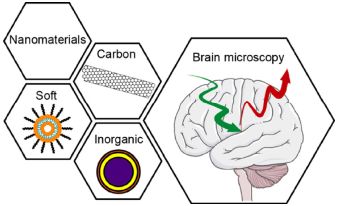 Nanomaterials are providing new insights into the structure and function of the brain. In this review, we summarize the different techniques used in optical microscopy and discuss recent advances in nanomaterials, which are enabling new methods for visualizing the living brain.

5144–5172
---
Development of mRNA vaccines and their prophylactic and therapeutic applications
Kyuri Lee, Minjeong Kim, Yunmi Seo, and Hyukjin Lee*
Ewha Womans University, Republic of Korea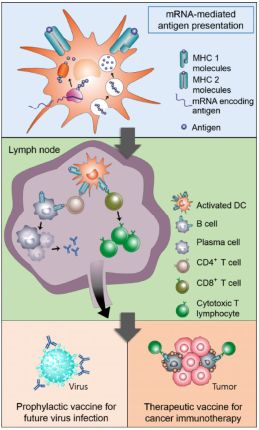 In this article, the recent progresses of messenger RNA (mRNA) vaccines for applications in prophylactic and therapeutic vaccines are explained. It provides an overview of two types of mRNA vaccines (conventional mRNA vaccines, self-amplifying mRNA vaccines) and their prophylactic applications to prevent future virus infections. In addition, therapeutic applications of mRNA vaccines in cancer immunotherapy are described with a brief introduction to cancer immunotherapy.

5173–5192
---
Current taxane formulations and emerging cabazitaxel delivery systems
Boyang Sun, Robert M. Straubinger, and Jonathan F. Lovell*
University at Buffalo, State University of New York, USA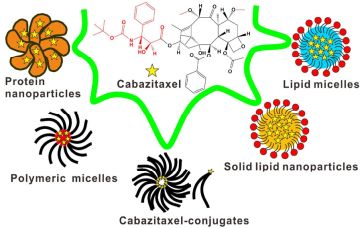 Although first-generation taxanes (i.e., paclitaxel and docetaxel) have sparked broad interest in a variety of promising delivery vehicles, fewer have yet been developed for cabazitaxel, second generation taxane. This review summarizes several clinical-stage approaches for taxane formulation, and recent efforts to develop novel cabazitaxel delivery systems.
5193–5218

---
Functionalization of silica nanoparticles for nucleic acid delivery
Rimpei Kamegawa, Mitsuru Naito, and Kanjiro Miyata*
The University of Tokyo, Japan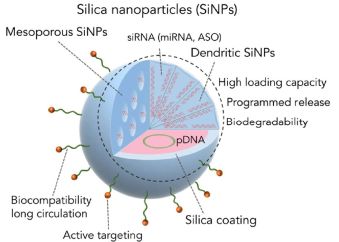 This review discusses the functionalization and performance of silica nanoparticles for nucleic acid delivery with respect to loading and programmed release of nucleic acids, active targeting, endosome escape, and biocompatibility.
5219–5239
---
Cell-based drug delivery systems for biomedical applications
Teng Li, He Dong, Can Zhang*, and Ran Mo*
China Pharmaceutical University, China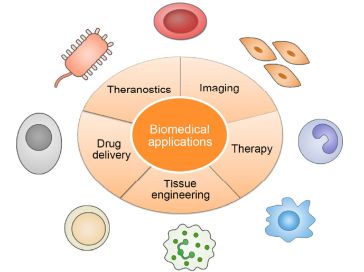 This review presents recent advances in biomedical applications  of cell-based drug delivery systems with a focus on drug delivery, tissue engineering, bioimaging, and disease treatment.

5240–5257
---
Development of optical nanoprobes for molecular imaging of reactive oxygen and nitrogen species
Xu Zhen and Kanyi Pu*
Nanyang Technological University, Singapore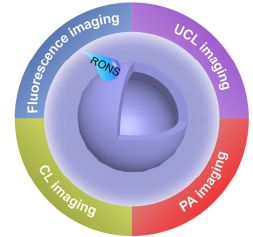 This review summarizes the development of optical nanoprobes that emit near-infrared (NIR) fluorescent, upconversion luminescent (UCL), chemiluminescent (CL), or photoacoustic (PA) signals for molecular imaging of reactive oxygen and nitrogen species (RONS) in living systems.
5258–5280
---
Biomedical applications of mRNA nanomedicine
Qingqing Xiong1,2, Gha Young Lee1, Jianxun Ding1, Wenliang Li1,3, and Jinjun Shi1,*
1 Harvard Medical School, USA
2 Tianjin Medical University Cancer Institute & Hospital, China
3 Jilin Medical University, China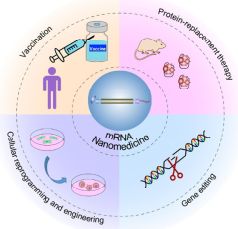 Along with the development of chemical modification strategies and nanotechnology delivery platforms, messenger RNA (mRNA) nanomedicine has recently shown increasingly widespread biomedical applications including vaccination, protein-replacement therapy, gene editing, and cellular reprogramming and engineering.
5281–5309
---
Design of synthetic materials for intracellular delivery of RNAs: From siRNA-mediated gene silencing to CRISPR/ Cas gene editing
Jason B. Miller and Daniel J. Siegwart*
University of Texas Southwestern Medical Center, USA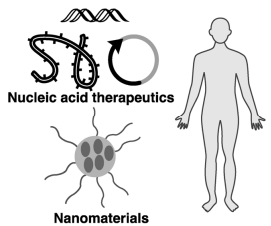 This review describes the design of synthetic nanomaterials with clinical utility to deliver RNA cargos including small RNA (siRNA/ miRNA), messenger RNA, and RNAs for non-viral clustered regularly interspaced palindromic repeat (CRISPR)/Cas gene editing.

5310–5337
---
Recent advances in mRNA vaccine delivery
Lu Tan and Xun Sun*
Sichuan University, China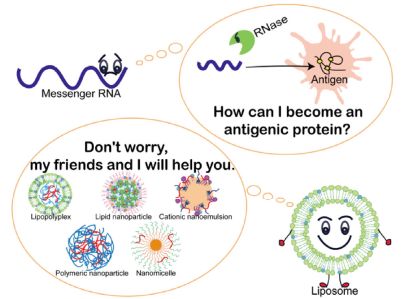 Appropriate delivery systems can improve the limited stability, poor translation efficiency, and cell targeting of messenger RNA (mRNA) vaccines.

5338–5354
---
Engineering cancer vaccines using stimuli-responsive biomaterials
Yu Zhao, Yugang Guo, and Li Tang*
École polytechnique fédérale de Lausanne (EPFL), Switzerland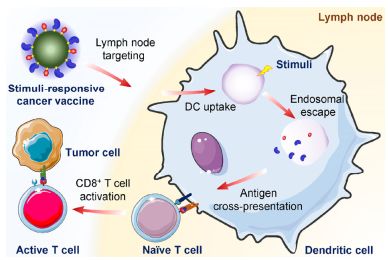 This mini review article summarizes the recent advances in applying stimuli-responsive biomaterials for cancer vaccine delivery. Various stimuli-responsive cancer vaccines for enhanced lymph node targeting and antigen cross-presentation are reviewed and discussed.
5355–5371
---
Nanobiotechnology: 1D nanomaterial building blocks for cellular interfaces and hybrid tissues
Haitao Liu1,2, Bilal Haider1, Holden R. Fried1, Jie Ju1, Olurotimi Bolonduro1, Vineeth Raghuram1, and Brian P. Timko1,*
1 Tufts University, USA
2 China University of Geosciences, China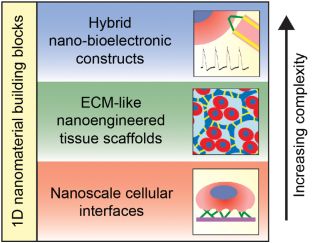 We review one-dimensional (1D) nanomaterials and how they interface with biological systems at various levels of complexity to modulate or monitor cellular function and achieve hybrid tissues.
5372–5399

---
Temperature-responsive polymers: Synthesis, properties, and biomedical applications
Shenglin Qiao1,2 and Hao Wang1,2,*
1 National Center for Nanoscience and Technology, China
2 University of Chinese Academy of Sciences, China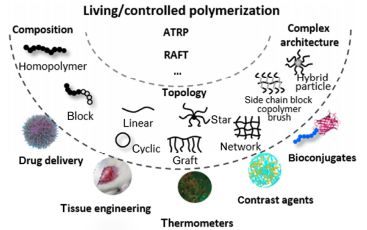 Here, we review the conventional and recently developed polymerization techniques employed for preparing temperature- responsive polymers, summarize various parameters that influence the phase transition behavior of the polymers, and finally demonstrate the potential applications of biocompatible temperature-responsive polymers in the biomedical field.
5400–5423
---
Phototriggered targeting of nanocarriers for drug delivery
Yafei Li, Yaming Zhang, and Weiping Wang*
The University of Hong Kong, Hong Kong, China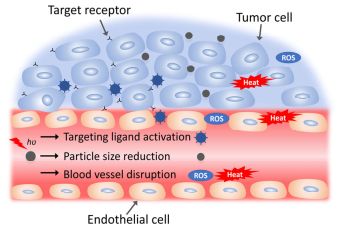 Enhanced targeted drug delivery can be achieved through photo-triggered targeting by three mechanisms: targeting ligand activation, particle size reduction, and blood vessel disruption.
5424–5438
---
Plasmonic molecular assays: Recent advances and applications for mobile health
Tao Yu and Qingshan Wei*
North Carolina State University, USA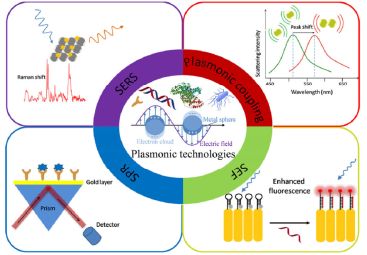 This thematic article of Nano Research highlights recent progress in plasmonics-enhanced molecular assays based on the interplay of surface plasmons with various biological species, as well as the applications of these assays in point-of-care diagnostics.
5439–5473
---
Nanoformulation of metal complexes: Intelligent stimuli- responsive platforms for precision therapeutics
Ming Hu1, Xiangzhao Ai1, Zhimin Wang1, Zhijun Zhang1, Haolun Cheong1, Wenmin Zhang1,2, Jun Lin3, Juan Li2, Huanghao Yang2, and Bengang Xing1,2,*
1 Nanyang Technological University, Singapore
2 Fuzhou University, China
3 Changchun Institute of Applied Chemistry, Chinese Academy of Sciences, China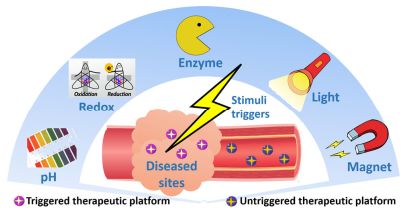 Nanoformulation of metal complexes involves designing of intelligent platforms that respond to environmental stimuli (e.g., pH-gradient, redox conditions, enzyme activation, light irradiation, and magnetic field manipulation) for obtaining precision therapeutics.

5474–5498

---
Recent progress in background-free latent fingerprint imaging
Yingqian Wang, Jie Wang, Qinqin Ma, Zhihao Li, and Quan Yuan*
Wuhan University, China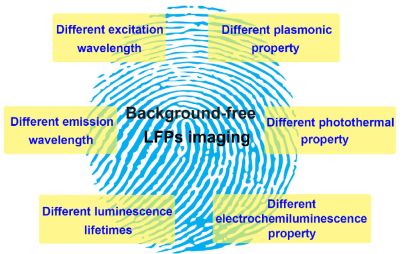 This review is organized around background-free latent fingerprint (LFP) imaging based on the difference in optical properties between contrast agents and background compounds.

5499–5518
---
PEGylation of therapeutic oligonucletides: From linear to highly branched PEG architectures
Xueguang Lu and Ke Zhang*
Northeastern University, USA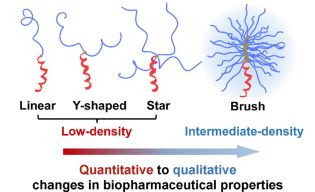 We review recent developments in PEGylated oligonucleotides for therapeutic applications, with a focus on comparing the strengths and limitations of different poly(ethylene glycol) (PEG) architectures.
5519–5534
---
Delivery systems for theranostics in neurodegenerative diseases
Yan Li1, Ruiyuan Liu1,2, Weihong Ji1,2, Yanhui Li1, Linying Liu1,2, and Xin Zhang1,*
1 Institute of Process Engineering, Chinese Academy of Sciences, China
2 University of Chinese Academy of Sciences, China
This review describes the recent progress in delivery systems, including the use of lipid nanoparticles, polymeric nanoparticles, inorganic nanoparticles, and exosomes for theranostics in neurodegenerative diseases.
5535–5555
---
Research Articles
Reversible hydrogels with tunable mechanical properties for optically controlling cell migration
Xin Wu1, Wenmao Huang1, Wen-Hao Wu2, Bin Xue1, Dongfang Xiang1, Ying Li3, Meng Qin1, Fei Sun4, Wei Wang1,*, Wen-Bin Zhang2,*, and Yi Cao1,*
1 Nanjing University, China
2 Peking University, China
3 Nanjing University of Information Science & Technology, China
4 The Hong Kong University of Science and Technology, Hong Kong, China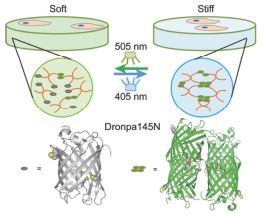 Photo-responsive hydrogels with spatiotemporally tunable mechanical properties were engineered through light controllable association/ dissociation of the fluorescent protein Dronpa145N. Such hydrogels, with programmable mechanical history and spatial distribution, may serve as an ideal model system to better understand complex cellular functions.
5556–5565
---
Self-assembly of Human Galectin-1 via dual supramolecular interactions and its inhibition of T-cell agglutination and apoptosis
Wenjing Qi1, Yufei Zhang1, Zdravko Kochovski2, Jue Wang1, Yan Lu2,3, Guosong Chen1,*, and Ming Jiang1
1 Fudan University, China
2 Helmholtz-Zentrum Berlin für Materialien und Energie, Germany
3 University of Potsdam, Germany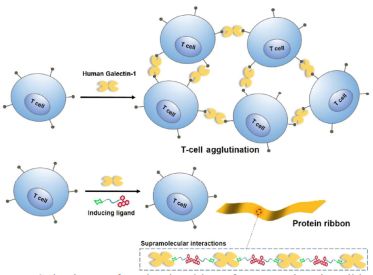 Human Galectin was found to be able to form protein microribbons by protein–carbohydrate interactions and the dimerization of Rhodamine B (RhB). These protein microribbons could multivalently and dynamically compete with accommodate the binding between Human Galectin-1 (Gal-1) and cell receptors and inhibit T-cell agglutination and apoptosis.
5566–5572
---
Cell membrane coating for reducing nanoparticle-induced inflammatory responses to scaffold constructs
Zhiyuan Fan1, Peter Y. Li1, Junjie Deng1,2, Stephen C. Bady1, and Hao Cheng1,*
1 Drexel University, USA
2 Wenzhou Institute of Biomaterials and Engineering, Chinese Academy of Sciences, China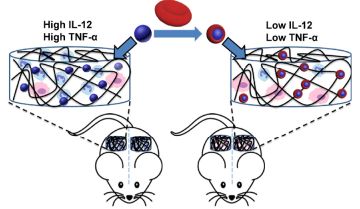 Incorporation of therapeutic-releasing nanoparticles into biomaterial scaffolds has broad applications in tissue regeneration and immune modulation, but may induce excessive inflammatory and foreign body responses to scaffold constructs, limiting their applications.    We report a new strategy to harness the natural biocompatibility of cell membranes to eliminate acute inflammatory responses by coating nanoparticle surfaces with red blood cell membranes.
5573–5583
---
Design and in vivo characterization of kidney-targeting multimodal micelles for renal drug delivery
Jonathan Wang, Christopher Poon, Deborah Chin, Sarah Milkowski, Vivian Lu, Kenneth R. Hallows, and Eun Ji Chung*
University of Southern California, USA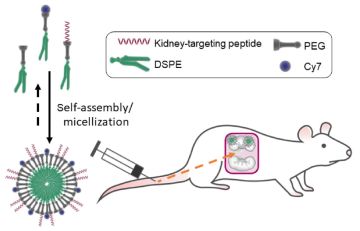 Kidney-targeting multimodal micelles demonstrate enhanced accumulation compared to untargeted controls. Analysis of nano-particle distribution show tubular cell colocalization within the nephron of the kidney.
5584–5595
---
Co-delivery of mRNA and SPIONs through amino-ester nanomaterials
Xiao Luo, Weiyu Zhao, Bin Li, Xinfu Zhang, Chengxiang Zhang, Anna Bratasz, Binbin Deng, David W. McComb, and Yizhou Dong*
The Ohio State University, USA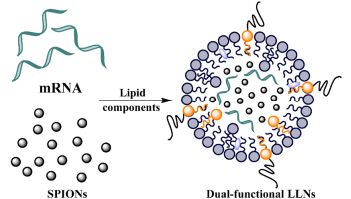 Messenger RNA (mRNA) and superparamagnetic iron oxide nanoparticles (SPIONs) were co-encapsulated into amino-ester nanomaterials, which displayed dual functions both in vitro and in vivo.
5596–5603
---
Flexible and biocompatible nanopaper-based electrode arrays for neural activity recording
Yichuan Guo1,2, Zhiqiang Fang3, Mingde Du1,2, Long Yang4, Leihou Shao1,2, Xiaorui Zhang1,2, Li Li1,2, Jidong Shi1,2, Jinsong Tao3, Jinfen Wang1,2, Hongbian Li1,2,*, and Ying Fang1,2,5,*
1 National Center for Nanoscience and Technology, China
2 University of Chinese Academy of Sciences, China
3 South China University of Technology, China
4 University of California, Los Angeles, USA
5 CAS Center for Excellence in Brain Science and Intelligence Technology, China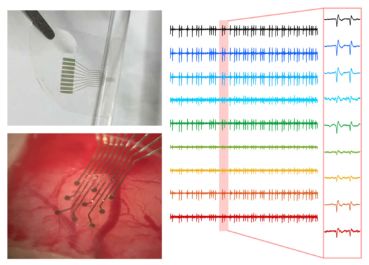 Flexible and biocompatible neural electrode arrays based on a nanopaper substrate have been developed. These electrode arrays exhibit high sensitivity and stability in long-term brain activity recording.
5604–5614
---
The shape effect of reconstituted high-density lipoprotein nanocarriers on brain delivery and Aβ clearance
Huahua Song1, Xinyi Ma1, Jianrong Xu1, Qingxiang Song1, Meng Hu1, Xiao Gu1, Qian Zhang1, Lina Hou1, Lepei Chen1, Yukun Huang2, Ping Yu1, Dayuan Wang1, Gan Jiang1, Meng Huang1, Jun Chen2, Hongzhuan Chen1,*, and Xiaoling Gao1,*
1 Shanghai Jiao Tong University, China
2 Fudan University, China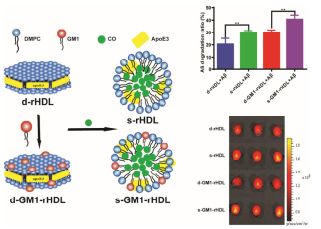 Here, we constructed two discoidal reconstituted high-density lipoprotein (rHDL) nanocarriers (d-rHDL and d-GM1-rHDL) and two spherical rHDL nanocarriers (s-rHDL and s-GM1-rHDL) and for the first time demonstrated the shape effect of rHDL nanocarriers on their brain delivery and amyloid β clearance capacity.
5615–5628
---
Traditional Chinese medicine molecule-assisted chemical synthesis of fluorescent anti-cancer silicon nanoparticles
Xiaoyuan Ji, Daoxia Guo, Bin Song, Sicong Wu, Binbin Chu, Yuanyuan Su, and Yao He*
Soochow University, China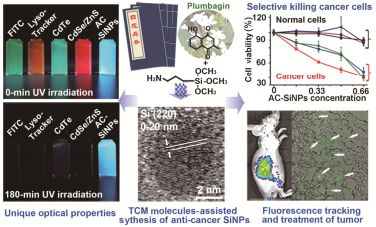 A novel traditional Chinese medicine (TCM)-assisted chemical synthetic strategy is introduced for the one-pot synthesis of small- sized water-dispersed anti-cancer (AC)-silicon nanoparticles (SiNPs), which simultaneously possess robust fluorescence, excellent storage stability, and more interestingly, intrinsic anti-cancer efficacy with good selectivity towards cancer cells. Furthermore, the as-prepared AC-SiNPs are further employed for synergistic fluorescence bioimaging and treatment of tumors.
5629–5641
---
Polyplex interaction strength as a driver of potency during cancer immunotherapy
Shannon J. Tsai1, James I. Andorko1, Xiangbin Zeng1, Joshua M. Gammon1, and Christopher M. Jewell1,2,3,4,*
1 University of Maryland, USA
2 Maryland VA Health Care System, USA
3 University of Maryland Medical School, USA
4 Marlene and Stewart Greenebaum Cancer Center, USA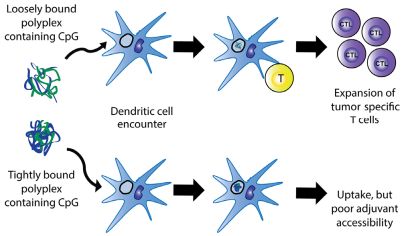 The interaction strength within polyplexes between a molecular adjuvant (CpG) and a degradable polycation (poly(-amino ester), PBAE) is dependent on the ratio of these components during assembly. The interaction strength impacts the uptake and processing of the CpG, and the resulting immune response during activation of antigen presenting cells, expansion of tumor-specific T cells, and tumor immunotherapy.
5642–5656
---
NIR-II light activated photodynamic therapy with protein- capped gold nanoclusters
Qian Chen1, Jiawen Chen1, Zhijuan Yang1, Lin Zhang2, Ziliang Dong1, and Zhuang Liu1,*
1 Soochow University, China
2 The First Affiliated Hospital of Soochow University, China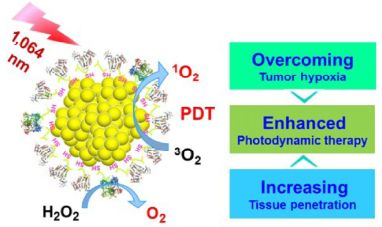 A new type of photosensitizing nano-agent that simultaneously enables in vivo fluorescence imaging, tumor hypoxia relief, and the second near-infrared window (NIR-II) light-induced in vivo photodynamic therapy (PDT) of cancer was developed.
5657–5669
---
Curcumin-loaded polymeric nanoparticles for neuro-protection in neonatal rats with hypoxic-ischemic encephalopathy
Andrea Joseph, Thomas Wood, Chih-Chung Chen†, Kylie Corry, Jessica M. Snyder, Sandra E. Juul, Pratik Parikh, and Elizabeth Nance*
University of Washington, USA
† Present address: University of Illinois at Urbana-Champaign, USA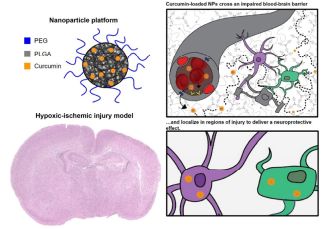 Curcumin-loaded brain-penetrating nanoparticles can cross the impaired blood-brain barrier following systemic administration  in a neonatal hypoxia-ischemia rat model. The brain-penetrating nanoparticles localize in regions of injury and release curcumin  to provide a neuroprotective effect, expanding the number of clinically-relevant therapeutic interventions for the treatment of neonatal hypoxic-ischemic encephalopathy.

5670–5688
---
Polymersomes scalably fabricated via flash nano-precipitation are non-toxic in non-human primates and associate with leukocytes in the spleen and kidney following intravenous administration
Sean D. Allen1, Yu-Gang Liu1, Sharan Bobbala1, Lei Cai2, Peter I. Hecker2, Ryan Temel2, and Evan A. Scott1,*
1 Northwestern University, USA 
2 University of Kentucky, USA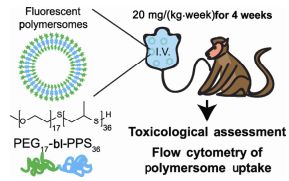 Poly(ethylene glycol)-block-poly(propylene sulfide) (PEG-bl-PPS) polymersomes formed by flash nanoprecipitation were found to be non-toxic after repeated intravenous administration in non-human primates. Polymersomes were taken up by antigen-presenting cell subsets in the liver, kidneys, and spleen of treated cynomolgus monkeys.
5689–5703
---
Engineering subcellular-patterned biointerfaces to regulate the surface wetting of multicellular spheroids
Luying Wang1,3, Pingqiang Cai4, Jing Luo2,3, Feilong Zhang1,3, Jian Liu2, Yupeng Chen2,3, Zhongpeng Zhu2,3, Yongyang Song2,3, Bingquan Yang2, Xi Liu2,3, Xiaodong Chen4, and Shutao Wang2,3,*
1 Institute of Chemistry, Chinese Academy of Sciences, China
2 Technical Institute of Physics and Chemistry, Chinese Academy of Sciences, China
3 University of Chinese Academy of Sciences, China
4 Nanyang Technological University, Singapore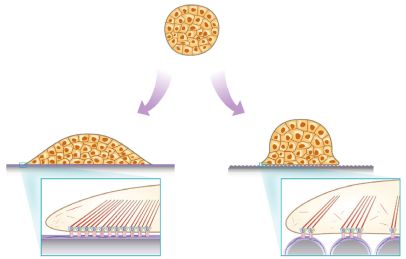 Subcellular-patterned biointerfaces were employed to inhibit the surface wetting of multicellular spheroids.
5704–5715
---
Acidity-triggered TAT-presenting nanocarriers augment tumor retention and nuclear translocation of drugs
Wei Jiang1, Jilong Wang1, Jinbin Yang2, Zhiwei He1, Zhenhui Hou1, Yingli Luo1, Li Wang1, Jing Liu1, Houbing Zhang1, Yangyang Zhao1, Guoqing Zhang1, Fang Huang1, Xuechang Zhou2, Lifeng Yan1,*, Xianzhu Yang3,*, Yucai Wang1,*, and Jun Wang3
1 University of Science and Technology of China, China
2 Shenzhen University, China
3 South China University of Technology, China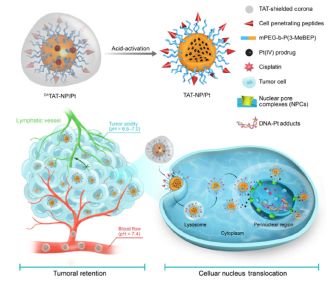 A transactivator of transcription (TAT)-presenting nanomedicine, apart from improving tumor accumulation and cellular uptake, can simultaneously enhance tumor retention and promote nuclear translocation of the encapsulated platinum prodrugs, and thus improve therapeutic efficacy.
5716–5734
---
A facile fabrication route for binary transition metal oxide-based Janus nanoparticles for cancer theranostic applications
M. Zubair Iqbal1, Wenzhi Ren1, Madiha Saeed1, Tianxiang Chen1, Xuehua Ma1, Xu Yu1, Jichao Zhang2, Lili Zhang2, Aiguo Li2, and Aiguo Wu1,*
1 Ningbo Institute of Materials Technology and Engineering, Chinese Academy of Sciences, China
2 Shanghai Institute of Applied Physics, Chinese Academy of Sciences, China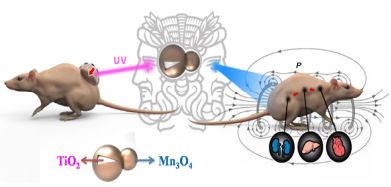 A unique liquid-phase method was employed to fabricate Mn3O4- TiO2/ZnO/Fe3O4 multifunctional binary transition metal oxide-based Janus nanoparticles, using the concept of epitaxial growth and lattice mismatch among synthesized materials. These multifunctional Mn3O4-TiO2 Janus nanoparticles enhance T1-weighted magnetic resonance imaging contrast in the heart, liver, and kidneys and show excellent tumor ablation in photodynamic therapy.
5735–5750
---
LiF@SiO2 nanocapsules for controlled lithium release and osteoarthritis treatment
Trever Todd1, Zhenhui Lu2, Jinmin Zhao2, Benjamin Cline1, Weizhong Zhang1, Hongmin Chen1,3, Anil Kumar1, Wen Jiang1, Franklin West1, Samuel Franklin1, Li Zheng2,*, and Jin Xie1,*
1 University of Georgia, USA 
2 The First Affiliated Hospital of Guangxi Medical University, China 
3 Xiamen University, China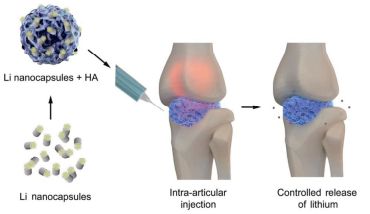 Controlled lithium delivery for efficient osteoarthritis therapy is described. We use a LiF nanocrystal as a lithium reservoir, silica coating to control the lithium release rate, and hyaluronic acid as the delivery medium. The sustained lithium release elicits broad inhibition of osteoarthritis-related catabolic markers, leading to effective protection of cartilage.
5751–5760
---
Selenium-functionalized metal-organic frameworks as enzyme mimics
Weiqiang Zhou1,2, Hongfeng Li1, Bin Xia1, Wenlan Ji1, Shaobo Ji2, Weina Zhang1, Wei Huang1,*, Fengwei Huo1,*, and Huaping Xu2,*
1 Nanjing Tech University (Nanjing Tech), China
2 Tsinghua University, China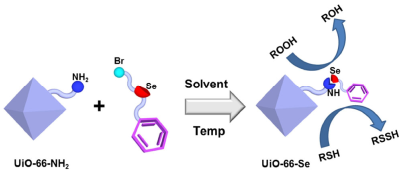 A general and facile method to fabricate efficient glutathione peroxidase (GPx) mimics has been developed by grafting selenium- containing molecules (phenylselenylbromide, PhSeBr) to a of Zr(IV)-based UiO-66-NH2 framework. The as-prepared UiO-66-Se systems show good catalytic activity over three cycles. The high- efficiency GPx mimic metal-organic frameworks (MOFs) are endowed with excellent thermal and structural stability, providing a promising avenue for the development of artificial enzyme mimics.
5761–5768
点击"阅读原文"查看完整目录
---
Previous Contents:
Nano Research公众号
微信号 : Nano_Research
网址:www.thenanoresearch.com