《纳米研究》2019年第4期目录
Review Articles
Advances in atomic force microscopy for single-cell analysis
Mi Li1,2,*, Ning Xi3, Yuechao Wang1,2, and Lianqing Liu1,2,*
1 Shenyang Institute of Automation, Chinese Academy of Sciences, China
2 Institutes for Robotics and Intelligent Manufacturing, Chinese Academy of Sciences, China
3 The University of Hong Kong, Hong Kong, China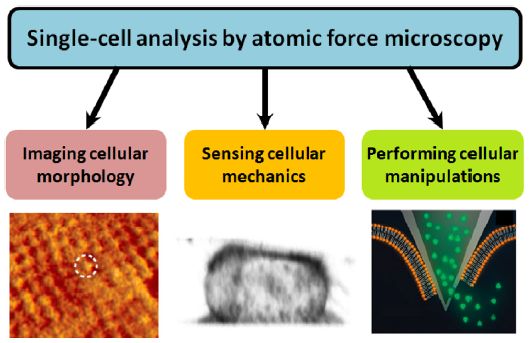 Recent advances in atomic force microscopy-based single-cell analysis for physiochemical assays and biomedical applications are reviewed. The directions for future progression are discussed.

703–718
---
---
Functionalization of AuMSS nanorods towards more effective cancer therapies
Carolina F. Rodrigues1, Telma A. Jacinto1, André F. Moreira1, Elisabete C. Costa1, Sónia P. Miguel1, and Ilídio J. Correia1,2,*
1 Universidade da Beira Interior, Portugal
2 Universidade de Coimbra, Portugal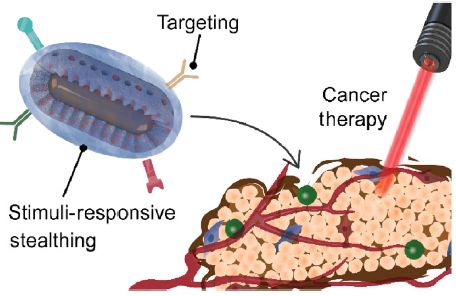 The modifications performed to improve the gold-core mesoporous silica shell nanorods application in cancer therapy are overviewed, highlighting the practical approaches that enhance the gold-core mesoporous silica shell nanorods targeting, responsiveness to different stimuli, and blood circulation time.
719–732
---
---
Research Articles
Polychromic carbon black: Laser galvanized multicolour fluorescence display
Sharon Xiaodai Lim1, Kae Lin Wong2, Zheng Zhang3, Antonio H. Castro Neto1, and Chorng-Haur Sow1,*
1 National University of Singapore, Singapore
2 Universiti Tunku Abdul Rahman, Malaysia
3 Institute of Materials Research Engineering, A*Star (Agency for Science, Technology and Research), Singapore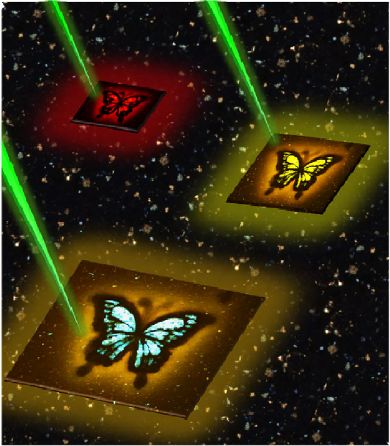 Laser initiated formation of multicolour fluorescing recovered carbon black powder. By controlling the environment in which the patterning process takes place, multicolour fluorescence and multicoloured visual display from recovered carbon black (rCB) can be achieved.
733–740
---
---
Color-coded perfluorocarbon nanodroplets for multiplexed ultrasound and photoacoustic imaging
Daniela Y. Santiesteban1, Kristina A. Hallam1,2, Steven K. Yarmoska1, and Stanislav Y. Emelianov1,2,*
1 Georgia Institute of Technology and Emory University, USA
2 Georgia Institute of Technology, USA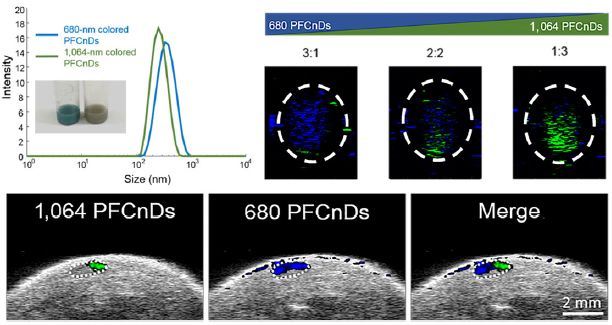 Multiplexed ultrasound and photoacoustic imaging is achieved through  the use of color-coded perfluorocarbon nanodroplets. Specifically, distinct subpopulations of laser-activated perfluorocarbon nanodroplets produce optical wavelength-selective ultrasound and photoacoustic signals. The dynamic ultrasound and photoacoustic contrast produced by these agents allow the simultaneous acquisition and discrimination of quantitative spatial information from distinct biological targets, which were tested and demonstrated in vivo.
741–747
---
---
Infrared fluorescence imaging of infarcted hearts with Ag2S nanodots
Dirk H. Ortgies1,2, Ángel Luis García-Villalón2, Miriam Granado2, Sara Amor2, Emma Martín Rodríguez1,2, Harrisson D.A. Santos2,3, Jingke Yao2, Jorge Rubio-Retama4, and Daniel Jaque1,2,*
1 Instituto Ramón y Cajal de Investigación Sanitaria, Spain
2 Universidad Autónoma de Madrid, Spain
3 Universidade Federal de Alagoas, Brazil
4 Universidad Complutense de Madrid, Spain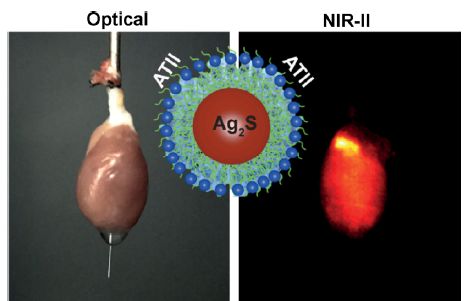 A silver lining for myocardial infarction: Ag2S nanodots surface-functionalized with the angiotensin II peptide demonstrated their excellent capability to visualize selectively the location and extent of myocardial infarcts after partial and global ischemia in a modified Langendorff system (ex vivo heart of a rat). The results were obtained through 360° infrared imaging, also making proof-of-concept whole-body imaging possible.
749–757
---
---
Physical activation of graphene: An effective, simple and clean procedure for obtaining microporous graphene for high- performance Li/S batteries
Almudena Benítez1, Alvaro Caballero1, Julián Morales1,*, Jusef Hassoun2,*, Enrique Rodríguez-Castellón3, and Jesús Canales-Vázquez4
1 Universidad de Córdoba, Spain
2 University of Ferrara, Italy
3 Universidad de Málaga, Spain
4 Universidad de Castilla-La Mancha, Spain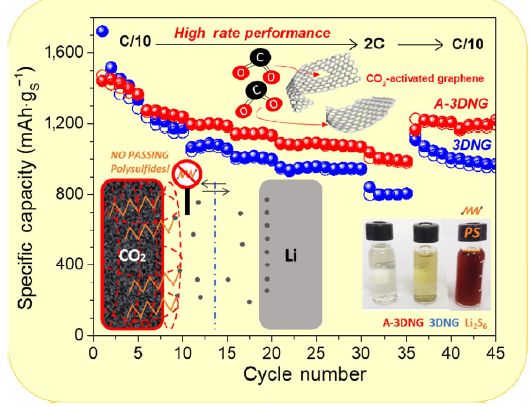 Physical activation of graphene is a simple, clean, and fast method, in particular if compared to chemical activation methods, and leads to even better performance in Li-S battery. Used as cathode in these batteries, the activated three-dimensional (3D) graphene-/S composite displayed a high specific capacity, good rate capability, and cycling stability.
759–766
---
---
Extending the operational lifetimes of all-direct electron transfer enzymatic biofuel cells by magnetically assembling and exchanging the active biocatalyst layers on stationary electrodes 
Katharina Herkendell*, Andreas Stemmer, and Ran Tel-Vered*
ETH Zurich, Switzerland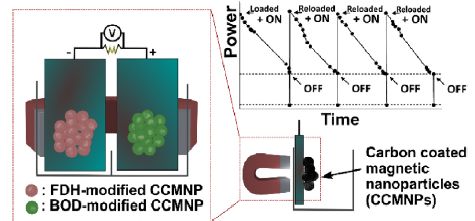 External magnetic fields assist inducing direct electron transfer bioelectrocatalysis and extend the operational lifetimes of enzymatic biofuel cells.
767–775
---
---
Black phosphorus nanoflakes as morphology modifier for efficient fullerene-free organic solar cells with high fill-factor and better morphological stability
Weitao Yang1, Long Ye2, Fenfa Yao1, Chuanhong Jin1, Harald Ade2, and Hongzheng Chen1,*
1 Zhejiang University, China
2 North Carolina State University, USA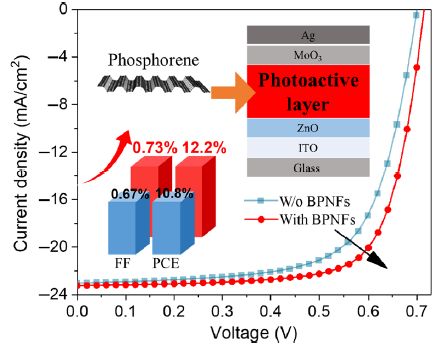 The performance of PTB7-Th:IEICO-4F based organic solar cell are significantly improved via incorporation of black phosphorus nanoflakes, contributing to more ordered π-π stacking and promoted domain purity of the blend.
777–783
---
---
Highly luminescent and stable CsPbBr3 perovskite quantum dots modified by phosphine ligands
Yan Li*, Xiaoyan Wang, Weinan Xue, Wei Wang, Wei Zhu, and Lianjing Zhao
East China University of Science and Technology, China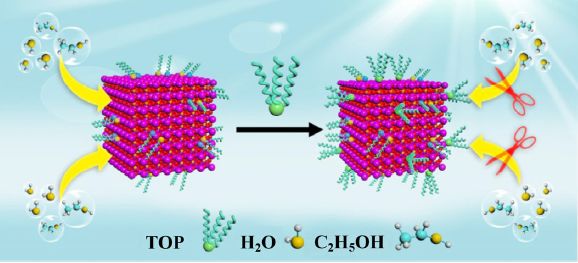 Highly luminescent and stable CsPbBr3 quantum dots were synthesized by introducing phosphine ligands into Cs-oleate solutions.
785–789
---
---
Thermal bridging of graphene nanosheets via covalent molecular junctions: A non-equilibrium Green's functions–density functional tight-binding study
Diego Martinez Gutierrez1, Alessandro Di Pierro1, Alessandro Pecchia2, Leonardo Medrano Sandonas3, Rafael Gutierrez3, Mar Bernal1, Bohayra Mortazavi4, Gianaurelio Cuniberti3, Guido Saracco1, and Alberto Fina1,*
1 Politecnico di Torino, Italy
2 Consiglio Nazionale delle Ricerche, Italy
3 TU Dresden, Germany
4 Bauhaus-Universitat Weimar, Germany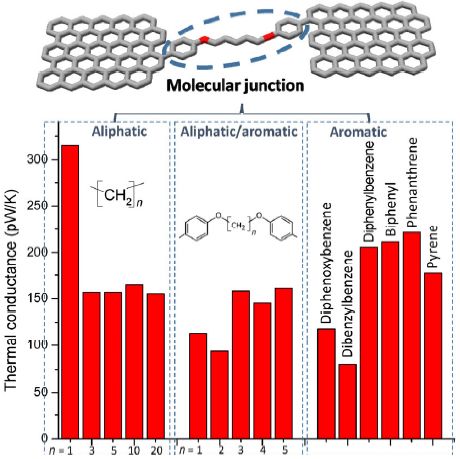 The thermal conductance and phonon spectra of several different aliphatic and aromatic molecular junctions between graphene contacts are calculated, by application of density functional tight-binding and Green's functions formalism.
791–799
---
---
Self-supporting, eutectic-like, nanoporous biphase bismuth-tin film for high-performance magnesium storage
Meijia Song1, Jiazheng Niu1, Kuibo Yin2, Hui Gao1, Chi Zhang3, Wensheng Ma1, Fakui Luo1, Zhangquan Peng4, and Zhonghua Zhang1,*
1 Shandong University, China
2 Southeast University, China
3 Wuyi University, China
4 Changchun Institute of Applied Chemistry, Chinese Academy of Sciences, China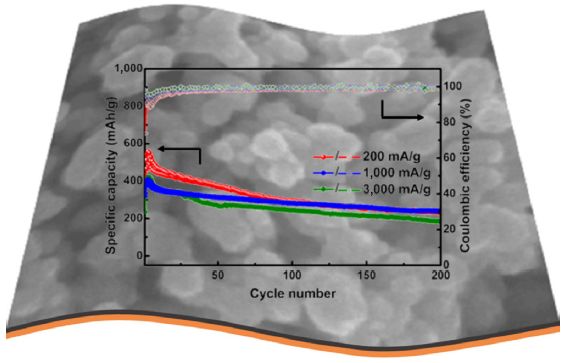 Flexible, self-supporting, eutectic-like biphase Bi-Sn film with hierarchically porous structure exhibits excellent electrochemical performance as advanced anode for magnesium ion batteries.
801–808
---
---
Trap and 1/f-noise effects at the surface and core of GaN nanowire gate-all-around FET structure
Mallem Siva Pratap Reddy1, Ki-Sik Im2,*, Jung-Hee Lee1,*, Raphael Caulmione3, and Sorin Cristoloveanu4
1 Kyungpook National University, Republic of Korea
2 Kumoh National Institute of Technology, Republic of Korea
3 SOITEC, France
4 Minatec, France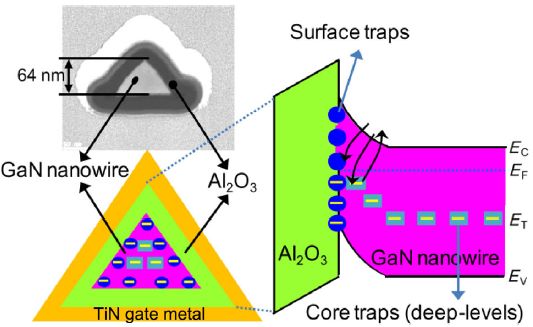 Trap and 1/f-noise effects at the surface and core of GaN nanowire gate-all- around field effect transistor (FET) are fabricated via a top-down approach and its electrical and frequency-dependent properties are analyzed. The device shows high performance, such as a high Ion/Ioff ratio of 108 and   a subthreshold swing of 70 mV·dec–1. The interface state density is low: 1.9 × 1011 cm–2·eV–1 at 1 MHz.
809–814
---
---
Red/orange dual-emissive carbon dots for pH sensing and cell imaging
Miaoran Zhang1, Rigu Su1, Jian Zhong2,3, Ling Fei4, Wei Cai1, Qingwen Guan1, Weijun Li1, Neng Li5, Yusheng Chen6, Lulu Cai2,*, and Quan Xu1,*
1 China University of Petroleum (Beijing), China
2 University of Electronic Science and Technology of China, China
3 North Sichuan Medical College, China
4 University of Louisiana at Lafayette, USA
5 Wuhan University of Technology, China
6 University of Akron, USA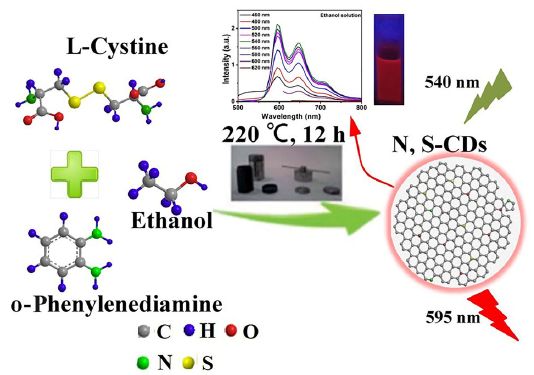 The dual-emissive N, S co-doped carbon dots (N, S-CDs) with a long emission wavelength were synthesized via solvothermal method. The N, S-CDs possess relatively high photoluminescence (PL) quantum yield (QY) (35.7%) towards near-infrared fluorescent peak up to 648 nm.
815–821
---
---
Influence of seeding promoters on the properties of CVD grown monolayer molybdenum disulfide
Peng Yang1, Ai-Guo Yang1, Lingxiu Chen2, Jing Chen1, Youwei Zhang1, Haomin Wang2, Laigui Hu1, Rong-Jun Zhang1, Ran Liu1, Xin-Ping Qu1,*, Zhi-Jun Qiu1,*, and Chunxiao Cong1,*
1 Fudan University, China
2 Shanghai Institute of Microsystem and Information Technology, Chinese Academy of Sciences, China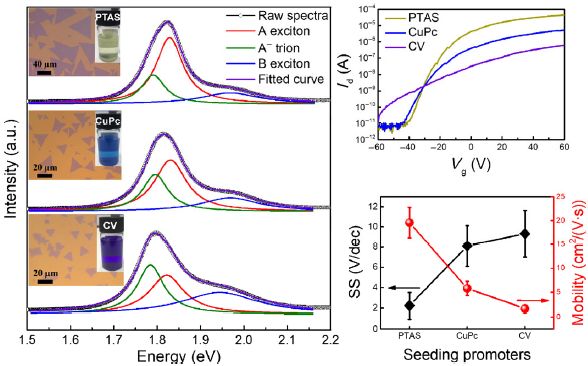 The influence of different seeding promoters on both optical and electrical properties of as-grown monolayer MoS2 is systematically investigated, which is of guiding significance in modifying the properties of as-grown monolayer MoS2 and other two-dimensional (2D) transition metal dichalcogenides in seeding promoters-assisted synthesis process.
823–827
---
---
Ni@N-doped graphene nanosheets and CNTs hybrids modified separator as efficient polysulfide barrier for high-performance lithium sulfur batteries
Xintao Zuo1, Mengmeng Zhen1,2,*, and Cheng Wang1,*
1 Tianjin University of Technology, China
2 Hebei University of Technology, China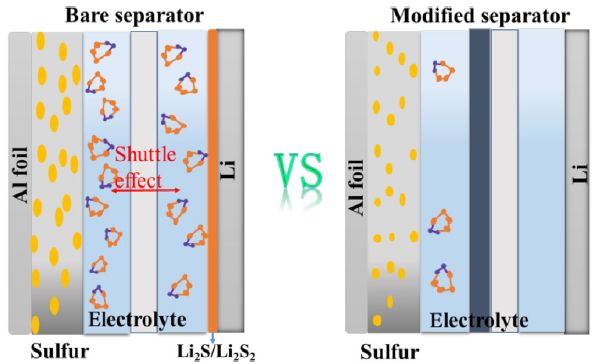 When using the Ni@N-doped graphene nanosheets and carbon nanotubes (CNTs) hybrids as a modified separator in lithium sulfur batteries, the battery delivers excellent cycling performances.
829–836
---
---
Critical size limit of biodegradable nanoparticles for enhanced lymph node trafficking and paracortex penetration
Gregory P. Howard1,2, Garima Verma3,4, Xiyu Ke2, Winter M. Thayer5, Timothy Hamerly4, Victoria K. Baxter1,3, John E. Lee6, Rhoel R. Dinglasan3,4,*, and Hai-Quan Mao1,2,7,*
1 Johns Hopkins School of Medicine, USA
2 Johns Hopkins University, USA
3 Johns Hopkins Bloomberg School of Public Health, USA
4 University of Florida, USA
5 Johns Hopkins School of Nursing, USA
6 Yale University, USA
7 Johns Hopkins University School of Medicine, USA

Biodegradable PEG-b-PLGA nanoparticles with narrow size distributions were screened for lymph node targeting, demonstrating that 20-nm nanoparticles have enhanced drainage and retention in the major draining lymph nodes over a 24-h period.
837–844
---
---
Deep-elliptical-silver-nanowell arrays (d-EAgNWAs) fabricated by stretchable imprinting combining colloidal lithography: A highly sensitive plasmonic sensing platform
Xueyao Liu1, Wendong Liu2, and Bai Yang1,*
1 Jilin University, China
2 Max Planck Institute for Polymer Research, Germany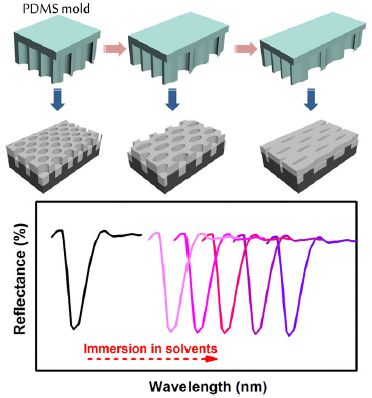 Deep-elliptical-silver-nanowell arrays (d-EAgNWAs) with highly tunable aspect ratio from 1.7 to 5.0 were fabricated by stretchable imprinting combining colloidal lithography. The optical and sensing performances of d-EAgNWAs were gradually optimized to sensitivity of 1,414.1 nm/RIU through regulation of polarization direction and various structural parameters.
845–853
---
---
Chemotherapy drugs derived nanoparticles encapsulating mRNA encoding tumor suppressor proteins to treat triple- negative breast cancer
Chengxiang Zhang, Xinfu Zhang†, Weiyu Zhao, Chunxi Zeng, Wenqing Li, Bin Li, Xiao Luo, Junan Li, Justin Jiang, Binbin Deng, David W. McComb, and Yizhou Dong*
The Ohio State University, USA
† Present address: Dalian University of Technology, China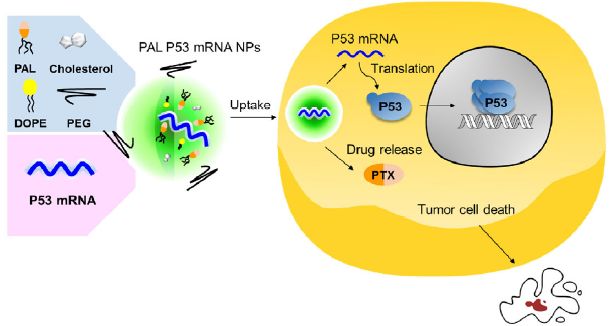 Graphical illustration of chemotherapy drugs derived nanoparticles with an example of paclitaxel amino lipid (PAL) P53 mRNA nanoparticles (NPs). The PAL P53 mRNA NPs are assembled via a microfluidic device. Upon internalized by triple negative breast cancer (TNBC) cells, the P53 mRNA is translated to P53 protein, functioning as a tumor suppressor. The released paclitaxel and translated P53 protein induce tumor cell death.
855–861
---
---
Bioengineered magnetoferritin nanozymes for pathological identification of high-risk and ruptured atherosclerotic plaques in humans
Tao Wang1, Jiuyang He2,3, Demin Duan3, Bing Jiang3, Peixia Wang3, Kelong Fan3, Minmin Liang3,*, and Xiyun Yan3,*
1 Peking University Third Hospital, China
2 University of Chinese Academy of Sciences, China
3 Institute of Biophysics, Chinese Academy of Sciences, China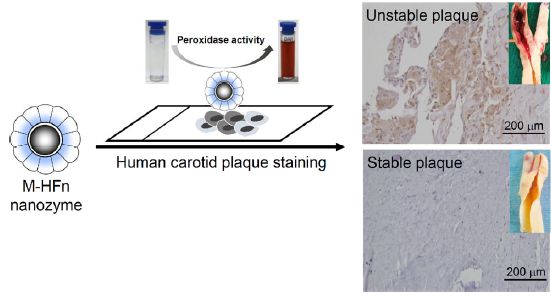 Magnetoferritin nanozymes catalyze the oxidation of colorimetric substrates to give a color reaction that visualizes the recognized unstable plaques for one-step pathological identification of plaque vulnerability.
863–868
---
---
Construction of trace silver modified core@shell structured Pt-Ni nanoframe@CeO2 for semihydrogenation of phenylacetylene
Yan Long1,2, Jian Li1,3, Lanlan Wu1,*, Qishun Wang1,3, Yu Liu1,2, Xiao Wang1, Shuyan Song1,*, and Hongjie Zhang1
1 Changchun Institute of Applied Chemistry, Chinese Academy of Sciences, China
2 University of Chinese Academy of Sciences, China
3 University of Science and Technology of China, China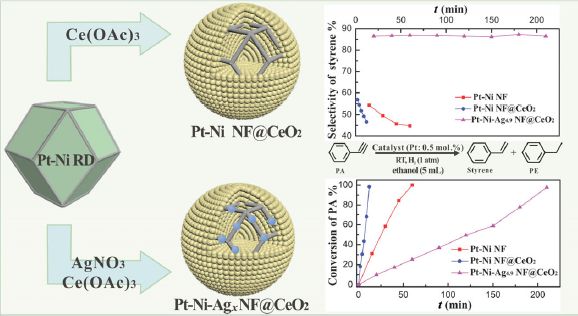 It developed a series of core@shell structured Pt-Ni(-Agx) nanoframe@CeO2 composites with good stability, high activity, and high selectivity for semihydrogenation of phenylacetylene.
869–875
---
---
Albumin-bound paclitaxel dimeric prodrug nanoparticles with tumor redox heterogeneity-triggered drug release for synergistic photothermal/chemotherapy
Qing Pei1,2, Xiuli Hu1,*, Xiaohua Zheng1,2, Rui Xia1,2, Shi Liu1, Zhigang Xie1,*, and Xiabin Jing1
1 Changchun Institute of Applied Chemistry, Chinese Academy of Sciences, China
2 University of Science and Technology of China, China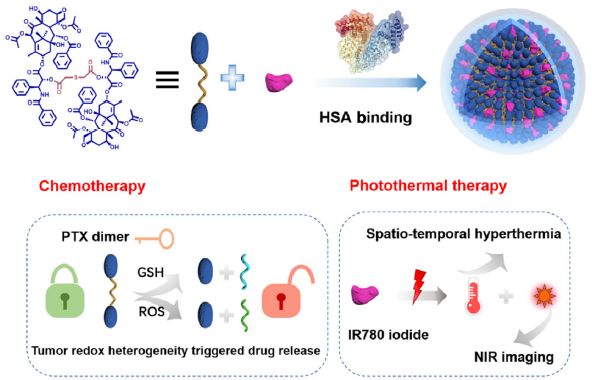 Biomimic albumin-bound paclitaxel dimeric prodrug nanoparticles were prepared by co-precipitating human serum albumin (HSA) with a paclitaxel dimer bridged with thioether linker and photosensitizer IR780 iodide. The described technology unifies the biomimetic trait of HSA, high drug loading, triggered drug release, and synergistic photothermal and chemotherapy into one formulation.
877–887
---
---
Regulation of the cellular uptake of nanoparticles by the orientation of helical polypeptides
Chong Zhang1, Jianhua Lu1, Falin Tian2, Lindong Li1, Yingqin Hou1, Yaoyi Wang1, Lingdong Sun1,*, Xinghua Shi2,*, and Hua Lu1,*
1 Peking University, China
2 National Center for Nanoscience and Technology, China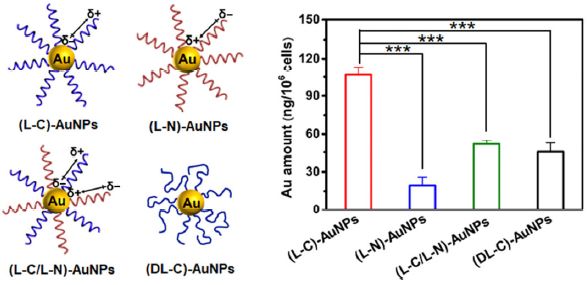 Regulation of nanoparticle (NP) cellular uptake is achieved via the helical conformation and orientation of the anchoring polypeptides. Our results found that the helical polypeptide anchoring its C-terminus to the surface of the NPs gave rise to significantly higher cellular internalization than all other control groups.
889–896
---
---
Polygonal multi-polymorphed Li4Ti5O12@rutile TiO2 as anodes in lithium-ion batteries
Chang Hyun Hwang1, Hee-eun Kim1, Inho Nam2,*, and Jin Ho Bang1,*
1 Hanyang University, Republic of Korea
2 Chung-Ang University, Republic of Korea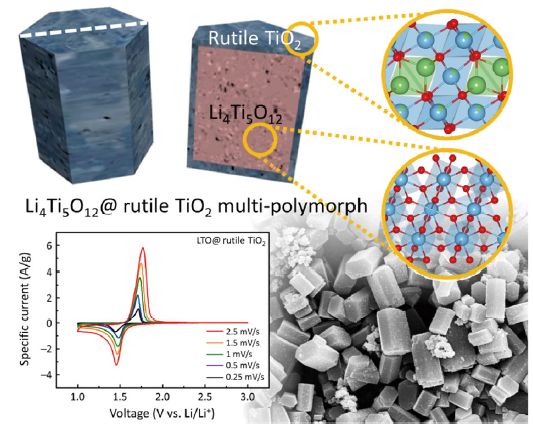 Multi-polymorph structured, polygonal Li4Ti5O12-rutile TiO2 is designed to mitigate the limitations of Li4Ti5O12 in lithium-ion battery applications. This new nanostructure offers higher battery performance and improved stability because of its unique interfacial structure and structural benefits.
897–904
---
---
Illumining phase transformation dynamics of vanadium oxide cathode by multimodal techniques under operando conditions
Guobin Zhang1, Tengfei Xiong1, Xuelei Pan1, Yunlong Zhao2,3,*, Mengyu Yan4,*, Haining Zhang1, Buke Wu1, Kangning Zhao1, and Liqiang Mai1,*
1 Wuhan University of Technology, China
2 University of Surrey, UK
3 National Physical Laboratory, UK
4 University of Washington, USA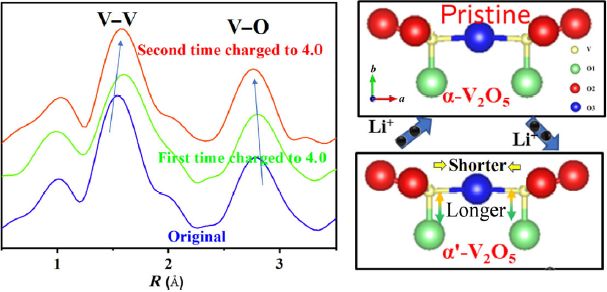 The insertion of lithium enlarges the V–O bond in V2O5, which further weakens the V–O skeleton. Also, it shortens the V–V bond, which makes the V–O polyhedra more quenched.
905–910
---
---
Phase-pure Na3V2(PO4)2F3 embedded in carbon matrix through a facile polyol synthesis as a potential cathode for high performance sodium-ion batteries
Sohyun Park1, Jinju Song2, Seyeon Kim1, Balaji Sambandam1, Vinod Mathew1, Sungjin Kim1, Jeonggeun Jo1, Seokhun Kim1, and Jaekook Kim1,*
1 Chonnam National University, Republic of Korea
2 Korea Institute of Energy Research (KIER), Republic of Korea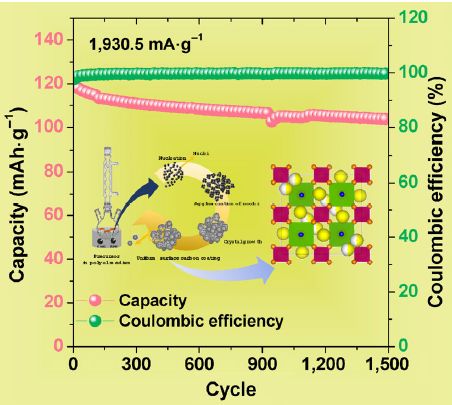 Nanocrystalline carbon-coated Na3V2(PO4)2F3 by polyol process registered excellent stable cyclability about 88% of the initial capacity at 15 C (1,930.5 mA·g−1) after a prolonged cycle life span of 1,500 cycles.
911–917
---
---
Hexagonal boron nitride nanosheet for effective ambient N2 fixation to NH3
Ya Zhang1, Huitong Du2, Yongjun Ma3, Lei Ji1, Haoran Guo4, Ziqi Tian4, Hongyu Chen1, Hong Huang1, Guanwei Cui5, Abdullah M. Asiri6, Fengli Qu3,*, Liang Chen4,*, and Xuping Sun1,*
1 University of Electronic Science and Technology of China, China
2 Qufu Normal University, China
3 Southwest University of Science and Technology, China
4 Ningbo Institute of Materials Technology and Engineering, Chinese Academy of Sciences, China
5 Shandong Normal University, China
6 King Abdulaziz University, Saudi Arabia

Hexagonal boron nitride nanosheet (h-BNNS) acts as a metal-free electrocatalyst for high-performance artifical N2 fixation to NH3, which attains a high NH3 formation rate of 22.4 μg·h−1·mg−1cat. and a high Faradic efficiency of 4.7% at –0.75 V vs. RHE in 0.1 M HCl. Density functional theory calculations reveal that the unsaturated boron at the edge site of h-BNNS can activate inert N2 molecule and dramatically reduce the energy barrier for NH3 formation.
919–924
---
---
Group VB transition metal dichalcogenides for oxygen reduction reaction and strain-enhanced activity governed by p-orbital electrons of chalcogen
Shuyang Zhao, Ke Wang, Xiaolong Zou*, Lin Gan*, Hongda Du, Chengjun Xu, Feiyu Kang, Wenhui Duan, and Jia Li*
Tsinghua University, China

Transition metal dichalcogenides (TMDs) represent a large family of layered two-dimensional materials. This work reveals that NbS2 and TaTe2 are the most effective oxygen reduction reaction (ORR) catalysts with over-potential of 0.54 V among the studied TMDs and the ORR activity of NbSe2 can be tuned effectively by the strain.
925–930
---
---
Synchronous detection of glutathione/hydrogen peroxide for monitoring redox status in vivo with a ratiometric upconverting nanoprobe
Judun Zheng, Yunxia Wu, Da Xing*, and Tao Zhang*
South China Normal University, China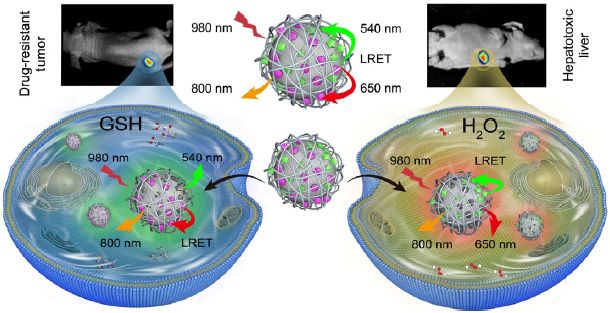 A new ratiometric nanoprobe (UCNP-TB) possessing synchronous detectability of redox couple glutathione/hydrogen peroxide (GSH/H2O2) was developed based on a multi-spectral upconverting nanophosphor as the luminescence resonance energy transfer (LRET) donor and two dye molecules as the acceptors. We can utilize it to elucidate the redox status within the drug-resistant tumor and the drug-induced hepatotoxic liver via the ratiometric upconversion luminescence (UCL) imaging.
931–938
---
---
Analysis of structural distortion in Eshelby twisted InP nanowires by scanning precession electron diffraction
Daniel Ugarte1,2,*, Luiz H. G. Tizei3, Monica A. Cotta1, Caterina Ducati2, Paul A. Midgley2, and Alexander S. Eggeman2,4,*
1 Universidade Estadual de Campinas-UNICAMP, Brazil
2 University of Cambridge, UK
3 Univ. Paris Sud, France
4 University of Manchester, UK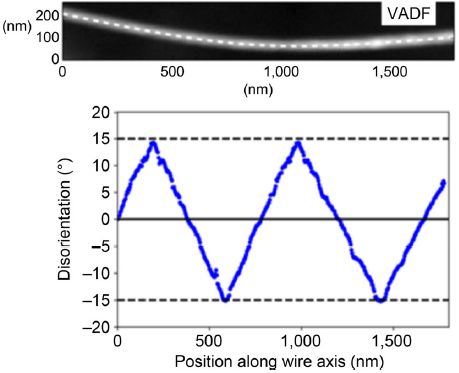 Ultra-high precision structural mapping in the transmission electron microscope is used to study the nanometre strain distribution in an indium phosphide nanowire containing a screw dislocation. The Eshelby twist rate is shown to be an inaccurate method to determine the dislocation displacement, however radial strain analysis confirms the correct dislocation structure.
939–946
---
---
Direct observation of epitaxial alignment of Au on MoS2 at atomic resolution
Yinghui Sun1, Haofei Zhao1, Dan Zhou2, Yuchen Zhu1, Huanyu Ye1, Yan Aung Moe1, and Rongming Wang1,*
1 University of Science and Technology Beijing, China
2 Max Planck Institute for Solid State Research, Germany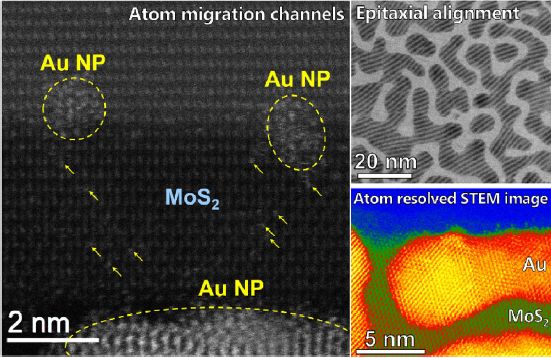 In situ transmission electron microscopy (TEM) observation shows that the migration channels of Au atoms on MoS2 and the coalescence of adjacent nanoparticles may lead to the formation of Au dendrites, in which the epitaxial alignment between Au and MoS2 lattices is verified by the periodic Moiré patterns and selected-area electron diffraction patterns.
947–954
点击"阅读原文"查看完整目录
---
Previous Contents:
Nano Research公众号
微信号 : Nano_Research
网址:www.thenanoresearch.com